Photo Credit: Toys "R" Us Singapore  (L-R) Ms Jennifer Tan, Country Manager, Toys "R" Us Singapore, Mr Eric Tui, Operations, Area Store Manager, Toys "R" Us Singapore, Mr Andre Javes, Managing Director, Toys "R" Us, Southeast Asia and Greater China, and Ms Zarinah Safii, Store Manager, Toys "R" Us Singapore at the official re-opening ceremony.
Toys "R" Us®, the world's largest dedicated toy and baby products retailer, has officially re-launched its newly revamped Paragon store to engage and entertain shoppers with a new multi-sensory in-store experience with elements of interactivity in mind which is the first in the region.
Let Our Parenting World (OPW) team brings you around the newly revamped Toys "R" Us® Paragon store.
Photo Credit: Toys "R" Us Singapore
Upon entering the store, we are greeted with a pleasant customized scent, Candy Ribbon that comes with refreshing notes that will tickle our senses the moment we walk into the store. The scent has hints of orange, strawberry and sweet vanilla which gives a sweet aroma that will make all visitors feel like they are in play land and leaves them with a feeling of wanting more!
There is a first-ever Toys "R" Us interactive wall with multiple functions which includes a fun backdrop for selfies. The wall acts as a canvas for shoppers to upload and share their joyful moments in the store. Parents and children can have loads of fun taking photos and share their experiences with their friends and family by taking pictures, key in the email address to send the photos to yourself and or share with others. Information on Toys "R" Us  will also be displayed on the wall, updating customers with news of exclusive offers and promotions available.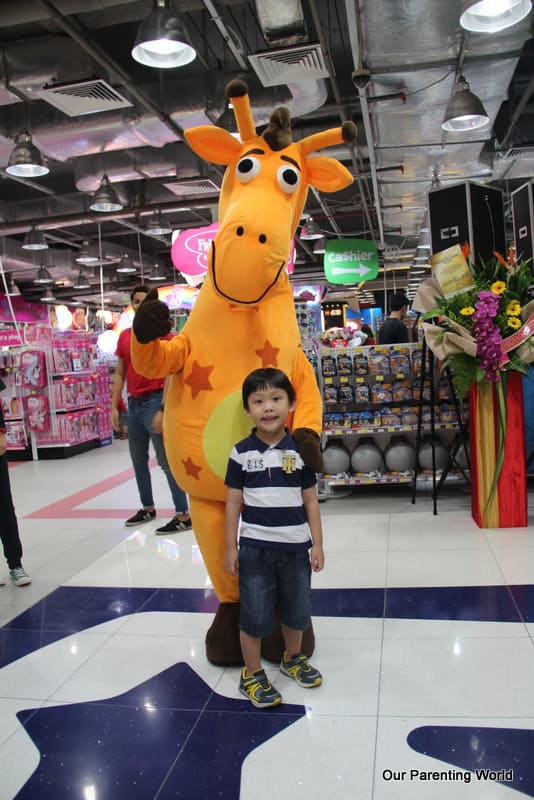 Look who's here! Its Geoffrey, the beloved official Toys"R"Us "spokesanimal" and we are so excited to see him.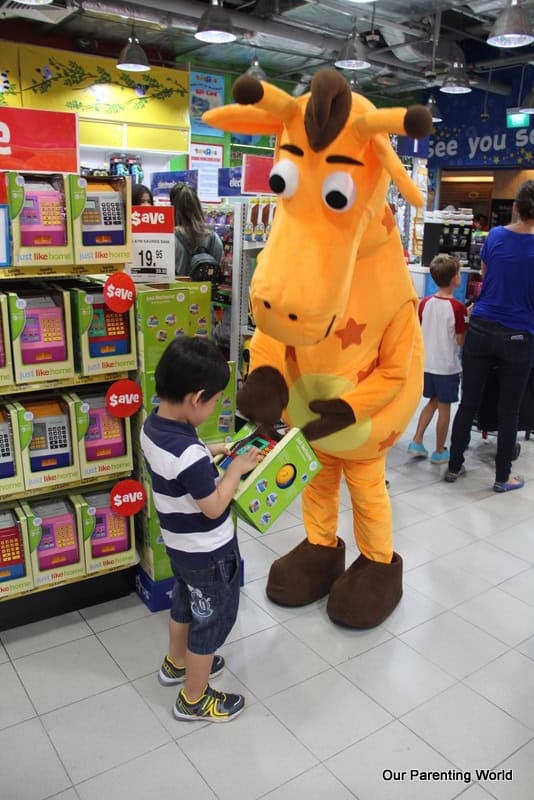 OPW little boy having a chat with Geoffrey on the toys at the store. There are so much to see and do at the newly revamped Toys"R"Us!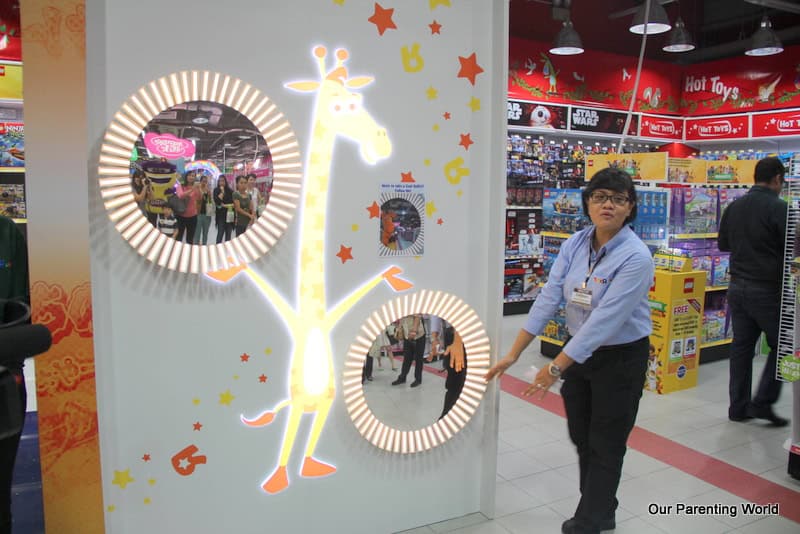 Toys "R" Us Paragon will feature selfie stations for customers to create unique selfie moments with the store as a backdrop. 
At the main entrance of the store, visitors will be able to see the latest and hot toys on display like Star Wars in anticipation of the upcoming movie, Star Wars: The Force Awakens located in one area to provide convenience for the shoppers. You will be able to see the great buys and promotion located at the same place.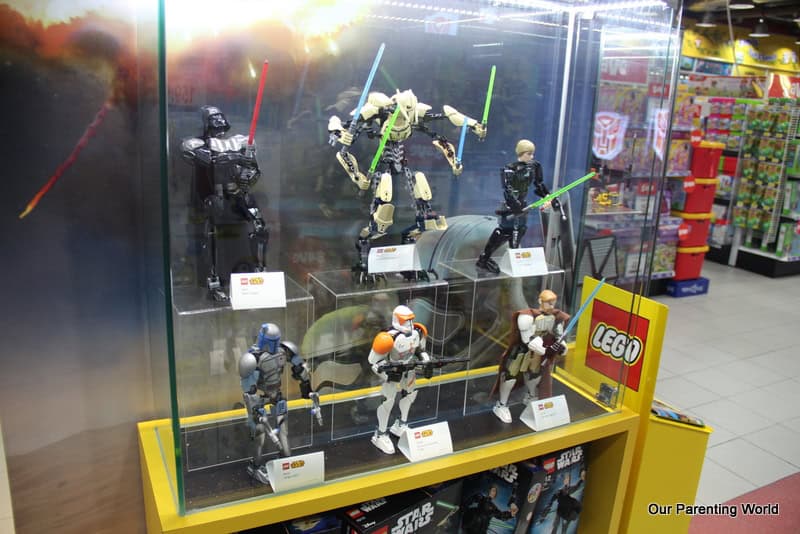 Star Wars fans can look out for and take a closer look at the latest toys on display at the store.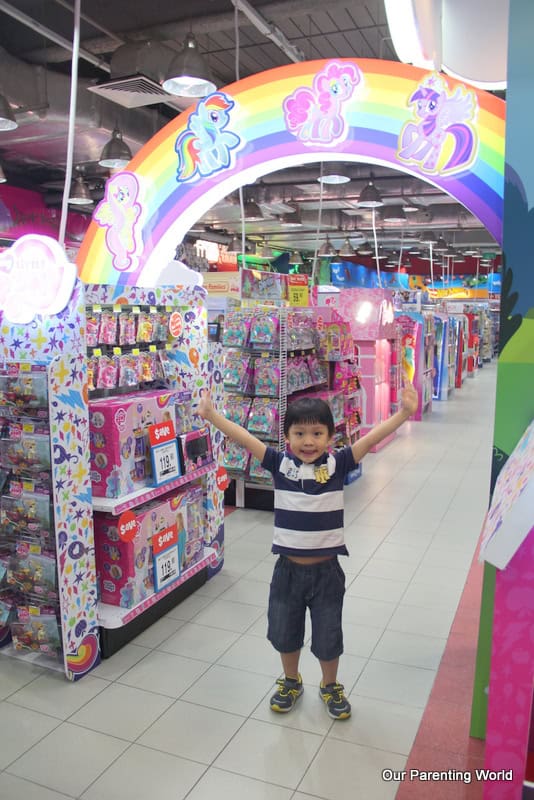 To all the lovely princesses, there is a wide range of popular girls toys housed in a lovely pink section of the store with beautiful rainbow display arch.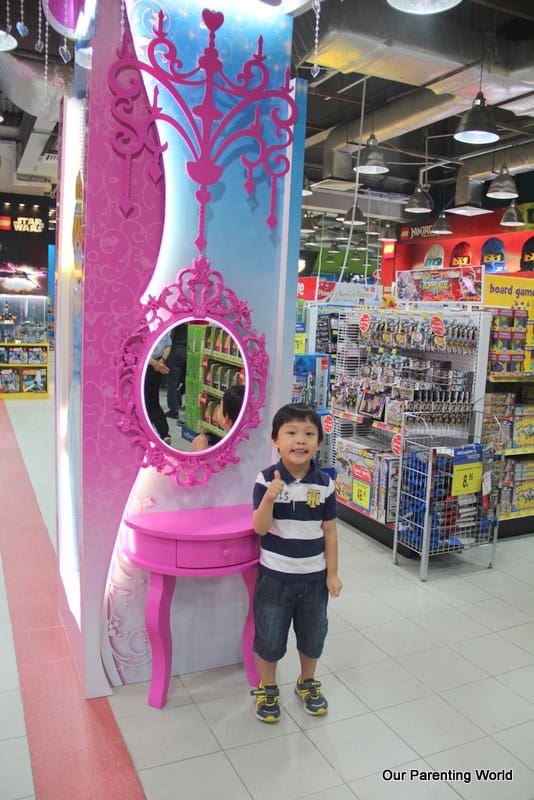 There is a beautiful dressing table for you to doll up and you can take selfie to capture your pretty images.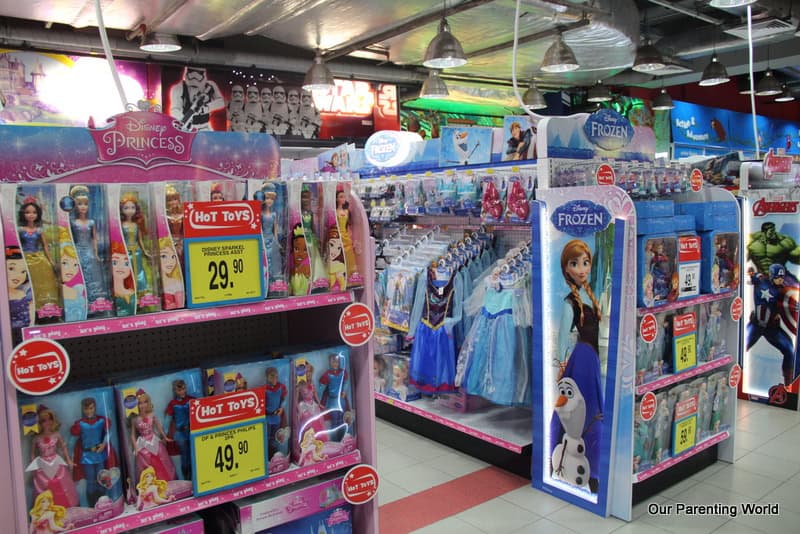 Girls will be excited to see such an extensive range which includes gowns, accessories, dolls from Barbie Dolls, Disney Princess, Frozen and many more.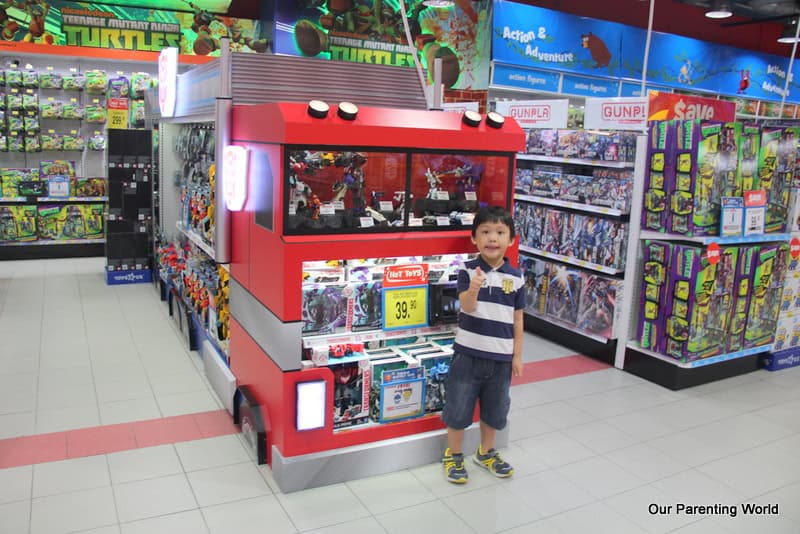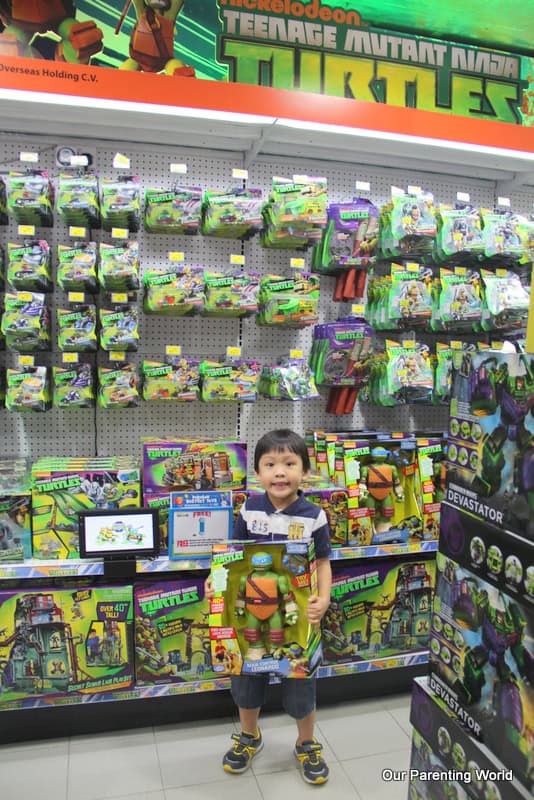 The store has better layout and display that give shoppers a more enhanced shopping experiences. Boys can look forward to see many of their favourites and current hot toys like Star Wars, Marvel, Transformers, Teenage Mutant Ninja Turtles, LEGO, Hot Wheels and many more.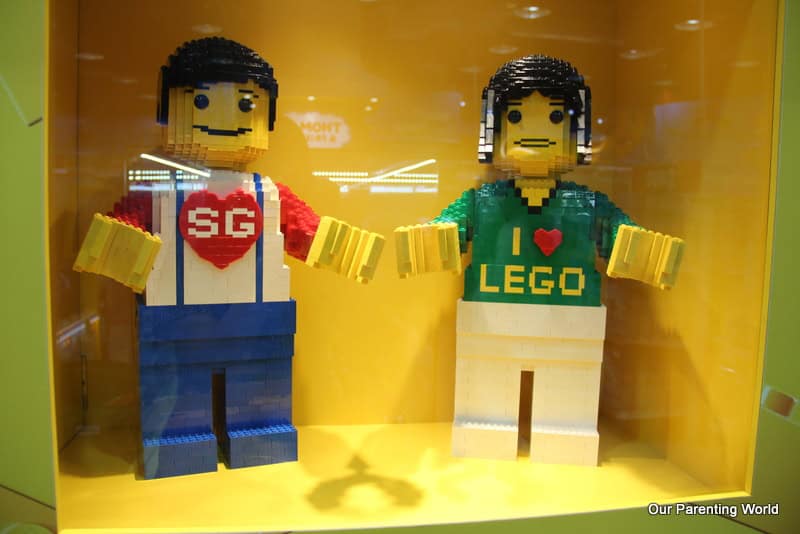 Fans of LEGO can look forward to see various types of LEGO sets on display.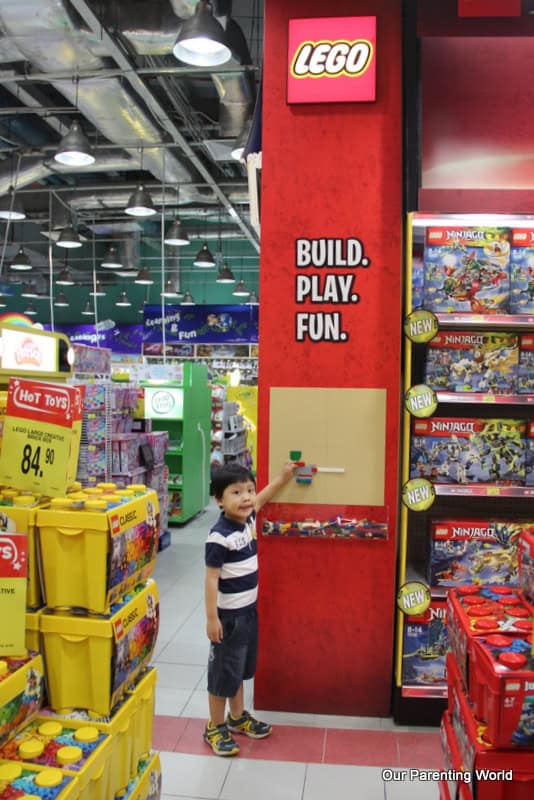 At the LEGO section, there is an interactive wall where we can build, play and have fun with the LEGO bricks.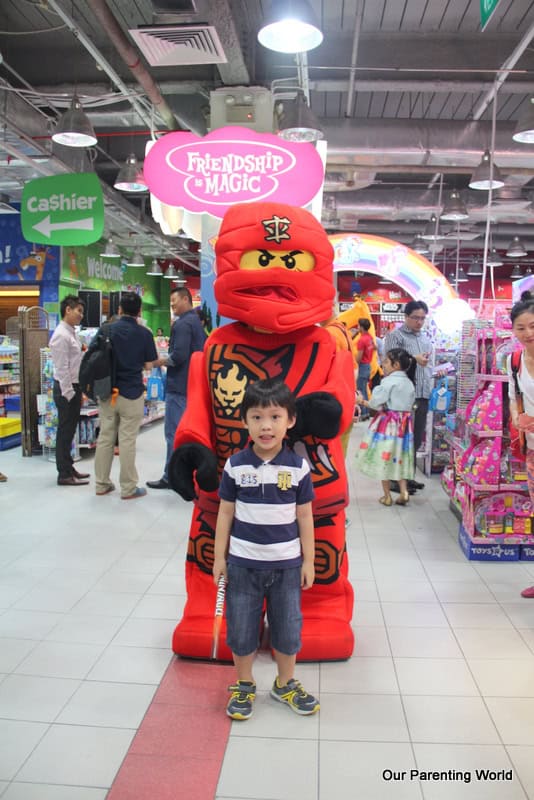 I am so excited to see Kai (Red Ninja) who is a main protagonist in LEGO Ninjago!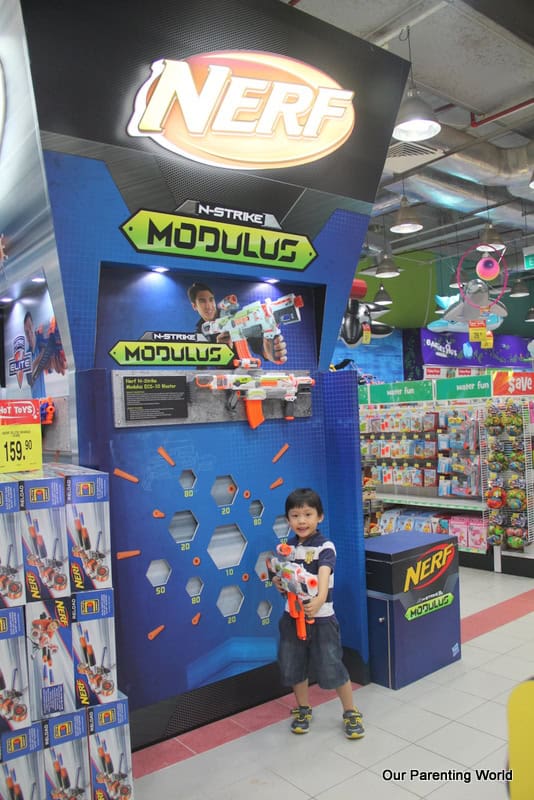 Another new addition to the revamped Toys "R" Us, shoppers can try out the popular Nerf guns, have fun trying out the latest guns and see how good your shooting skills is at the shooting gallery.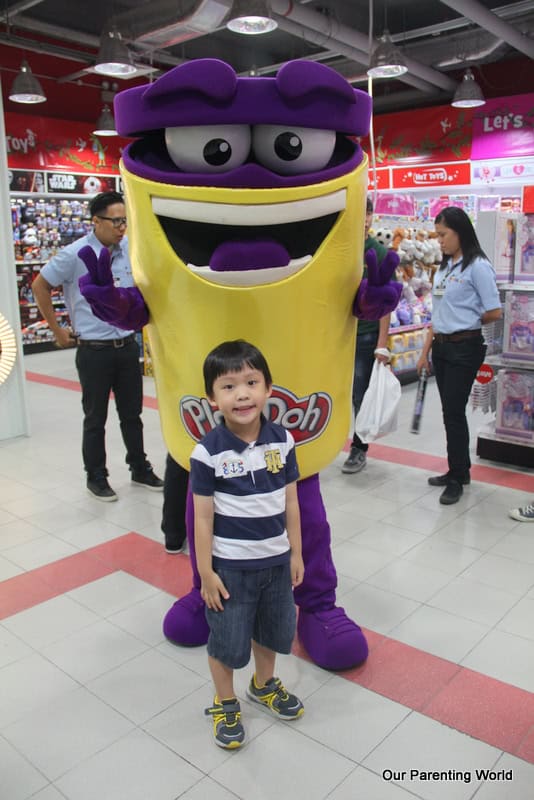 I enjoy working with my hands and I often play with Play Doh which is a safe product with non-toxic, non-staining and reusable modeling compound. You can get and enjoy crafting with a wide range of Play Doh products.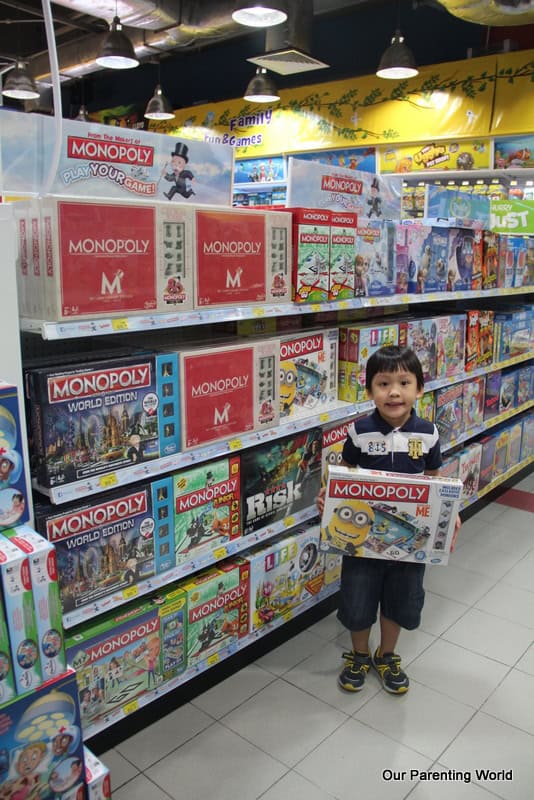 Nowadays, a lot of children are into electronic devices and gaming, it will be good for family to get together, bond and spend a great time playing with board games. Shoppers can look forward to a wide range of traditional and latest range of board games like the very popular Monopoly available at the store.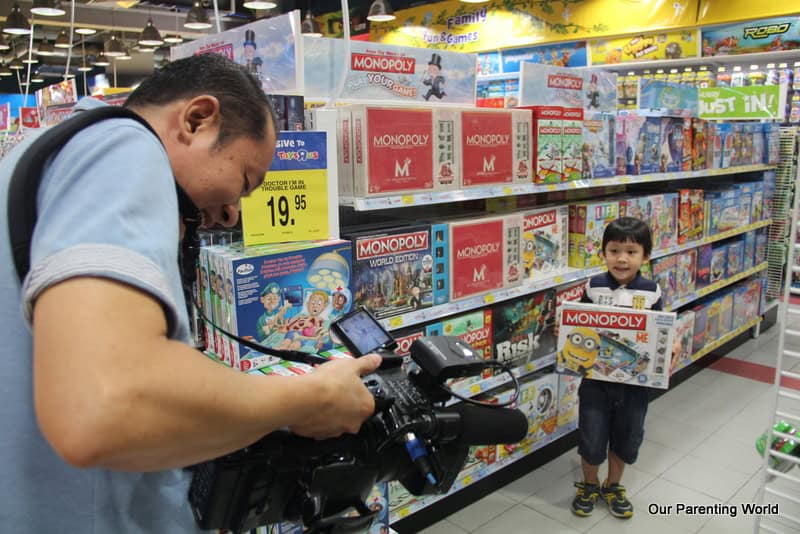 Smiling for the camera 🙂
OPW little boy likes cuddly soft toys and when he sees such a wide range of soft toys, he simply can't resist them. 
I love Teddy Bears!
We have taken so many photos at the store and with such an impressive layout and the additions of thematic display shelves such as a rainbow display arch which stretches across the aisle, leading to a little hut where one can pose for photos and many more including impressive Stars Wars, Transformers and LEGO displays for you to take pictures. While in the store, you will also hear the sound-track of Toys "R" Us® featuring its well-known theme anthem, 'I don't wanna grow up', a tune sung in households since 1948.
In addition, Toys "R" Us also surprised 40 children from Beyond Social Services, aged 2 – 6, with Children's Day gifts. The children were each given a $50 gift card to choose toys from within the store at its official launch event.
Toys "R" Us® Singapore Country Manager, Jennifer Tan shared that "Being the world's greatest toy store is what we strive for, and to do that we aim to make playtime even better. This means more toys, more brands, and more fun."
Jennifer further added "Beyond these social features, each of our stores will have a unique feel, offering new features distinct to create memorable Toys "R" Us play moments for all our customers." 
Beyond creating the ultimate Toys "R" Us in-store experience, the toy store has also launched the Tasks for Toys mobile app, allowing parents to reward their children with toys of their choice once they have completed a set of predetermined tasks. Toys "R" Us® will continue to revamp its stores rolling out social features across Singapore.
Additional Information 
Toys "R" Us®
290 Orchard Road, #06-12/18 Paragon Shopping Centre,
Singapore 238859

Tel: 6836 4865 
Website: www.toysrus.com.sg
Follow Toys"R"Us on Facebook at https://www.facebook.com/toysrus.sg/ on Toysrus_SG on Instagram and Toysrussg on YouTube.