It's that slime of the year again!
Nickelodeon's Kids' Choice Awards is back! It is the ultimate fan celebration of the best of everything kids love in pop culture. The nominees reflect the entertainment that audiences see, play, listen to and read in droves, from movies to a host of television shows, music, gaming, books and more.
Come 12 March, Nickelodeon's Kids' Choice Awards will return with super-sized surprises! Right here in our own little red dot, we have our homegrown talent, Irfan Fandi, who has been nominated in the brand new Favorite Asian Sports Star category for Asia. Irfan is a 18-year-old soccer player with a track record of competitions and achievements way beyond his years, including the Lion City Cup Singapore and Coca Cola League Indonesia 2007 and 2008, where he won Top Scorer for both years.
The show premieres on Nickelodeon in Singapore on Monday, 14 March at 11.30am and repeats on the same day at 6pm.
In anticipation of the most slime-tastic time of the year for kids around the world, we are excited to share with you fascinating facts about of our homegrown talent, Irfan Fandi. 
Time to get the ball rolling! Here are 16 things you need to know about Irfan Fandi.
1. Irfan began playing football at the age of two.
2. For Irfan, football started off as a fun hobby during weekends with his family – there was no pressure on him to turn it into a career.
3. Irfan's family and friends are his biggest source of support.
4. Irfan is the youngest player chosen for the Lions 2015 SEA Games squad.
5. Early this year, Irfan signed a one-year deal with S.League club Home United.
6. Irfan has two football idols – his dad and Zlatan Ibrahimović, the striker for French club Paris Saint-Germain and captain of the Swedish national team.
7. Irfan was named as one of Goal.com's Top 20 Southeast Asian Rising Stars in 2013.
8. In 2014, The Guardian listed Irfan as one of the 40 best young talents in world football.
9. Irfan prefers salmon to tuna.
10. Irfan's favourite ice cream flavour is chocolate/cotton candy.
11. Irfan considers himself a shy and introverted person.
12. Irfan loves Demi Lovato's song "Confident" as it reminds him to embrace the person that he is.
13. Irfan is not afraid of heights.
14. Irfan prefers sneakers over loafers.
15. If there's any place in the world that Irfan could visit, he would go to Greece.
16. Hobbies include swimming, soccer (of course!) and Taekwondo (Yellow Belt).
Other nominees in the Favorite Asian Sports Star category include Malaysian diver Pandelela, Indonesian footballer Kim Kurniawan and Filipino basketballer Jeron Teng.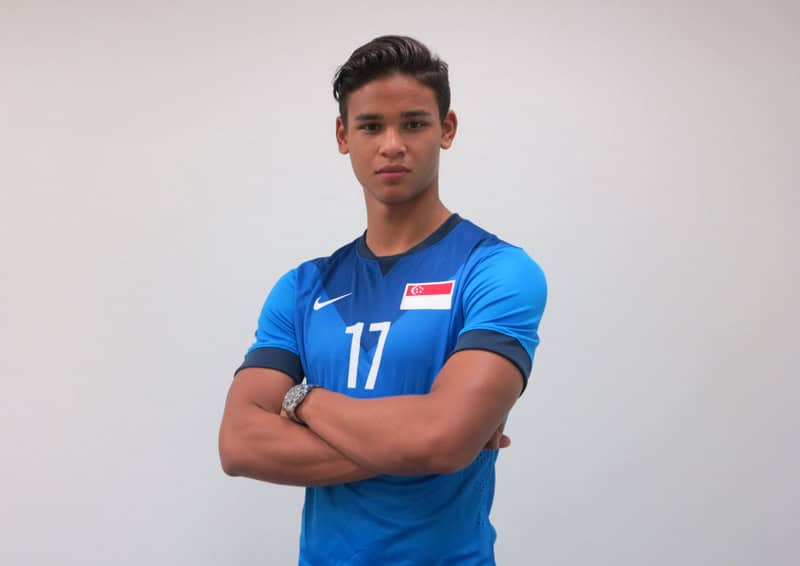 So what are you waiting for? To support Irfan, simply vote via kca2016.com or Twitter using #VoteIrfanSG and #KCA