We are invited by NUS to their family fun day and be one of the firsts to catch the worldwide premier of the movie "Jack the Giant Slayer".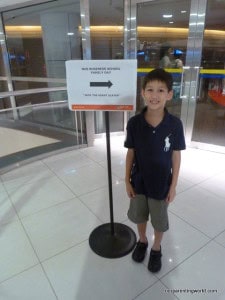 Gor Gor arriving at Shaw Theatres Lido.
A sumptuous buffet spread of food awaits all the guests.
The friendly and talented balloon sculptor came to ask Gor Gor what he would like to have. Gor Gor is pleased to have a balloon bow and arrow. He also gave Gor Gor a balloon sword.
Besides food and watching the movie, NUS has also prepared many activities to entertain both the adults and children.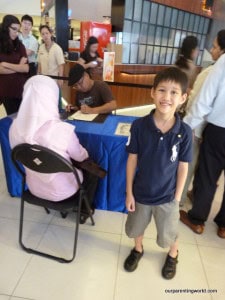 Portrait drawings are very popular with the adults.
Spin a wheel is also very popular with the adults and children too. The best prize is a $10 Takashimaya voucher which Gor Gor managed to win when he tried his hands on spinning the wheel. Mommy said he can use the voucher to buy toys.
The children are drawn to sand painting and Gor Gor has his hands on doing one.
Sandpainting is the art of pouring colored sands, powdered pigments from minerals or crystals, and pigments from other natural or synthetic sources onto a surface to make a fixed, or unfixed sand painting
The Jie Jies (elder sisters) manning the stall invite Gor Gor to play the above game. You have to attempt to throw the ball into the hole. The more balls that you manage to hit the hole, the better your prizes will be. The lovely girls taught and guide Gor Gor on how to play. They also helped Gor Gor to choose the prizes. Thank you Jie Jies!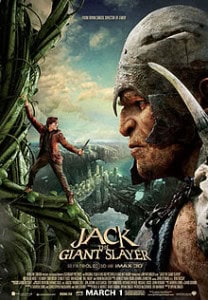 Soon it is time to go for the movie, each of us get to collect our popcorn and a bottle of Pepsi. About the movie, it is a 2013 American fantasy adventure film based on the fairy tales, "Jack the Giant Killer" and "Jack and the Beanstalk". The film is directed by Bryan Singer and stars Nicholas Hoult, Eleanor Tomlinson, Stanley Tucci, Ian McShane,Bill Nighy and Ewan McGregor with a screenplay written by Darren Lemke, Christopher McQuarrie and Dan Studney. The film tells the story of Jack, a young farmhand who must rescue a princess from a race of giants after inadvertently opening a gateway to their world.
Thanks to the lovely and kind people of NUS who organise the event, we all have a great time.