We have not been doing sleepover for some time and this year, we are very excited to be able to participate in Ocean Dreams Sleepover Party at S.E.A. Aquarium. Imagine going to sleep and seeing the marine animals first thing when we wake up. The kids are looking forward to it! 
Ocean Dreams Sleepover Party is S.E.A. Aquarium's signature sleepover programme and our stay is during the Chinese New Year period. The theme is Gong Sea Fa Cai Ocean Dreams where it has been given an auspicious twist. An abundance of fun and discovery awaits us as we embark on our programme. This is a 2 day 1 night sleepover programme and here's what participants can expect as follow: 
· Visit the top of the Open Ocean Habitat and witness a Manta Ray feeding session
· Embark on a fun fortune trail to learn about marine animals and how to protect our ocean during the festive season
· Watch an exciting Manta Ray interaction session
· Meet the Sea Goddess and God of Fortune
· Exclusive photo opportunity with underwater divers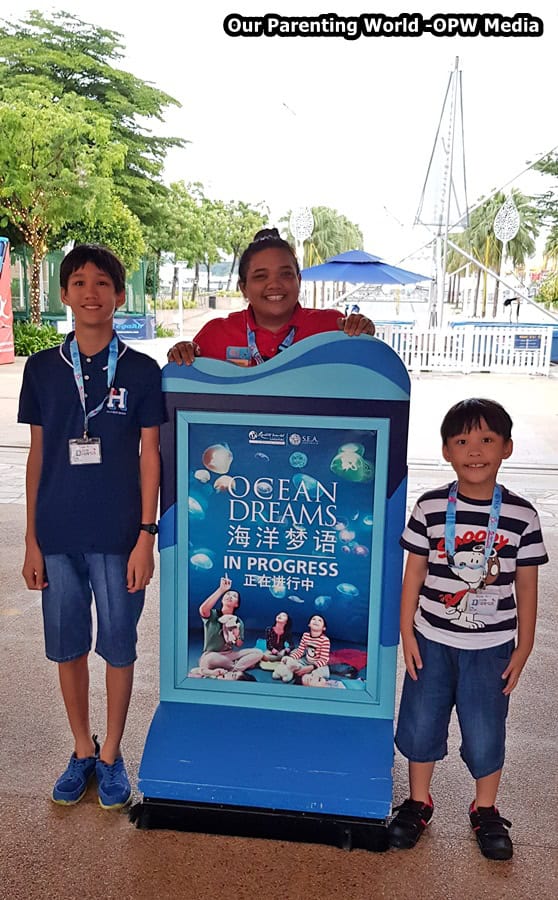 We met our friendly guide at the entrance before we start our programme, we can't wait to check into S.E.A. Aquarium. 
We are given a bag each consisting of toothbrush, towel, inflatable pillow and bottle of water. All of us gathered around in our group for briefing and to get to know one another. 
Meet the Sea Goddess and God of Fortune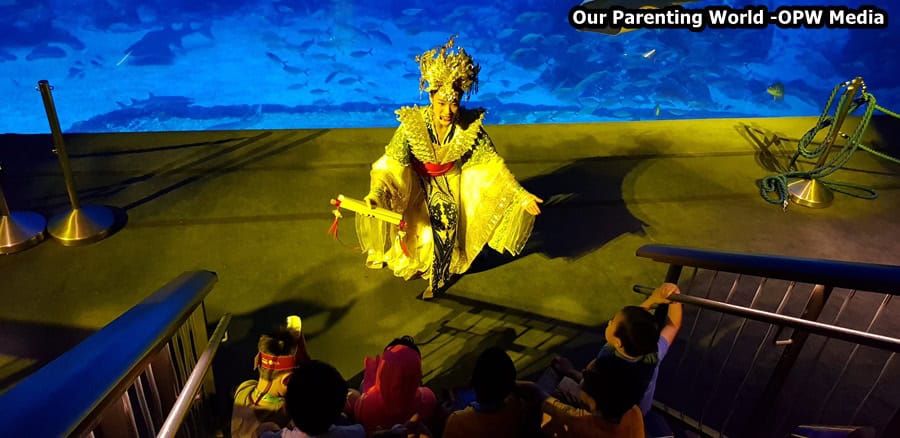 Here comes the Sea Goddess, we are so fascinated by the beautiful and elegant Sea Goddess as she shared with us stories of the sea. 
God of Fortune is here to bring good luck and fortune to all of us.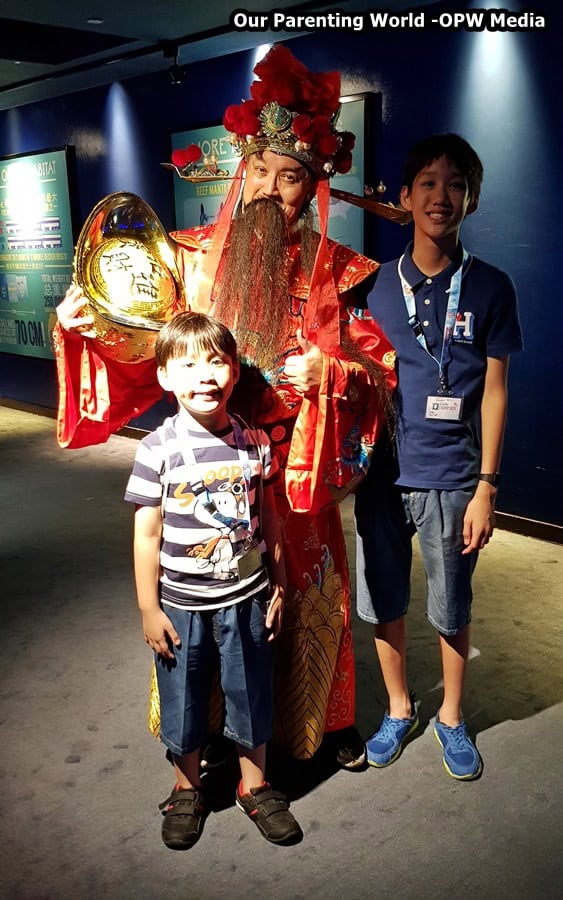 Photo taking with God of Fortune
Embark on a fun fortune trail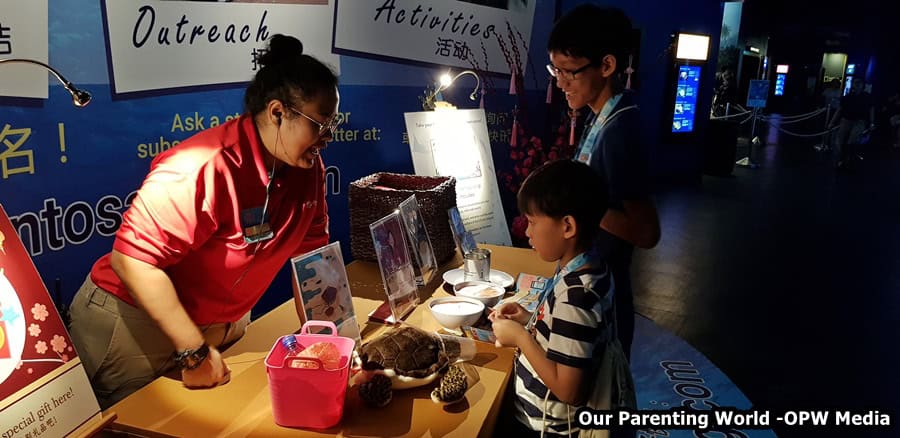 After that, we begin our journey into the aquarium's trail of fortune and visit the 3 Fortune Stations to collect our Chinese New Year stamps! At each booth, we learnt more about the marine animals and how to protect our ocean. Upon completion, you will receive a special gift at the Guardians of the S.E.A.A. booth. 
About Guardians of the S.E.A.A., it is the conservation group of S.E.A. Aquarium which supports conservation research, education and public engagement efforts. The group organises monthly events ranging from talks by marine biologists to beach cleanups and movie nights to educate and inspire the public on marine conservation.
To find out more about Guardians of the S.E.A.A., please visit:
http://seaa.rwsentosablog.com/guardians-of-the-seaa/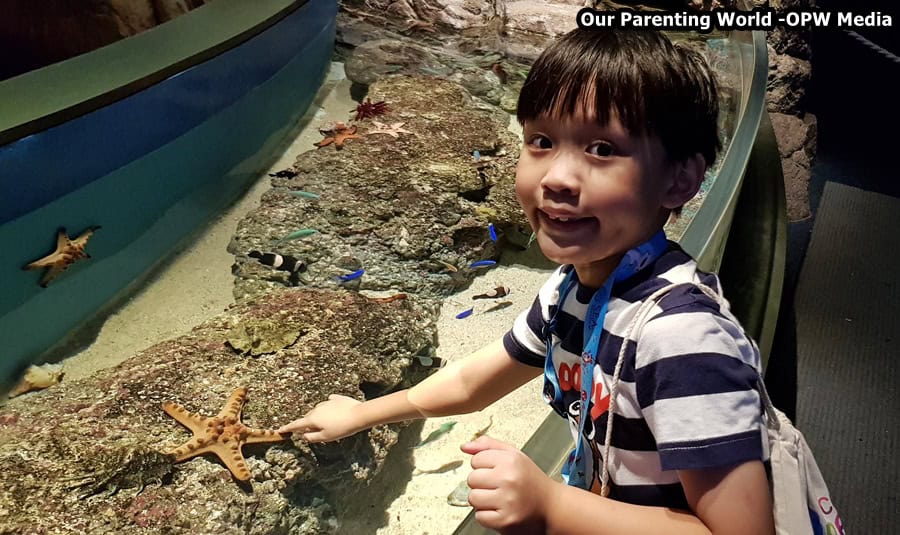 We are at the Discovery Touch Pool! Kids have such fun going round the aquarium to explore and discover more about the marine life without the crowd. Best part of all, we have the whole aquarium to ourselves at night.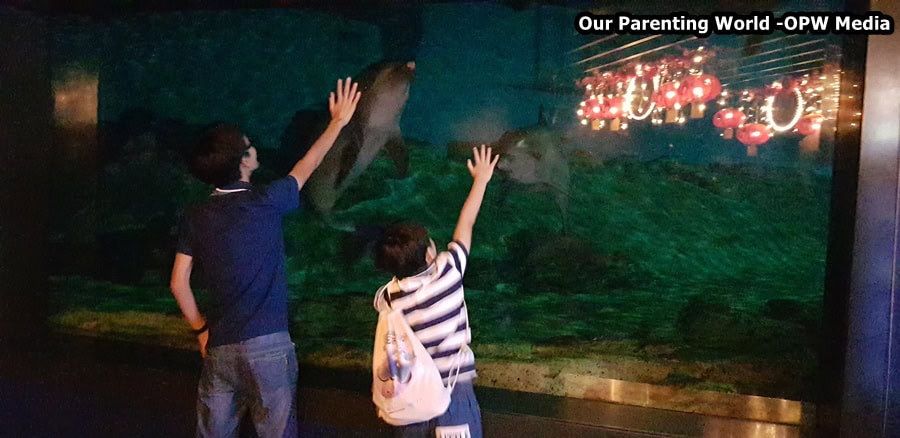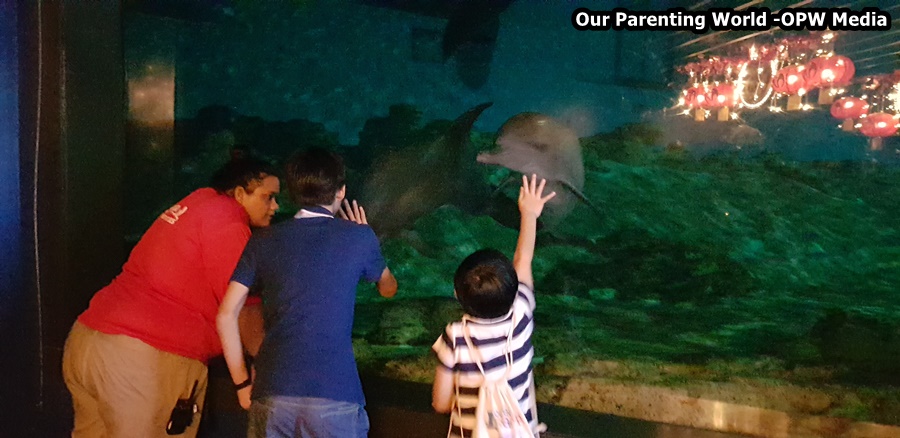 Kids are so surprised when the dolphins came to greet them. The dolphines are so intelligent, they can actually see us behind the glass panel. They love the dolphines and kept saying that they must visit Dolphine Island next time. Our friendly guide was telling the kids more about dolphines and they are such friendly mammals.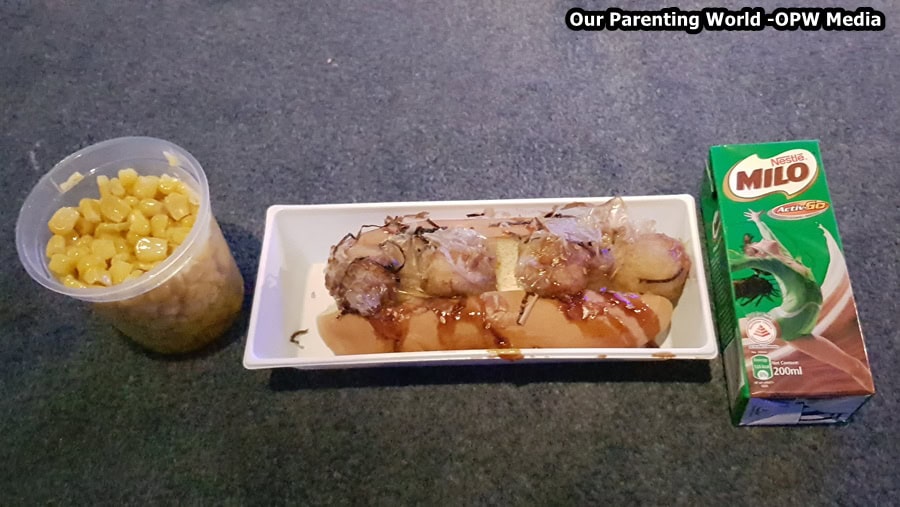 Before we go to sleep, we had supper consisting of a cup of corn, hotdog and a packet of milo.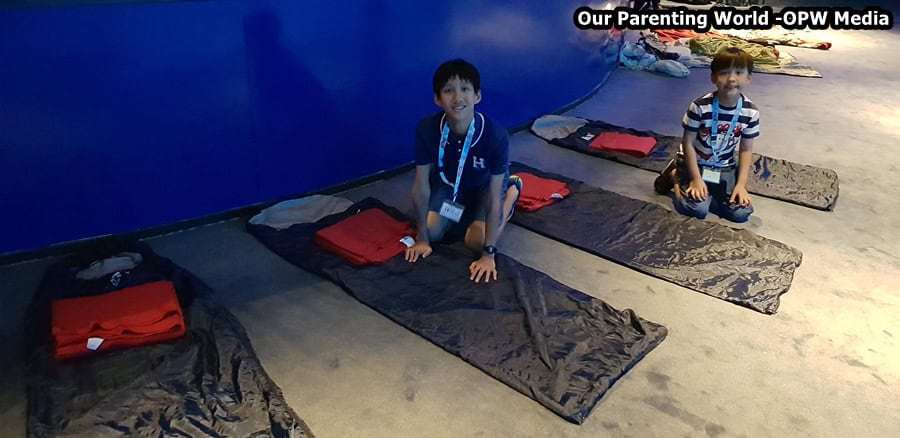 After a good supper, we made our bed and proceed to wash up. Sleeping bags and blankets are provided. It is time to go to sleep and we are going to sleep right in front of the Open Ocean Habitat viewing panel. How exciting! 
Good night and sweet dreams everyone! 
Exclusive photo opportunity with underwater divers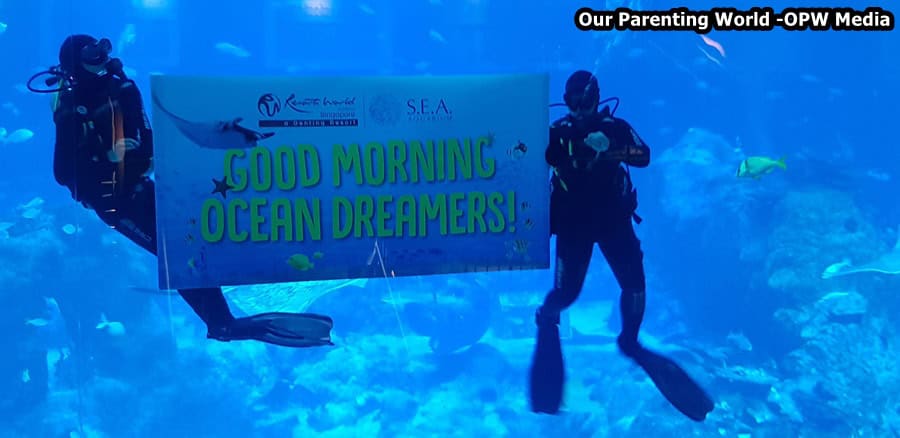 Rise and Shine! Good morning everyone! The divers are here to greet us and we get to take photos with them.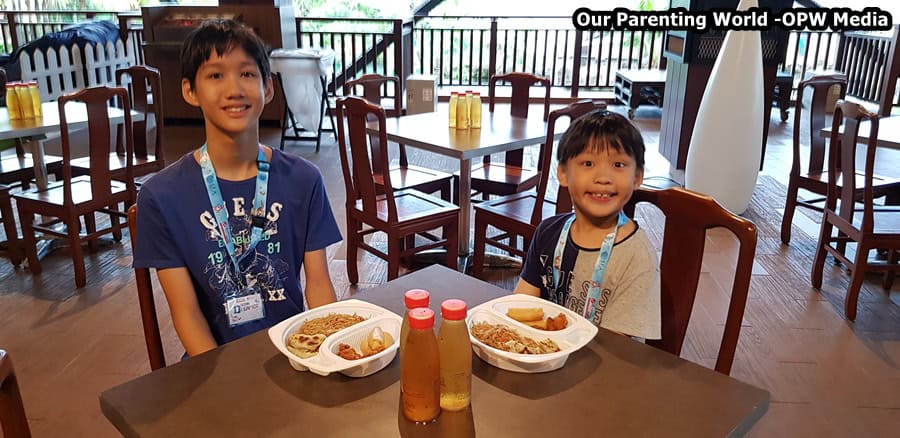 After a hearty breakfast at Bay Restaurant and we are all ready to continue with the rest of the programme. 
Manta Ray feeding and interaction session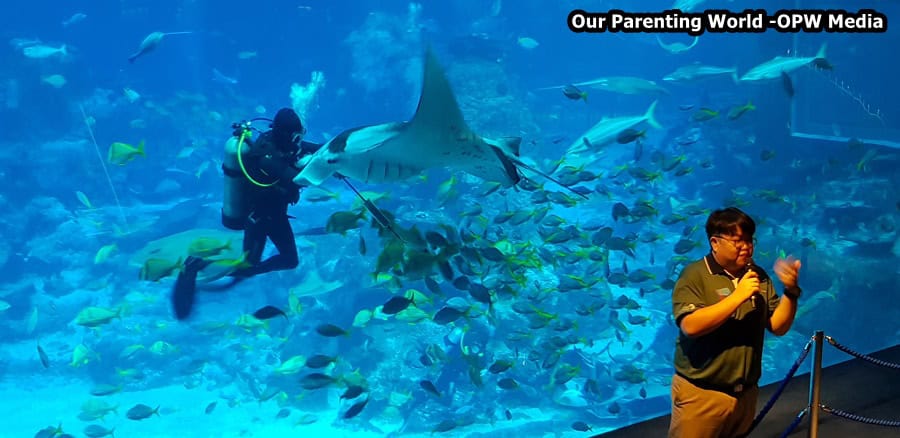 Next we moved back to the aquarium to learn more about Manta Ray and witness a Manta Ray feeding session followed by a visit to the top of the Open Ocean Habitat. It is interesting to look at the Ocean Habitat on top. It is huge comparing to the size of 7 Olympic pools and no photography is allowed when visiting this exclusive area.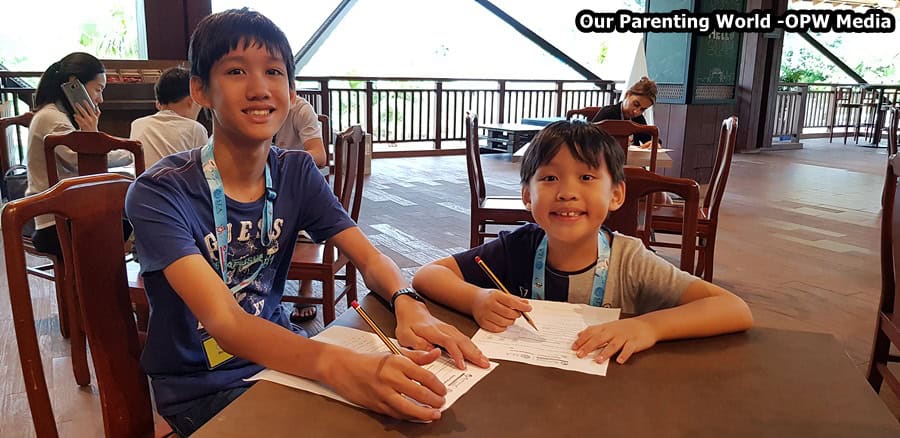 It is a meaningful, educating and enjoyable experiences for us to participate in Ocean Dreams and stay overnight in S.E.A. Aquarium. It is an experience that we will not forget! Thank you to all the staff at S.E.A. Aquarium for the wonderful experiences and hospitality! 
Giveaway Alert!
In addition, we are giving away S.E.A. Aquarium tickets and Guardians of the S.E.A.A. (GOTS) memberships (1 pair each) for our readers. To win the tickets and memberships, please visit our Facebook Page at:
https://www.facebook.com/our.parentingworld/photos/a.372751696171761.1073741825.347029628743968/1595349610578624/?type=3&theater
Hurry, giveaway will close on 16 March 2018 at 23:59Hr
Thank you and Good Luck! 🙂
Ocean Dreams
Programme Highlights
A 90-minute guided tour through S.E.A. Aquarium packed with fascinating information about the many wonders of our blue planet

Discover more about sharks, dolphins, coral reefs and other marine animals and how you can do your part to help conserve and protect our marine habitats

Get an exclusive back-of-house experience in the aquarium
Price

Adult




(13 – 59 years old)

Child (6 – 12 years old) & 




Senior (60 years old & above)

Family Package 




(2 Adults + 2 Children)

Regular

SGD158

SGD138

SGD548

RWS Invites Member

SGD142

SGD124

SGD493

*Members – Season/Annual Pass

SGD126

SGD110

SGD438
*S.E.A. Aquarium Season/ Annual Passholders and Adventure Cove Waterpark Season/ Annual Passholders. RWS Invites members will enjoy 3% rebate on purchase.
Price includes meals and admission to S.E.A. Aquarium within the stipulated hours of the programme. Sleeping bags will be provided to all participants. 
Participants can purchase discounted tickets to Adventure Cove Waterpark if they wish to continue their visit in the park after the Ocean Dreams programme. 
Terms and Conditions
Minimum age of participation is 6 years old.

Participants below 21 years old must be accompanied by at least one adult.

Bookings for participation in S.E.A Aquarium Ocean Dreams ("Programme") are to be made at least 2 weeks in advance with full payment.

In the event of cancellation due to unforeseen circumstances, Resorts World Sentosa will endeavor to inform all participants, and provide alternative date(s) for the participants to take part in the Programme.

No refunds will be made for any cancellation of bookings except in the case of Resorts World Sentosa's cancellation of the Programme.

Other terms and conditions apply.
Contact Details: 
Tel: +65 6577 7515
Email: [email protected]
To find out more, please visit: https://www.rwsentosa.com/en/attractions/sea-aquarium/educational-programmes/ocean-dreams