Old Seng Choong, the homegrown confectionary brand, has introduced its brand new, innovative Bake-Off Concept stores in the heart of Singapore at Paragon Shopping Centre and the renowned Changi Airport, consistently ranked as the world's best airport. These establishments will warmly welcome both locals and visitors with a delightful selection of freshly baked goods daily, consisting of more than 15 traditional fresh bakes with a contemporary twist.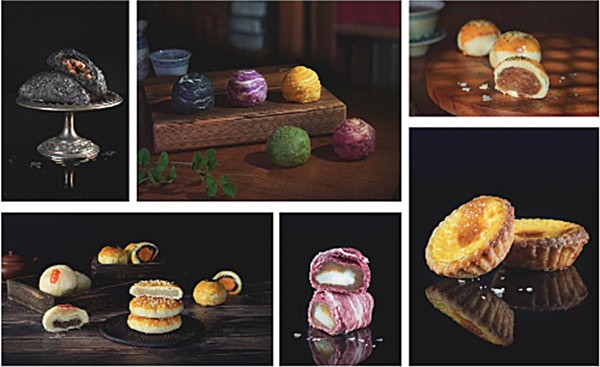 The Chinese characters 酥 (sū) and 挞 (tà) convey the essence of pastries and tarts, evoking memories of cherished traditional baked goods savoured by countless generations. Preserving the signature flaky and crispy texture as the focal point of these delectable creations, flavours such as Truffle Char Siew, Royal Sweet Potato with Mochi & Ginger, and Classic Yam with Iberico Ham are among the mouthwatering offerings exclusively available at the Bake-Off Concept stores. Additionally, there's the irresistible best-seller, the Crème Brulee Tart with its heavenly melt-in-your-mouth experience, and the latest addition, the Charcoal Egg Tart.
Chef Daniel Tay's extensive experience and leadership in the kitchen have yielded impressive results. Unlike many traditional recipes, Old Seng Choong prioritises the use of the finest butter as the fundamental ingredient in their fresh bakes. This choice is paired with precise techniques and timings to achieve the essential flaky and puffy crust that is paramount for such confections. This approach stands in contrast to the use of commonly employed fats in baking, requiring careful preparation within a controlled temperature environment to achieve the desired outcome. As customers step into the store, they are greeted by the heavenly aroma of pastries baking in the oven, which envelops the air and creates a delightful atmosphere.
Old Seng Choong seamlessly fuses tradition with a contemporary twist in everything, from its pastries to its packaging. This meticulous presentation is designed to captivate not only the local clientele but also those seeking premium corporate gifts or gourmet mementos that encapsulate the distinct flavours and beloved treats of Singapore. The ultimate goal is to solidify its identity as the Original Singapore Creation—a homegrown heritage brand that upholds time-honoured pastry and dessert traditions while introducing innovative yet nostalgia-evoking concepts that resonate with younger generations of consumers. The Old Seng Choong Bake-Off Concept is just the beginning of this exciting journey. 
Besides the expertly crafted pastries, Old Seng Choong is also known for its nostalgic, old-school cakes, and cookies that capture the unique flavours of Singapore, such as Laksa, Cereal Prawn, and Goreng Pisang. Savouring these traditional delights with a contemporary twist is truly an exceptional experience.
For more information and updates, please visit Old Seng Choong's official website and social media pages:
●      Official Website: https://www.oldsengchoong.com/
●      Instagram: https://www.instagram.com/oldsengchoong/ 
●      Facebook: https://www.facebook.com/oldsengchoong
●      TikTok: https://www.tiktok.com/@oldsengchoong
●      Xiao Hong Shu: 老成昌OLD SENG CHOONG
Photos credit to Old Seng Choong