Many parents are most concerned about their child's health and overall well-being, it is important to choose the right supplement for their kids. OLLY, the fastest growing gummy supplement brand in the USA, understands the importance of kid's health and developed OLLY KIDS IMMUNITY gummy vitamins to support parents with a simple solution to help defend against illnesses.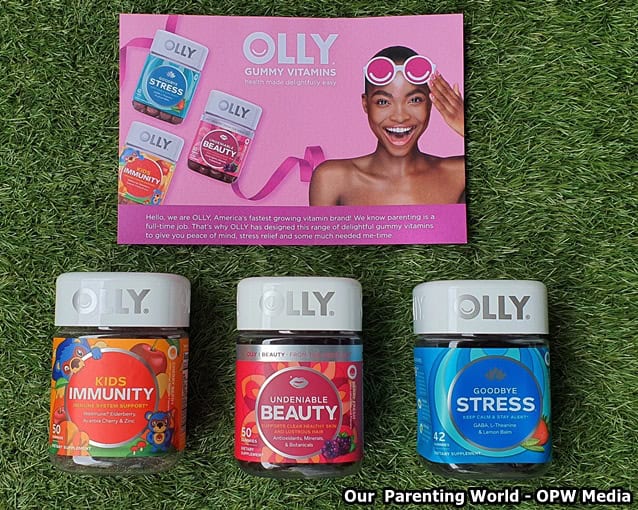 OLLY KIDS IMMUNITY (L), OLLY UNDENIABLE BEAUTY (M) and OLLY GOODBYE STRESS (R)
[Award Finalist] Kids Immunity, S$34.90 (RRP)
Immune System Support for Your Kiddos
OLLY KIDS IMMUNITY launched in May 2020, packs a powerful blend with Wellmune® Beta Glucan, a scientifically backed ingredient for keeping little bodies' immune defending cells in tip-top shape. The powerful little gummies are packed with more hard-working heroes: Acerola cherry is one of nature's richest sources of Vitamin C, Elderberry, a go-to superfood used for centuries for its immunity-supporting benefits and Zinc which is an essential mineral that helps keep immune cells in peak performance. For even more peace of mind, OLLY KIDS IMMUNITY was named a finalist in the Infant & Child Nutrition Initiative of the Year by NutraIngredients-Asia (2020). These chewy gummies are suitable for children aged 2 and above.
Undeniable Beauty, S$30.90 (RRP)
For Clear Healthy Skin and Lustrous Hair
It is important for parents to take care of themselves too. OLLY has supplements to cater for everyone's needs. OLLY UNDENIABLE BEAUTY gummy vitamins will help to keep your hair and skin in tip-top shape, and you shining bright. 
Packed with antioxidants such as vitamins A and E, and minerals like zinc and selenium that get right to the source to support a clear healthy skin and lustrous hair from the inside out. 
Goodbye Stress, S$38.90 (RRP)
Keep Calm & Stay Alert
To help parents stay calm and reduce stress that parenthood may bring worrying about their children. OLLY has created GOODBYE STRESS, the USA's #1 selling Stress gummy supplement to keep you calm, cool and collected. The power-packed blend 
works fast to help counter the bad vibes, with a boost of just what your body needs to keep you 
calm. Each gummy contains GABA, a fast working active (works within 30-60 minutes) that supports a 
relaxed state of mind to help combat stress, L-Theanine, GABA's partner in sublime – this amino acid 
goes right to work in your brain to help you keep your cool, and lemon balm, a soothing botanical that 
has been used for centuries to help quiet the mind. 
OLLY provides a range of benefit-based, expertly formulated gummy vitamins that are delicious. It contains no artificial flavoring, uses natural color source, it is gluten free & tasty. Get your daily dose of OLLY in Singapore today, from selected Watsons stores island-wide, Watsons online, LAZADA, Shopee and RedMart.