The second edition of Shilin Singapore tackles the pandemic headon with an innovative concept that digitises the festival to transport guests to a vibrant online world. Over two weekends (12-14 and 19-21 June), festival-goers can explore Digital Shilin Singapore's four online zones — Eat, Shop, Play and Fun — that will be home to captivating performances, engaging virtual hangouts, and live streams of products and delicious food that can be purchased and delivered straight to consumers' homes.
"As organisers of experiential events, this year has been quite the curveball that we are ready to tackle as boundary-pushing innovators in the creative retail and events industry. With COVID-19 proving to be a major setback for local retailers and F&B businesses, we saw healthy sign-up rates due to originality of a digital festival format, the flexibility we can give to our stakeholders and the avenue we provide to generate revenue," says Kent Teo, Founder and CEO of Invade. "We worked to create a seamless and fuss-free process for our vendors to use these services, and are even looking to host their digital stores beyond the festival dates, which will allow them to utilise the platform to earn further revenue for the foreseeable future."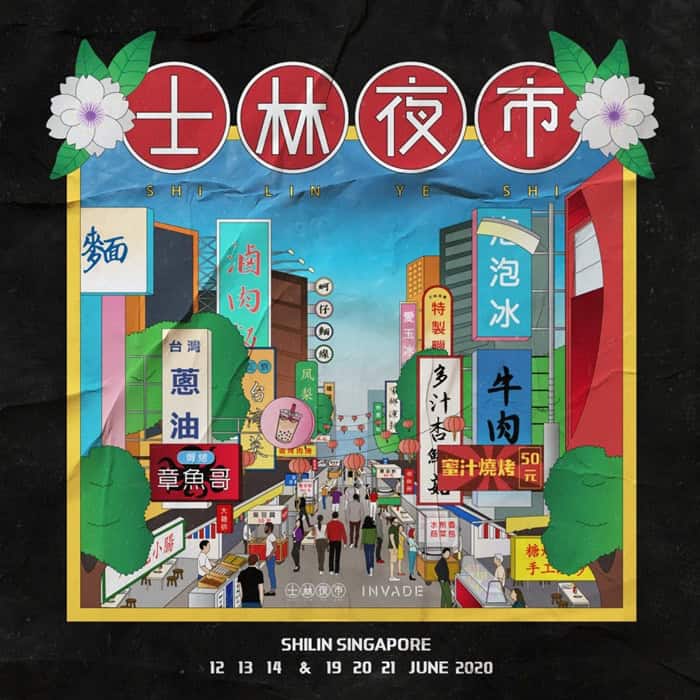 Featuring close to 100 local and regional digital pop-up stores, Digital Shilin Singapore spotlights local businesses and artisans who embody creative Asian flair and flavour across the F&B, retail and entertainment industries. From cult favourites and under-the-radar artisans to established local names and personalities, there is plenty to experience at Singapore's largest online festival. Expect an immersive experience including easy-to-follow cooking segments, as well as delivery of signature dishes like lu rou fan (Taiwanese braised pork rice) and crowd participation in hilarious variety shows hosted by established content creators.
吃 (Eat) — A plethora of traditional and creative Asian flavours
This year's delectable F&B line-up combines the best of Taiwanese flavours, local favourites and trending fusion dishes that are cooked-to-order for delivery. Many vendors are also offering Shilin Singapore-exclusive menu items, as well as their signature dishes on dedicated live streams, which include cooking shows. Customers can tuck into moreish and umami bowls of luxurious truffle lu rou fan from D'bun, or snack on Taiwanese pastries from Chia Te Bakery and Yu Jan Shin fulfilled by iCarry, paired with refreshing teas by Playmade.
Other highlights include East-meets-West casual dining outfit The Masses' decadent Iberico Pork Lu Rou Fan and Truffle Roast Pork Buns, as well as famed Korean-American-inspired joint Egg Stop's spicy Mala Chicken Sandwich.
逛 (Shop) — There's no need to shop 'til you drop with doorstep deliveries
A staple of night markets, shopping is an integral part of the convivial festival atmosphere. This year's edition harnesses the power of online shopping and real-time auction-style live streams that allow festival-goers to buy souvenirs by famed brands and handcrafted artisanal wares from various vendors. In close partnership with Shopee — the Official Lifestyle Partner — Digital Shilin Singapore seeks to bring festival-goers a curated selection of homegrown brands. Customers will be directed to Shopee's e-commerce platform or mobile application to place all local retail orders. To help those in need, homegrown artisanal perfume label, Scent by Six will be selling special Care Packs that include a hand sanitiser, effervescent Vitamin C, and face masks. 10 percent of proceeds from these packs will be donated to The Courage Fund, a relief scheme that helps individuals and families who struggle with caregiving duties and obtaining essential items during the pandemic.
玩 (Play) — Feel a sense of nostalgia through fun games and challenges
Bringing a sense of whimsy and fun to the festival is the Play area, where people are able to try their hand at various digital games and stand a chance to win prizes, participate in fun social media challenges and tasks, and even play around with special filters created for Digital Shilin Singapore.
There will also be plenty of entertainment hosted by GOMO by Singtel – the Official Digital Mobile Partner – to complete the immersive experience. Guests can try their hand at GOMO's "Stack-AMo" game, where the aim is to stack as many boxes in line as possible, and vie for a place in the Top Three to win exclusive prizes and vouchers.
樂 (Fun) — Musical performances, comedy acts and everything in between
In addition to the myriad activities available on Digital Shilin Singapore's platform, the festival will feature a main stage hosted by Lee Teng (Mediacorp artiste managed by Left Profile) with performances by local bands and singers including Cha Ban Sheng (插班生), Nat Wu, Yokez, Marcus Lee and Jay – CIRCO. Taiwanese singer, Caryson 黃譽韶, will also be doing a special set on 12-14 June at 7pm.
Festival attendees can also tune in to shows like "The Dumb and Dumber" by SGAG, where Brightman and D-Jin will embark on a series of wacky hijinks and document their reactions, andbe entertained by the "Fill Your Guts" segment, co-created with GOMO, where special guests will taste test exotic bubble tea combinations inspired by user-nominated GOMO Characters.
Digital Shilin Singapore will open from 3-11pm on 12 June 2020 and 12-11pm on 13-14 and 1921 June 2020. All local F&B orders will be fulfilled by Pickupp, the Official Delivery Partner of Digital Shilin Singapore. Customers will be directed to order food and beverages through Pickupp's mobile application or e-commerce platform.
As Official Payment Partner of Digital Shilin Singapore, Singtel Dash — the all-in-one mobile wallet — will offer attractive instant promo codes, as well as cashback for new users who make payment with the app's virtual Visa card.
Digital Shilin Singapore 2020
Dates:
12 – 14 June 2020 (Fri – Sun)
19 – 21 June 2020 (Fri – Sun)
Time:
3-11pm on 12 June
12-11pm on 13-14 & 19-21 June
For more information, updates and show times, follow: https://shilin.sg and @ShiLinSingapore on Instagram.