It is the most wonderful time of the year and Christmas is just round the corner!
For its annual Merry Fishmas, S.E.A. Aquarium brings five new friends including one of the World's Rarest Rays, the ornate eagle ray will make its debut at S.E.A. Aquarium in Resorts World Sentosa (RWS) this festive season!
Ornate eagle ray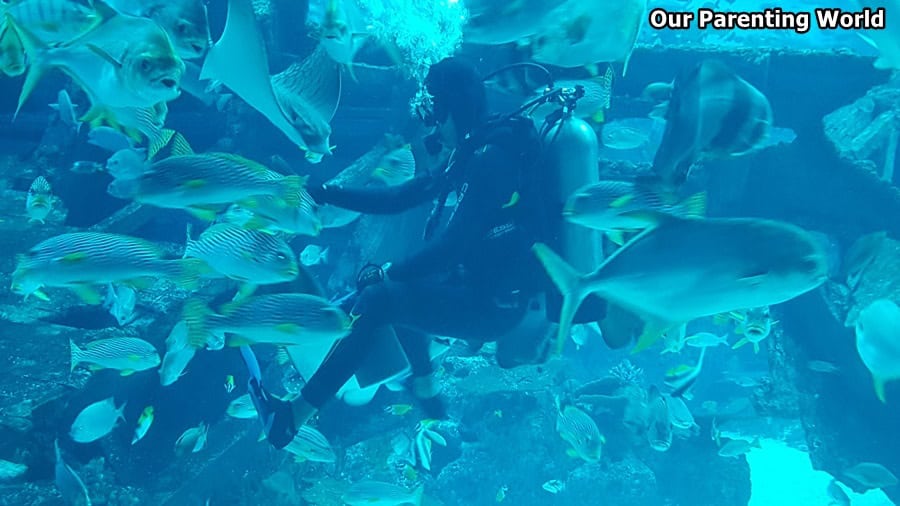 Diver hand-feeding the ornate eagle ray and along with other threatened species like shark ray, green sea turtle, hawksbill turtle and other fishes at the Shipwreck Habitat.
Before we begin our journey to celebrate Merry Fishmas, let's visit the five new fishy friends first. Introducing the ornate eagle ray coming to S.E.A. Aquarium for the first time together with Argentine humphead, Mauritius triggerfish, Honeycomb cowfish and Bat ray.  
The ornate eagle ray (Aetomylaeus vespertilio) is endangered and S.E.A. Aquarium is the world's first wildlife institution to feature this beautiful and extremely rare ray. Visitors can look forward to admire and learn more about this elusive animal as part of this year, Merry Fishmas celebrations.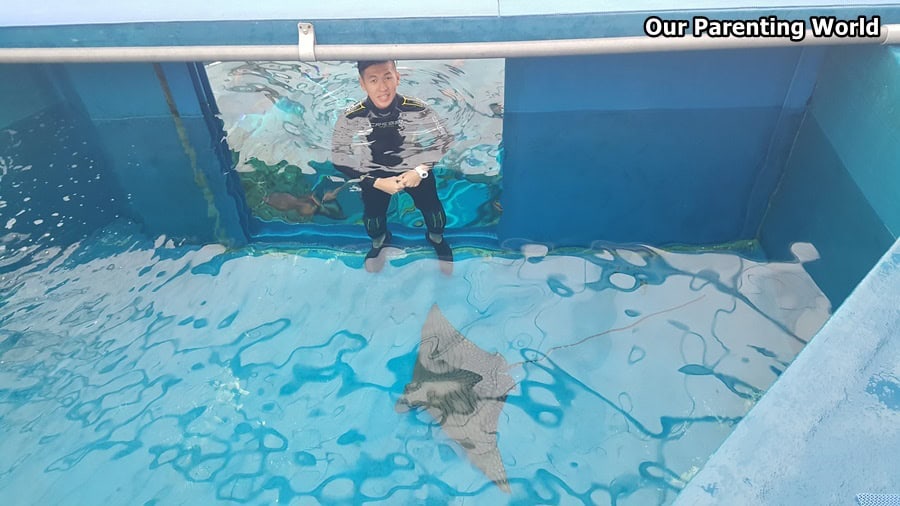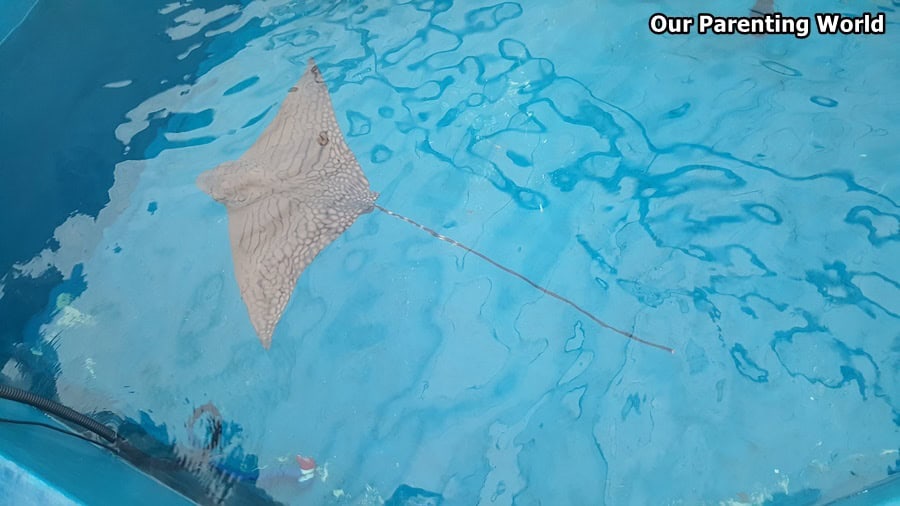 Media went behind the scene to take a closer look at this fascinating male ornate eagle ray. It came from Cairns Marine, a WAZA-accredited supplier which provides fish, corals and ongoing care to aquariums around the world. The ray is usually found in the shallow waters of the Indo-West Pacific.
It has a clearly distinct pattern of reticulate dark lines and rings on its back with white underside and has an extremely long tail. The body is flattened, disc-shaped and this beautiful ray can measure up to 5m, with a wing span of up to 240cm. It is shy, gentle and basically harmless to humans. 
Come and visit this very rare and precious ornate eagle ray at Shipwreck Habitat section of S.E.A. Aquarium.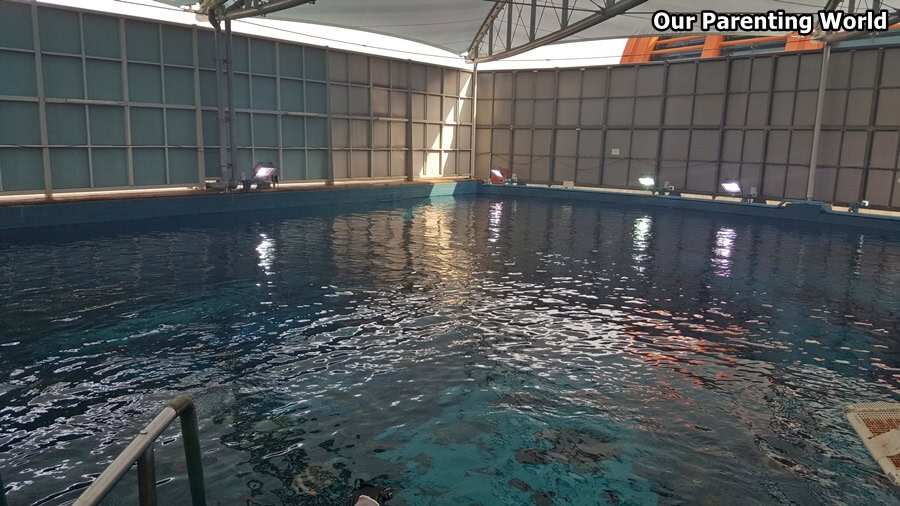 We are at the surface and on top of the Shipwreck Habitat. S.E.A. Aquarium is world famous and we get to go behind the scene to understand more about how the dedicated and passionate divers and staff take care of the many beautiful and exotic marine animals that we see at the aquarium.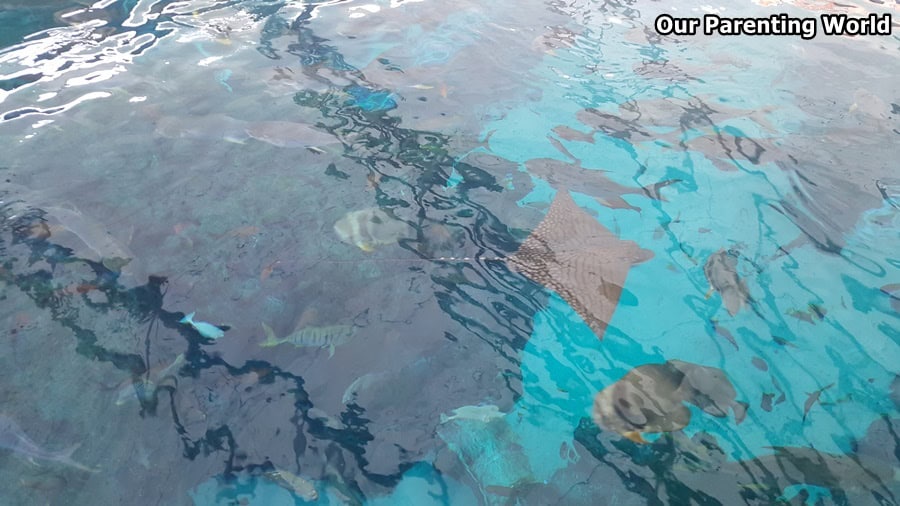 The ornate eagle ray has settled well into its new home at S.E.A. Aquarium and swimming among the marine animals. It is such a beautiful sight!
Introducing the other 4 new fishes to the aquarium as follows:
Mauritius Triggerfish @ Coral Habitant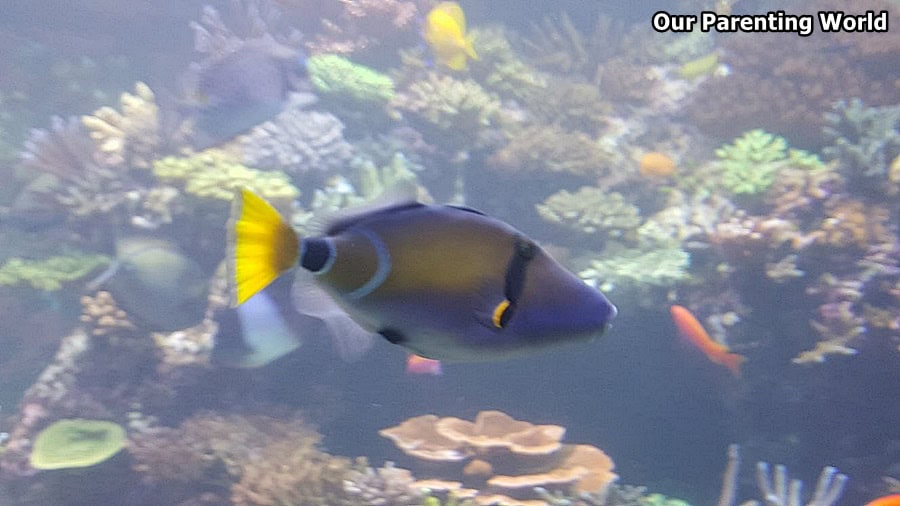 This is one of the rarest species of triggerfish also known for their nasty attitude especially when it felt threatened around nests. It will attack or bite the intruders. It has an unusually elongated shape compared to its body which makes its head looks disproportionately large. 
Argentine humphead @ South American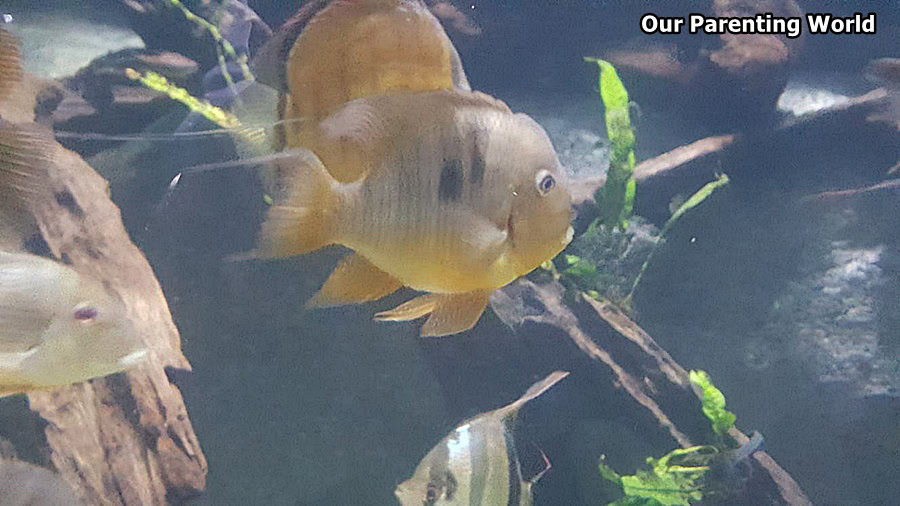 This adorable fish is known for its pronounced forehead which is more obvious in males than females. The male species is larger, more colourful and have longer fins. Interesting fact is that this species is a delayed mouthbrooder, care given by some groups of animals to their offspring by holding them in the mouth of the parent for a period of time. The female Argentine humphead will pick up the eggs from 24 to 36 hours after spawning and cares for the fry for about three week. 
Honeycomb cowfish @ Caribbean Reef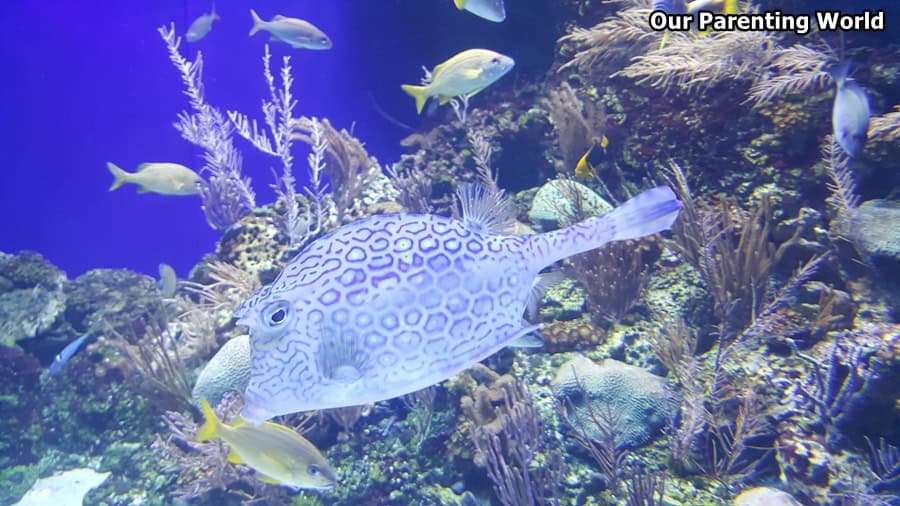 This fish has striking, unique  honeycomb-like pattern and "horns". It has the ability to change colour to protect itself from dangers like predators. The fish looks like hovering when it is swimming as it has no pelvic fins. It uses its tube mouth to suck in small fish and crustaceans. When in danger, it will release a toxin from specialised skin cells into the water, poisoning marine life in its surrounding. 
Bat Rays @ Rocky Shore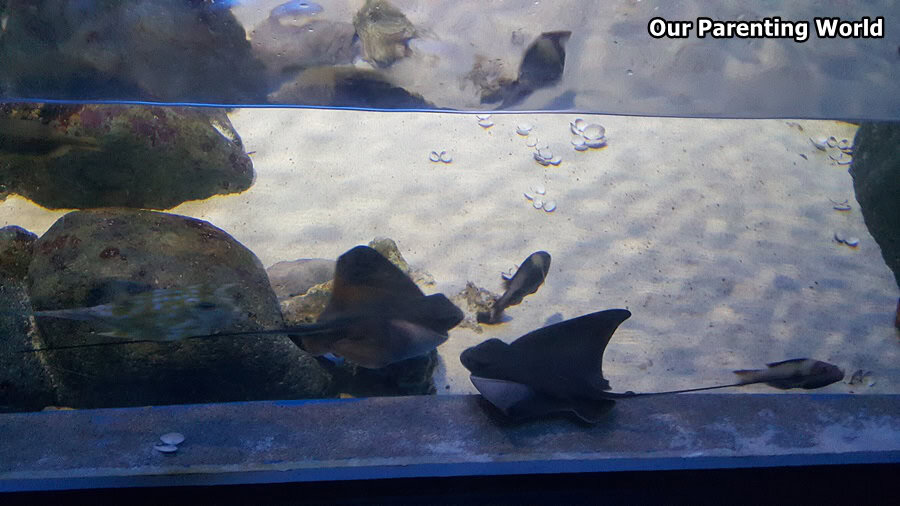 The graceful bat ray is a member of the eagle ray family. The name comes from its triangular pectoral fins (often called 'wings') shaped like the wings of a bat. The male is smaller whereas the female have a wingspan of six feet (1.8 m) and weigh 200 pounds (91 kg).
They have a unique feeding habit, flapping their pectoral fins in the sand to expose buried prey such as clams. Bat rays are known to be gentle but when attacked, it has have one to three venomous barbed spines at the base of their long tails for defense.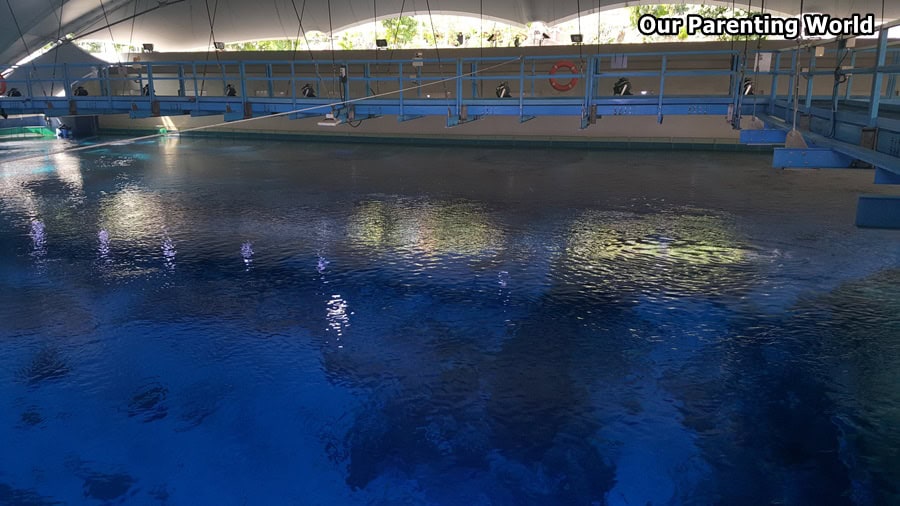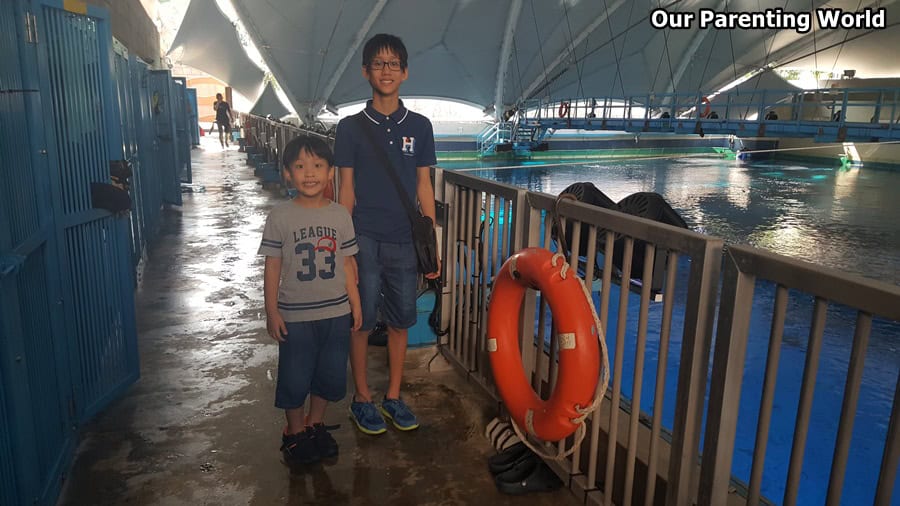 We are above the huge Open Ocean Habitat to see the diving team getting into costume and preparing for the show. We managed to catch Scuba Santa and Elves before they made their dive to greet the visitors.
Ho ho ho … Scuba Santa is here! We are so happy to meet him. 
Santa is in town and it is a rare opportunity for the media to see diving Santa feeding the huge Manta ray! Thank you S.E.A. Aquarium for this unique opportunity! 
Scuba Santa and Elves Underwater Adventures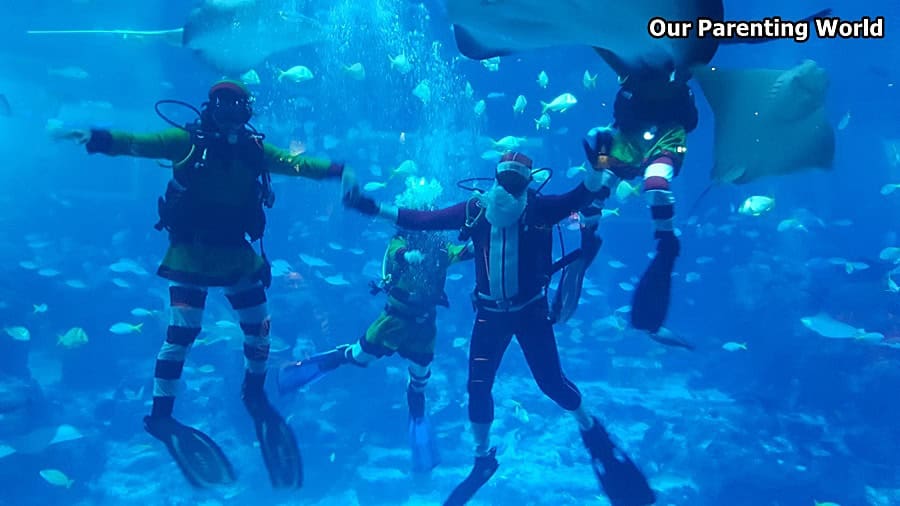 Santa is joined by the Elves diving amongst the fishy residents, this is always a crowd favourites. Watch diving Santa and Elves alongside sharks, majestic manta rays and hundreds of schooling fish and providing treats for the marine animals. Take out your camera and take lots of pictures. 
Animal Feeding Sessions (Daily)
Shipwreck Habitat: 2pm
Coral Garden: 12pm
Open Ocean Habitat: 4pm
Show Venue: Open Ocean Habitat
• 3.30pm daily
• Additional show at 1.45pm on 2, 3, 9, 10, & 16 December to 1 January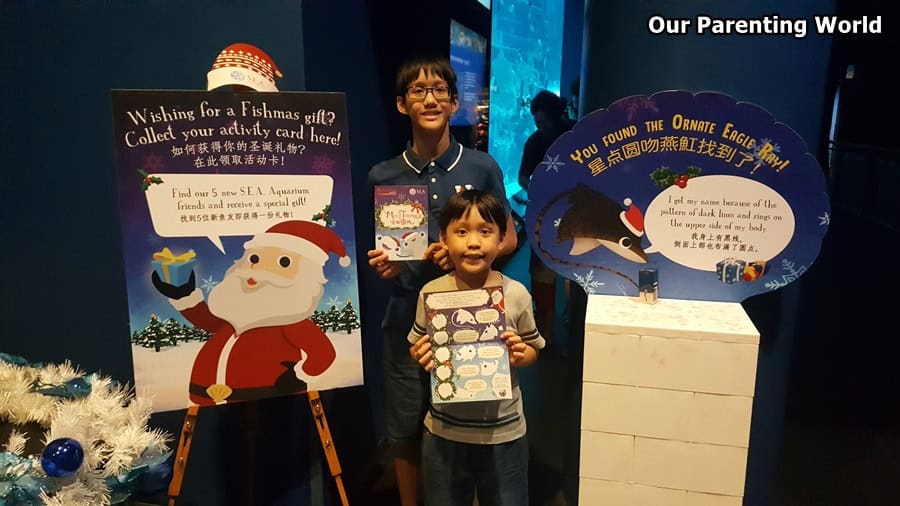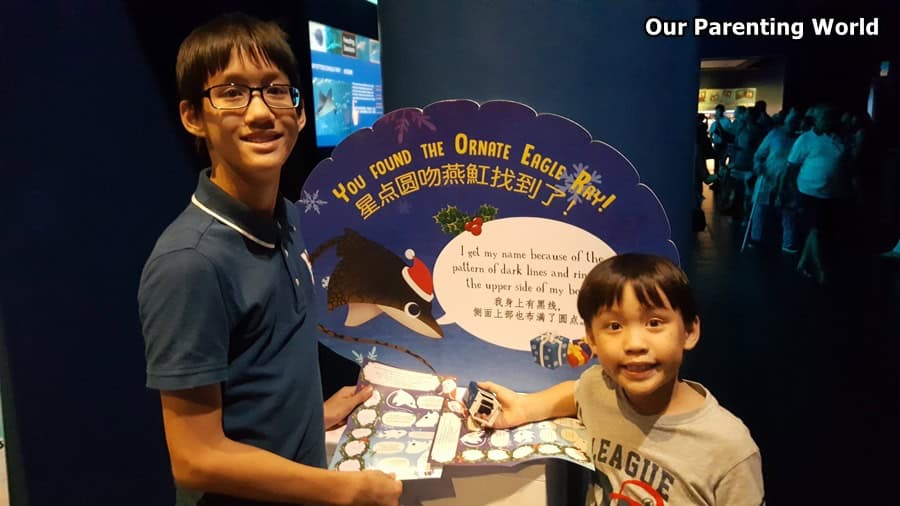 Kids can collect the activity sheet at the entrance, take part in the activities about the 5 new fishy friends at S.E.A. Aquarium to find the clues, collect all 5 stamps and receive a special gift upon completion at the Ocean Dome.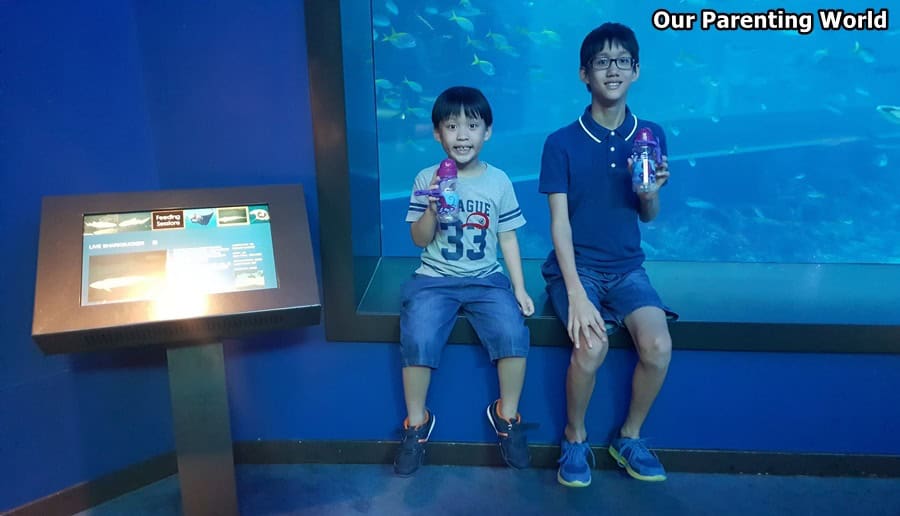 Kids get to receive a special S.E.A. Aquarium Water Bottle after completing the activity and most importantly they have a better understanding of the 5 new additions, the Ornate Eagle Ray, Argentine humphead, Mauritius triggerfish, Honeycomb cowfish and Bat ray to S.E.A. Aquarium. 
Conservation Booths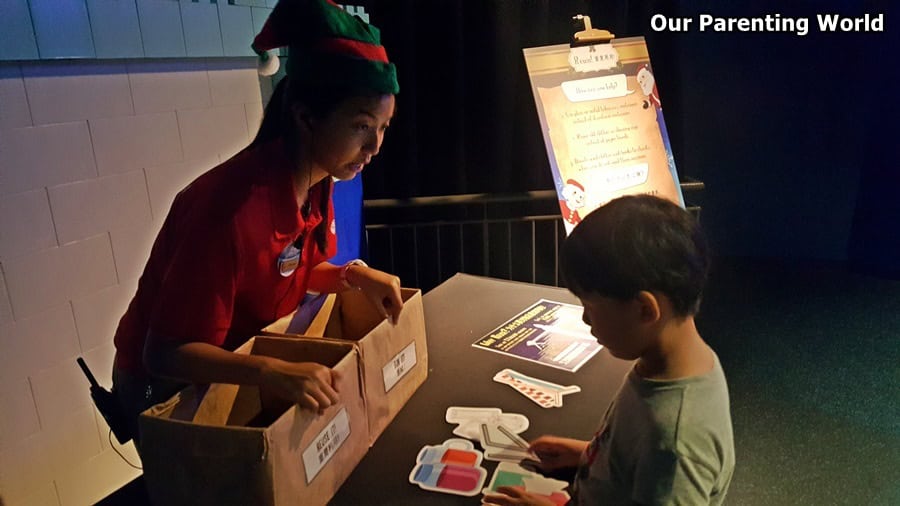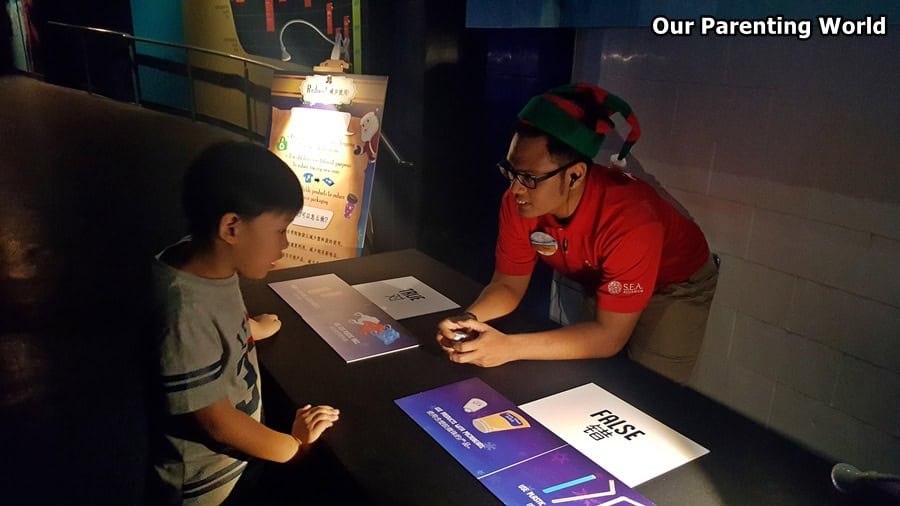 Visitors can learn more about the growing plastic pollution problem at conservation booths. If you would like to play a more active role in ocean conservation, you can sign up for the new Guardians of the S.E.A.A. membership at S$8 to enjoy exclusive perks such as invitations to members-only conservation activities, talks, workshops and events.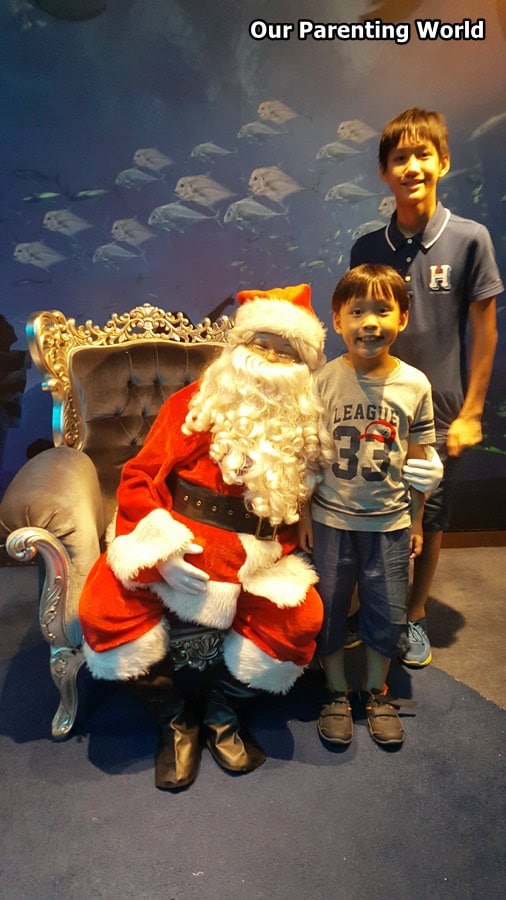 Meet and Greet Santa at Ocean Dome
Mai the manta ray with Santa & Elf: 2.15pm 
Sam the hammerhead shark with Santa & Elf: 3.45pm
Additional Information:
Visit Scrooge's Recycling Workshop, learn how to turn unwanted materials into Christmas ornaments and reduce the amount of trash that ends up in our oceans. You can also purchase a reusable canvas bag and personalise it with your own designs to create a one-of-a-kind gift for yourself or your loved ones. The new character Scrooge will also be making special appearances at the workshop where he'll teach you a recycling trick or two.
Open Ocean Gallery
Scrooge's appearance: 12.30pm, 1.30pm, 3.00pm, 4.15pm daily
Merrymakers can marvel at a dazzling 3.2-metre tall Fishmas tree made of over 300 plastic bottles assembled by young environmentalists, and get creative with Scrooge and learn how to use recycled materials to transform them into Christmas ornaments. Guests can also purchase reusable canvas bags and have fun colouring them to create personalised, ocean-friendly gifts for their loved ones. Those hungry for a quick bite can indulge in Mrs Claus' festive cupcake treats at her sweet-smelling bakery near the Open Ocean Habitat.
As part of the holiday festivities, kids can look forward to meeting the aquarium's adorable mascots – Mai the manta ray and Sam the hammerhead shark – all decked out in Christmas outfits.
Singapore residents enjoy discounts on admission at S$30 for an adult one-day ticket (U.P. S$34), and S$18 for a child/senior citizen ticket (U.P. S$24).
Merry Fishmas S.E.A. Aquarium
Celebrate Fishmas with five new friends, come and watch Santa and Elves dive in to take their merry-making through the waters and many more fun activities at S.E.A. Aquarium! 
It's a Merry Fishmas not to be missed! 
1 December 2017 to 1 January 2018
8 Sentosa Gateway,
Resorts World Sentosa
Singapore 098269
To find out more, please visit https://www.rwsentosa.com/en/attractions/sea-aquarium/promotions-and-events/fishmas
Things to do at Resorts World Sentosa this magical December
The most joyful season of the year arrives at Resorts World Sentosa and you are in for a treat this year!
Enjoy a festive line-up of events this December:
1) A Universal Christmas at Universal Studios Singapore
Happening from 1 December 2017 to 1 January 2018, transform into an elf at the immersive Santa's Workshop filled with interactive zones and help Chief Elf complete tasks at the bustling Toy Factory, Mail Room, Mrs Claus' Kitchen and more. Catch the dazzling World of Stars, new musical shows starring favourite characters, snowfall, firework displays and other festive entertainment!
More details can be found here: http://www.universalchristmas.sg/
2) Merry Fishmas at S.E.A. Aquarium
This holiday season, one of the world's rarest rays – the ornate eagle ray – will make its debut at S.E.A. Aquarium in Resorts World Sentosa. The endangered species is the first of its kind to be featured in zoos and aquariums worldwide, and guests can look forward to learning more about this strikingly beautiful but elusive animal at S.E.A. Aquarium's annual Merry Fishmas celebrations.
More details can be found here:
https://www.rwsentosa.com/en/attractions/sea-aquarium/promotions-and-events/fishmas
3) Enjoy Resort World Sentosa's year-end original production, Flying Through Time
Be amazed by Resort World Sentosa's year-end blockbuster resident production this December. The original and immersive live theatrical production presents a creative blend of specially choreographed sports actions and artistic performances featuring acrobatics, gymnastics and martial arts. Look forward to the international cast, comprising of local celebrities Mr Joshua Tan of Ah Boys To Men, together with actress Ms Melody Low.
More details can be found here:
https://www.rwsentosa.com/en/shows-and-events/flying-through-time
4) Fill up your holiday stomachs with delights from Resorts World Sentosa
Indulge in an assortment of decadent delights this Christmas season with Resort World Sentosa's Michelin-starred restaurants as they present culinary masterpieces and signatory dishes. Each restaurant has their own special menus lined up for the festive season. Pastry chefs of RWS have also created unique treats to end the year on a sweet note – including the RWS Celebrity Festive Ornament Cakes, a collection of five delicious mini-cakes designed and created by Chef Kenny Kong. These cakes embody the distinct styles of the five celebrity chef restaurants of RWS!
More details can be found here:
https://www.rwsentosa.com/en/promotions/restaurants/christmas-dining