Latest update: P. Bistro has terminated its tenancy at Palais Renaissance. It is no longer available at Palais Renaissance. To find out more about P. Bistro, please go to its website at http://p-bistro.com
P Bistro launched its second outlet at the upmarket Palais Renaissance [CLOSED] with brand new gourmet menu at affordable prices. If you are looking for fine Western food, P Bistro offers French bistro-style dining and an array of French, Italian as well as Asian-fusion dishes for those who prefer to indulge in Asian cuisine. The cosy restaurant is helmed by a passionate artisan, the head chef at the helm has earned a Le Grand Diplôme and Master Certification from Le Cordon Bleu Paris and Ecole Lenôtre respectively so you can be assured of the quality of food being served. 
Tangy Pomelo Salad ($12)
This is a flavourful, refreshing and appetizing dish with an unique combination of generous chunks of fresh pomelo, mix with cherry tomatoes, crunchy fresh mesclun, fried shallots, coriander, sliced red chilli and chef's special tamarind sauce.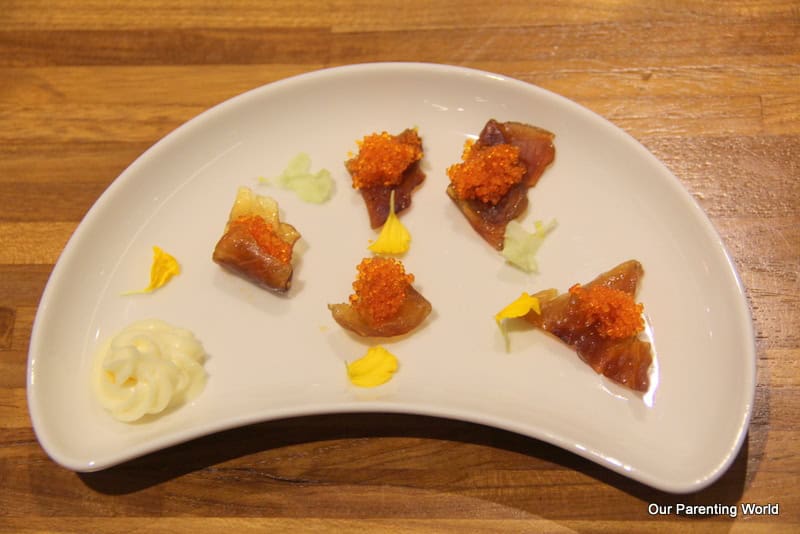 Fugu Japanese Grilled Puffer Fish with Flying Fish Roe ($12)
The grilled fugu reminded us of the traditional bakkwa (a Chinese salty-sweet dried meat product). This version is crunchy and more nutritious as it is topped with omega rich flying fish roe, it adds an interesting sensation when the flying fish roe popped in your mouth.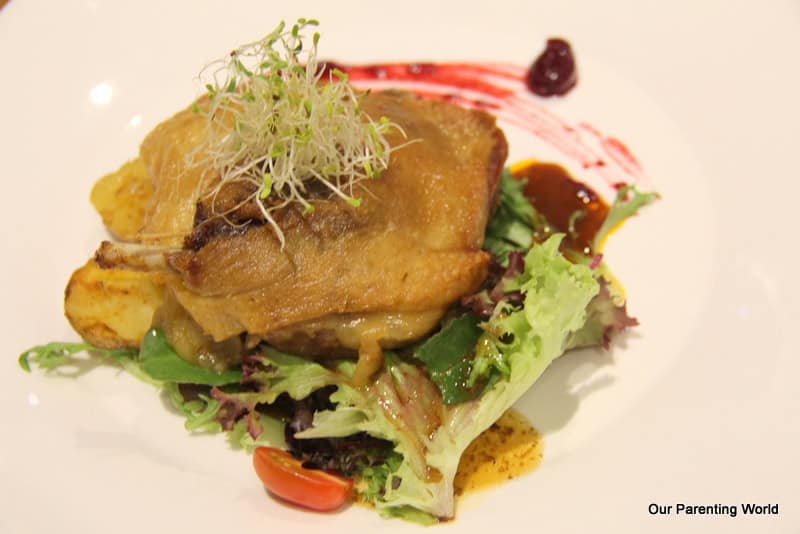 Duck Confit ($28) 
This Duck Confit dish is set to impress, the duck skin is crispy where the meat remains moist and tender. Each bite is so savoury and the duck meat is so soft that it will melt in your mouth. 
Fresh Kuhlbarra Barramundi White Fish Fillet – NEW ($26)
The Pan-seared Kühlbarra Barramundi White Fish Fillet is cooked to perfection with the skin remains crispy and the meat is very soft and tasty. This dish features fresh Kühlbarra barramundi from Barramundi Asia, seasonal vegetables and lemon butter sauce.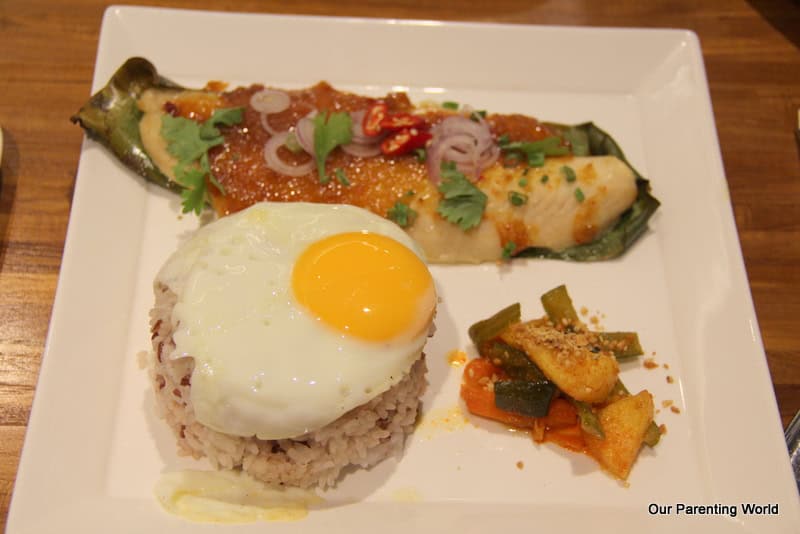 Nonya Dory ($18)
If you like spicy food, the Nonya Dory is the one for you! P Bistro uses premium dory fish fillet served with the Chef's special Peranakan sauce including a sunny side up egg, a sweet and sour achar and brown rice. Be prepared to be whisked away to a nostalgic era with the Nonya Dory, it is a delicious and hearty meal.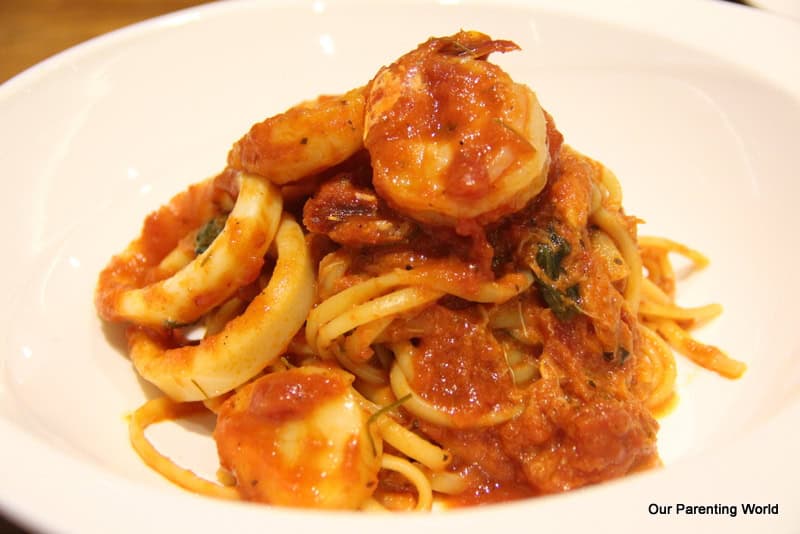 Asian Red Curry Seafood Pasta – NEW ($24)
This is one of P Bistro's signature dishes, a newly introduced and exclusive to the outlet at Palais Renaissance. If you like pasta and spicy food, try this out and you won't be disappointed. The linguine is so flavourful being soaked in the aroma creamy red curry sauce mixed with fresh seafood consisting of squids, prawns and scallops.
After a delicious and hearty meal, it is time for something sweet, check out P Bistro's desserts, a testament to the chef's virtuosity. The pastry kitchen uses top-end products such as Lurpak® butter, Elle & Vire dry butter and cream as well as traditional French fleur de sel. The pastry chefs utilise classic French methods to create the pastries.
Palmier ($1.00) 
Palmier is a French pastry in a palm tree or a butterfly shape. It is a laborious process as the puff pastry is made with alternating layers of dough and butter, rolled and folded over to create possibly hundreds of flaky layers. At P Bistro, you can enjoy this crunchy delightful pastry at only $1 each, it is great to go with coffee too.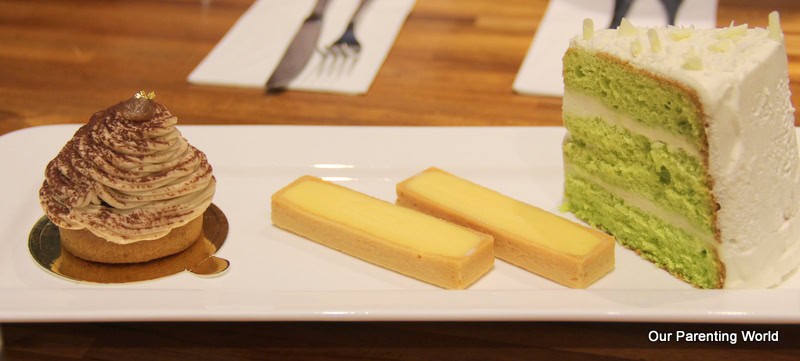 P Bistro's other delectable desserts that are popular with diners include the earthy Classic Chocolate Mont Blanc ($8.50) (L), the heartening Passionfruit Tart ($4.00) (M) and Coconut Pandan Chiffon Cake ($6.50) (R).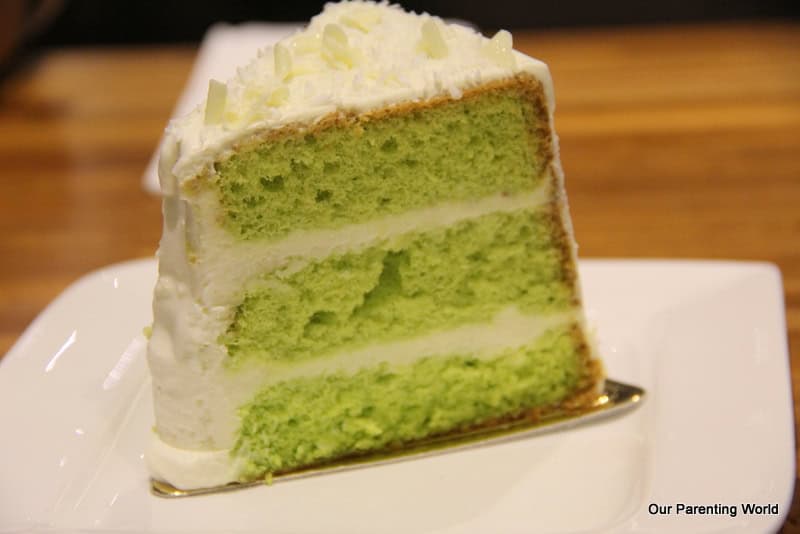 The Pandan Chiffon Cake is so soft, fluffy and gives off a pleasant light pandan flavour and comes with layers of coconut mousse for the added taste.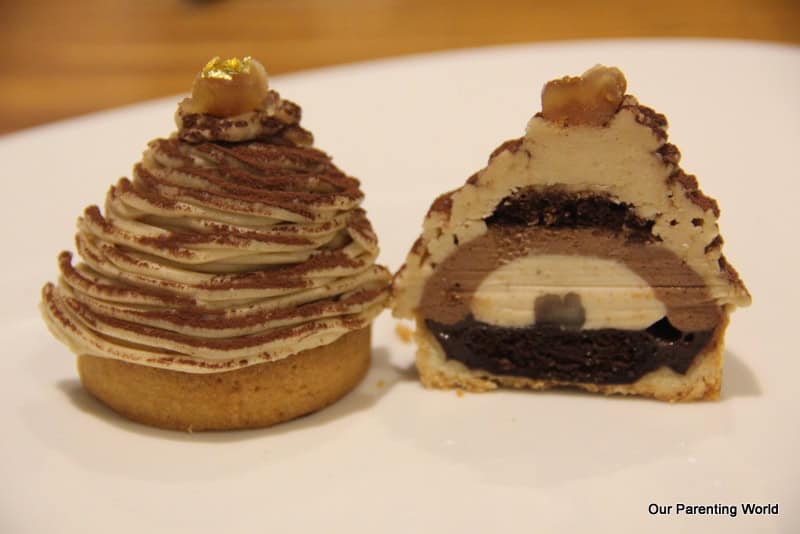 This Classic Chocolate Mont Blanc is a sure-hit dessert that comes with smooth, delicious texture layers of chocolate, sweetened chestnuts purée etc that will bring delight to your senses. 
Ice Kumquat Soda ($6) and P Bistro also serve Hot Kumquat Honey ($5)
This is an unique refreshing drink, a must-try at P Bistro that comes with hot or cold version.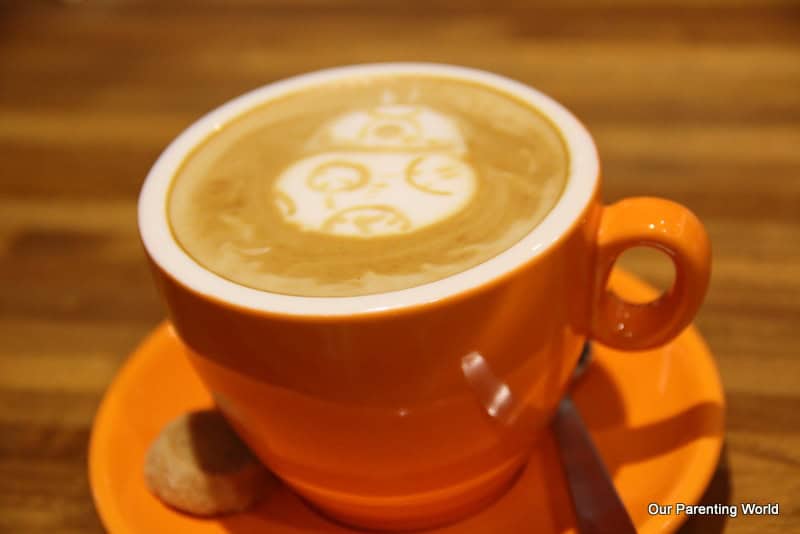 Latte/Cuppucino/Mocha ($5.50)
Coffee lovers, you will be pleased to know that P Bistro serves a wide range of coffee that comes with coffee art. We had Latte, freshly brewed Dutch Colony Coffee balanced with steamed milk and topped with a light layer of foam that comes with Star Wars Coffee Art.
Try out P Bistro, a nice cosy environment conveniently located at Orchard's prime shopping mall, Palais Renaissance that serve good food, yummy desserts and drinks at affordable prices. We will certainly be coming back to P Bistro! 
Additional Information 
Kids below the age of 8 get to dine for free on Monday with every purchase of two main courses. Selection is from Kids' Menu only. 
All-day Beer Promotion
Asahi White Super Dry at $8/bottle (a bucket of 6 @ S$40; buy 5 get 1 free)
Asahi Dark at S$10/bottle (a bucket of 6 @ S$50; buy 5 get 1 free)
Kronenbourg 1664 Blanc at S$10/bottle (a bucket of 6 @ S$50; buy 5 get 1 free)
Live Band Performances
Sit back and relax while a live band plays every Wednesday 7pm to 9.30pm and Sunday 1pm to 3pm. 
To find out more about P. Bistro, please go to its website at http://p-bistro.com