This coming Mother's Day, thinking of where to bring your mother to celebrate this special occasion? Paradise Group of Restaurants offer a diverse range of dining concepts with an extensive selection of Chinese-style dishes. Whether you're craving for delectable seafood dishes, comforting Teochew delights, or hearty hotpots, there is sure to be something that will satisfy your mother's palate and delight your entire family. All the dishes have been meticulously curated by the restaurants' respective chefs and draws inspiration from the familiar and heartwarming flavours of Mom's cooking. 
Highlights of the restaurants at a glance:
Taste Paradise
Taste Paradise offers an elaborate menu of fine Cantonese cuisine with an impressive array of fine and innovative dim sum and roast fare. With a water-like arc-shaped ceiling design and vibrant blue accents, taking inspiration from traditional Chinese landscape paintings, creating a calm and modern dining atmosphere.
Steamed Boston Lobster with Minced Kurobuta Pork and Preserved Vegetable 波士顿龙虾蒸客家梅菜黑豚肉 $98 (U.P. $108): Relish the succulence of the lobster flesh, which is interestingly paired with juicy minced pork as well as preserved vegetable, delivering a savoury punch.
Fish Maw and Matsutake Mushroom in Superior Broth served in Japanese Stone Pot

石锅胶原蛋白松茸花胶汤 $52 (U.P. $58): The exquisite fish maw and premium matsutake mushroom are cooked for several hours in a superior broth, whose flavour envelops the entire palate. The dish is served in a Japanese stone pot, which ensures the broth is kept warm throughout the entire session. 
Seafood Paradise
Coming with both indoor and al fresco seating areas, Seafood Paradise's outlet at VivoCity boasts a gorgeous view of the bay, and is an ideal venue for business lunches, family gatherings and romantic dates. Look forward to a spellbinding repertoire of quality seafood dishes that go at unbeatable prices.
Steamed Dragon Tiger Grouper in Chef's Sauce 酱蒸龙虎斑 $58.80 (U.P. $72.80): Weighing approx. 800g, the Tiger Grouper boasts a firm texture. The delicate note of the flesh is the perfect foil to the beautiful sauce.
Braised Pork Belly with Yam 芋头扣肉 $22 (U.P. $26): Incredibly tender as it is cooked for several hours, the pork belly is paired impeccably with yam. The yummy braising sauce permeates every inch of the meat and yam!
Paradise Teochew
Embracing the roots of Teochew cuisine with an emphasis on natural flavours, light seasonings and fresh ingredients, Paradise Teochew offers a menu of over a hundred Teochew-style signatures and an array of dim sum offerings. Located at Takashimaya and Scotts Square, the restaurant doles out true-blue Teochew dishes in a modern setting.
Stewed Chicken with Yellow Wine in Casserole (Half) 砂煲花雕焗滑鸡 (半只) $28 (U.P. $36): This is a comforting dish that helps with blood circulation! When served, the aroma of the yellow wine will waft through the air. Old ginger lends a spicy kick in the background.
Teochew Style Steamed Threadfin with Soybean Paste and Shredded Ginger (700-800g) 潮式豆酱姜丝蒸马友鱼 $68 (U.P. $78): Enjoy the pronounced freshness of the threadfin, soybean paste elevates the dish with its umami note.  
Canton Paradise
Canton Paradise spells oriental chic with its vibrant and chirpy interiors. A show kitchen allows diners to witness the chefs at work as they carve roasted meats and whip up classic Cantonese dishes and other dim sum delights.
Deep-fried Sea Prawn with Minced Garlic 避风塘蒜香海虾 $19.80 (U.P. $23.80): The juicy and plump prawns are fried to a crispy perfection, and then tossed with bits of garlic that lend a fragrance and addictive crunch in every bite.
Stewed Eggplant with Salted Fish in Claypot 鱼香肉松茄子煲 $12.80 (U.P. $15.80): The chunks of eggplants soak up the delicious sauce, and provide a gratifying mouthfeel. The salted fish adds an incredible depth of flavour.  
Paradise Dynasty
Dining at Paradise Dynasty is akin to taking a step back to imperial China. Be wowed by the plush dining ambience and customised imperial court lamp chandeliers that are intricately designed to capture the bygone eras of Imperial China in a contemporary fashion. Marvel at the opulence and majesty of the restaurant settings while enjoying the finest northern and southern China's cuisines.
Sliced Fish with Pickled Mustard in Szechuan Style四川酸菜鱼 $32.80 (U.P. $38.80): Be whisked away to the province with this dish. Each of the sliced fish is tinged with a pleasing salty-sour note, courtesy of the pickled mustard.
Steamed Red Bean Rose Bun (3pc) 玫瑰花豆沙包 $6.80 (U.P. $8.80): Shaped in a beautiful shade of purple made from purple sweet potato, encased within the cottony bun are subtly sweet red bean filling. These handmade rose buns also signify longevity!
Paradise Classic
A modern remake of the well-loved local classics at affordable prices, to win the hearts of young and old alike. Every dish is prepared with a flair for Chinese cooking technique using the freshest ingredients. Embark on a journey of reminiscing the taste of home with Paradise Classic.
Marmite Glazed Pork Rib 妈咪炒排骨 $14.80 (U.P. $15.90): The marmite glaze imbues the ribs with a salty, umami note that is grounded by a bitter undertone. The fall-off-the-bone ribs will be a hit amongst kids and adults alike.
Stewed Kampong Chicken in Red Yeast Wine (Half) 红槽老酒焖甘榜鸡 (半只) $19.80 (U.P. $21.80): The kampong chicken's vibrant colour is owed to the red yeast wine — not only that, it boasts a sweet and fruity note. The chicken is also superbly tender thanks to the gentle stewing. 
Paradise Hotpot
Paradise Hotpot is a modern and trendy Hong Kong-style steamboat concept that offers diners an exclusive individual hotpot with their desired broth presented in a luxurious gold metal pot. Be spoilt for choice with an array of delicious soup base selections and wide variety of fresh ingredients from homemade paste to premium selection or imported meat.
Cordyceps Flower with Chicken Essence Kampong Chicken Soup Base 鸡精虫草花鸡汤 $10.80 (U.P. $12.80): Immerse all your favourite hotpot ingredients in this deeply flavourful broth. The cordyceps flowers bathe in the highly nutritious chicken essence soup base.
Beauty in The Pot
Inspired by the culture of food for health, the hotpot concept offers nourishing soup bases that promise rich flavours coupled with abundant benefits. All ingredients are artfully made by their team of chefs to match seamlessly with the rich and flavourful soup bases for maximum enjoyment.
Warming Yellow Wine Kampong Chicken Broth 黄酒虫草花鸡汤Single Pot $28.80 (U.P. $33.80); Twin Pot $14.80 (U.P. $17.80): This is the perfect broth for all mothers! The broth is full of collagen, and the yellow wine helps to warm body and improves blood circulation.
Dang Gui Ebiko Prawn Paste 当归鱼子虾滑 $13.80 (U.P. $18.90): One of Beauty in The Pot's best-selling dishes, the ebiko prawn paste now gets an upgrade with the healthful dang gui. The prawn paste's bouncy texture and the bursts of flavour of the ebiko make this an addictive dish.
Mom's Nourishing Set 妈妈养身套餐 $98 (U.P. $128): Enjoy convenience with this set, which comes with twin pot of the Warming Yellow Wine Kampong Chicken Broth and signature Beauty Collagen Broth. Accompaniments include Dang Gui Ebiko Prawn Paste, Wild Mushroom Platter as well as Sliced Giant Grouper Fish.
We tried out the impressive Mom's Nourishing Set $98 (U.P. $128), comes with special ingredients such as Dang Gui Ebiko Prawn Paste, Wild Mushroom Platter, Sliced Giant Grouper Fish as well as Warming Yellow Wine Kampong Chicken Broth to improve health and immunity levels. This is a hearty and delicious set that will satisfy Mom and the whole family!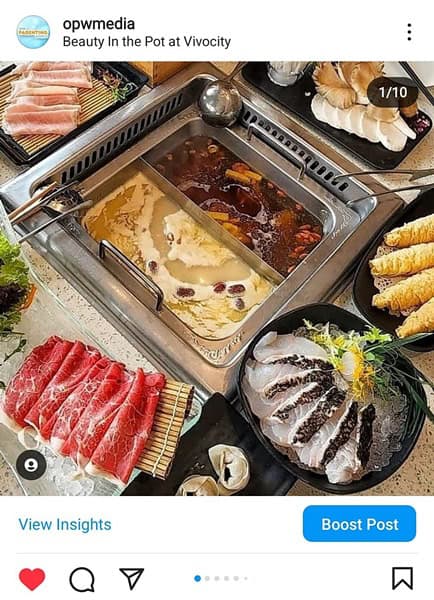 Check out our Instagram for more images of Mom's Nourishing Set at Beauty in The Pot, for more details, please visit @opwmedia 
Terms & Conditions:
Mother's Day special dishes are available daily till 31 May 2023, for dine-in and takeaway.

Discounted Mother's Day dishes and set are valid for dine-in by Citi and Maybank Credit or Debit Cardmembers, and PGR members only.

Discounted Mother's Day dishes are valid for unlimited redemptions.

Discounted Mother's Day dishes and set are not valid for private room reservations and private room dining.

Discounted Mother's Day dishes and set are not valid in conjunction with other discounts, promotions, vouchers or membership privileges.

Strictly no changing of ingredients within Mother's Day Nourishing Set.

Items in Mother's Day Nourishing Set are available while stocks last.

Prices are subject to service charge (dine-in) and prevailing GST.

Management reserves the right to amend terms and conditions of the promotion without prior notice.