Paragon reaffirms its status as Orchard Road's ultimate haven for luxurious shopping, revealing an invigorated selection of new tenants and revamped stores. Shoppers can anticipate an enhanced retail experience that exemplifies Paragon's unwavering commitment to pampering shoppers with a penchant for luxury and a taste for the finer things in life.
Paragon strives to create a luxurious haven for shoppers on every level, encompassing a variety of upscale offerings. From a unique concept store and prestigious fashion brands to gourmet dining experiences and captivating art installations, Paragon curates a world of opulence. The introduction of new tenants is a testament to Paragon's ongoing commitment to providing covetable brands and innovative concepts to its discerning patrons. In collaboration with existing tenants, Paragon ensures that the new décor harmoniously complements the mall's premium allure.
Avenue on 3
Paragon presents Avenue on 3, an exclusive deluxe concept store spanning 8,000 sq ft on its third floor. This unique retail destination offers an immersive experience, combining luxury and lifestyle in one exquisite space. Discover an impressive selection of high-end brands featuring shoes, bags, and accessories. Moreover, Avenue on 3 boasts its very own café, artisanal chocolatier, and a coffee/champagne bar, making it an all-encompassing haven of indulgence and refinement.
Immerse yourself in the realm of art and culture at Paragon's latest addition, Linda Gallery. This captivating attraction showcases an extensive collection of artworks created by talented Chinese and South Asian artists. With 30 years of expertise in curating art for the public, Linda Gallery promises a remarkable experience, where you can uncover emerging artists and encounter high-quality exhibitions with each visit. Discover new emerging artists and prepare to be mesmerised by the gallery's exceptional exhibitions, showcasing high-quality artworks that are sure to inspire and delight.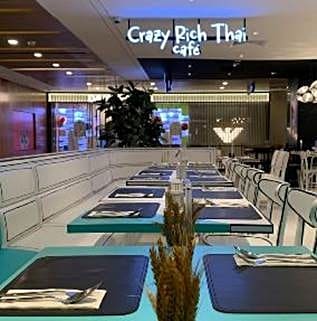 Crazy Rich Thai Café
Unveiling a whole new dimension at Paragon, immerse yourself in a world of culinary delights and wellness haven with the arrival of enticing new tenants. Indulge in the culinary delights of Crazy Rich Thai Café, where audacious Thai-Western fusion dishes are served amidst a visually stunning interior. Delight your taste buds with the fresh and innovative recipes at Coast & Roast by Fish & Co., a new dining concept that promises to please both loyal and new customers. Explore the delectable creations of renowned Singaporean pastry chef Daniel Tay at Old Seng Choong. Enhance your well-being with Jynns, a wellness brand offering a range of health products ideal for personal consumption. Next, discover the effortless elegance of Weekend MaxMara, a women's casual wear label that epitomizes laid-back sophistication. Rediscover Paragon through this exciting ensemble of tenants, each contributing to a vibrant and enriching shopping experience.
Paragon welcomes an exciting lineup of fashion labels making their debut, such as ANTA Sports, China's leading sportswear and equipment brand, and FILA, offering a range of sporting and lifestyle shoes and apparel.
Meanwhile, current tenants at Paragon showcase refreshed styles and updated collections. Discover contemporary fashion at Ted Baker, artisanal jeweller at Daughters Diamonds, lifestyle travel store Boarding Gate, and Singapore's leading wine specialist 1855 The Bottle Shop.
Come, experience the latest in fashion and lifestyle trends, all within the luxurious ambiance of Paragon.
From now till 25 June, Paragon will be running a Paragon Junior campaign entitled "Little Treasures" which offers a slew of deals, rewards, and giveaways. Young families who desire new experiences during the June school holidays will certainly have something new and more rewards to enjoy at Paragon.
SPENDING REWARDS
Spend a min. of $400* in max. 3 same-day receipts to receive a $20 CPM e-Voucher.
Paragon Junior store receipts only need a min. spend of $350* to qualify.
PARAGON CLUB MEMBERS' EXCLUSIVE
Receive 125 bonus points when you upgrade from Premier to Prestige tier.
Premier members can redeem for CPM e-Vouchers with Paragon Club rewards points till 25 June only!
SUN – THU EVENING TREATS AFTER 5PM
Receive a $5 CPM e-Voucher with a min. spend of $50* in a single receipt.
CONTEST GIVEAWAYS
Participate in Paragon's social media contests and stand to win attractive prizes!
Follow Paragon's Facebook and Instagram for more details.
IN-STORE DEALS
Bask in a spree of attractive deals this school holiday at Paragon! Check in-store for more details or click here for the full list of offers!
*Terms & Condition Apply. Redemption is offered on a while stocks last basis.
Follow Paragon online and on social media:
Website: https://www.paragon.com.sg/
Instagram: https://www.instagram.com/paragon.sg/
Facebook: https://www.facebook.com/paragon.sg/
Hashtag: #paragonsg