PAZZION, fashion and lifestyle homegrown brand is thinking green with the launch of its new sustainable fashion and food featuring all-new women's footwear and new PAZZION Cafe located at Takashimaya Shopping Centre. Beyond paying homage to Earth Month, PAZZION believes in living consciously as a lifestyle.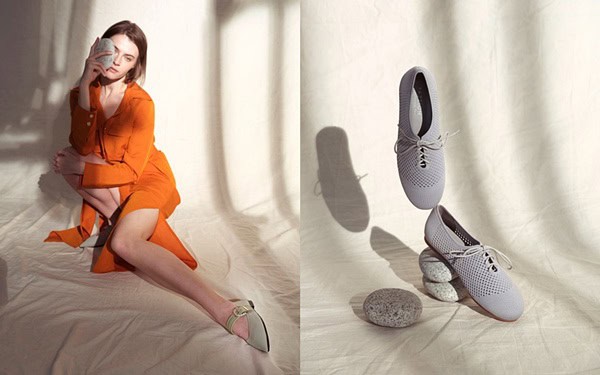 PAZZION's Sustainable Collection bathed in earthy hues and soft pastels inspired by our natural environment is giving a second lease of life to Greige. An unfinished woven or knitted fabric that has not been bleached or dyed, Greige is 100% recycled post-consumer polyester that is made of plastic waste collected from seas and landfills. The first of more sustainable collections to come, PAZZION is working closely with production partners to transform fishing nets and bottles into gorgeous, ethical footwear.
PAZZION is serious about sustainability, designed with playful embellishments and coveted diamante touches, their shoes were made to take you from work desk to dinner and dancing. The brand is testament that you can have fun and love the planet at the same time! 
The New PAZZION Flagship Store and Cafe
PAZZION's flagship store and PAZZION Cafe has officially opened at Takashimaya Shopping Centre this month.
Foodies can look forward to embark on a gastronomic journey of burgers, pastas, vegetarian and vegan offerings at PAZZION Cafe, each dish is freshly made in the kitchen, using produce that champions thoughtful living such as organic cage-free eggs, tropical fresh fruits, and herbs and spices native to the region. Here's some of the delectable dishes being served at the new PAZZION Cafe as follows: 
Salads – Crabmeat Pomelo Salad
Mains – Braised Beef Cheek
Desserts – Sweet French Toast (L) and Savory French Toast (R)
PAZZION Cafe is the perfect place for you to relax and unwind after a hard day at work, and also to spend time with your family and friends to enjoy good food and drinks in a stylish and cosy environment! 
Exclusive Interview with PAZZION Cafe's Assistant Cafe Manager, Alan Nam
Our editorial team speaks to Alan Nam, PAZZION Cafe's Assistant Cafe Manager where he shares more about the new PAZZION retail store, the new cafe offering more sustainable options, and other key highlights on the new store and dining experiences. Read on to find out more.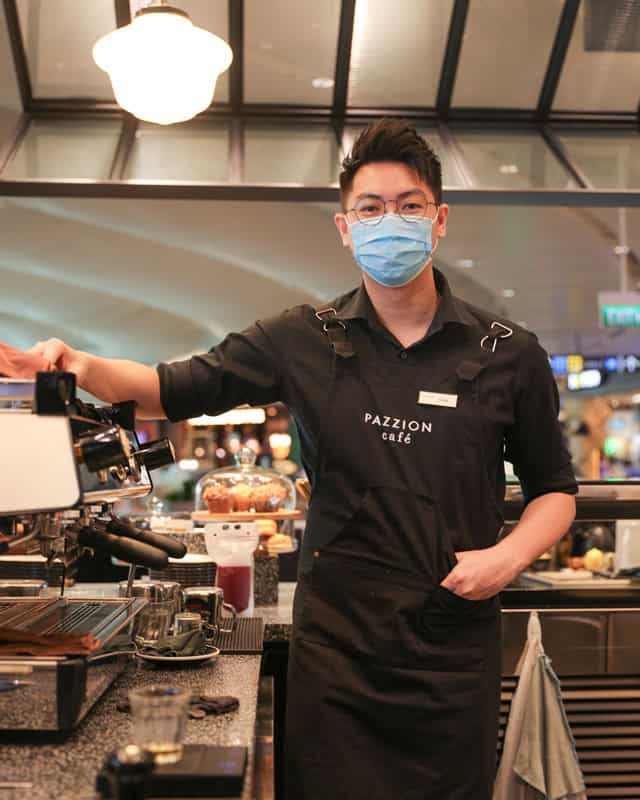 1. Can you tell us more about the new PAZZION retail store and cafe offering more sustainable options than before?
Alan: PAZZION's latest sustainable collection of shoes is made of 100 per cent recycled post-consumer polyester, and this sustainable approach is in line with our vision to contribute to sustainable living by the inclusion of vegan and vegetarian options on the cafe's menu.
2. What's the inspiration and concept behind designing the new retail store and café?
Alan: To create an urban rustic haven made for the digital nomads by day and a charming cosy café by night. Aimed to provide sanctuary for social gatherings and lazy lunches. Built in with a thoughtfully design retail alley, we offer binary concierge services for customers to shop with ease.
Experience a holistic lifestyle, the here and now.
3. What are the plant-based dishes available at PAZZION café that you would like to recommend to our readers?
Alan: Our two vegetarian dishes we strongly recommend are:
Ultimate Vegetarian Breakfast
Despite the appeal of the eponymous breakfast, the true masterwork of Vegetarian offerings; The Ultimate Vegetarian Breakfast. Be regaled with a healthy and delicious vegetarian breakfast that even proud meat-eaters will be testing them out in the mornings. This recipe combines Portobello Mushrooms, Baked Japanese Pumpkin Halloumi Cheese, Avocado, Kale salad, Baked Roma Tomato, Lemon Wedge and Sourdough. Lastly, choose your Eggs in any style.
Beyond Impossible Burger
We bring flavors of traditional beef with our Impossible Patties that replicate the colours, textures, and flavours of beef. In particular, our Juicy Impossible Burger, richly drizzled with Homemade BBQ Sauce, cushioned with Vegan Bun can and do fool meat lovers. This is your one way to find out if plant burgers are for you and it marks the most sustainable alternative if you recoil at the idea of giving up hamburgers. Be amazed by how faithfully our Beyond Impossible recipe captures the experience you crave.
4. What's the key highlights of the new store and dining experiences that customers can look forward to enjoy?
Alan:  Be prepared to indulge in evolving nuances and customary flavours of colourful produce, serving both imaginative flavours and traditional taste profiles to create inspired combinations that are prepared with sensibility.
With our new store at TAKA, we focus on providing a Value Added Service, to enhance our customer's shopping experience. This Concierge Services are for customers to shop with ease in a few simple steps that involves scanning of product's QR Codes. Customers need not worry about lugging around shopping bags and we offer Free Delivery with every shoe purchase.
5. Lastly, what would you like to say to our readers who are looking forward to try out the new PAZZION retail store and café?
Alan: Visit us for a holistic experience where you can unwind and relax! We look forward to seeing you!
Concept store of the future
The new PAZZION retail store and cafe spans nearly 2,500 square feet featuring designs that is minimalist in aesthetic with wood surfaces that create a warm, inviting ambience. 
What's more, shopping is now made even more convenient with the new PAZZION retail store binary concierge services for customers to shop with ease. Customers can use QR codes to make purchases, try on the shoes in person without having to fuss over carrying the bags out the door; your purchases will be sent right to your doorstep within 2 days. 
The sustainable shoes collection is available online and in-stores. PAZZION is available online at www.pazzion.com and in-store at Takashimaya Shopping Centre, Bugis Junction, Marina Bay Sands, Junction 8, Wisma Atria, Tampines Mall, Vivocity, JEM and Jewel. Customers who spend at least $100 will receive an exclusive recycle tote bag. 
Featured image and all other images credit to PAZZION