Peach Blossoms at Marina Mandarin Singapore, a celebrated Chinese restaurant is helmed by Chef Francis Chong Wui Choong as its new Executive Chinese Chef. Chef Chong has won many awards and is regarded as one of the top chefs in Singapore. 
Peach Blossoms has recently launched a new Abalone Set Menu much to the delight of gourmet food lovers!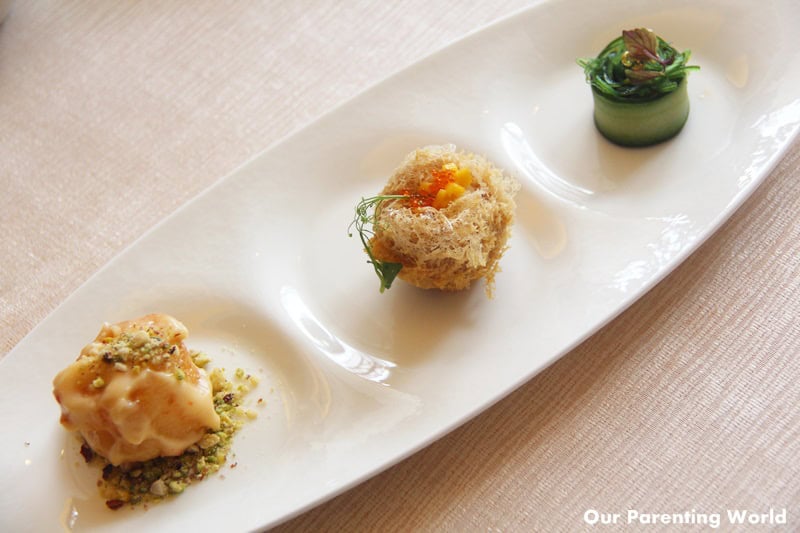 Peach Blossoms Trio Appetizer Combination 
The set menu started off with its Trio Appetizer Combination. It was beautifully presented consisting of Deep-fried Prawn coated with Mayo and Mixed Nuts, Deep-fried Scallop and Banana wrapped with Mashed Taro and Chilled Japanese Cucumber Rolls filled with Jellyfish. We like each of the trio combination and especially the Deep-fried Prawn coated with Mayo and Mixed Nuts, together with the fresh prawn, creamy taste with the mayo and crunchy texture from the mixed nuts makes this a delight to pop into your mouth!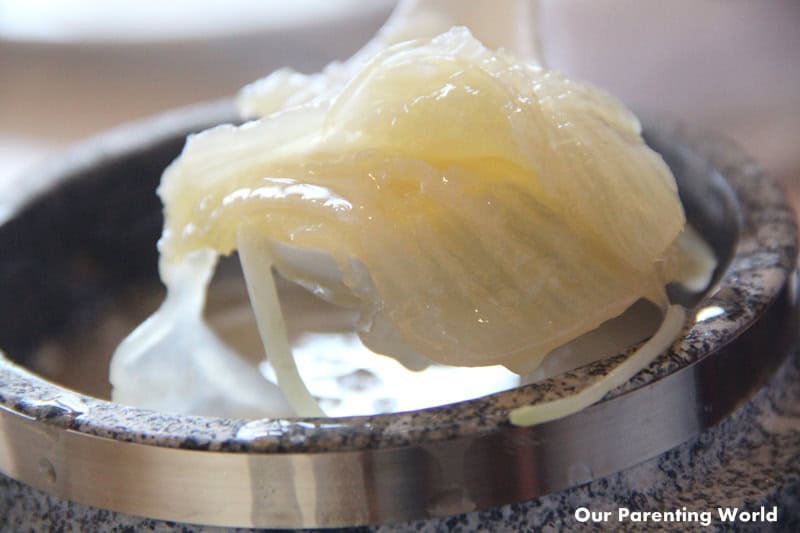 Braised Shark's Fin in Supreme Broth served in Stone Bowl
This rich Braised Shark's Fin broth was boiled with great care and thoroughness for eight hours and served in a stone bowl to continue to keep the soup warm while diners tucked into their soups. You can include some fresh bean sprouts provided for added crunchiness to this wholesome soup!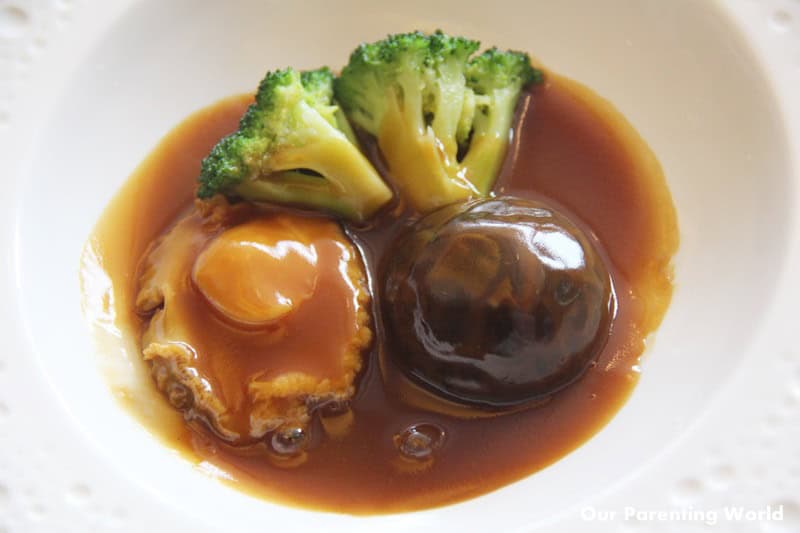 Braised Six-headed Whole Abalone in Superior Oyster Sauce
Now comes the highlight, Abalone is definitely the star of this set menu! The abalone was braised in superior oyster sauce perfectly cooked to lock in the flavours while the abalone remains tender and chewy. The abalone is very easy to slice and chew, well complement with the accompanying mushroom and broccoli.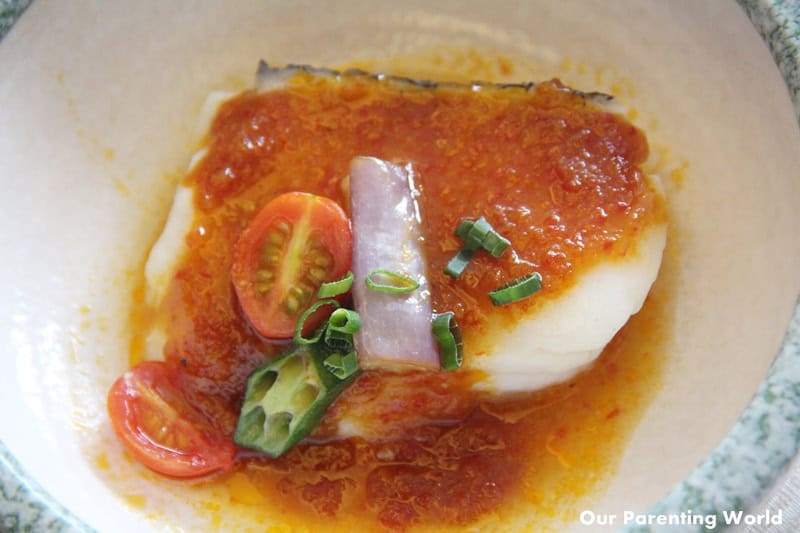 Steamed Silver Cod in 'Penang' Style
We love to eat fish and this is the first time we tried fish being cooked in 'Penang' style. We were surprised by the taste, the fish is absolutely delicious! The meat is very fresh, succulent and so tasty combined with the sweet and tangy sauce made by Chef Chong's own recipe.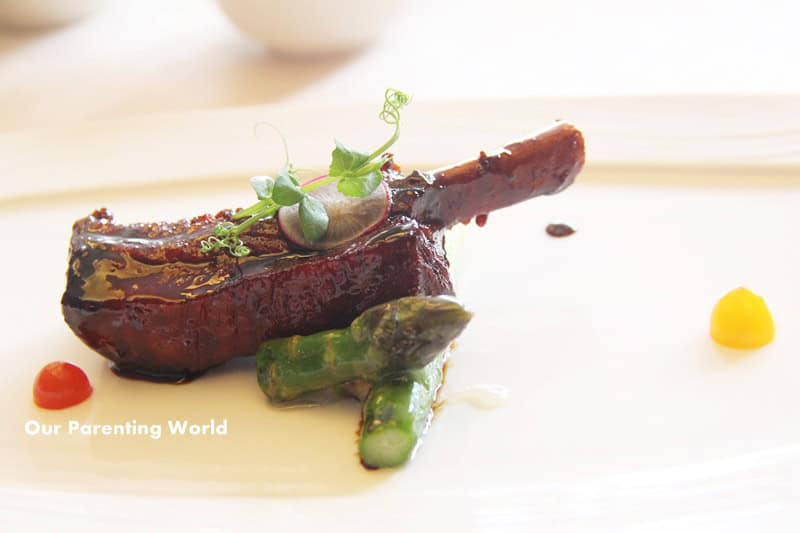 "Dong Po" Pork Ribs with Honey Sauce
The iconic "Dong Po" Pork is named after the famed Song Dynasty poet and gastronome Su Dong Po. At Peach Blossoms, Chef Chong used pork ribs instead of the usual fatty "Dong Po" pork. We prefer the pork ribs' version instead of fatty meat for health reasons. This version is less oily, does not leave a greasy feel on your mouth and the meat is so fragrant with the honey sauce, sweet and tender.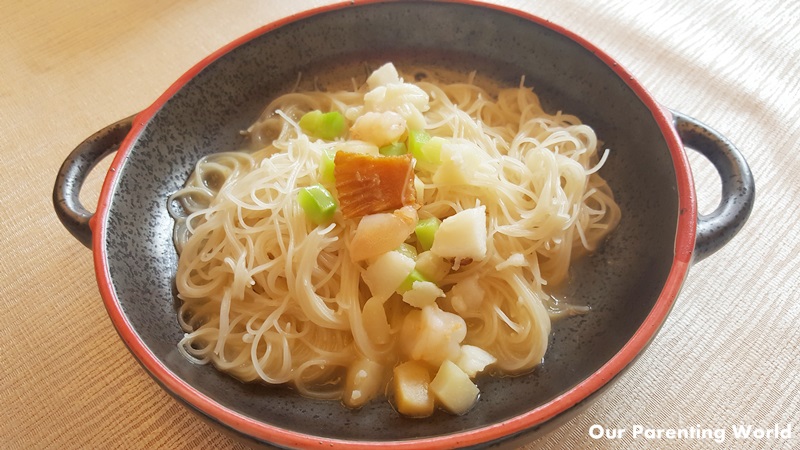 Stewed Rice Vermicelli with Assorted Seafood
The vermicelli dish is served towards the end of the set menu. This is a satisfying noodles dish with soft, tangy flavourful soupy noodles generously filled with scallops and shrimps. 
Chilled Coconut Jelly with Mango Puree served with Coconut Ice Cream
This refreshing dessert is not the usual mango puree that we have tried before, it has mango cubes and coconut jelly in the puree complete with coconut ice cream. You can eat the ice cream on its own or mix it with the puree. 
Visit Peach Blossoms at Marina Mandarin Singapore and simply indulge in its Abalone Set Menu now! The Abalone Set Menu is available at S$128++ per person. 
Peach Blossoms 
Marina Mandarin Singapore 
Level 5, 6 Raffles Boulevard Marina Square, Singapore 039594
Operating Hours:
Monday – Friday
Lunch: 12.00pm – 3.00pm
Weekend Lunch (Saturday, Sunday & Public Holidays)
11.00am – 3.00pm
Daily
Dinner: 6.30pm – 10.30pm
Reservations: (65) 6845 1118
Email: [email protected]
Please click HERE for more information.