Calling Thai food lovers! Prepare yourself for a remarkable gastronomic celebration as Peppermint brings back the eagerly awaited Thai buffet extravaganza called "Tantalising Thai," skillfully created by Chef de Cuisine Leon Yee and his team of culinary experts at Peppermint. Enjoy the flavourful and enticing tastes of Thailand at their all-you-can-eat feast from 2 June until 30 June 2023.
Experience the delectable flavours of the Wok-fried Yellow Curry Crab Meat, the mouth-watering succulence of Rock Lobster cooked in Pineapple Tamarind Gravy, and the irresistible Black Mussel simmered in Yellow Pineapple Gravy. Delight in the explosion of taste with their Red Curry Sugar Cane Prawn and the aromatic Thai Garlic Prawn with Basil. Indulge your senses with the heavenly Steamed Squid, complemented by a zesty Kaffir Lime Garlic Chili Dressing, and relish the delightful Stir-fried Squid with Salted Egg.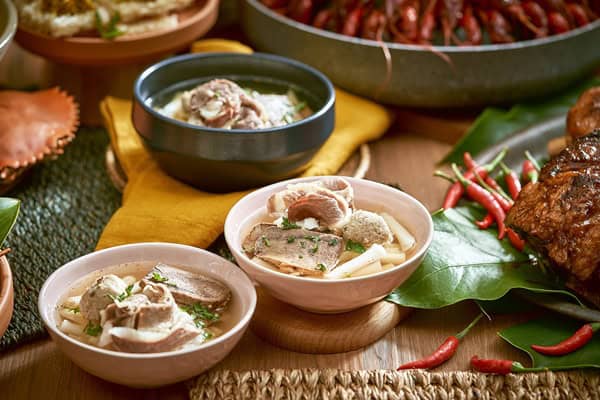 There's even more to tantalise your taste buds! Prepare yourself for the captivating array of flavours at the Gaeng (Thai Curry) Station. Allow yourself to be mesmerized by the richness and complexity of Gaeng Massaman Neua (Black Angus Beef Oxtail), the vibrant and aromatic Kaeng Khiao Wan (Green Curry Chicken), and the heavenly Kaeng Phed Ped Yang (Red Curry Roast Duck). Take a delightful detour to the Noodle Station and pamper your palate with the enticing Thai Beef Kway Chap and the delectable Braised Duck Rice Noodle.
Don't miss out on the Jumbo Tom Yum Seafood Tower, a definite must-try. This dish, perfect for capturing Instagram-worthy moments, showcases a tower of impeccably cooked shrimp, squid, mussels, and other delectable seafood, immersed in a zesty and tantalising tom yum broth. Let's not overlook the timeless favourite, Khao Mun Gai (Poached Chicken) accompanied by Fragrant Jasmine Rice, infused with the delightful essence of Pandan and Ginger sourced from their very own Urban Farm.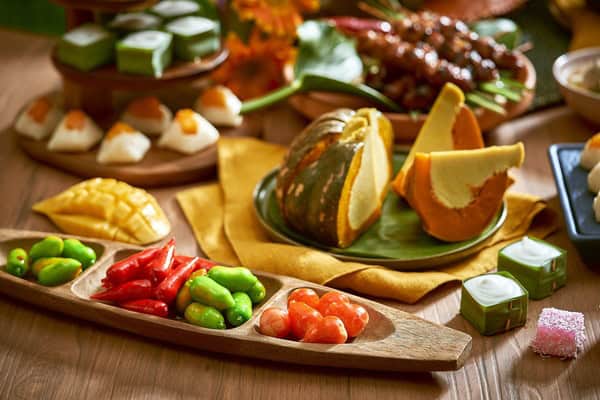 Leave some space for a delectable sweet ending with a selection of must-try Thai desserts. Relish the refreshing Red Ruby immersed in aromatic Pandan Syrup, savour the velvety texture of Steamed Tapioca served with luscious Coconut Sauce, and delight in the exquisite Thai Tako Pudding topped with a generous dollop of Coconut. Prepare yourself for a sweet sensation that goes beyond imagination!
In celebration of Father's Day, dine with your father on 17 or 18 June 2023 in a group of four or more, and receive a complimentary Father's Day mug. The Father's Day Special is priced at $108++ per adult and $54++ per child (6 to 12 years old) for both lunch and dinner.
For reservations, please call +65 6845 1112, email [email protected] or visit https://bit.ly/Peppermint-sg.
Tantalising Thai:
Weekday Lunch (Mondays to Fridays, 12:00pm to 2:30pm)
SGD68++ per adult and SGD34++ per child (6 to 12 years old)
Weekday Dinner (Mondays to Fridays, 6:30pm to 10:00pm)
SGD98++ per adult and SGD49++ per child (6 to 12 years old)
Weekend Lunch (Saturdays, Sundays and Public Holidays, 12:00pm to 3:00pm)
SGD78++ per adult and SGD39++ per child (6 to 12 years old)
Weekend Dinner (Saturdays, Sundays and Public Holidays, 6:30pm to 10:00pm)
SGD108++ per adult and SGD54++ per child (6 to 12 years old)
Peppermint
Venue: PARKROYAL COLLECTION Marina Bay, Singapore
Level four, 6 Raffles Boulevard, Singapore 039594
Opening Hours
Lunch:
– 12:00pm to 2:30pm (Mondays to Fridays)
– 12:00pm to 3:00pm (Saturdays, Sundays and Public Holidays)
Dinner
– 6.30pm to 11:00pm (Daily)
Reservations
Tel: 6845 1112
Email: [email protected]
Website: https://bit.ly/Peppermint-sg
Nearest MRT: Esplanade Station (CC3)