The FriXion Series by Pilot Pen was launched in 2005 as the world's first erasable writing range of writing tools. It has continued to enchant pen users worldwide with its exclusive thermo-sensitive gel ink, which disappears upon applying friction. This series has firmly established itself as a trusted and beloved writing companion.
Introducing the latest FriXion Ball Knock Zone, which boasts an array of improvements that will greatly enhance the user experience. Among the notable improvements are a 70% increase in ink capacity, allowing for extended writing session. Additionally, there have been boosts in ink density and writing distance, ensuring a seamless and uninterrupted writing journey. The redesigned model also boasts a reduction in clicking noise, making it less disruptive for users. Most excitingly, it features a new tip holding system that guarantees steady and precise writing. With these advancements in place, the FriXion Ball Knock Zone is poised to transform and elevate the act of writing to new heights!
The brand-new FriXion Ball Knock Zone is now available at select bookstores, priced at S$7.30 (with GST). It comes in black ink and offers two nib size options – 0.5mm and 0.7mm. Users can opt for the classic barrel colours, including 'All-time Black,' 'Neutral Clear,' and 'Midnight Navy,' for both nib sizes. Those who prefer the finer 0.5mm nib can  select from two additional playful colours: 'Break Time Beige' and 'First Light Pink.' The Refill Pack, featuring two ink refills of the same color (available in black, blue, and red inks), is also available at S$7.30 (with GST).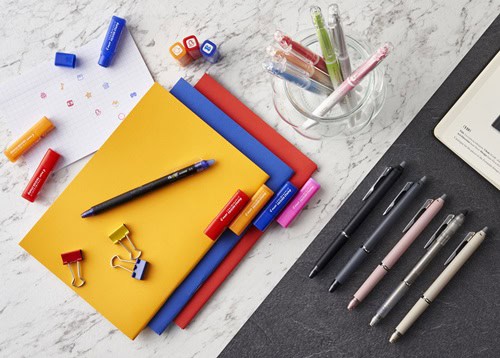 Embark On A Journey With FriXion Series – Your Erasable Stationery Must-Haves!
Discover the charming world of FriXion Stamps and the versatile FriXion Light Erasable Spotliter. The FriXion Stamp, available at S$1.85 (with GST), features petite and charming designs that will capture your heart. Meanwhile, the FriXion Light Erasable Spotliter, priced at S$1.20 (with GST), goes beyond regular highlighting, offering a wide range of bold fluorescent and soothing pastel colours to enhance your notes, study sessions, or creative projects. These erasable tools are perfect for note-taking, journaling, and planning, allowing you to easily correct mistakes and add pops of colour to your work. FriXion gives you the freedom to effortlessly erase and start anew, whether you need to fix a writing error or switch stamp designs on your notepad.
Exclusive POPULAR Bookstore Promotion
Mark your calendars for the exclusive promotion running from 25th August to 24th September 2023 at all POPULAR Bookstores. Make a minimum spending of S$7.50 (with GST) on FriXion items in a single receipt to receive a complimentary FriXion Point Clicker Pen worth S$2.60 (with GST)! Limited to one pen redemption per receipt, while stocks last!
Don't miss the chance to expand your FriXion collection! Gather these wonderful products and get ready to write, stamp, highlight, erase and repeat with the FriXion Ball Knock Zone, FriXion Stamps and FriXion Light Erasable Spotliter!
To find out more about Pilot Pen Singapore, please visit their official Facebook and Instagram page.