Ever wonder how Pizza Hut makes those delicious pizzas that we all enjoy?
Now you will have the opportunity to get hands-on and learn how to create your own personalised pan pizza. Pizza Hut Singapore has been offering pizza making workshop for kids from 4 to 10 years old since 2014, allowing kids to make their own personalised pan pizza with the encouragement of resident chefs. It is launching a brand new format to its current popular pizza making workshop to create family bonding opportunities through good conversations over a simple, uncomplicated meal. The workshop has been specially curated with parents and their children in mind as Pizza Hut Singapore hopes to encourage families to spend quality time together, bonding over a fun and educational weekend activity, away from electronics such as smartphones and tablets.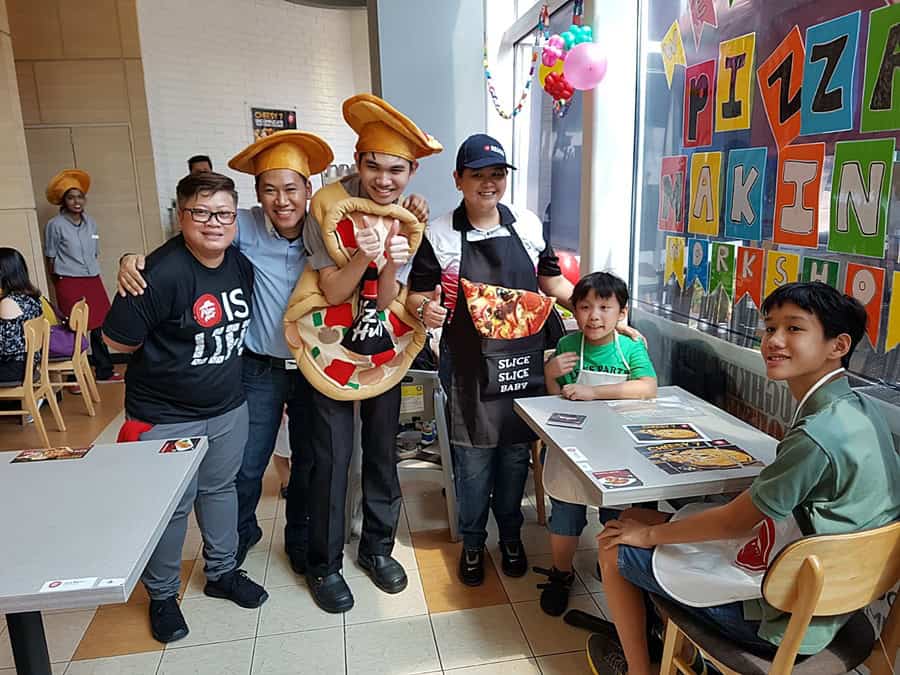 We recently attended the pizza making workshop and we had a wonderful time learning the art of pizza making with Pizza Hut's passionate and friendly resident Pizza chefs. We enjoyed learning from the resident chefs as they are so fun-loving and they make the workshop very interesting!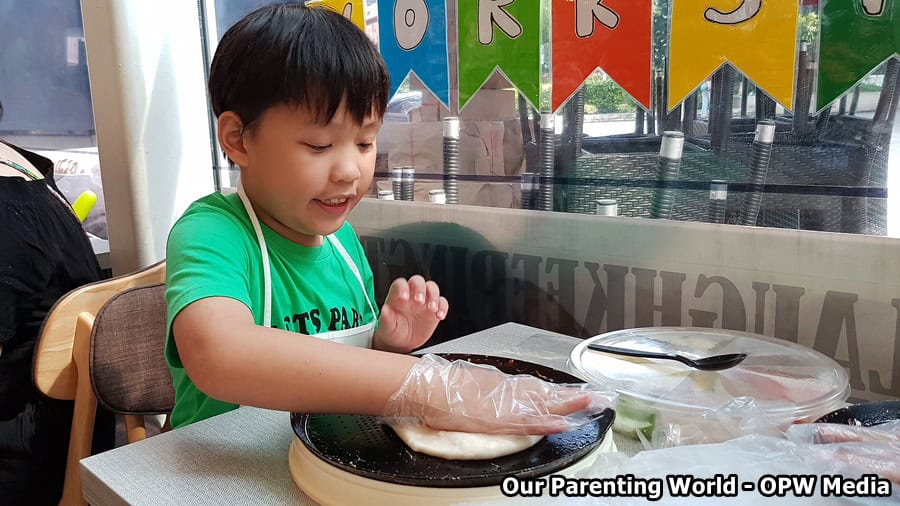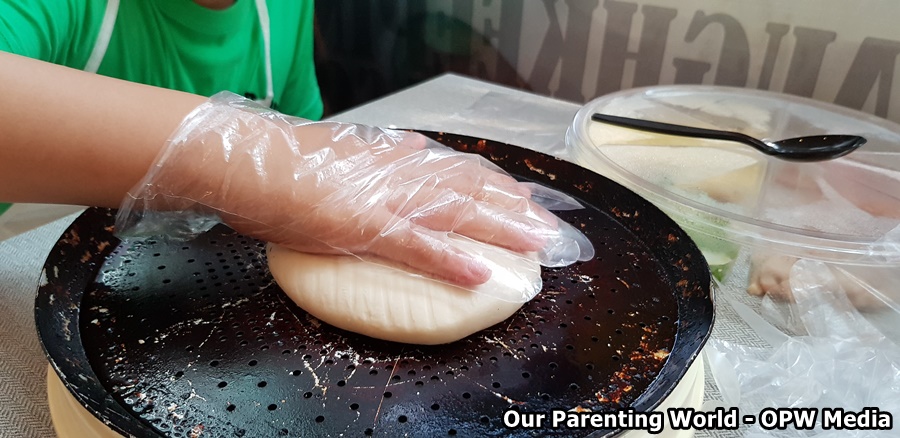 We are so excited and can't wait to get started! We are given step by step instruction on how to make our pizza starting from the dough. Press and flatten your dough before you start to stretch it.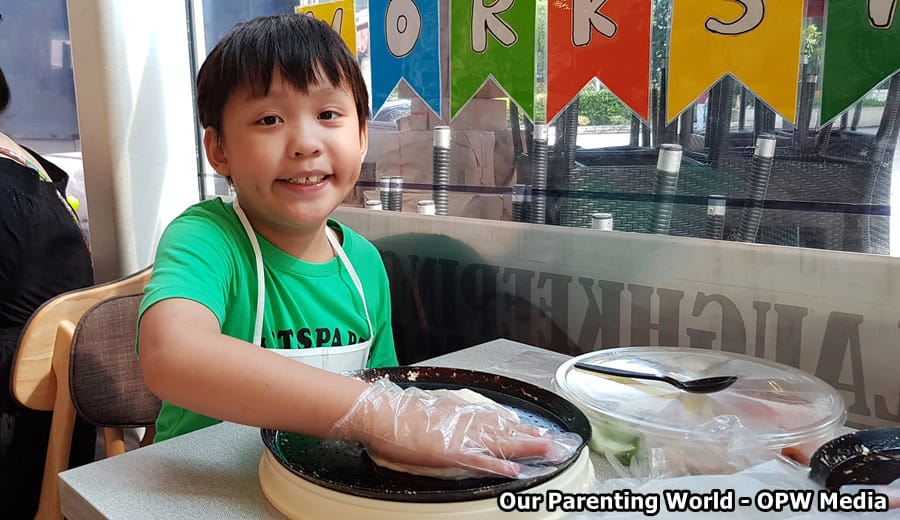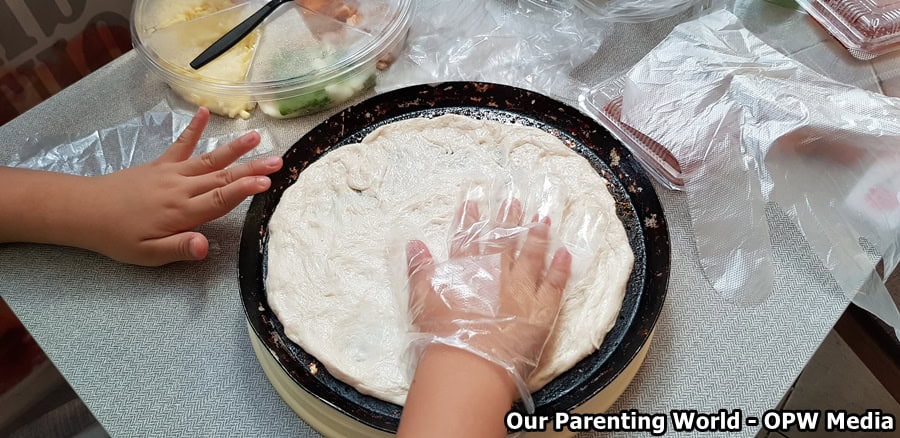 Stretch the dough gently with your hands, widens it into a large circle till it reaches the edge of your plate. If there are any holes while stretching, simply "pinch" thin or make the torn areas closed by pressing around them gently to bring the dough together to cover the area.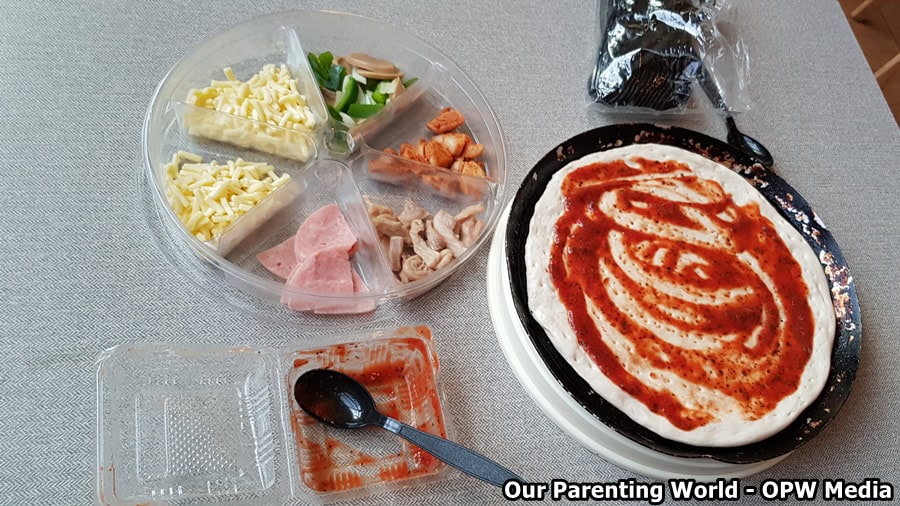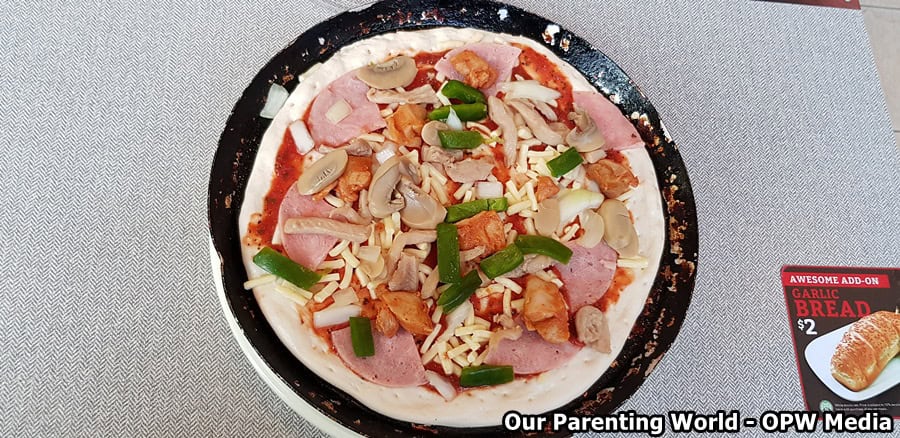 Spread the sauce all over the dough and also spread your cheese over the sauce, followed by the ingredients, meat and vegetables. After completion, you can sprinkle lots of cheese to enhance the flavor!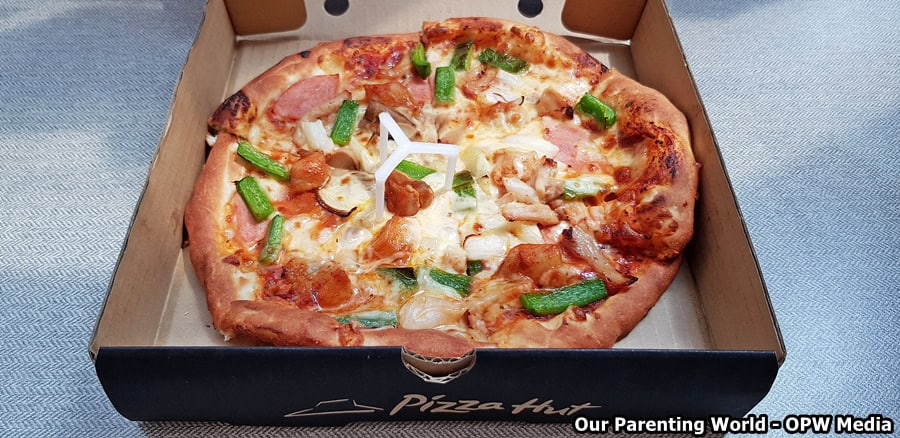 The launch of the new format of the parent-kid pizza making workshop, parents will be getting more involved and working with their kids to create their own personalised regular sized pizza together. It is good for the parents to be more hands-on and it is an excellent bonding opportunity to do something fun and meaningful with their kids. We had a good time and have as much fun with our kids during the workshop especially eating our very own pizza that we made! 
That's more! The new workshop will include an exclusive private tour of Pizza Hut's kitchen, a goodie bag for each child, and a certificate as a "Pizza Hut Apprentice" at the completion of the workshop. That's makes our workshop experiences more interesting, educational and memorable!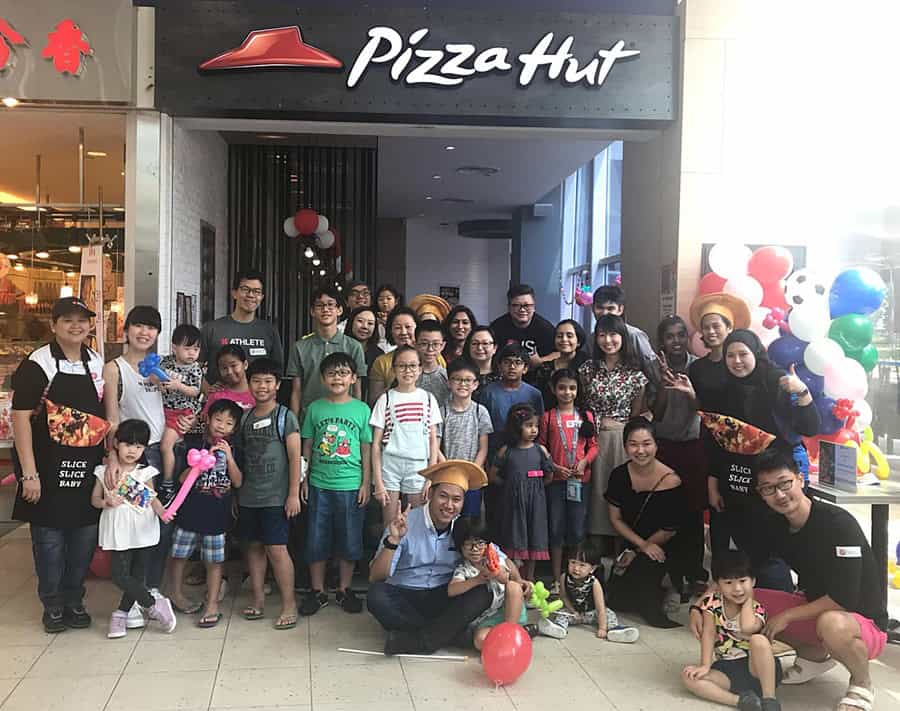 When will the new workshop be launched? Pizza Hut Singapore is gathering more feedback on the new workshop format, and plans to launch the new parent-kid pizza making workshop to the public officially by early 2019. Tickets will retail for S$42 per parent-child pair. Please stay tuned! 
The ticket price includes the pizza making session, refreshments, goodie bag, and a certificate. Each session will be capped at 15 pairs of parent/child per workshop.
To find out more and stay updated with Pizza Hut's latest news, please visit its website at https://www.pizzahut.com.sg/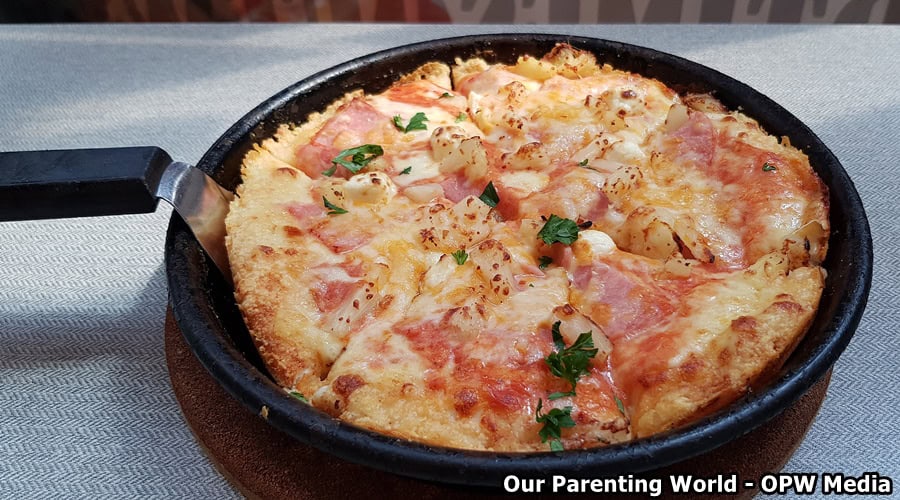 Hot on the trail of the improved Pan Pizza recently, Pizza Hut Singapore continues to usher in affordable everyday luxuries in "Your Slice of Simple" journey, with the new Cheesy 7 Pan Pizza!
Pizza Hut's Cheesy 7 Pan Pizza consists of the unique blend of 7 cheeses which includes the mild Swiss Emmental, the sharp and hard English Cheddar, the aromatic Italian Parmesan, the semi-hard Dutch Edam and Gouda, the pliant Italian Mozzarella, and rounding up with smooth English cream cheese, all these giving the pizza an indescribable taste and texture of pure ecstasy. Yummy!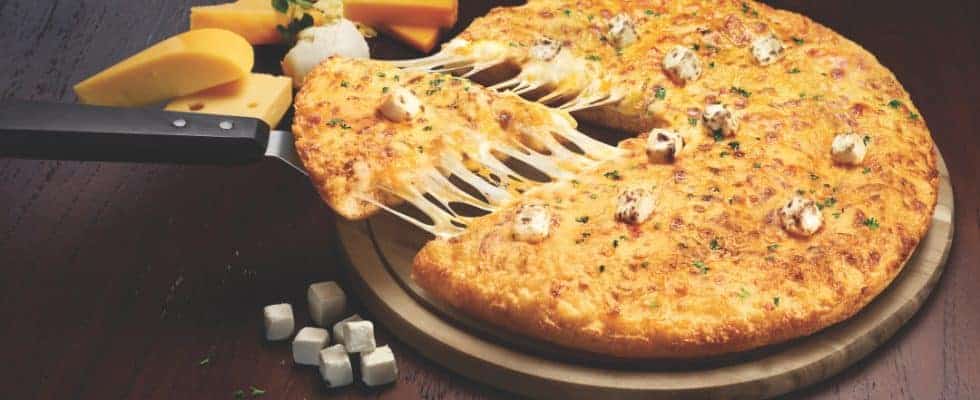 The new Cheesy 7 Pan Pizza will be introduced in 2 phases:
From 26 July to 12 September, Cheese lovers can enjoy the Cheesy 7 Pizza available in Original, Hawaiian and Chicken Pepperoni variants.
From 13 September to 7 November 2018, Cheesy 7 Pizza will be launched in a new variant – Meaty Medley Trio, and Cheesy 7 Original will still be available. Regular 9″ Cheesy 7 pizza are available for dine-in at $23.50 and delivery or takeaway at $25.50. Large 12″ Cheesy 7 pizza are available for dine-in at $29.50 and delivery or takeaway at $33.20. 
To find out more, please visit its website at https://www.pizzahut.com.sg/
Facebook at https://www.facebook.com/PizzaHutSingapore
Instagram @pizzahut_sg #pizzahutsg