If you like Pizza and if you like Durian, you will be delighted to know that Singapore's favourite king of fruits has joined the cheesiest party in town, extending Pizza Hut's 10th Cheesiversary celebration with Cheesy 7 Durian (Cheesy 7D)! 
Pizza Hut's beloved Cheesy 7 Pizza with its iconic blend of 7 wondrous cheeses featured on the signature pan crust pizza, has established an indelible mark among the cheese and pizza lovers for the past 10 years. Celebrating the 10th Cheesiversary, an extra delicious cheese is added to the iconic Cheesy 7 making it cheesier than ever for a simple slice of cheesy indulgence!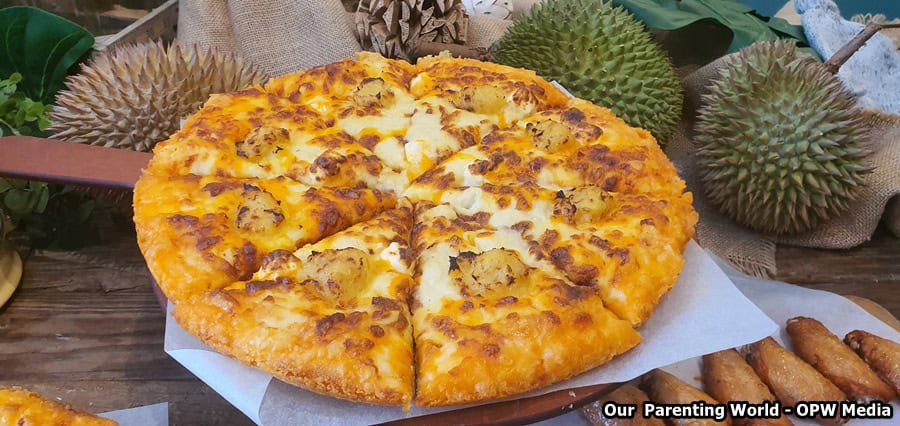 The popular Cheesy 7D consists of a wondrous blend of 7+1 of cheeses: provolone, mozzarella, gouda, cheddar, monterey jack, romano, parmesan and cream cheese, paired with luscious spread of real durian flesh over a fluffy pan crust pizza with a crispy edge. Indulge into this amazingly fabulous combination with alluring aromas and fragrant durian complementing the classic flavours of the Cheesy 7 pizza.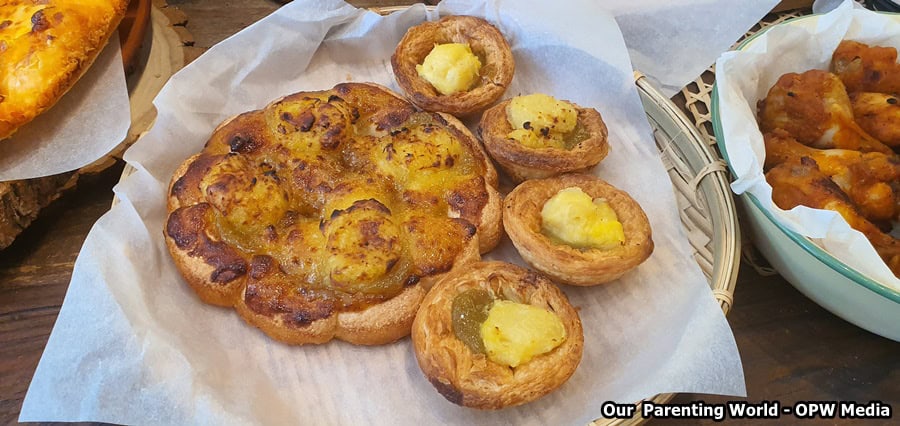 What's more, in addition to the new Cheesy 7D, look out for more delicious durian delights such as the Durian Kaya Pull Apart and the Durian Kaya Tart  available in late October! Those who can't get enough of the current Cheesy 7+1 pizzas, fret not, as the Cheesy 7 Original and the Cheesy 7 Hawaiian are staying for the party too, but not for long!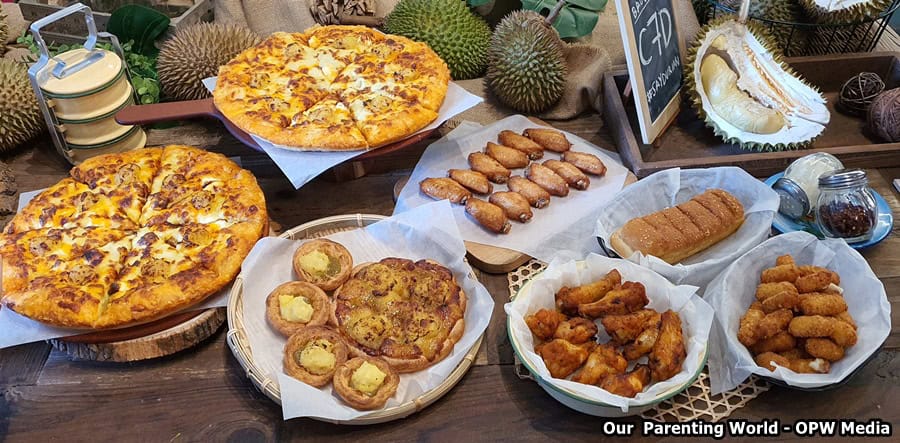 The new Cheesy 7D menu will be available from 3 September to 27 October 2020 for Dine-in, Takeaway and Delivery. Indulge in Your Slice of Simple with the no-frills 50% OFF any 2 pizzas for Delivery and 1 for Takeaway! Check out the unbeatable Meal Deals as well as 40% OFF regular Cheesy 7D pizza with any a la carte mains when you dine-in.
Hurry, now it's the time to jio your Durian Kakis for a #SayDurian fiesta at Pizza Hut 10th Cheesiversary party #SayCheese #SayCheesy7! You and your Durian Kakis will enjoy the new Pizza Hut's offerings! 
Promotion Period: 3 September to 27 October island wide (Dine In, Takeaway & Delivery)
Price List:
Cheesy 7 Pizza (Original, Hawaiian):
– Dine In: $25.90 (Reg), $31.90 (Large)
– Delivery & Takeaway: $32.90 (Reg), $39.90 (Large)
Cheesy 7 Durian Pizza:
– Dine In: $26.90 (Reg), $33.90 (Large)
– Delivery: $36.90 (Reg), $44.90 (Large)
Cheesy 7 Truffle Penne n Cheese:
– Dine In: $16.90
– Delivery & Takeaway: $15.90
Sharing Platter:
– Dine In: $18.90
Promotions Details:
Dine in Bundles/Promotions:
– Cheesy 7 Meal for 1: $17.90 (U.P $24.80)
– Cheesy 7 Meal for 2: $32.90 (U.P. $41.70)
– Cheesy 7 Meal for 3: $39.90 (U.P. $60.60)
– Cheesy 7 Meal for 4: $54.90 (U.P. $79.50)
– Get 1 Reg Cheesy 7 Durian at $15.90 with purchase of any one a la carte main
Delivery Bundles:
– Cheesy Sharing Box (2 – 3 pax): $26.90 (U.P.$46.20)
– Cheese Lover's Box (3 – 4 pax): $36.90 (U.P. $63.60)
– Big Cheesy Box (5 – 6 pax): $39.50 (U.P. $51.10)
– Ultimate Cheesy Box (8 – 9 pax): $63.90 (U.P. $95)
– 50% OFF for any 2-pizzas
– Durian & Choc Dessert Box: $29.50 (U.P. $44.80)
Takeaway Promotion:
– 50% OFF for any 1 a la carte pizza
To find out more, please visit Pizza Hut's website at www.pizzahut.com.sg