Playeum's Singapore's first Children's Centre for Creativity where families and children can play, create and be inspired together is having its latest hands-on exhibition, 'Making It Home' that runs from Tuesday 16th May 2017 – Sunday 29th April 2018.
Playeum has earlier organised 3 successful interactive hands-on exhibitions which were well-received by children and parents and with its latest exhibition, 'Making It Home', it focuses on dreaming rooms, making spaces and creating places. 'Making It Home' celebrates the home as a source of creativity, artistry and thinking. The exhibition allows children and parents to experience the home as a place where many ordinary materials can have multiple purposes and support imagination, innovation and sustainability. 
The spaces within the Children's Centre for Creativity have been transformed into different 'rooms', each with a different purpose, opportunities to explore, experiment and redefine. Children can dream of their future, bring together colours, materials and designs for floors walls and ceilings, with textiles, paint and construction material. All activities feature Playeum's unique pedagogies and are supported by Playeum's trained team of Playmakers.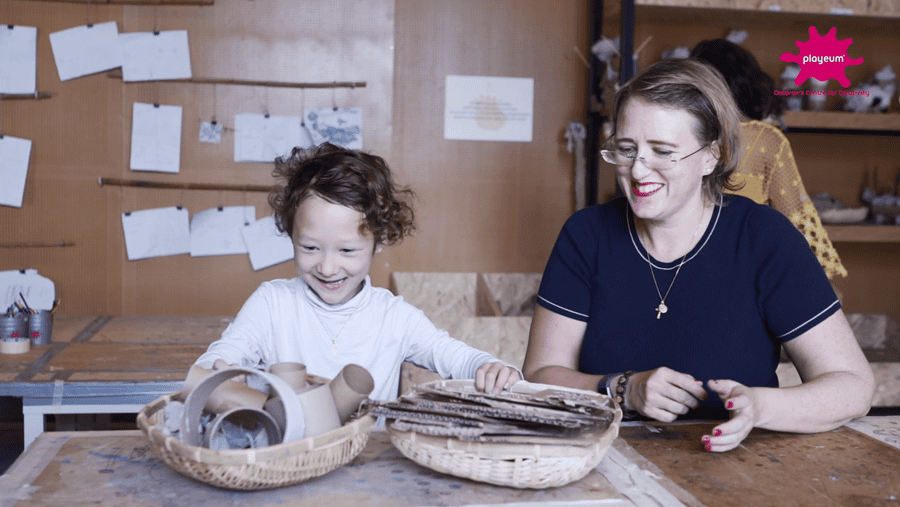 Within the freedom of the space, children will enjoy and play with ideas that can transform the centre into a unique sensory, aesthetic and making place, that children from all ages and backgrounds can truly make their home.
In a social experiment, Playeum conducted a series of interviews with parents and their children to learn how much time they spend playing together as a family. Watch their reactions in the video below. 
Playeum 'Making It Home' *
Dreaming Rooms, Making Spaces, Creating Places
Exhibition Period: 16 May 2017 – 29 April 2018

Opening Hours: Tuesday to Sunday
Time: 10am to 6pm
Admission Prices:
Child (Includes entry for one accompanying adult): $22 per child
Additional Adult: $10 per adult
Annual Play Pass: $160 per child
Address: Playeum Children's Centre for Creativity, 47 Malan Road #01-23 Gillman Barracks, Singapore 109444 
Playeum 'Making It Home' Exhibition Tickets GIVEAWAY:
Good News!
Playeum is giving away 5 pairs of 1-day passes (10 tickets total) for Our Parenting World's readers to bring your children to visit its latest interactive exhibition, 'Making It Home'!
There will be 5 lucky winners and each winner can bring 2 children and 2 accompanying adults to Playeum! 
Here's how to enter the giveaway:
1) LIKE and FOLLOW Our Parenting World Facebook Page  and  Playeum Facebook Page    
2) LIKE and SHARE Our Parenting World Facebook Post on Playeum 'Making It Home' Exhibition Tickets Giveaway!
3) SHARE and TAG at least 5 family and friends on Our Parenting World Facebook Post on Playeum 'Making It Home' Exhibition Tickets Giveaway!
4) COMMENT on this website post at the Comment Box below, what is the name of Playeum's latest exhibition? 
Hint: Answers is at the sign marked *
Hurry, giveaway will close on 31 August 2017 at 23:59Hr. Winners will be announced through Website and Facebook.
Please ensure that Step 1, 2, 3 and 4 are completed in order to qualify for the giveaway. 
Thank you and Good Luck! 🙂 
Giveaway Closed and Winners Announcement – 7 September 2017
Dear Valued Readers,  
Thank you so much for your participation in the giveaway!
Drumroll … We are pleased to announce the 5 lucky winners:
1) Christie Tan
2) Jean Neo
3) Ashley Tan
4) Robert Sim
5) Meifen Tan
Congratulations! Please also refer to Our Parenting World Facebook announcement. We will be contacting you for your prizes collection.
Thank you to our kind sponsor, Playeum for the fabulous prizes to our readers.
Thank you to each and every one of you, please stay tuned to our current and coming giveaways! Good Luck! 🙂
Terms and Conditions 
Entry into the giveaway contest will be deemed as acceptance of these terms and conditions. The rules of the giveaway contest and how to enter are as follows:
1) The prize is as stated, subject to change and fulfillment by the sponsors. Winners are not allowed to change the prizes. The prize will be non-transferable, non-refundable and non-exchangeable for other products/dates/times. The sponsors reserve the right to amend the giveaway contest, substitute any prize or with another of equivalent value without giving notice.
2) All participants have the opportunity to win as long as you have completed and fulfilled all the steps/requirements specified on the giveaway contest. Please make sure your likes and shares are set to public for verification purposes. Incomplete entries and fake accounts will be disqualified at the discretion of the organisers.
3) Winners of past giveaways in the last one month will not qualify for this giveaway, please wait till after one month from the date that you have won to participate in the current giveaways. 
4) Giveaway contest is open to all Singapore residents with a valid Singapore mailing address
5) The organiser (ourparentingworld.com) is not responsible for inaccurate prize details supplied to any entrant by any third party connected with the giveaway contest and by the sponsors.
6) Winners will be notified by email /Facebook/Instagram after the contest has ended. If the winner cannot be contacted or do not claim the prize, we reserve the right to withdraw the prize from the winner and or pick a replacement winner. 
7) The organiser reserves the right to cancel the contest if circumstances arise outside of its control.
8) The sponsor's and the organiser's decision in respect of all matters to do with the giveaway contest will be final and no correspondence will be entered into.
9) Other terms & conditions apply.