Kawaii … so cute! 
Pokemon fans rejoice! PARCO Singapore together with home-grown brand Everything with Fries (EwF) has brought back the second edition of its wildly successful Pokemon pop-run cafe after the first run about six months ago.
The second edition was launched on 24 November 2016. The cafe is located on the fourth floor of Bugis Junction. When the first edition was launched, the cafe was so popular that it was very common to see many diners queuing up just to go into the cafe.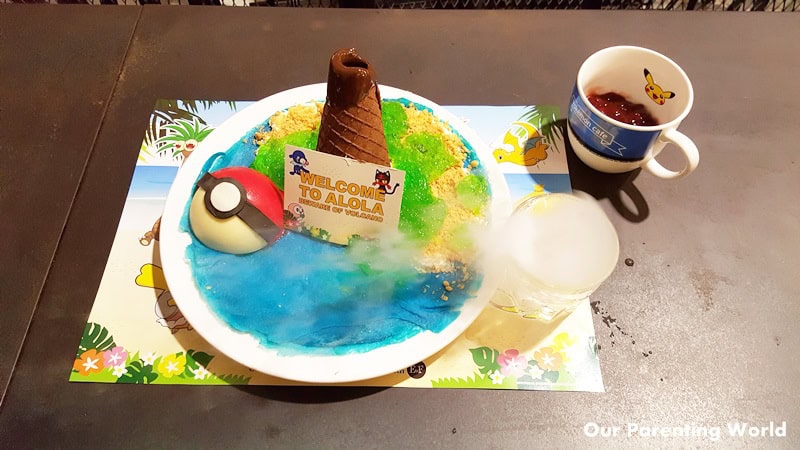 The second edition of Pokemon is inspired by the recent launch of the games Pokemon Sun and Pokemon Moon that even the cafe's interior will resemble Alola region and elements from the game in its new menu. 
Our Parenting World team brings you to an insight of second edition of Pokemon cafe's menu highlight: 
Take a look at the Alola Region Volcano cake, an unique dish where diners can experience a visual effect once the Pokeball lid is removed, you can see an edible volcano made of an inverted chocolate ice cream cone on a sea blue crepe that is made to look like the ocean. You can pour strawberry sauce over the volcano to look like molten lava. This is great for sharing with family and friends and good for photos taking too!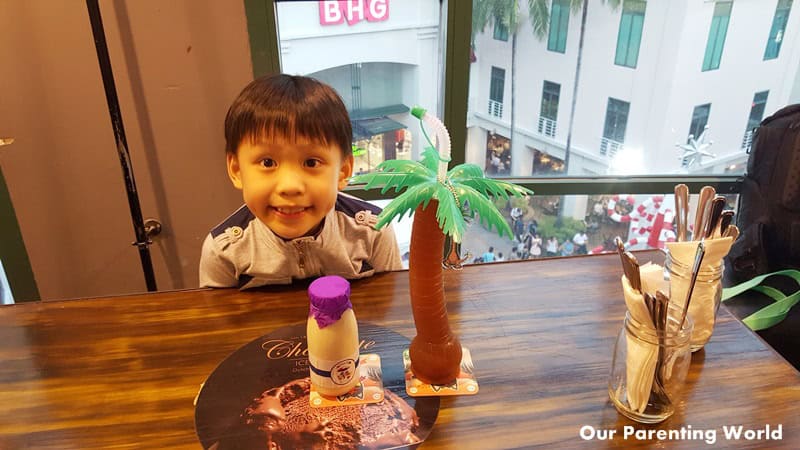 Yummy new drinks Pokemon cafe's Alola Milk (L) and Iced Island Tea (R)
New drinks include Pokemon cafe's Alola Milk ($11), this cereal milk is actually made in-house which is sweet and savoury comes in a glass milk bottle. When Iced Island Tea ($12) was served, the drink immediately caught our attention with its long and tall coconut-tree bottle that comes with Exeggutor character key chain. The drink itself is a refreshing and cooling mix of lemon tea with notes of passionfruit. Good thing is that you will get to bring home the bottle for both drinks!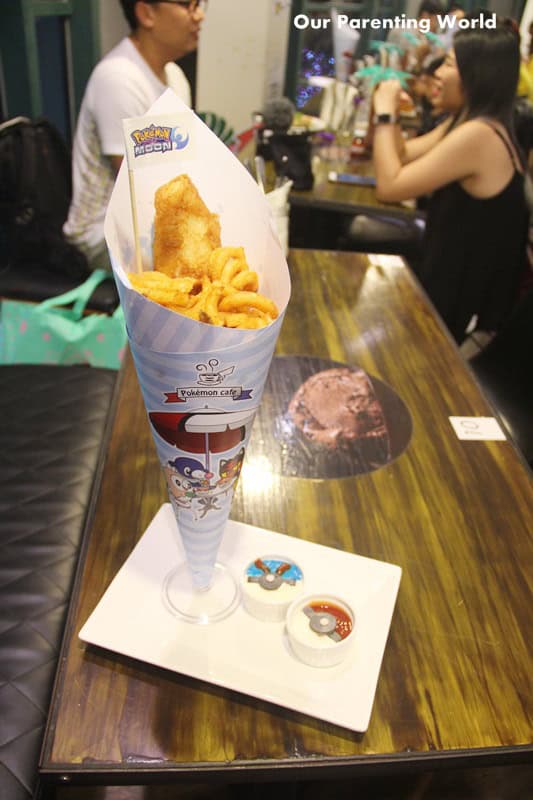 Alola Region's Fish n' Fries ($15) comes with tasty white fish fillet and crispy fries. We have fun playing and dipping with the mayonnaise and ketchup sauces that are made to look like a Pokeball and a Great Ball.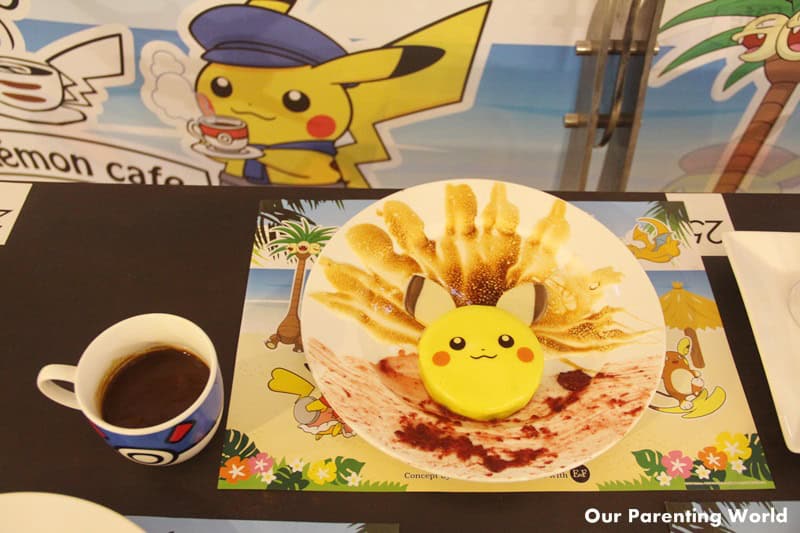 Volttackle Is Strong ($15) is Pikachu's strongest attack! This is a creative dish featuring a chocolate cake with a praline base surrounded with an explosion of caramelised marshmallow and berry sauce.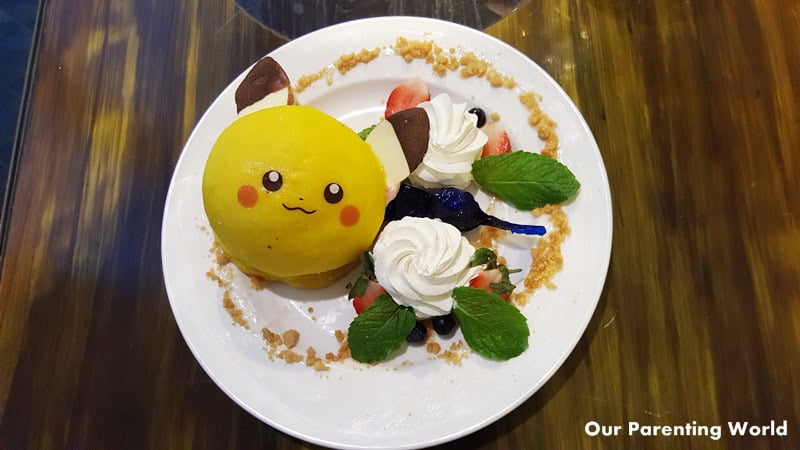 Pikachu's Ice-Cream Bun, Level Up with Rare Candy! ($18) that comes with a rare candy. 
Oh my goodness, this is so adorable, how do we bear to eat this? The raspberry ripple ice cream is sandwiched between two sweet burger buns surrounded with fresh strawberries, blueberries and whipped cream.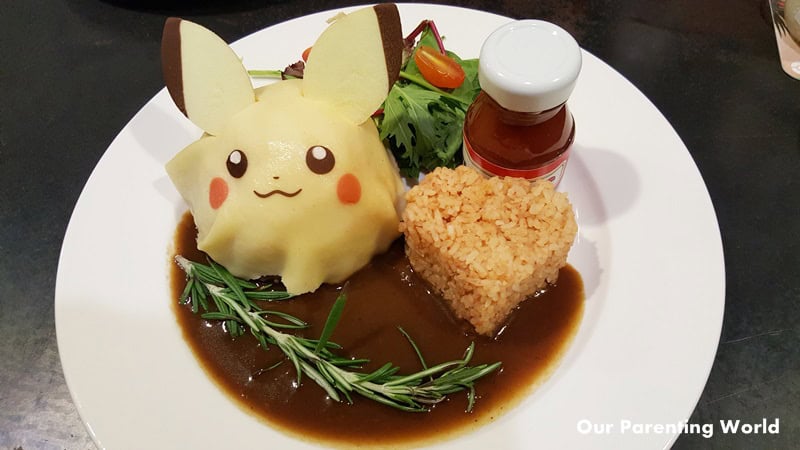 The I Love Pikachu Patty ($20), featuring the lovable Pikachu. It is really hard to poke a fork into the adorable smiling Pikachu's face with red cheeks, the yellow crepe was wrapped around with mash potato and chicken patty at the bottom. There is also a tomato rice that goes well with the savoury brown sauce and if you like, you can bring home the Pokemon tomato ketchup bottle that comes along with the dish.  
2 Thumbs Up! I really like Pokemon cafe and I will be back! 
The 60 seaters Pokemon cafe located at Everything with Fries (EwF) Bugis Junction, fourth floor will run from 24 November to 19 February 2017.
In addition, diners can look forward to the following when you visit the cafe:
1) The new Great Ball mug collectible upon selected menu orders
2) Pokémon Sun & Moon themed 3D Photo Booth
3) Additional space and new capsule toy machines for merchandise area
4) Over 90 new gift ideas
5) Original and exclusive Pokémon Sun & Moon themed merchandise 
6) More souvenir items from the menu such as the Iced Island Tea bottle & Executor charm, the Alola Milk bottle, and the Pokémon cafe's Potion bottle & Pokémon Sun & Moon themed original charm
7) Each meal order comes with an exclusive Pokemon cafe placemat and each drink will be served on one of the four limited edition coasters. 
Pokemon cafe Singapore
Bugis Junction EwF Outlet #04-05
Victoria Street, Singapore 188021
11am–10pm daily
Tel: 6338 0135