Calling all Theatre Lovers! Before we talked about Poultry Tales, we would like to urge you to support I Theatre. Poultry Tales might be I Theatre last production as its fundings has been withdrawn. I Theatre has been around since 2001 which is one of the region's premiere professional producing companies for family orientated theatre, creating an average of four brand new theatre productions a year. Without fundings, I Theatre is not able to carry on its wonderful productions. It is such a pity! Please come and catch Poultry Tales, you won't regret watching the show and donate generously if you can to support I Theatre and local productions! With your support, I Theatre will be able to continue producing good family-friendly shows! 
For more details on donating to I Theatre, please click HERE and we thank you for your support!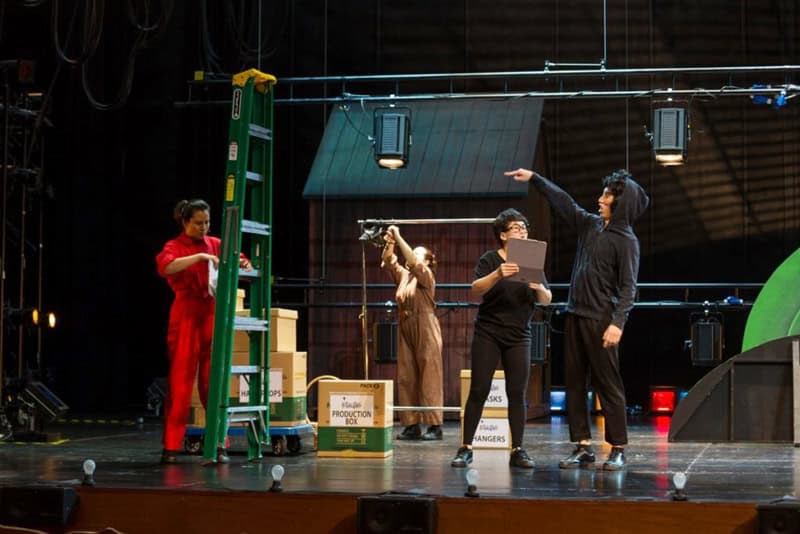 Poultry Tales – REVIEW
We have been looking forward to watch Poultry Tales as this is a brand new and interesting play where you can get to see the buzz and activity occurring behind the backstage to how the show is being presented to the audience. 
The show started with back stage crews working on getting the show ready and with new trainees learning the ropes from the senior crews. Audience get to see and learn how backstage works and some of the backstage jargon being used like fly bar, flat hand prop, cyclorama, etc.
The backstage crew in the show are curious, they have always wanted to know and feel how it is like to act in front of the audience. They had fun taking turns to act out the roles behind the scenes and create their own interpretation of Poultry Tales much to the amusement of the audience.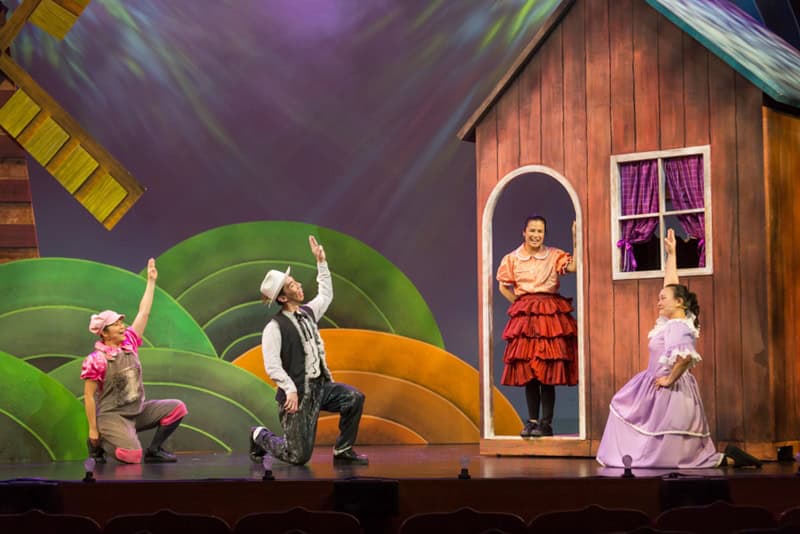 This year is Year of the Rooster and Poultry Tales is a special play featuring 3 famous feathered friends, the stars of 3 classic tales. They are The Goose that laid the golden eggs, The Little Red Hen and Chicken-Licken. 
It is a smooth and cleverly woven story right from the backstage to the musical with 3 classic stories all in one show!
One of our favourite characters is the stage manager cum The Little Red Hen by Isabella Chiam. Kids enjoy interacting with her and she got the kids laughing with her "bok bok gey" when she gets angry as the little red hen.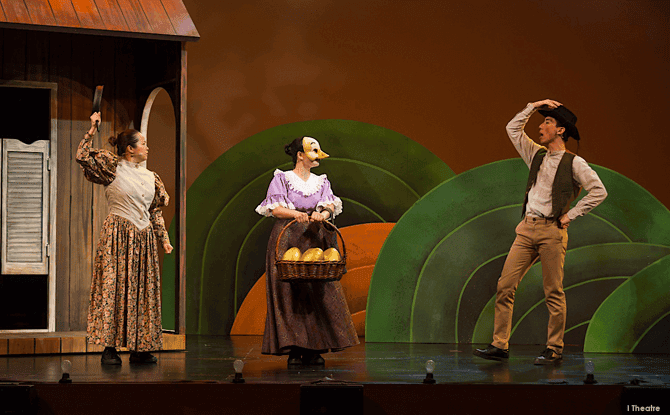 All the above images credit to I Theatre
The backstage trainee cum Mother Goose by Elizabeth Loh is also the audience's favourite where her comic performances is fun to watch especially when her "insides" spilled out with ribbons when the greedy innkeepers killed her thinking that there were golden eggs hidden in her stomach made the audience roared in laughter. 
This cast is superb in their acting using various face masks to represent a different character. Audience had fun watching the cast act out their characters seamlessly. This is a lively, highly interactive musical with meaningful themes and moral stories along the way. Throughout the show, kids will learn about the values of not to be greedy, learn to keep your promise and more!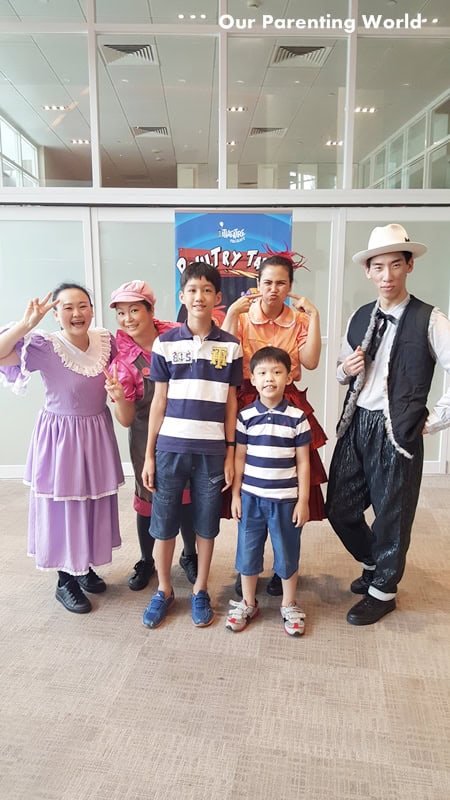 Overall, we enjoyed the show! We get to see so many things in just one show from learning about the backstage secrets, how a musical is being staged and to 3 famous classic stories all in one play! We love the cast, they are brilliant and likeable in their roles. It is a fun, meaningful and enjoyable show that is suitable for the whole family!
Don't miss it and please support I Theatre!
Poultry Tales
Show Dates and Time:
Saturday, 29 April – Sunday, 14 May 2017
10.30am & 2pm
Venue:
Drama Centre Theatre
Ticket Pricing:
(Excludes Booking Fee)
Standard: S$32
To find out more and to purchase the tickets at Sistic, please go to