Mummy says:
Last Sunday, there was an interesting article from Straits Times which discuss on the Primary 1 preparation class for children who are going to Primary 1 the following year.
Basically these are enrichment centres which prepare the children for Primary 1 syllabus so that the children will be able to do well when they enter formal education in Primary 1. Many parents ask us whether these type of classes are useful for the kids? It can be stressful to the kids who should enjoy their lives at this age, and costly to parents.
The concept of these enrichment classes are to prepare those children who are currently in Kindergarten to be familiar with the Primary 1 syllabus.
Being a mother whose child is currently mid way through Primary 1 and also both daddy and mummy are educators who teach university students, we are able to share our opinion on the benefits of these classes.
There is normally a huge change in our children's life when they move from kindergarten to primary schools. Some of the changes are:
1. They have to get used to having bigger children in the school and bullying may occurs. Even a simple task like buying food from the school canteen can be stressful for the small kids as there are bigger kids who may jump queue and push the smaller ones away.
2. They have to adapt to bigger classes. Kindergarten classes are normally smaller than primary school classes.
3. School rules which are quite stringent, unlike kindergartens where there are less rules on punctuality, completing home work, wearing proper uniform etc.
4. Longer school hours. Kindergartens classes are normally less than 4 hours a day and primary school hours can be up to 6 hours or more a day. The longer hours and earlier school hours can be taxing to the children.
5. Lessons which are more complicated, more worksheets, spellings and informal tests (MOE has abolished formal assessment for Primary 1 but there are many informal assessments, class tests, spelling tests etc.).
With these changes, it can be quite stressful for the child to adapt to them. Thus, if there are enrichment classes which could cater for the purpose of preparing your child for Primary 1, especially in the area of academic lessons, it will be useful, provided the classes are done properly. The time and money invested in these classes will be useful for the child to help him or her adapt better in the new schooling environment.
What type of prep classes are useful, readers may ask?
We normally advice parents to look for those classes which have the following characteristics:
1. The lessons should be "introductory" for Primary 1 syllabus and not the full syllabus. For example, these could be practice on writing, simple spelling, simple book reading, and simple addition and subtraction sums. The lessons should NOT be worksheets similar to the standard of end of Primary 1 assessments (the equivalent of SA2 papers).  This is because your child is still young and not able to cope with very intense lessons.
2. The teacher has to be experienced and know how to tailor the study plan for each of the child as every child is different. If your child is weak in mother tongue language, then more attention should be paid to this subject and less on English if your child's English is good enough for Primary 1.
There is a risk of damage to your child if you choose the wrong type of prep classes. Some of these prep classes provide intensive worksheets for the kids to do every week and this can be very stressful to them and cause them to burnout at a younger age. We have seen children who are "disengaged" in classes due to to burnout from too much academic stress when they were young. These bright students eventually do not do well in their studies later on.
Remember, your child will also need to enjoy his childhood like playing games with other children. Thus, we believe it is important to strike a balance if your child is in Kindergarten now, to spend some time preparing for Primary 1 and yet retain enough time to let him enjoy his life.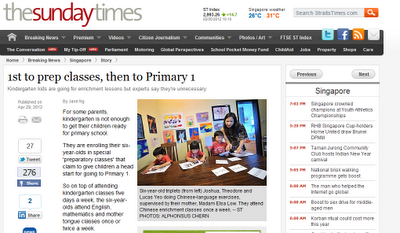 Newspaper report on The Sunday Times on Prep class for P1 students