Marina Bay Sands MasterCard Theatre presents the dazzling musical of Starlight Express from Andrew Lloyd Webber who is the creator of The Phantom of the Opera, Evita and Cats.
Our Parenting World team attended the press call for Starlight Express and were pleased to introduce this awesome musical which is one of the most unique, best-loved and longest-running musicals suitable for everyone, families and children.
What's so special about this musical is that it is the first time Singapore get to bring in a musical on rock 'n' roller skates. The whole musical was performed on roller-skates.
Starlight Express is about a group of toy railway trains which come to life inside the mind of a small boy. The characters in the musical will race and compete to be the fastest engine in the world. 
Introducing some of the casts of Starlight Express: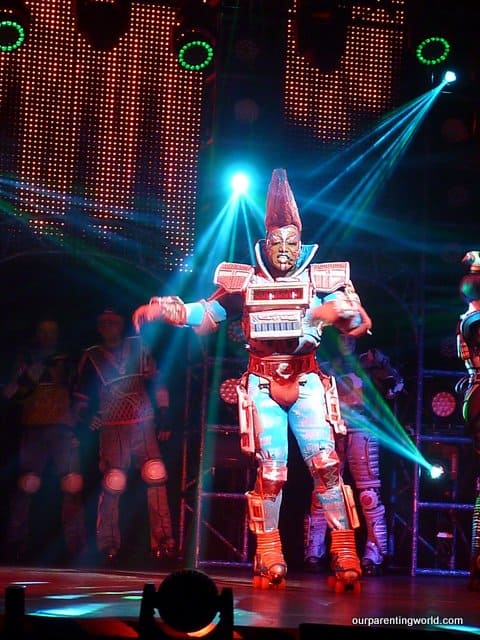 Electra who is the "the Engine of the Future". A strong competitor to Rusty who is the main character of the story.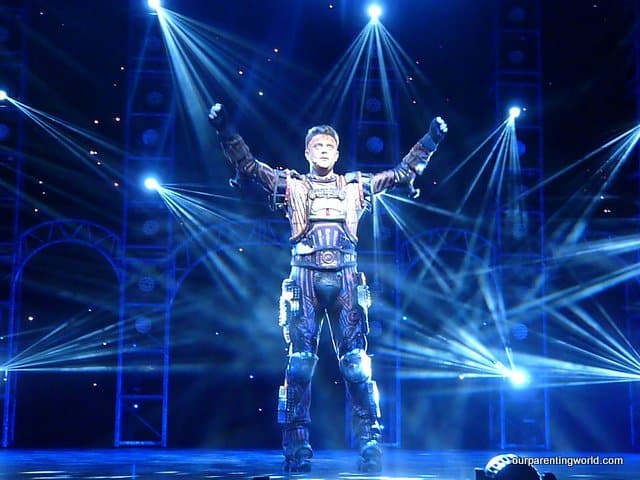 The main character of the story, Rusty is an underdog. He went through trials and obstacles and ultimately win the race at the end. He also won the heart of a beautiful observation car, Pearl.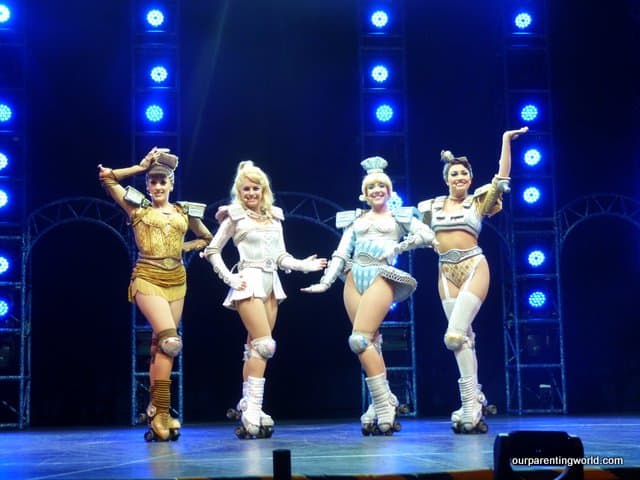 The four beautiful ladies performers who represent the cars in the musical.
The musical also features jaw dropping, live stunts by professional skaters on roller-skates.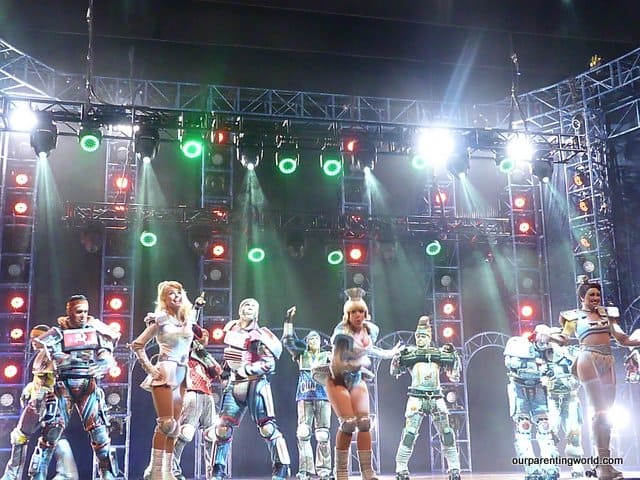 Starlight Express is an awesome and delightful musical with two hours of jam-packed entertainment with beautiful singing, daredevil stunts, special effects, excitement and is a spectacular show suitable for all ages!
Our Parenting World, Gor Gor and Di Di attended the musical later at night.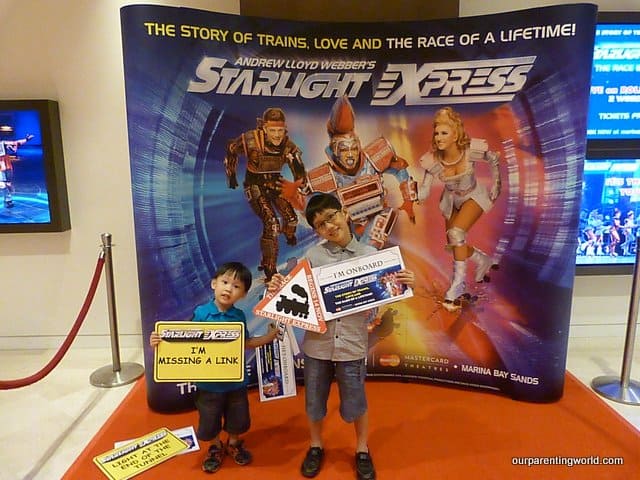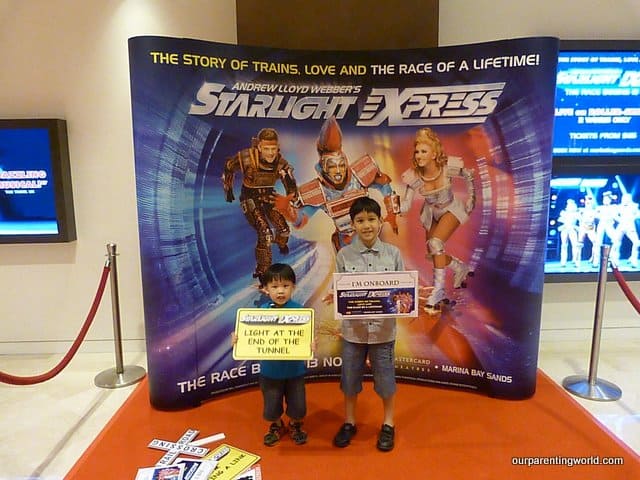 Look at their excited faces! "We can't wait to watch the musical."
Audiences can poise with the signboards before the musical starts.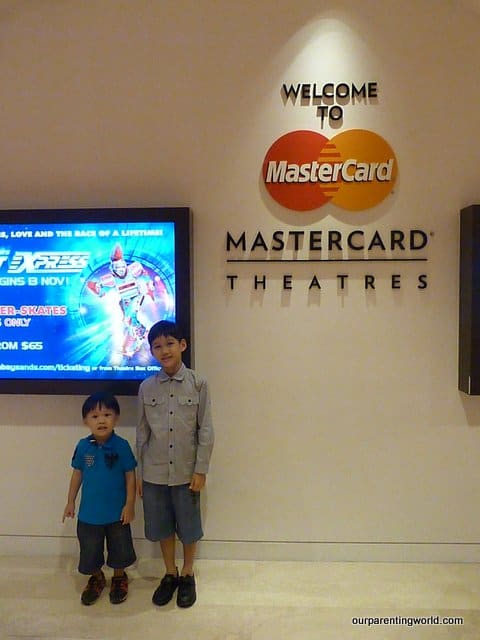 Here we would like to thank the kind and lovely organisers of Marina Bay Sands, Marina Bay Sands MasterCard Theatre for inviting us and Starlight Express for the spectacular performances!
We strongly recommend everyone to watch this dazzling musical and it is suitable for all ages. We can't wait to tell our friends about it and we really enjoyed watching the whole musical! It comes with special 3D effects which is really cool!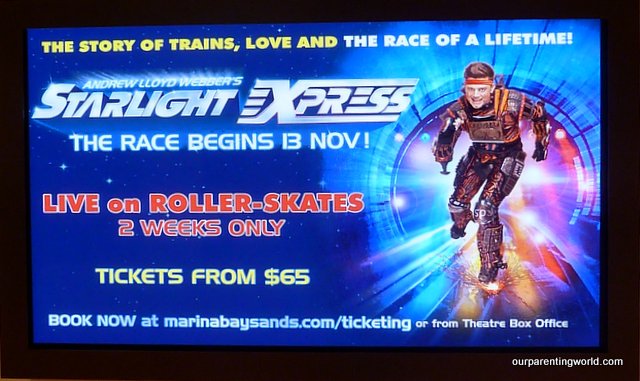 Andrew Lloyd Webber's Starlight Express is performing in Singapore for a limited season starting November 13 to 24 at Marina Bay Sands. Tickets are on sale now. Show must end on the 24 of November, hurry, do catch it before it ends its run! 
Tuesday to Friday: 7:30pm
Saturday and Sunday: 2:00pm and 7:30pm
Visit www.BASEentertainmentasia.com or www.MarinaBaySands.com/Ticketing for more information and or for bookings.