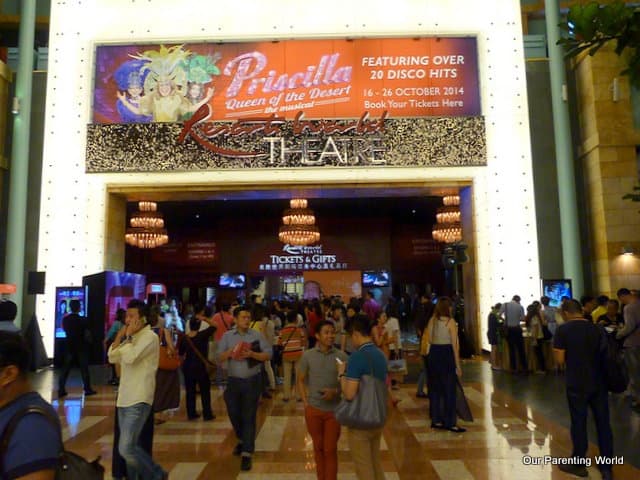 Our Parenting World was invited to attend the gala premier of Priscilla, Queen of the Desert musical at Resorts World™ Theatre, Resort World Sentosa. The musical is based on a 1994 Australian comedy drama film. The story features two drag queens (man who dresses like woman, an example of a local well known "drag queen" is Kumar which most Singaporeans are familiar with) and a transsexual woman travelling in a tour bus named "Priscilla" across the Australian desert.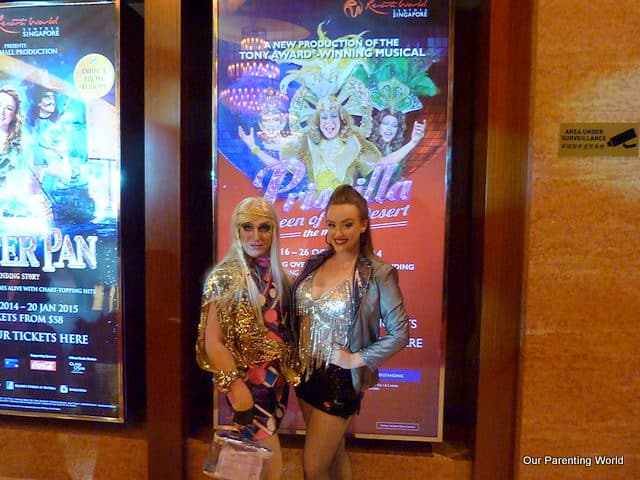 The musical was colourful, fun and lively. If you are a fan of 70s and 80s music, this is a musical not to be missed. The musical story was about an Australian drag queen, Mitzi who invited another drag queen, Bernadette and Felicia, a transsexual in Priscilla, to travel their tour bus when Mitzi was asked by his wife whom he was separated for several years to come to Alice Spring to perform there and also to visit his son, Benji who is growing up. During their journey, they encountered many different characters, including a group of friendly Australian Aborigines and also not so friendly residents of small towns who were against them.
As this is an adult-themed musical, it is not for young children (below 16 years old) but for their parents. The only child we noticed in the musical was actually Benji, Mitzi's son on stage, and no children in the audience. The musical tackles the issue in a fun and happy manner and makes the audience feel lively throughout the performance.
The tempo of the musical was fairly fast, you will always be tempted to stand up and dance with the music. Songs like "It's raining men", "Girls just wanna have fun", "Don't leave me this way", "We belong" etc. were featured in the musical.
Although the main cast were Mitzi, Bernadette and Felicia, we also saw our own multi-talented Singapore actor, playwright and director, Jonathan Lim acted as "Miss Understanding" and his acting was excellent! You can read our earlier interview with Jonathan Lim here: http://ourparentingworld.com/an-interview-with-jonathan-lim/
Like most happy and cheerful musical, it has a nice ending. Benji accepted his father performs as a drag queen and a homosexual and Bernadette met a partner, Bob during their journey across Australia.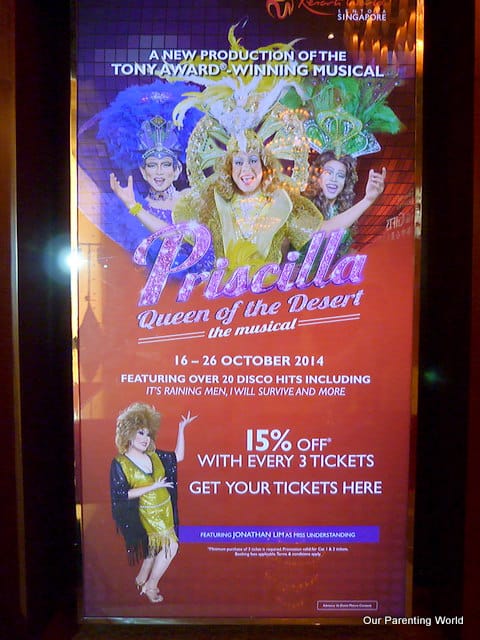 Hurry, this musical will end on 26 October 2014. You are guaranteed to be entertained throughout the show. The audience who attended the premier event was very impressed and many also took part in the dance finale. 
Additional Information:
Date:  16 – 26 October 2014
No shows on 21, 22 & 23 October 2014
Time:  Tues – Fri: 8pm
Sat & Sun: 2pm & 8pm
Venue: Resorts World™ Theatre, Resorts World Sentosa
Price*:  Premium: $128
Standard: $118, $98, $78, $48
Get your tickets at SISTIC or Resorts World Theatre
*Prices exclude SISTIC booking fee and handling charges. Terms and Conditions apply.
Please click HERE for more information.