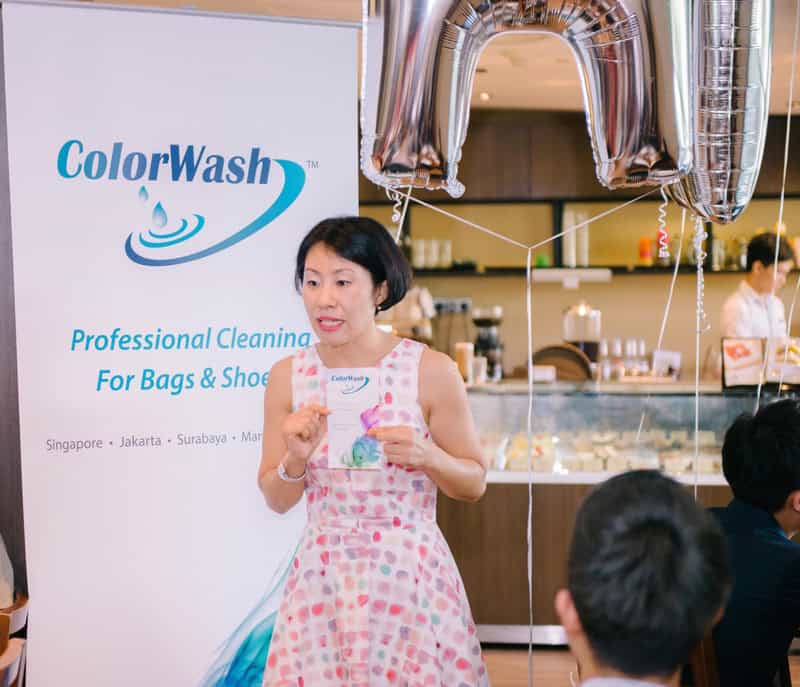 Photo Credit: ColorWash
With the current unpredictable weather conditions such as haze and the coming monsoon season, we have to protect our precious belongings from these harsh conditions that will cause damages. ColorWash, the leading professional cleaning service provider with over a decade of experience in bringing cleanliness and hygiene to leather bags and shoes, among other items is founded by the lovely Gemma in the picture above. ColorWash also specialises in colouring and restoration of your items like luxury bags.
At the media event, Gemma shared with us useful tips on how we can protect our precious belongings.
– Use hairdryer held at a distance and set to cool to dry your leather accessories if there is a sudden downpour or water spillage over your item.
– You can also use newspapers which are known to be good water absorbers and can help maintain the shape of the bags and shoes. It is important to wrap the newspapers with a layer of cleaning tracing paper as ink stains might transfer onto belongings.
– The correct way to store your precious items is very important, they should not be stored directly next to each other as some items are coated with enamel and wax. Said material may melt and stick to other surfaces when exposed to heat over a period of time.
– Do not use baby or wet wipes to wipe your belonging as the chemicals from the wipes will cause further damages to your belonging.
– Stuff your bags and shoes so that they will not lose their shape over time. 
You can also send your items to ColorWash where they will be checked and assessed by an experienced specialist on the most effective method to clean, protect and colour the items. You can be assured that your items will be well taken care of and in perfect condition.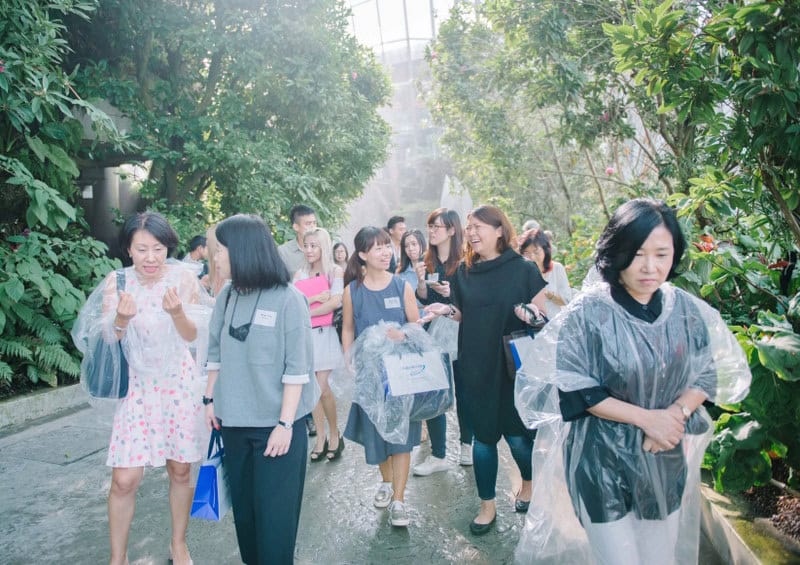 Photo Credit: ColorWash
After a sumptuous high tea, Gemma brought us on a walk around Cloud Forest at Gardens by the Bay to emphasize on the importance of protecting our items. We do not have to worry about our bags with the High-Density Transparent Coating. 
ColorWash introduced its High-Density Transparent Coating with Silicone technology, is perfect for protection against unpredictable weather conditions and even water and minor food stains. The coating is good for leather, fabric and suede items.
Our team has send our bags to ColorWash for High Density Transparent Coating, it does give us a peace of mind knowing that our bags are well protected and not having to worry about any spillage on our bags. The coating will also make your leather smooth and supple. 
What if you spill food or water on your items, you can also use ColorWash's Soft Cleaner Wipes to do a quick wipe down. However, if the stain remains after wiping, please consult a ColorWash professional. Do not attempt to remove the stains personally as that could cause more damage and the effects of the stains could be irreversible. 
As the pioneer in the industry, ColorWash is committed to enhance better living through cleanliness. There are six ColorWash outlets in Singapore: 
ColorWash @ Alexandra Retail Centre #02-13
ColorWash @ Asia Square Tower Two #02-20
ColorWash @ China Square Central #01-01
ColorWash @ Mandarin Gallery #03-05
ColorWash @ Marina Square #B1-05
ColorWash @ West Coast Plaza #02-48
To learn more about ColorWash and its services, please visit www.colorwash.com.sg and https://www.facebook.com/ColorwashSGP