ArtScience Museum's latest brand new exhibition features Prudential Singapore Eye which brings spotlight on 17 emerging and established Singapore artists as part of Singapore's 50th anniversary celebration in the arts and culture scene. 
The exhibition is one of the largest surveys of Singapore's contemporary art scene to date, with over 40 works on display from 17 January to 28 June 2015. These works were shortlisted following a stringent selection process from over 110 entries received.
Curated by an international panel including Serenella Ciclitira (Founder, Prudential Eye Programme), Honor Harger (Executive Director, ArtScience Museum at Marina Bay Sands), Nigel Hurst (CEO, Saatchi Gallery, London) and Tan Boon Hui (Curator and Festival Programmer), the exhibition highlights the emergence of a new and exciting contemporary art scene in Singapore. 

Let Our Parenting World team brings you to a tour to the Prudential Singapore Eye exhibition where you will see some of the finest and talented Singapore artists.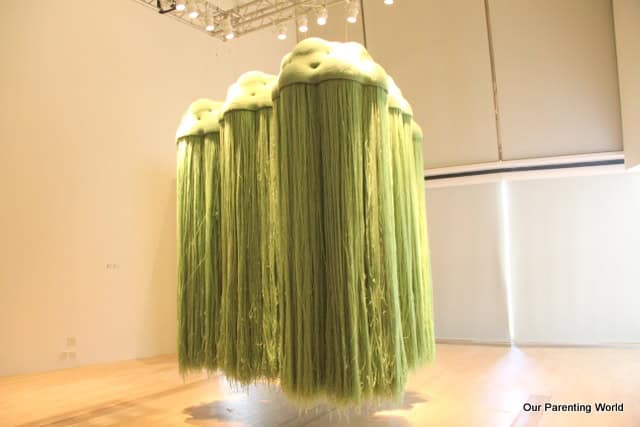 A Secret Garden by award-winning sculptor Yeo Chee Kiong. Visitors are welcome to enter, feel and touch the warm, soft and alluring 'garden'.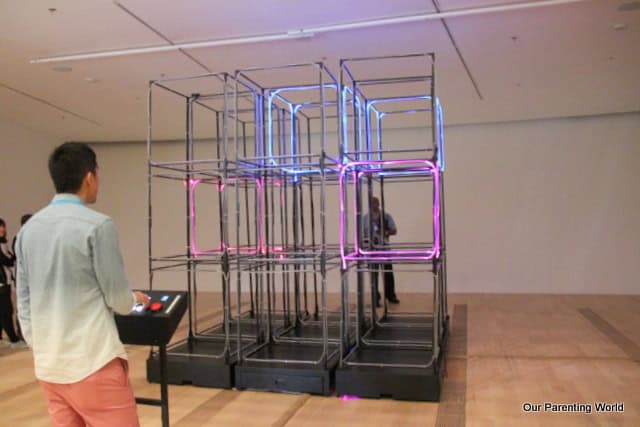 3D Tic-Tac-Toe is an interactive light sculpture by Angela Chong where visitors of all ages can play and have fun competing with one another to win the game.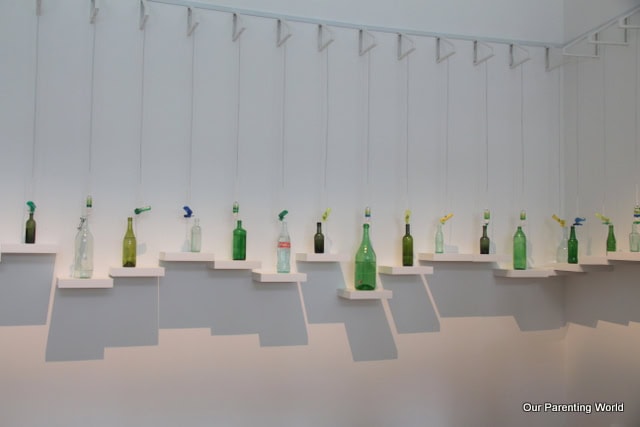 Bottles and Fans created by Chen Sai Hua Kuan is a sound installation consisting of glass bottles and travelling fans. Visitors can explore and experience with the various rich sounds effects coming from the fans' cooling force placed on top of the bottles filled with water.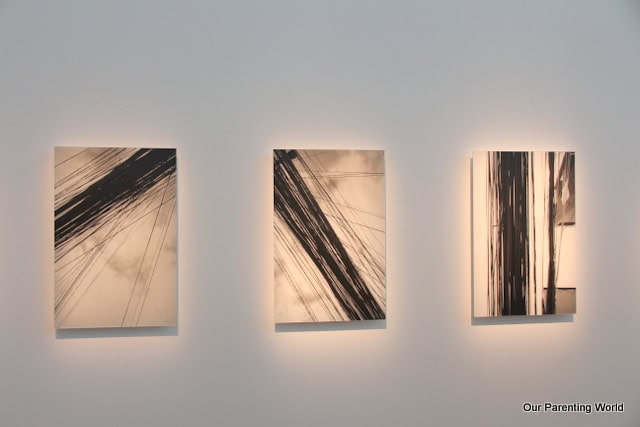 The Wires series by Chia Ming Chien, through his work, visitors are able to admire the aesthetic qualities of the wires.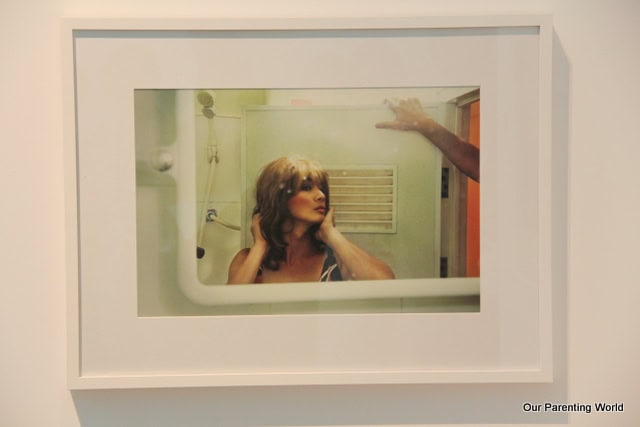 Sean Lee's Shauna series documents his transformation into an alternate transsexual personality. Visitors will be able to admire Sean transformation into Shauna where the lines between performances and reality, photographer and photographed, are blurred. 
Photo Credit: ArtScience Museum
And We Were Like Those Who Dream by Donna Ong, this is a series of beautiful sculptural works comprising of furniture and hand-cut illustrations from books. Donna Ong's work is also on display at ArtScience Museum Da Vinci : Shaping The Future exhibition. 
The metal text by Gerald Leow features a figurine of Hong Kong's Heavenly King, Leon Lai, squashed by the metal text 'Anthrax' which is the name of a well-known heavy metal band. This work symbolises the clash of two ideologies of both Western and Chinese popular culture. 
Ping Pong Go-Round by Lee Wen who is one of the pioneers of Singapore contemporary and performance art. His work enables visitors to play with one another without borders enable multiple possibilities of interaction among the players.
Turned Out, on the left and Beyond the Blue on the right in the above picture by Jane Lee who is one of Singapore's most noted contemporary artists. For Turned Out, Jane Lee painted long, narrow strips of canvas with acrylic paint and rolled them all into a circle. For Beyond the Blue, is a sculpted mass of extruded paint cascading down the wall and collapse onto itself.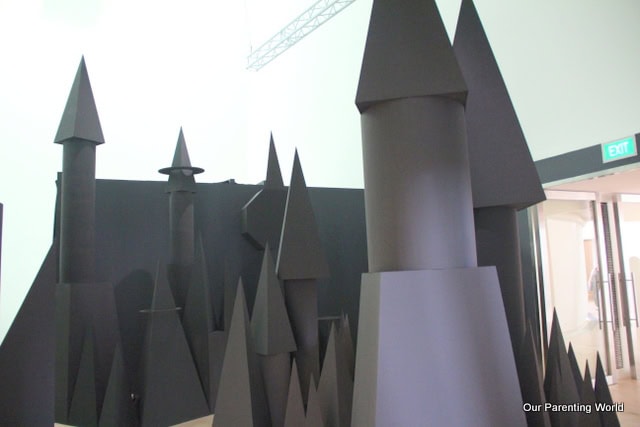 Master Plan by Jason Wee is an abstract model of a city using geometric shapes. This work is a result of his studies at the Harvard Graduate School of Design in Architecture and Planning. 
This landmark exhibition is part of the highly successful Global Prudential Eye Programme and a key highlight of Singapore Art Week in January 2015. Selected from over 110 submissions by an international curatorial panel, the artists include Chen Sai Hua Kuan, Chia Ming Chien, Angela Chong, Adeline Kueh, Jane Lee, Sean Lee, Gerald Leow, Charles Lim, Justin Loke, Samantha Tio (Mintio), Kumari Nahappan, Ho Tzu Nyen, Donna Ong, Jeremy Sharma, Jason Wee, Lee Wen, and Yeo Chee Kiong. After its run at ArtScience Museum, the exhibition will travel to the world-renowned Saatchi Gallery in London, significantly raising the profile of Singapore's visual arts scene on a global stage.
In addition, introducing Singapore Eye Book, this is another first for Singapore's art scene, 62 Singaporean artists and their works will also be documented in a book, Singapore Eye: Contemporary Singapore Art. Edited by Serenella Ciclitira, the book aims to be a visual reference publication and a key resource on Singapore's contemporary art. To further promote arts education, over 300 copies of Singapore Eye will be donated to local schools, institutes and libraries. 
Prudential Eye Awards nominees exhibited as part of Prudential Singapore Eye, from 17 January to 31 March are works from 18 most promising Asian artists who are nominated for the second edition of Prudential Eye Awards. While the former exhibition focuses in depth on the profile of Singaporean artists, the latter explores the works of artists who work across Asia and are on the cusp of gaining a significant international profile through the Prudential Eye Programme. These artists will be vying for the highly sought-after prize of 'Emerging Artist of the Year', to be determined at the Prudential Eye Awards Ceremony on 20 January 2015.
Prudential Singapore Eye mobile application is an informative Prudential Singapore Eye mobile application is also specially developed to provide visitors with more information about each artist and their artwork. The free application, "Singapore Eye", can be downloaded from the iTunes and Google Play from 23 January.
Goodnews!
Visitors can enjoy free entry to the exhibition every first Monday of each month, starting 2 February. This is the first such initiative at ArtScience Museum which is made possible with support from Prudential. In addition, pre-booked school groups including pre-schools, primary, secondary and tertiary institutions, can also visit Prudential Singapore Eye (for self-guided tour only) for free, beginning 19 January. These initiatives are aimed to further engage school going children as well as the public and raise their awareness about the outstanding work created by the local art community.
Additional Information: 
Prudential Singapore Eye will be on display from now till 28 June 2015.
Visit ArtScience Museum other exhibits, Da Vinci : Shaping The Future, read about our visit at this LINK and Living Leonardos Maker Festival at ArtScience Museum at this LINK. 
For more information on additional programming for Prudential Singapore Eye and ticket prices, please visit www.marinabaysands.com/ArtScienceMuseum