Singapore Zoo celebrates its 45th year on 1st July since it first opened in 1973 with Rainforest Lumina.
Visitors and tourists to Singapore Zoo can now look forward to a brand new attraction, Rainforest Lumina a new, illuminated multimedia night walk on the wild side that promises a sensory feast for all.
This is a collaboration between Wildlife Reserves Singapore and Moment Factory, a multimedia entertainment studio. Moment Factory is behind the Lumina night walk series that has appeared at venues like the Canadian seaside and an island in Japan.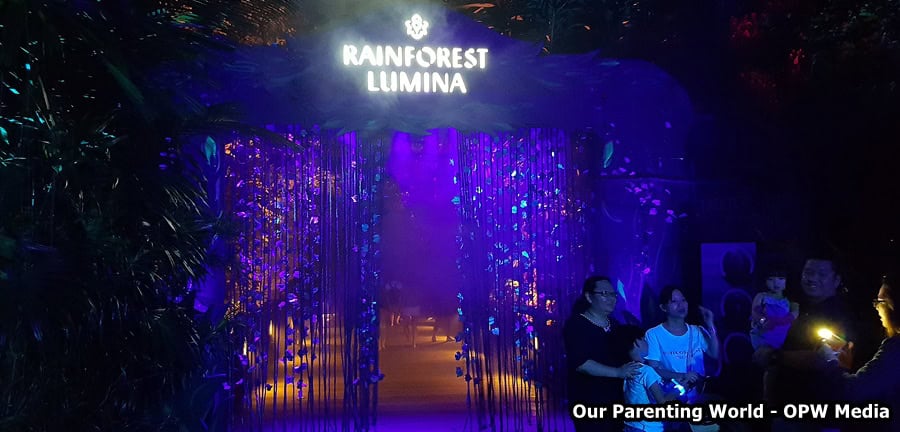 Discover the rainforest at night, where the zoo will transform into a whimsical landscape filled with light and sound. While the animals are asleep and visitors can embark on an exciting one kilometer-long trail journey through the four interactive zones in Rainforest Lumina and including 11 mist-filled zones.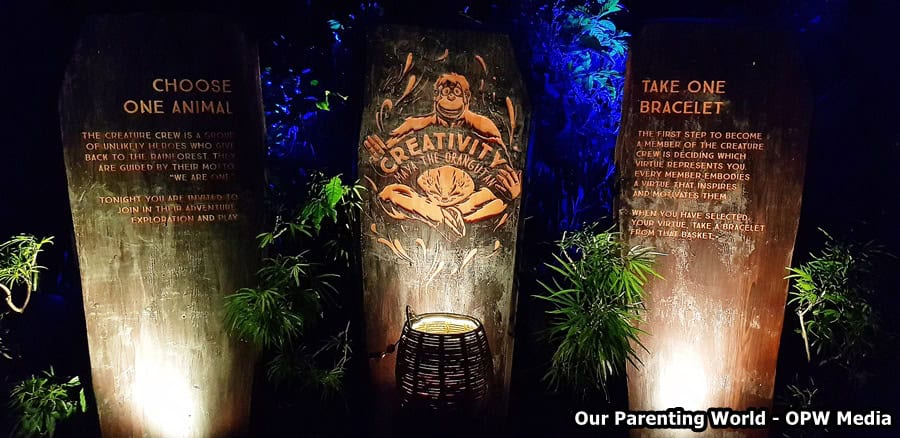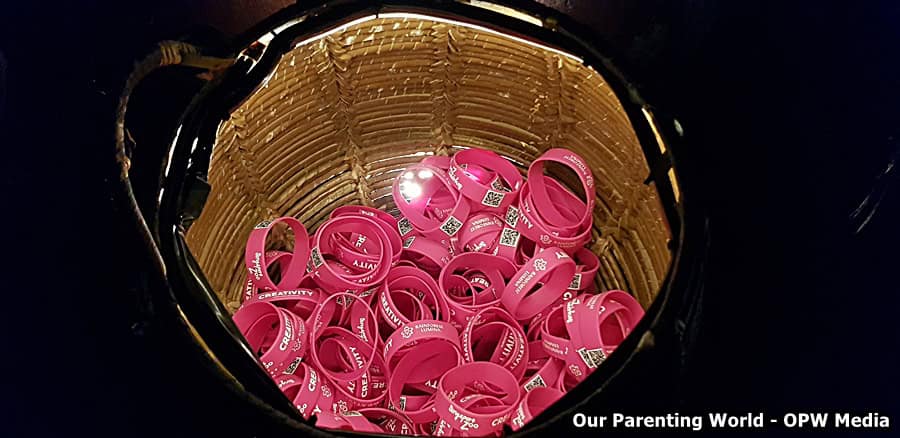 Meet the Creature Crew, a quirky group of unlikely heroes, including Orangutan, Flying Fox, Sloth, Chameleon, Asian small-clawed otter, Pangolin, Hornbill, and Tiger cub, will accompany visitors on their journey into the rainforest.
Upon entering the Rainforest Lumina, the first step to become a member of the creature crew is to choose a virtue, look at the baskets and choose which virtue you would like to be. Every member embodies a virtue that inspires and motivates them. When you have selected your virtue like Creativity, take a bracelet from that basket that embodies the virtue that you want.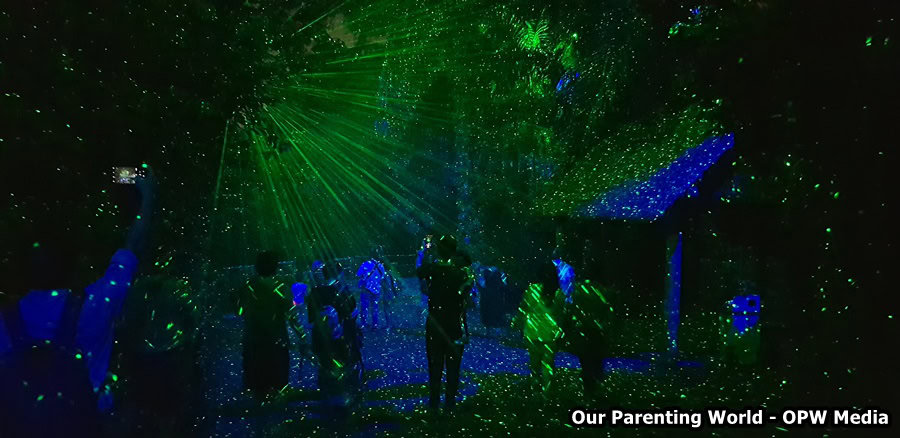 A beautiful, sensory walk through Rainforest Lumina. 
The four interactive zones are as follows: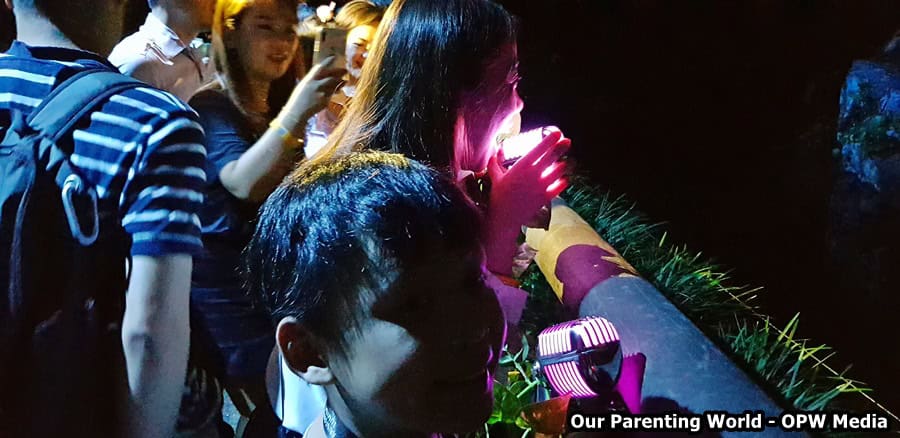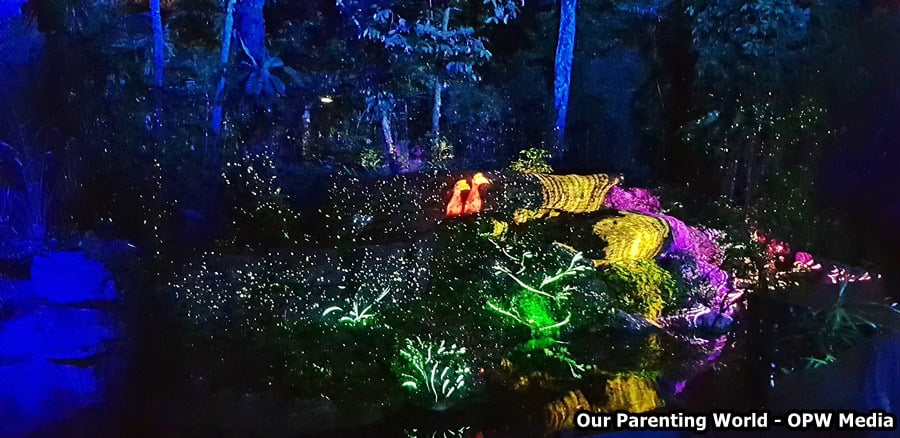 First Zone: Sing Like an Animal demonstrates how the earth plays music for those that will listen. Make magic by using whispers and singing songs to make the Creature Crew appear and create a luscious, luminous jungle.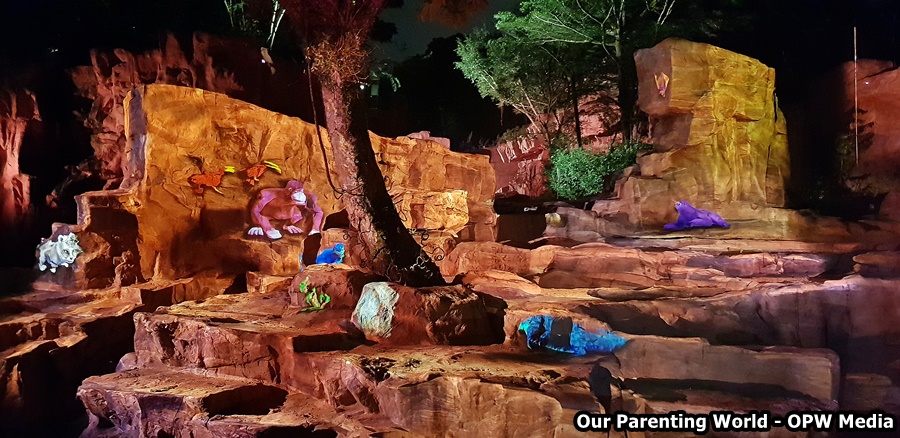 Second Zone: Call of the Wild impresses with an astounding visual narrative of how the Creature Crew bands together in times of adversity to overcome all challenges and protect the jungle.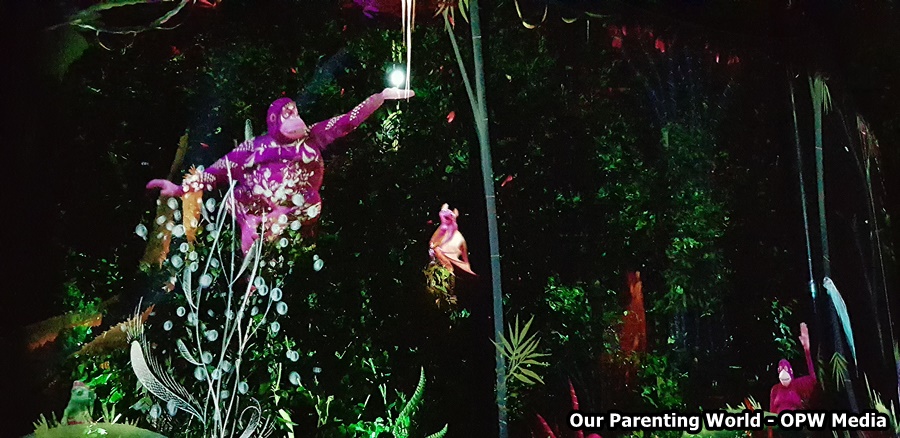 Third Zone: Embrace the mischievous and playful nature of the Creature Crew and play like an animal where visitors can have fun interacting with the Creature Crew.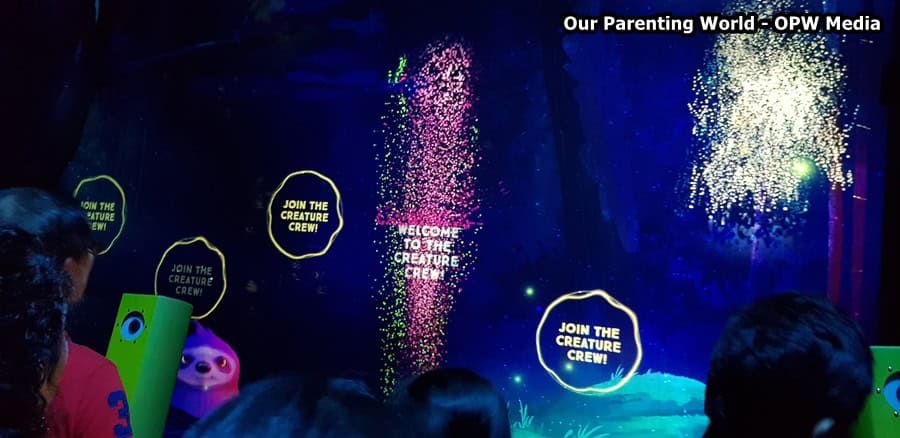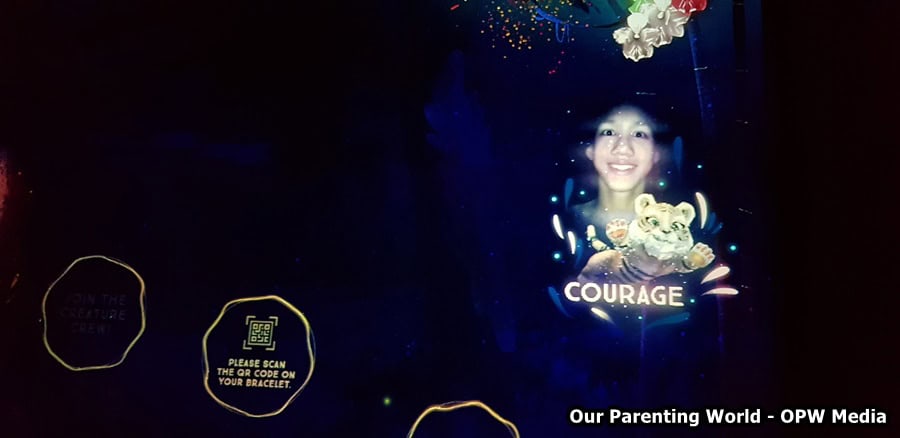 Fourth Zone: At the Wall of Fame, capture the essence of the Creature Crew's motto – "We are One" and leave with a photo memory with your Creature Crew friend at the end of the experience! The Rainforest Lumina at Singapore Zoo seeks to drive home the message that humans, animals and nature are inter-connected, with each having a vital role to play to sustain life on earth.
A beautifully lighted majestic waterfall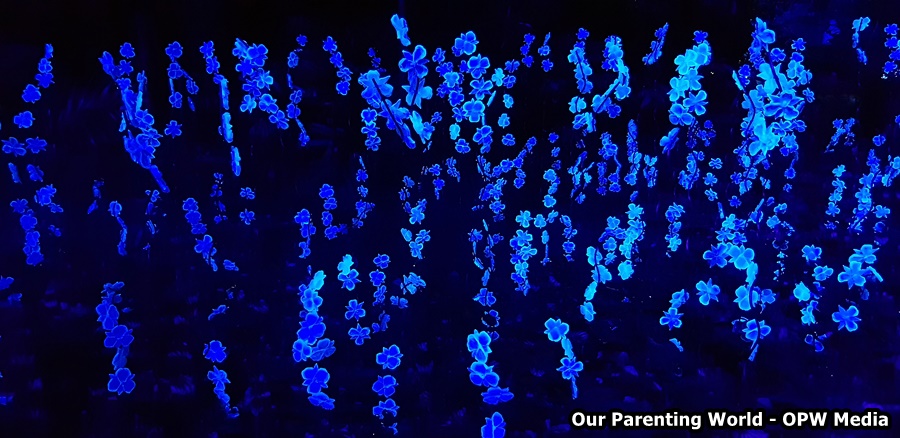 Rows of illuminated flowers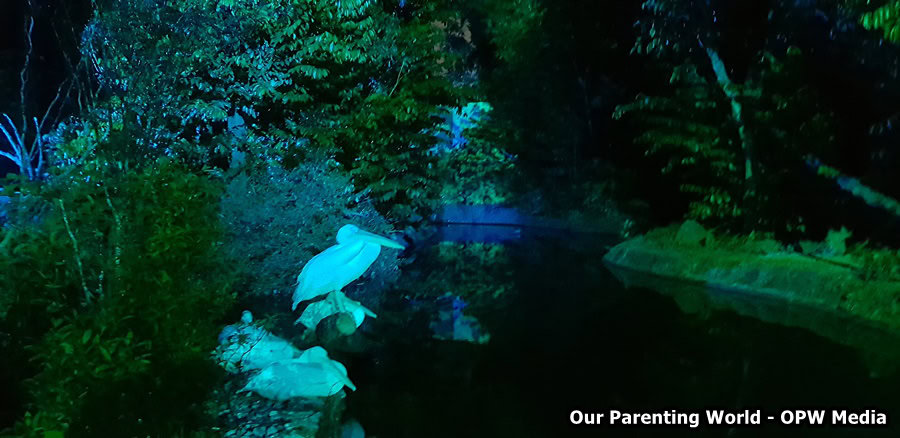 Along the way, there are many other beautiful installations like a majestic waterfall, illuminated flowers and we even spotted sleeping pelicans.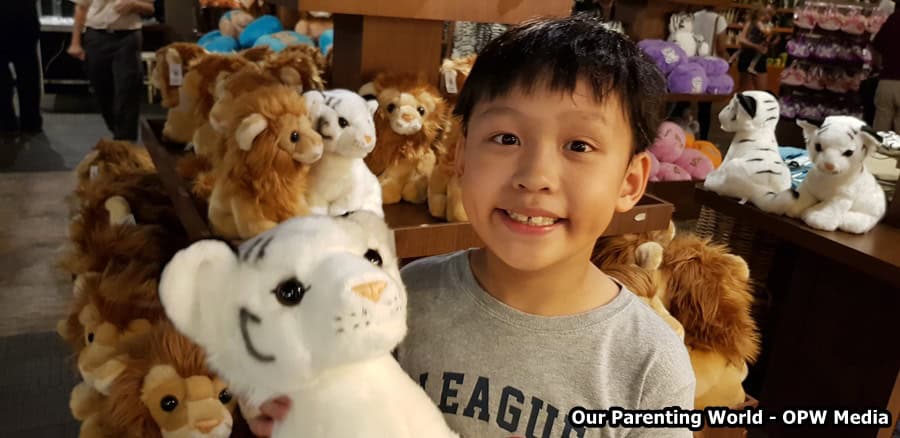 Can't get enough of Singapore Zoo, you can visit its gift shops to purchase souvenirs to remember your visit to the zoo.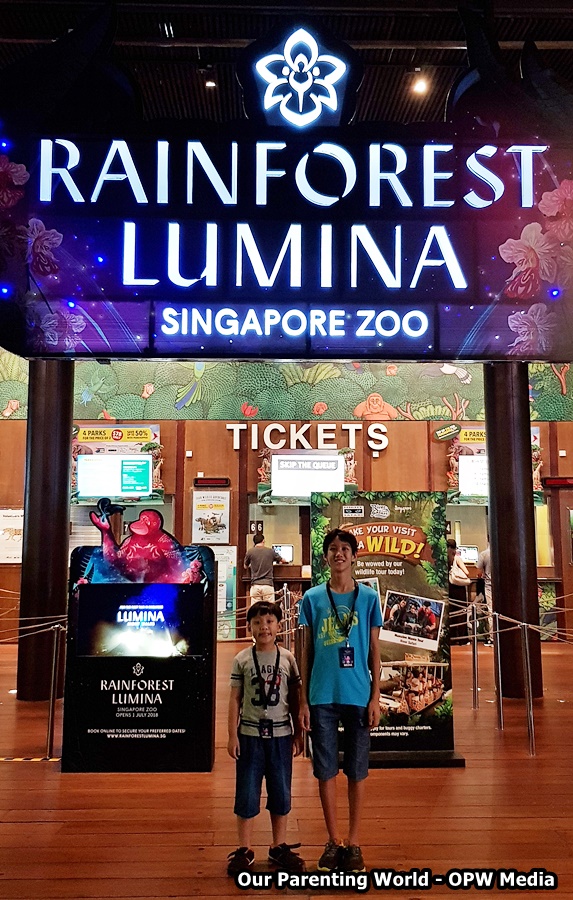 Rainforest Lumina at Singapore 
Singapore Zoo turns 45 this year in 2018, and as part of the celebrations, the zoo presents Rainforest Lumina, a multimedia night walk on the wild side. Guests will explore a one kilometer stretch of the tropical rainforest at night and be treated to a mesmerising audio-visual experience.
Venue: Singapore Zoo, 80 Mandai Lake Road, Singapore 729826
Date:  July 2018 onwards.
Opening Hours: 7.30pm – 12am (Last entry at 10.30pm)
Tickets: Adult SG$22, Child SG$16 (Ages 3 to 12)
For more information, please visit https://rainforestlumina.wrs.com.sg/