To our fans and readers, Grandmother Tongue by W!LD RICE, all the tickets have already been sold-out! This is the first time we reviewed a show and was informed that there is no more ticket left! Grandmother Tongue is a sold-out smash hit of the 2016 Singapore Theatre Festival with rave reviews! 
After watching the show, we completely understand why it is so popular! The smash-hit Grandmother Tongue is about a young man's struggle to connect and communicate with his 84 years old Teochew-speaking grandmother. 
The Speak Mandarin Campaign, 讲华语运动 initiatives was launched on 7 September 1979 by then the Prime Minster Lee Kuan Yew. It is a movement to encourage Singaporeans Chinese  to speak Mandarin as one of its four official languages. In Singapore, the four official languages are English, Chinese, Malay and Tamil. More and more younger generation have lost touch with their dialects and are unable to converse in Chinese dialects consisting mainly of Hokkien, Cantonese, Teochew, Hakka and more.
This story strikes a cord in our hearts as we belong to this younger generation that are unable to converse in our dialects with our grandparents. Most grandmothers are uneducated and only know how to communicate in their own dialect like the grandmother in the story. The helpless situation experienced by both side to try to understand each other when the common language of communicating has been taken away, has been well explored in this play.
The show also brings up other society issues like religion (the older generation who believe in ancestor worship vs the younger generation who adopt religion from the West), teaching of mother tongue in school (the school has a China map on top to tell the students that Mandarin language originates from China) and stigma of divorce (the family hid the information that the parents of the grandson had already divorced more than 10 years from the elderly grandmother).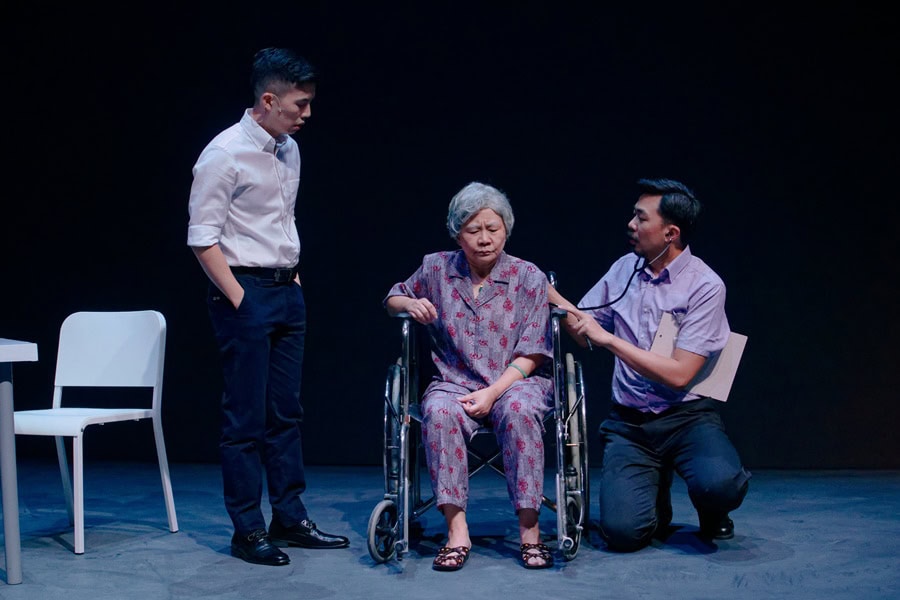 Grandmother is played by Jalyn Han and although she is at least 30 years younger than her character, she is so convincing in her powerful portray of a loving grandmother who struggles to communicate with her grandson. Her frustration of being isolated from the world as she can only speak Teochew. Many times, her performances move us to tears and make us think of our own dear grandmother who is also in the same situation. She can only understand and converse in her own dialect, Hokkien.
Tan Shou Chen played the filial grandson who carried the emotion well through being the narrator of the story and in his role as a grandson who seeks to understand and bond with his grandmother. 
Special mention to Rei Poh who is so superb in playing multiple roles in Grandmother Tongue. He is able to quickly transform and absorb into each of his role brilliantly as a school master, the late grandfather and more, the most memorable one as a Filipino nurse who looks after the grandmother when she had a fall, how he tried to communicate to her in his Filipino accent.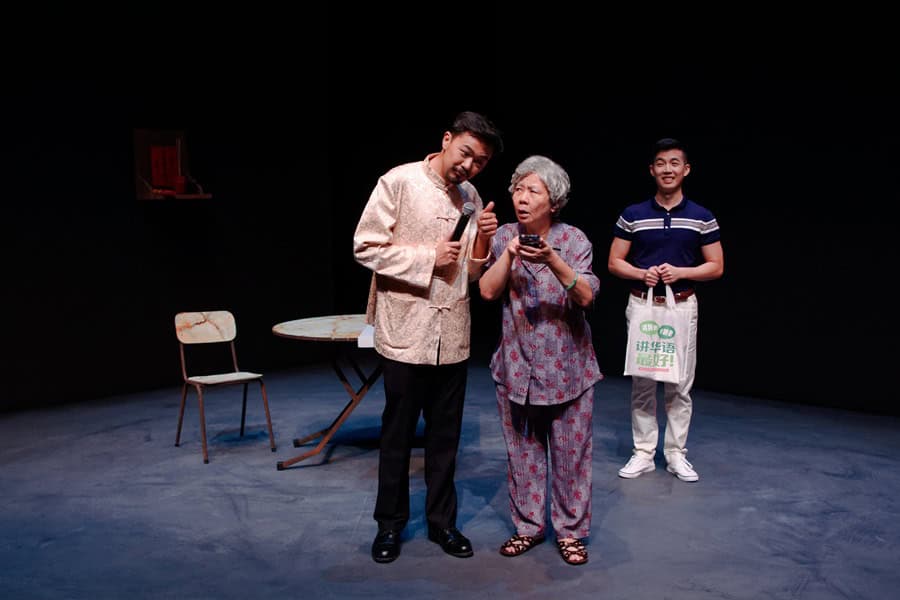 Grandmother Tongue was nominated in four categories at the 2017 Straits Times Life! Theatre Awards – Production of the Year, Best Original Script, Best Actress (Jalyn Han) and Best Supporting Actor (Rei Poh). 
Grandmother Tongue is inspired by Kuo Pao Kun's seminal Mama Looking For Her Cat, formerly a drama educator, Thomas Lim made his professional debut as a playwright and director with Grandmother Tongue. He is thrilled to have the opportunity to re-visit the play and bring it to more audiences. This heartwarming and insightful play has been so successful that it has now been completely sold-out!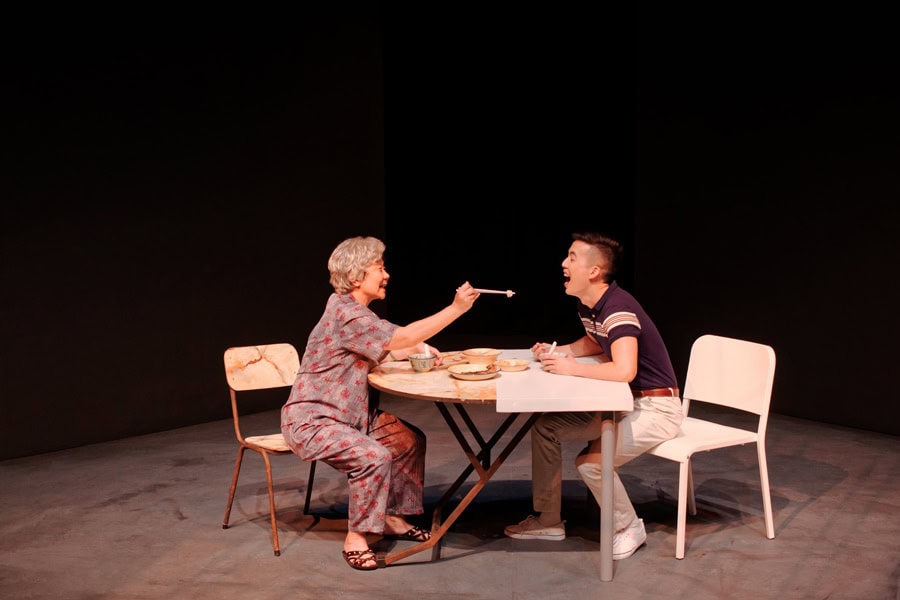 We hope W!LD RICE will bring back more of Grandmother Tongue and encourage you all to watch this meaningful and excellent play about identity, language, society and family bonding! 
Grandmother Tongue is a powerful story that we can relate to, it moves our heart and make us think of our grandmothers. To those who are fortunate that your grandparents are still around, please do cherish and spend more time with them!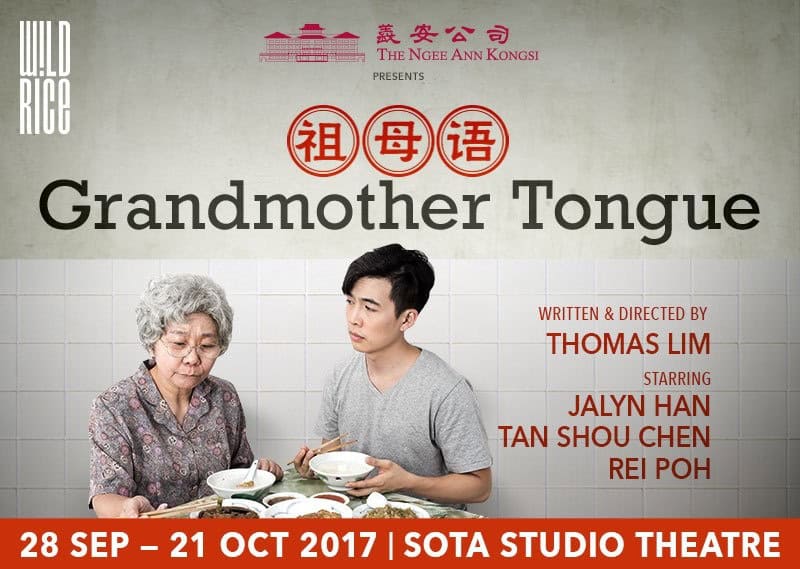 The Ngee Ann Kongsi presents W!LD RICE's Grandmother Tongue
A heart-rending and truly powerful play that will touch your heart and bring tears to your eyes as you think of your own grandmother.  Grandmother Tongue is wonderfully written and performed by the amazing cast!
The play is written & directed by Thomas Lim starring Jalyn Tan, Tan Shou Chen & Rei Poh and performed in Teochew, Mandarin and English, with English and Chinese subtitles. 
TALKBACK THURSDAY – Meet the artists and deepen your experience of the play in these lively post-show discussions on Thursdays 5 October, 12 October and 19 October 2017.
Show Dates and Time:
Thursday, 28 September – Saturday, 21 October 2017
Tuesday to Sunday: 8.00pm
Saturday & Sunday: 3.00pm
Venue:
SOTA Studio Theatre
Ticket Pricing:
(Excludes Booking Fee)
Tuesday – Thursday, 8.00pm
Standard: S$35
Friday – Sunday, 8.00pm and Saturday & Sunday, 3.00pm
Standard: S$40
(This is a Free Seating Event)
Please do check Sistic for the latest update and if there will be any additional show as currently, they have all been sold out, to find out more, please visit: https://www.sistic.com.sg/events/ctongue1017