Betadine Gargle and Mouthwash has multiple functions, it helps to prevent tooth decays and also help in treating sore throat.
One of the irritating symptoms of the common cold is sore throat. Common cold in medical terms is called "upper respiratory tract infection". This means infection of the upper respiratory tract, namely the nose and the throat. A person who has common cold will normally have sore throat, running nose, cough and sometimes fever. The germs are normally located at the throat area.
Betadine Gargle is useful to kill the germs located in your throat. As an antiseptic, it is able to kill the viruses or bacteria which are located at the throat. This will relieve your symptoms and make you feel better. In fact, most causes of common cold are caused by viruses and not bacteria. Oral antibiotics prescribed by your doctors generally only targets against bacteria but not viruses. Thus antiseptic gargle like Betadine is useful for treatment against sore throat.
As a mouth wash, if you use it regularly, it will kill the germs in your mouth and this will help to reduce tooth decay and prevent gum infection. In addition, it also help to relieve mouth ulcer, improve oral hygiene and remove bad breathe. The colour of the mouth wash solution is dark brown and has a minty taste but you are not supposed to swallow the mouthwash when you use it. All you need to do is to gargle for a good 30 seconds only to be effective and it is so easy to use, even for school going children.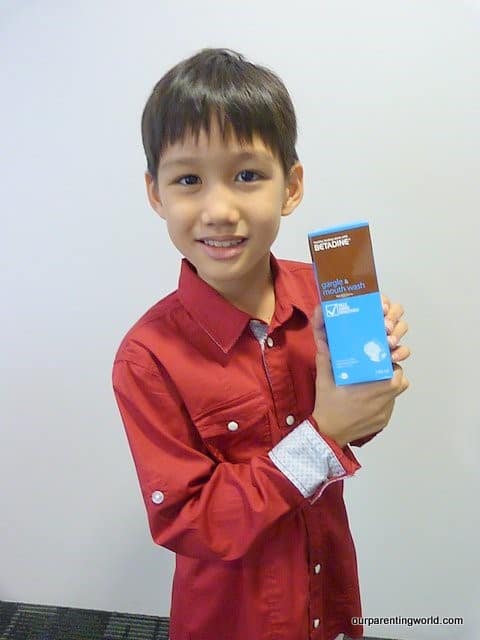 Betadine Gargle and Mouthwash is suitable for everyone and for children age 6 years and above. When we first introduced the mouthwash to Gor Gor, we were worried that he might not get used to it. After the first try, he was used to the minty taste immediately. It was relatively easy for him to use just gargle for 30 seconds. We like Betadine Gargle and Mouthwash for its overall benefits and even young children like Gor Gor will gargle with it every day and it helps to improve his overall oral hygiene. 
Full Disclosure: We were given Betadine Gargle and Mouthwash to try out and compensated for writing this post. However, all views and opinions are entirely ours.