From Romeo and Juliet, Julius Caesar to Hamlet all 37 plays from William Shakespeare presented in just 97 minutes! The Complete Works of William Shakespeare (ABRIDGED) has been performing in London's West End at the Criterion Theatre for 9 years and is London's longest-running comedy!
This is an excellent play involving three very talented and energetic actors, Jeff Marlow, Tiger Reel and Dan Saski who will bring you through a roller coaster ride of Shakespeare's Comedies, Histories and Tragedies all in one show that will make you roar with laughter with their comic performances! Who says Shakespeare is boring?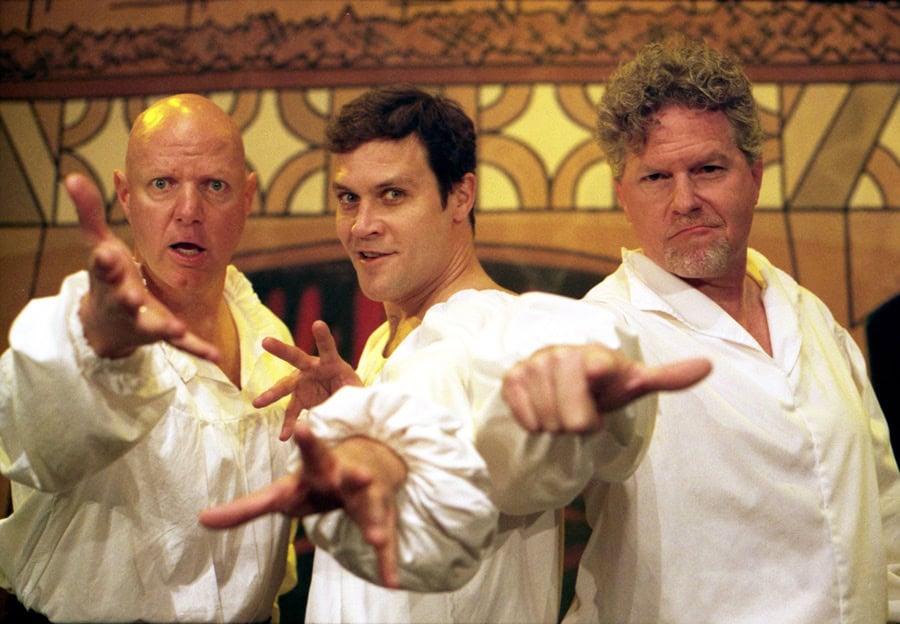 The first half of the show features 36 of William Shakespeare's plays. The three actors are so impressive, able to take turns to play out their roles seamlessly, coupled with quick costumes changing, even playing female heroines, and interacting with the audience. 
They made the audience laughed so hard, be careful as one of the actors will go around "vomitting" at the audience which is very funny! They will even go around picking the audience and bringing them up on the stage. There is a chance that you may get splash especially if you are seated on the first few rows at the front. Laughter and clapping can be heard throughout the theatre, the audience are having fun! We also heard audience saying "This is brilliant show!" , "So funny!" during interval. We love the show!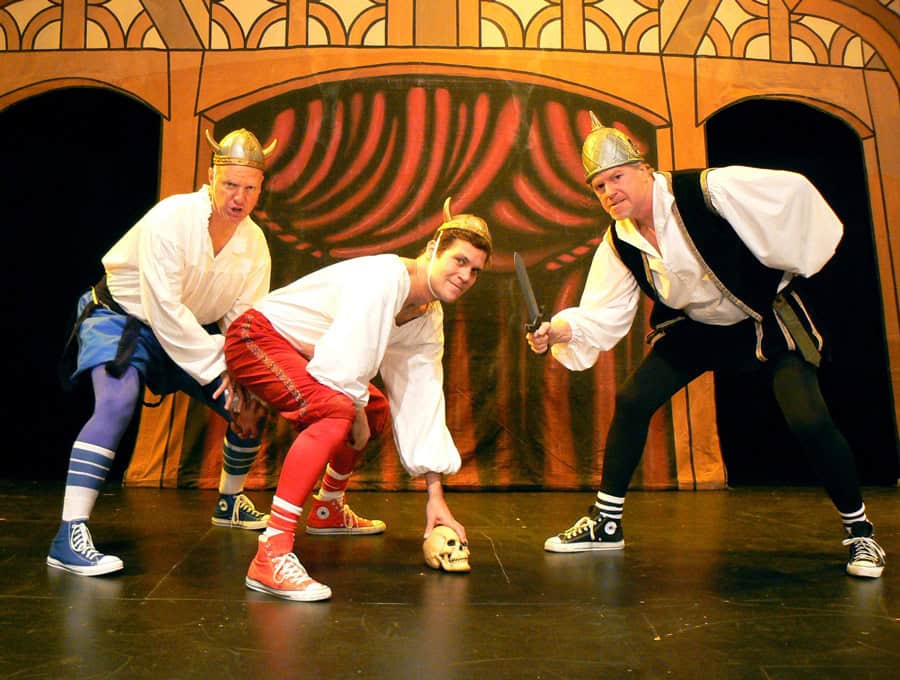 The 2nd half of the show focus on the story of Hamlet, the 37th play, this maybe the funniest Hamlet version you have ever seen! The three actors played out Hamlet forward and backward much to the amusement of the audience.  
Shakespeare can be fun too! It is a wonderful time out to watch The Complete Works of William Shakespeare (ABRIDGED) where we can get to see all William Shakespeare's 37 plays in one magnificent, extremely funny and hilarious show!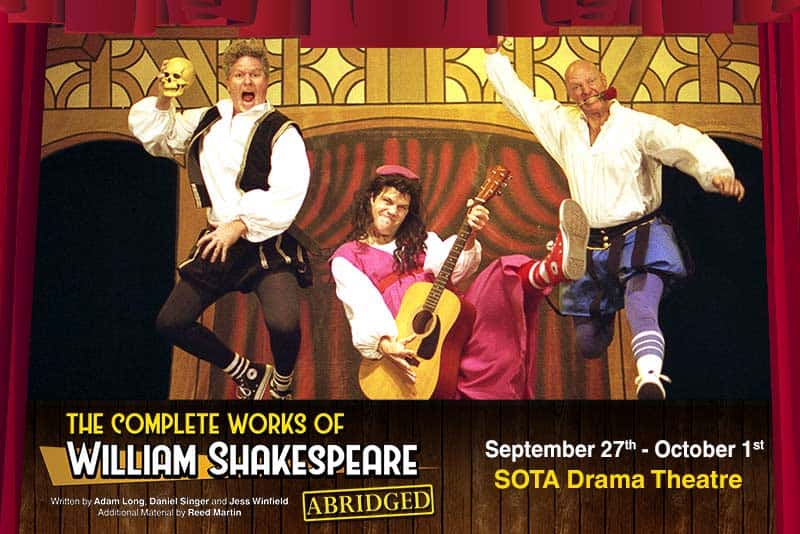 The Complete Works of William Shakespeare (ABRIDGED) is by The Reduced Shakespeare Company, a three-man comedy troupe that takes long, serious subjects and reduces them to short, sharp comedies. Wait no further, catch The Reduced Shakespeare Company perform all 37 plays from now till 1 October, 2017. This is a marvellously enjoyable and entertaining show that is suitable for the whole family to watch and have a fun time together! 
Final 6 performances! Hurry, get your tickets now! 
The show will be performed in English and is about 2 hours 5 minutes including an interval. 
The Complete Works of William Shakespeare (ABRIDGED)
Show Dates and Time:
Wednesday, 27 September – Sunday, 1 October 2017
Wednesday – Friday: 7.45pm
Saturday: 3pm & 7.45pm
Sunday: 2pm & 7pm
Venue:
SOTA Drama Theatre 
Standard: S$108, S$88, S$78
To find out more and to purchase the tickets at Sistic, please visit: