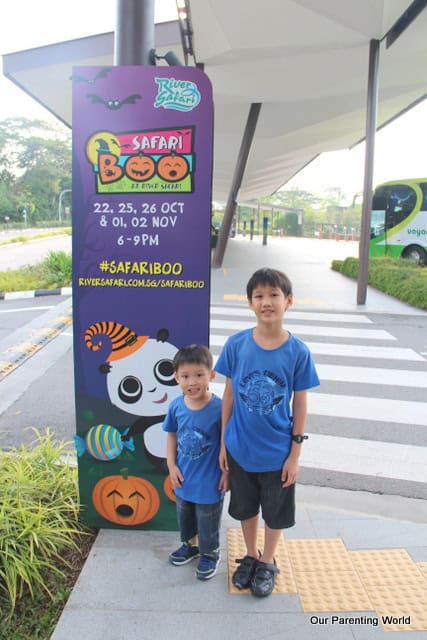 Halloween is coming! Our Parenting World, Gor Gor and Di Di embarked on a mission to source the various Halloween activities in Singapore suitable for children and the whole family to have a Fun and Enjoyable Halloween.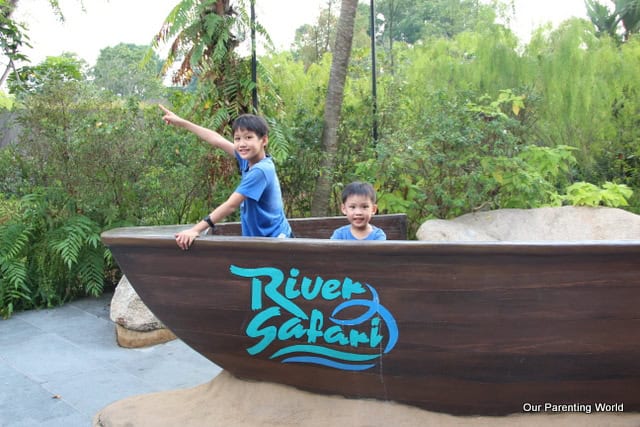 We were at River Safari to check out its first Halloween theme event – Safari Boo!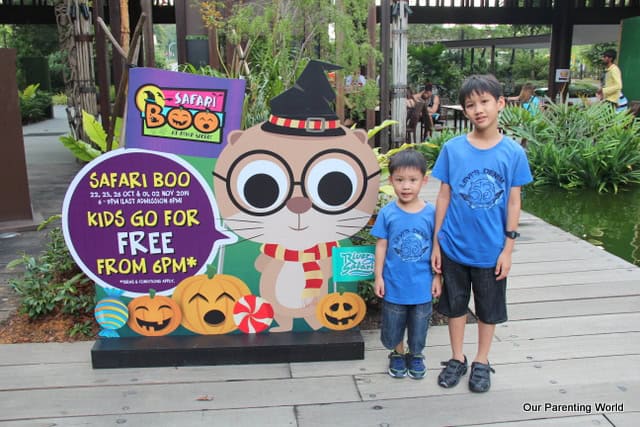 Goodnews! It's free admission for all kids below 12 years old from 6pm onwards! Safari Boo is A-Merry-Not-Scary Kids event which will be held on 22, 25, 26 October and 1, 2 November 2014 from 6 to 9pm.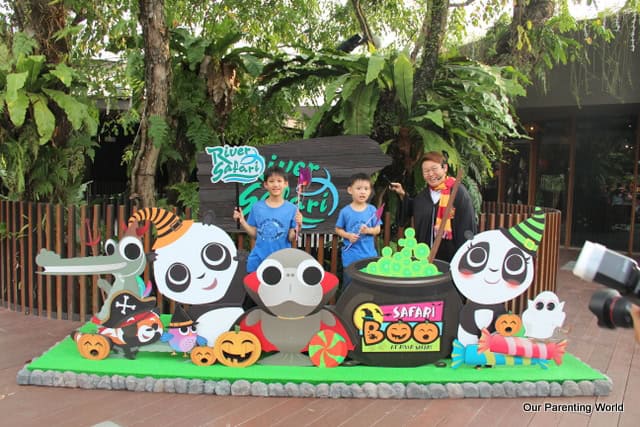 At the media preview, we were introduced to "Cherry Potter", our passionate guide who will be bringing us on a tour.
Is "Cherry Potter", casting a spell on the boys to send them on a magical adventure at River Safari. Let Gor Gor and Di Di show you around Safari Boo and find out why it is not scary but lots of magical FUN for the children. 
Look at all these Halloween theme decorations that really set our mood before we begin our adventure. 
Vampire, Pirate Captain, Pirates, they are everywhere!
They are so friendly, not scary at all. 
Halloween funny riddles along the way, did you manage to guess correctly?
So cute! The children squeaked with delight when they saw the fishes swimming among the orange Halloween lanterns and colorful decorations. 
"Cherry Potter" is here again to cast the happy spell on me! Look at our Happy Faces!
We made our way near the Panda Forest where we were all seated on the deck to watch the Safari Boo's animal presentation on River Talk : Myths & Legends.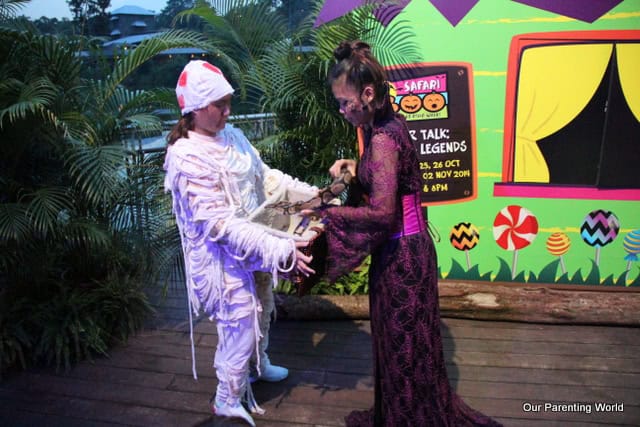 The show is hosted by a not-so-scary witch together with her friends which include Frankenstein, Skeleton, The Mummy etc. The show is highly interactive where kids can learn more about wildlife, play interactive games and even get to touch some of the animals. 
If you would like to touch the animals, it is best to sit at the front row.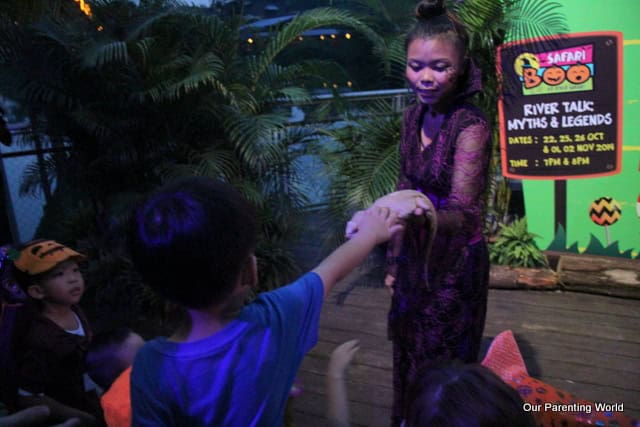 Di Di raised up his hand enthusiastically to feel the animals like the bearded dragon.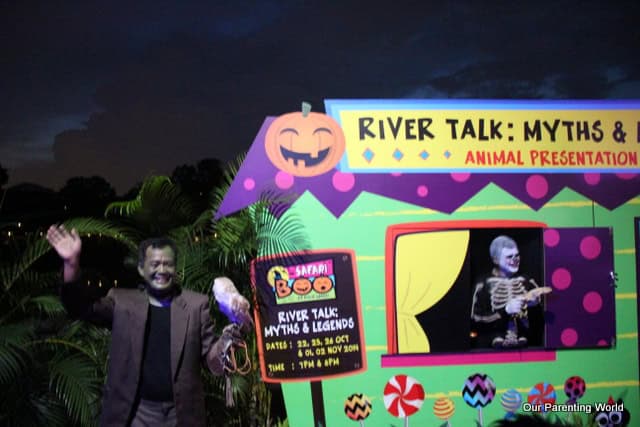 It's a good show, the children enjoyed themselves and best of all, they get to come up close and touch some of the creepy-crawlies which they have not done it before.  
Next we moved on to the activity stations at the Giant Panda Courtyard where children get to learn more about animals through hands-on activities.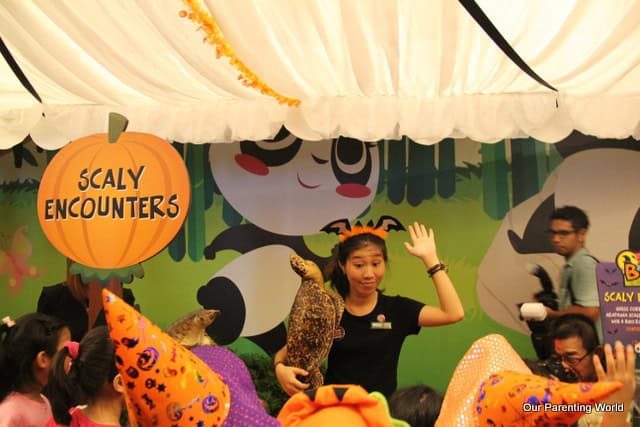 At the activity stations, there are so many things to do and learn. Children get to explore, discover, feel the scales of pangolin and arapaima and or become an archaeologist to uncover animal bones to solve mysteries. That's not all, after completing the activity at each station, children will be rewarded with little treats.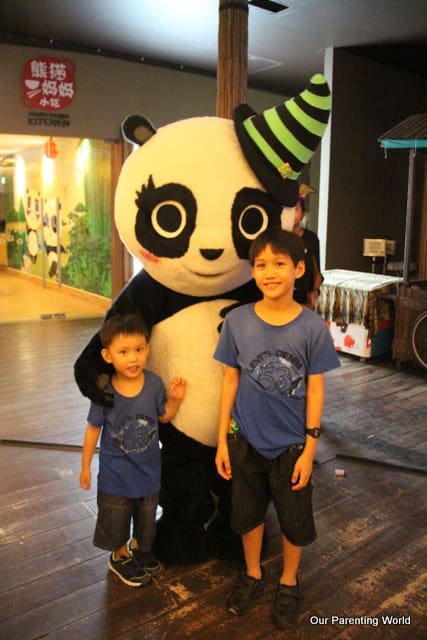 Look out for Kai Kai and Jia Jia mascots at Safari Boo.
Next we embarked on "The Enchanted Trail" to meet our favourite mystical characters come alive. We can't wait to see them.
Who will we meet along the trail?
Mythical creatures like fairy, unicorn, wizard etc greeted us along the way. We were given a simple task to complete like dancing, answer a simple question and we were be rewarded with more goodies like sweets. Yay!
The aquarium at The Amazon Flooded Forest is also beautifully decorated with Halloween theme.
Look who we have found at The Amazon Flooded Forest, its the beautiful mermaid! 
This is the world's largest freshwater aquarium where over 18 animals species including the Arapaima and Manatee can be seen.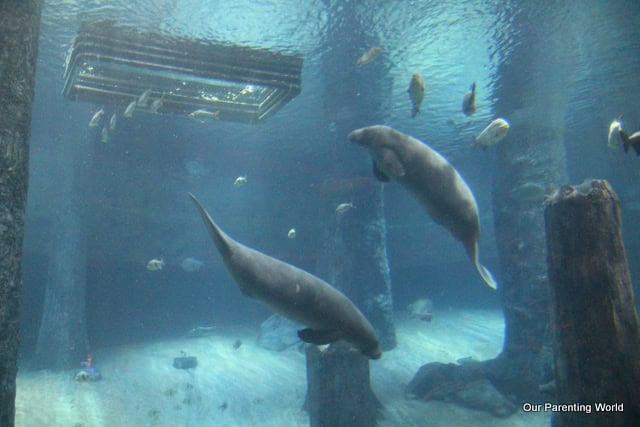 The view is simply stunning and break-taking!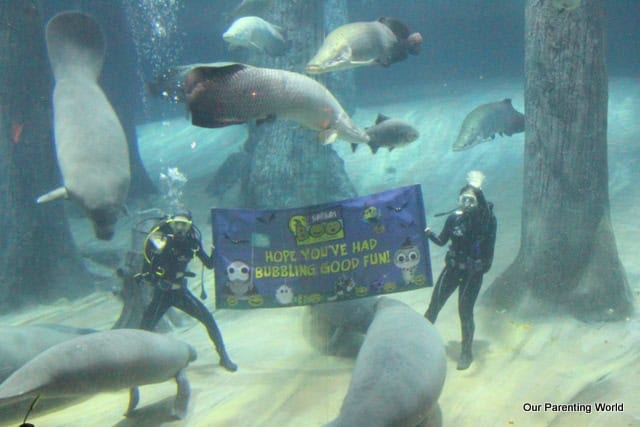 The scuba drivers surprised us with a Happy Halloween message giving us a memorable experience.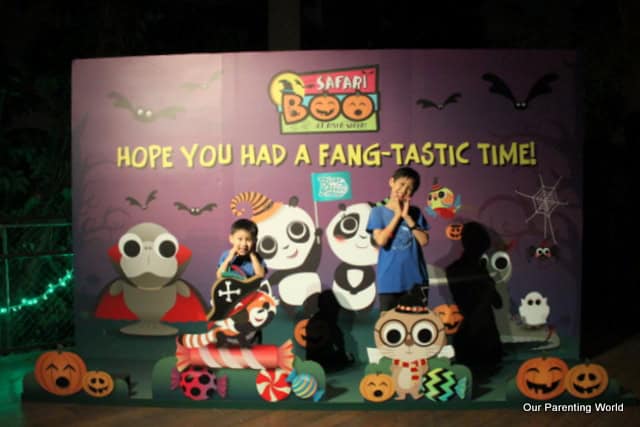 Yes, we had a fantastic time! Thank you to the organisers, our host "Cherry Potter", all the wonderful staff and River Safari for having us and giving us a memorable adventure night at Safari Boo. 
Come and visit River Safari's first ever trick-or-trick event, Safari Boo till 2 November 2014! Hurry, don't miss it as it is held for 5 days only on October 22, 25, 26 and November 1 and 2. 
Additional Information:
Safari Boo at River Safari 
October 22, 25, 26 and November 1 and 2, 2014
Entry: 6pm – 9pm. Last admission is at 8pm.

Price: $15 for adults. Children aged 12 years and below enjoy free admission from 6pm. Kids who dress up with the most creative costumes will stand to win exciting prizes!
Visitors with River Safari admission tickets can take part in Safari Boo activities for free.
River Safari, 80 Mandai Lake Road, Singapore 729826
Please click HERE for more information
********
Read about our next Halloween Activities for Children 2014 where Gor Gor and Di Di will embark on the mission to find children friendly Halloween activities, this time at Port of the Lost Wonder, Sentosa. Please click HERE to read about it.