To mark its sixth year milestone, Toast Box goes a step further with non-profit charity organization, ABLE (Abilities Beyond Limitations and Expectations), to join hands with their beneficiaries to raise awareness and funds for ABLE's rehabilitation, respite and training programs.
This year, the funds will be raised through the sales of Sprouting Kits – a portable-sized cup that comes with soil compost processed from Toast Box's recycled coffee grounds, together with seeds for growing the sprouts. As part of giving back to the community, Toast Box has been supporting ABLE through fund-raising programs in the last six years. 
A social and sustainability initiative
Together with ABLE's staff and beneficiaries, Toast Box's staff-volunteers pack and assemble the Sprouting Kits – from sticking of labels onto the cups, to packing the soil compost, seeds and instructional guides within the kit.
These packing sessions keep the beneficiaries physically and socially active as they interact with Toast Box staff-volunteers, working hand-in-hand to accomplish new tasks. It also allows Toast Box staff-volunteers to better understand the challenges faced by the beneficiaries and how the funds raised can help serve ABLE's programs which are aimed to help the physically challenged lead a productive, meaningful and independent life.
To take this social community effort further, this year's fund raising also stems from the brand's creative way of giving back to the environment by recycling their coffee grounds and reusing them as soil compost.
Gene Lee, Executive Director of ABLE, commented, "We're very happy to continue collaborating with Toast Box for the sixth consecutive year to raise funds for ABLE. This year, our beneficiaries are especially delighted to play a part in this fund-raising initiative and through Toast Box, we hope to reach out to more members of the public to increase awareness of our services and to help more beneficiaries!"
Growing care and support for the physically challenged
With the underlying meaning of 'growing' new life, Toast Box's Sprouting Kits allow customers to have a hands-on engaging experience in growing their very own edible 'Bak Choy' or 'Kai Lan' sprouts in a cup, which they have the option of adding the sprouts to salad, or cooking with other vegetables. More importantly, this inspires them to show more care and support to the physically challenged beneficiaries to overcome the odds and lead a meaningful and independent life.
Vincent Lim, Regional General Manager of Toast Box, Bakery Division (ASEAN), rallies the community to be part of this meaningful initiative, "We are especially heartened to have ABLE's beneficiaries and staff, Toast Box staff and even our industry partners coming together for the first time to put their best foot forward in this initiative. With the support of our customers, we believe this can be developed into a long-term social and sustainability effort in supporting our community."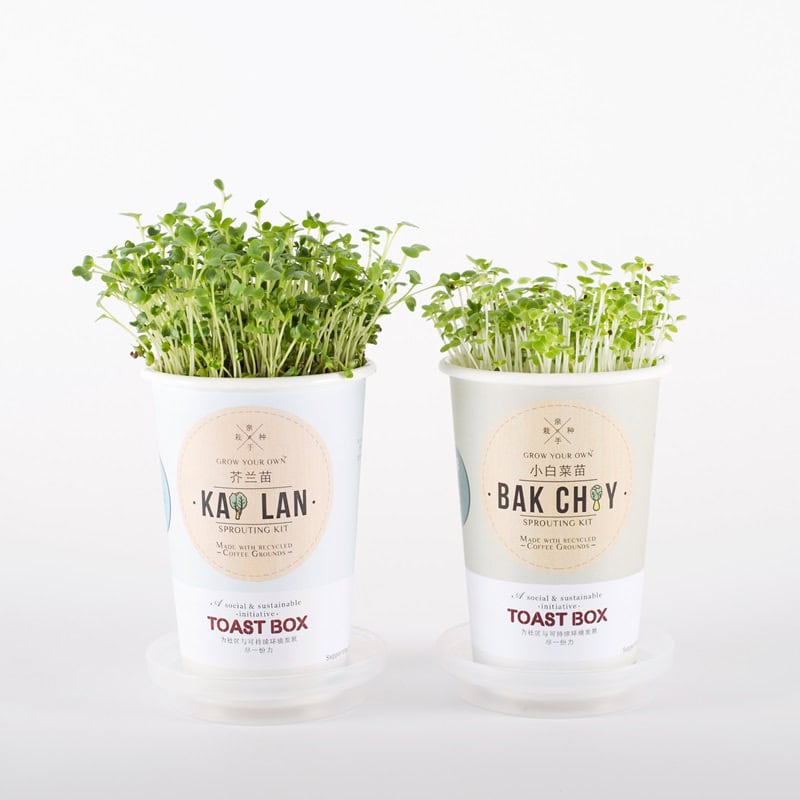 100% of all proceeds from sale of Sprouting Kits to be donated to ABLE
From 22nd September 2016, these portable sized Sprouting Kits will be available across 35 Toast Box stores*, sold at $5 each. 100% of all proceeds from sale of these kits will go directly to ABLE to support their rehabilitation, respite and training programmes.
*Sprouting Kits are sold at the following stores:
100AM, Bedok Mall, BreadTalk IHQ, Bugis Junction, Causeway Point L1, City Square Mall, Clementi Mall, Compass One, Eastpoint Mall, Esplanade, Greenwich V, JEM, Kitchener Complex, Marina Bay Sands, myVillage, Nanyang Academy of Fine Arts, nex, Paragon, Parkway Parade B1, Pasir Ris Sports Centre, Plaza Singapura, The Rail Mall, Resorts World Sentosa, SAFRA Toa Payoh, Shaw House, Singapore Cruise Centre, Sun Plaza, Suntec City Mall, United Square, VivoCity B2, Waterway Point, West Coast Plaza, Westgate, YewTee Point, Zhongshan Mall