Royal Imperial Food, homegrown brand from Singapore has launched its very first Royal Health SuperBooster bundle, aimed to help women and men beat menopause and andropause symptoms.
Royal Imperial Food is founded on the principle of bringing top quality, unadulterated and natural superfoods to consumers. The new range promises a delicious treat of body-boosting natural products with its age-old formula, including hand-picked whole nests from ethical bird farms in Indonesia that are traditionally hand cleaned with zero chemicals and bleach-free.
Superfood Booster Bundle is a combination of the Royal Imperial Bird's Nest with the Royal Imperial Wild Honey. Together, the SuperBooster set offers much higher medicinal and nutritional value as compared to conventional bird's nest and farmed honey. The Royal Health SuperBooster is filled with natural probiotics containing vitamins, minerals and antioxidants, formulated to boost one's health and wellness with sustainability and convenience in mind – all in just one bottle.
Rejuvenate your body with premium bird's nest
Royal Imperial Bird's Nest contains a whole nest of premium 5g 燕盏 (yan zhan) in each bottle (85ml), is hand-picked, and cleaned by hand, free of bleach and chemicals thus preserving its long, thick gelatinous strands when cooked and taste immaculately home-made with a tinge of natural sweetness. Its natural formula contains zero fat and cholesterol, making it a nourishing daily treat to slow the effects of ageing, as a perfect gift of good health for those with illness.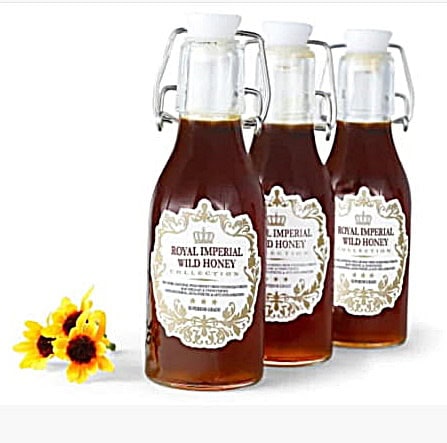 Indulge in nourishing, exotic wildflower-sourced honey
Royal Imperial's Wild Honey is a unique and rare variety that has been sourced from collectors who have ventured deep into the jungles of Asia in search of natural beehives. This dark honey is intense in flavour and packed with beneficial enzymes, antioxidants, vitamins, minerals and poly-floral taste of wildflowers.
It is pure, raw and wild, as Mother Nature intended, and is aptly nicknamed "Food for the Gods". 100% cold-filtered and unprocessed, it retains all the natural goodness, free from pesticides, chemicals, and artificial additives, as fresh as it can be direct from the exotic natural locations it was sourced.
A tablespoon of Royal Imperial Royal Honey can be taken daily for good health, as a meal replacement, or applied to skin or hair for moisturising benefits and nourishment.
Introducing new brand ambassador Chef Heman Tan "Iron Man Chef"
Chef Heman Tan, a multi-talented, award-winning chef has joined Royal Imperial Food as its new brand ambassador, gracing the launch event with tips and advice on living healthy lives through nourishing food. A celebrated culinary artist with a experience as the executive chef of the JP Pepperdine Group and chief culinary officer of the Soup Restaurant Group, Chef Heman is one who truly appreciates and endorses the finest quality of food, for good health and food for the soul.
Chef Heman Tan is affectionally known as "Iron Man Chef", he is also an Ironman triathlete who does long distance running daily, advocate of Royal Imperial Food; Superbooster of Premium Bird's Nest and Wild, Raw Honey and chooses to take them daily for his youth, vitality and wellness.
Availability and pricing
With its premium sourced, hand-picked rare ingredients, the Royal SuperBooster bundle is available in limited quantities of 20 sets* per day, from S$198 upwards, only from Royal Imperial Food's website (www.royalimperialfood.com).
*Each Trial set contains a choice of; Royal Imperial Bird's Nest/ Wild Honey (6 bottles). Each Superbooster bundle (monthly) contains a set of Royal Imperial Bird's Nest (3/6 bottles) and Royal Imperial Wild Honey (200ml/600ml), with FREE local delivery (weekly) for maximum freshness.
For more information, please visit Royal Imperial Food's social channels as follows: 
Facebook: https://www.facebook.com/RoyalImperialFood
Instagram: @royalimperialfood
Youtube: https://bit.ly/Royalimperialfood