Run for Hope 2019 is an annual run organised by the Four Seasons Hotel Singapore and the National Cancer Centre Singapore (NCCS) to raise much-needed awareness and support for cancer research.
Our Parenting World – OPW Media is pleased to interview Ms Sandra Wu Pom San, a 43 year old breast cancer patient who was diagnosed in January 2018 and had a bilateral mastectomy. Sandra is the former National Squash champion (Malaysia) but now lives in Singapore where she currently runs her own squash academy.
Unfortunately the disease has ceased the full range of motion in her arms but not to be defeated, Sandra has now taken up running and is still determined to lead a healthy and fit life. She is very active in the community, not only with her squash academy but also setting up a running group for like-minded women many who are mothers and get together and run in a sociable group throughout Singapore.
As well as social running Sandra is a competitor on the International stage where she took home gold in Asia Pacific Masters Games 2018 (5,000m, 40-45 age group). 
Exclusive Interview with Sandra Wu Pom San
1) Please share with us more about your background and what sparked your interests in running?
I was a ex Malaysia #1 squash player and played professional squash in 1997-1998. Competed in Commonwealth Games 1998, Sea Games 1991, 1993 (won Silver n Bronze Medals), Asian Team Championship 1992, 1994, 98 (gold), 3xs Asian Junior Champion in 1991, 93, 95.
Coaching background:
2005-2006: Malaysia World Junior Women Coach
2007-2016: Singapore Head Coach
2017- Till now: Head Coach of Ultimate Squasher Academy in Singapore
We have 100 students training with us.
Interest for Running:
After spending many years competing in Squash and coaching, I wanted a new sport/ hobby apart from squash. Running was something that I dislike doing but it's the most convenient way to get a workout.
I started running in local races in 2012, for 5-6 events yearly with minimal training until this year 2018, I took it on more seriosly because of cancer, and am doing 3 key runs weekly and cross train once-twice a week. Trained for the Osaka Marathon on 25 Nov 2018. Target was 5 hours, couldn't achieve target but ran my Personal best in 5hour 5 min 18 secs. Previous Marathon best timing was 5 hour 22 min.
2) Why have you chosen to be involved with Run for Hope and what does it mean to you?
It's a meaningful Run and because I had cancer. It means a lot to me to be part of this Run and to be able to run after having cancer. All the more I need to run and to encourage other cancer patients to be active still.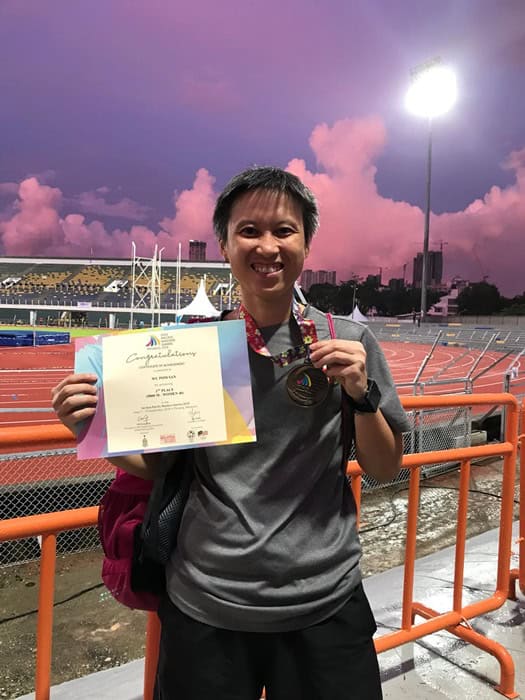 3) How do you prepare for the run?
I do 3 key runs a week and cross train once – twice a week
4) As you are currently an NCCS patient, by taking part in the race is it also a way for you to show support to other patients at the centre and thank those who have supported you so far (Doctors, nurses etc)? What would you like to say to them and encourage others to take part in the race?
Yes I am currently a NCCS patient. To thank my surgeon Dr Ong Kong Wee, Oncologiest Dr Elaine, and the team of nurses Melanie Tan who has looked after me well.
Our mind is very powerful, You can do it, if you set your mind to it. Whether you say you can or cannot, you are probably right. 
5) Are you looking forward to anything particular at next year's run?
Just wanna enjoy the run with a group of friends and to celebrate life. A life that I took for granted and never looked after that well. Am just particularly thankful for the second chance. 
Thank you Sandra Wu Pom San for taking our interview!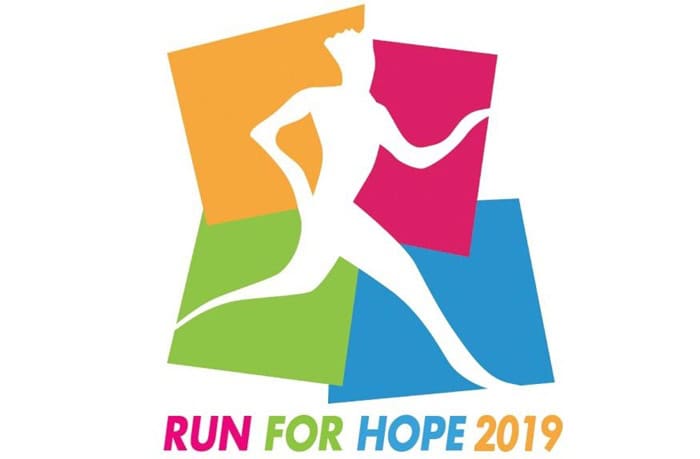 Run for Hope 2019 will mark the 26th year running for cancer awareness and research, and you can now sign up for this run and join this meaningful cause that is close to our hearts!
Run for Hope 2019
Date: Sunday 17th February
Venue: Singapore Sports Hub, OCBC Square
Run Routes: 3.5Km & 10Km
To find out more and to sign up for the run, please visit  https://www.runforhope.sg