S.E.A. Aquarium (S.E.A. 海洋馆) at Resorts World Sentosa (RWS, 圣淘 沙名胜世界) launches two new experiences – VibranSEA (活力海洋) and the Aquarist Lab (海洋生物 繁育室)– which will offer guests greater insight into the mysteries and conservation of the ocean. VibranSEA is an immersive exhibition that showcases the beauty of aquatic ecosystems through art, science and educational displays. The Aquarist Lab, a back-of-house facility, offers a window into aquatic care. Here, visitors can deepen their understanding of world-class animal care amid nurseries and grow-out habitats.
VibranSEA Merges Art and Science to Inspire Appreciation for the Ocean
From 6 September 2023, guests will be immersed "underwater" at VibranSEA to learn about the aquatic world in a new light. Comprising four distinct zones, the experience dives into details of the ocean's depths, marine animals, lively aquatic ecosystems and timely reminders of the threats that jeopardise them.
In Zone One, visitors embark on a Great Descent through the different layers of the ocean, displayed through a changing spectrum of colours that includes the fascinating phenomenon of marine life bioluminescence. In Zone Two, visitors get On the Inside of and up-close with marine life anatomy by viewing them through X-ray and ultrasound technologies. Enter Zone Three, Secret Seascapes, where visitors will find a magnificent kelp forest and coral reefs housing a diverse variety of animal inhabitants. Finally, in Zone Four, VibranSEA showcases Time and Tide, an array of thought-provoking art installations created in collaboration with four local artists. Their works simultaneously revere the seas yet lament their state, urging visitors to reflect on the importance of environmental conservation and sustainable practices.
"As an exciting extension of the existing S.E.A. Aquarium experience, VibranSEA aims to spark a deeper understanding and appreciation in guests for both the wonders and mysteries of the ocean in an interactive and multisensory manner," said Ms Lam Xue Ying, Acting Vice President of S.E.A. Aquarium.
The Aquarist Lab Provides a Window into how Aquatic Life is Cultivated and Cared for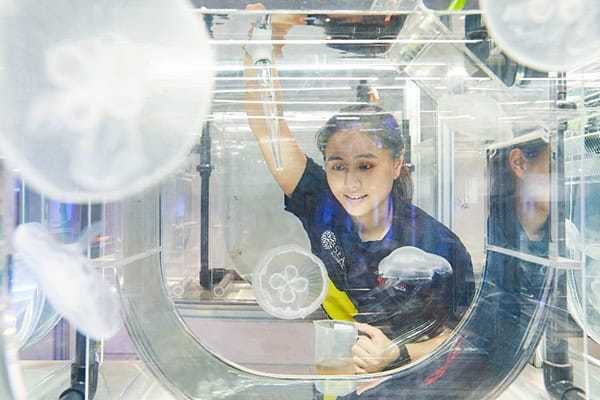 The newly launched Aquarist Lab allows visitors a window into marine nursery habitats and plankton culture set-ups, offering an intimate perspective into how aquarists breed, nurture and care for juvenile marine animals, and culture microorganisms.
For a brief look at the Aquarist Lab, in-park windows are open to all S.E.A. Aquarium ticket holders. For a guided tour of the Aquarist Lab and Quarantine Room, guests can purchase a ticket to the Behind-the-Scenes: Aquarist Lab experience.
Guests with a ticket to the Behind-the-Scenes experience will observe firsthand the dedicated work required of aquarists. They will get to learn about the process of plankton cultivation and husbandry for select animal species, including sea jellies. As part of S.E.A. Aquarium's ongoing efforts to deepen public understanding and appreciation of the rigour of animal care, visitors of the Behind-the-Scenes experience will also tour the Quarantine Room, a facility where the team acclimatises the animals and provides specialised care for them until they are ready to be reintroduced into the main habitats.
For more information on VibranSEA, the Aquarist Lab, Quarantine Room, and more guided tours including the S.E.A. Aquarium VIP Experience, visit: https://www.rwsentosa.com/en/sea-aquarium.
Promotion
From 1 September to 5 November, get the Vibrant Sweets package at S$48/adult and S$38/child. The child package comes with an admission ticket, a delicious cake pop, and a S$5 F&B voucher, while the adult package includes an additional S$5 retail voucher.
Guests can top up S$25 for the Behind-the-Scenes: Aquarist Lab experience.
All images credit to Resorts World Sentosa