LTC (NS) Low Kian Ngian Ace, Chairman of SAFRA Jurong Executive Committee (L), receiving the record certificate for breaking the Singapore's record of the 'Largest Display of Rolled Paper Roses from the Singapore Book of Records official (R).
In celebration of International Day of Families, SAFRA as part of the SAFRA Family Fest! and in partnership with Families for Life Council broke the Singapore's record of the 'Largest Display of Rolled Paper Roses'. Congratulations SAFRA! 
Over 1,500 NSmen and their families broke the Singapore record for the 'Largest Display of Rolled Paper Roses' with these families pledging their commitment to positive family values. NSmen and their families have gathered at SAFRA Jurong to celebrate International Day of Families at the SAFRA Family Fest! on the 15 May 2016. 
A total of 3,850 paper roses were made and the roses, in five different colours, each represented an important family value that anchors strong family ties: Care & Concern, Filial Piety, Communication, Respect, and Commitment. The record-breaking display of rolled paper roses, measuring 2.4 metres by 2.2 metres, will be showcased at the SAFRA Jurong club till the end of the June school holidays.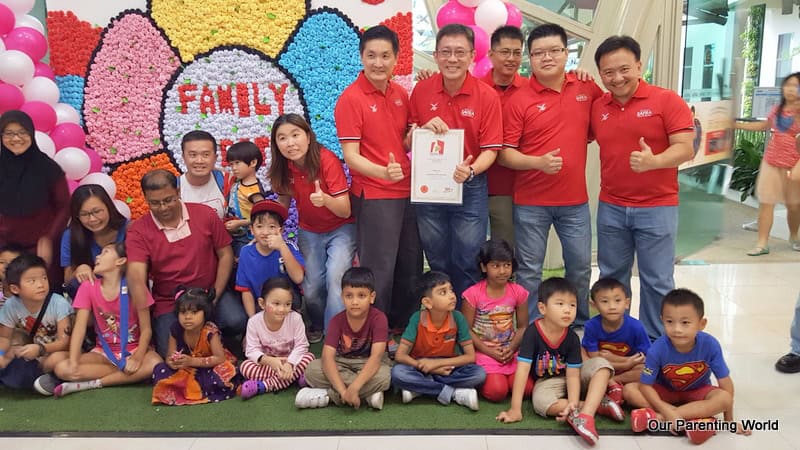 The SAFRA Family Fest! is among a string of family bonding activities organised by SAFRA as part of its ongoing partnership with the Families for Life Council to promote stronger family ties. 
NSmen and their families can look forward to another 16 Families for Life activities over the next 10 months, such as SAFRA Punggol's '30 Days of Fun Carnival' spanning the month of June, which will feature the inaugural SAFRA Punggol Waterway Challenge, a special Father's Day weekend playtime at Splash @ Kidz Amaze indoor water playground, as well as other programmes and promotions at the club. A new Ultimate Frisbee & Bubble Soccer competition will also be staged at SAFRA Tampines in July this year.
For more information, please visit https://www.safra.sg/