Our Parenting World team is delighted to be able to find a gem, an unique dining destination that is situated along Joo Chiat Road and Katong. This area is well-known for a diverse and interesting mix of Eurasian's and Peranakan's history, culture, architecture and especially food!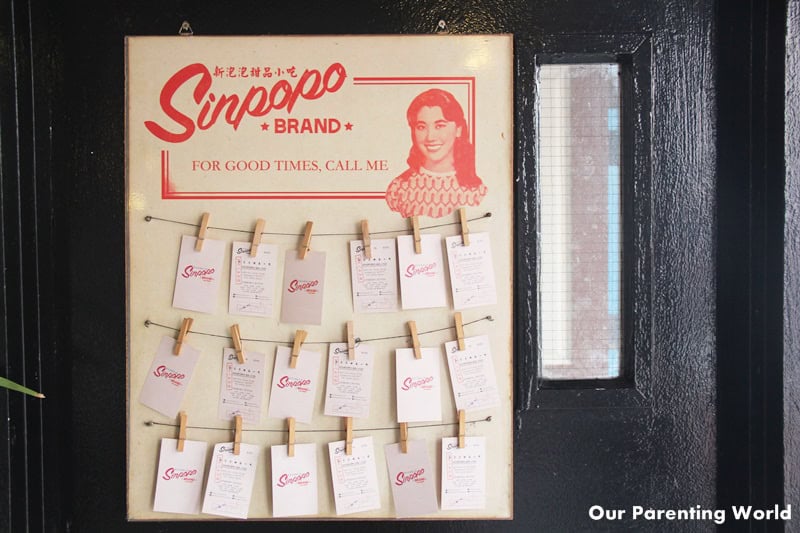 Introducing Sinpopo Brand, it is set up by the team behind Awfully Chocolate in 2014. The restaurant gives us a cosy, warm feeling and we felt like we have been transported back to the old days! 
It is a good opportunity to introduce the kids to olden days household items found in the restaurant like the television. It is a trip down memory lane for most of us!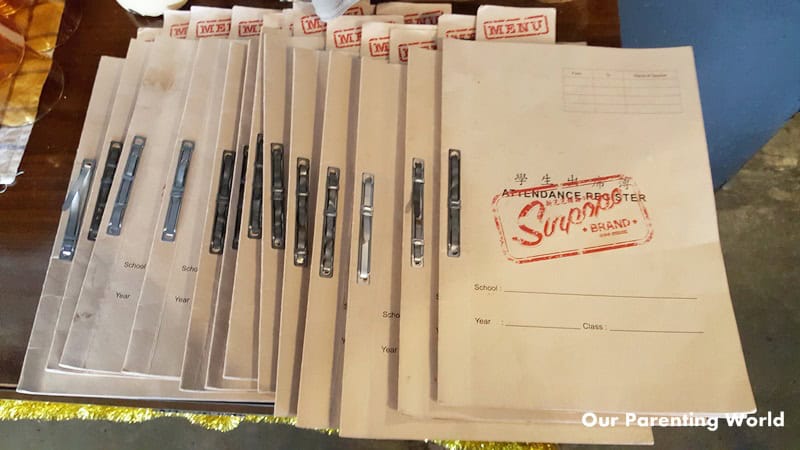 The menu comes in the form of Attendance Register Book.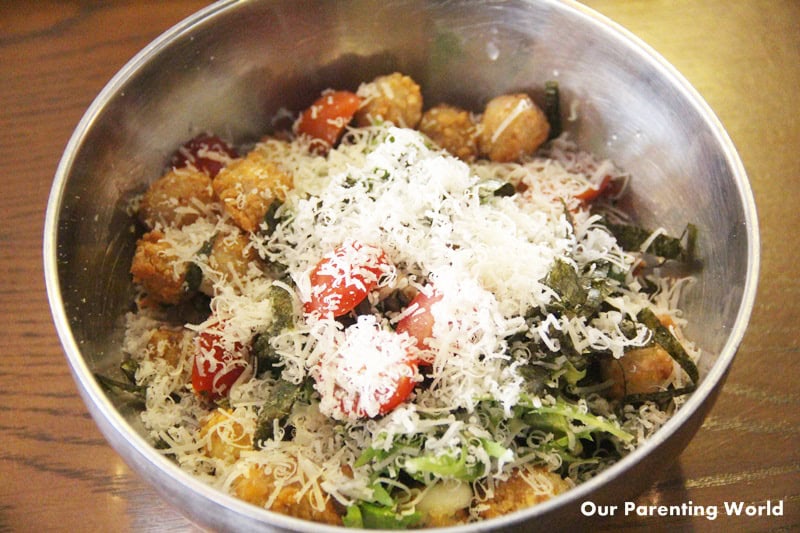 Crispy Muah Chee Salad ($12)
We have tried out various versions of salads before but so far, none as unique and as creative as this Crispy Muah Chee Salad. We didn't know that muah chee which is glutinous rice cake can be mixed with salads.
This refreshing delights is made fresh daily consisting of muah chee deep fried till crispy, mixed with fresh salads that comes with lots of tomatoes, frisee greens and tossed together with dressings like cheese, sesame, shimeji tops (small mushrooms) and seaweed.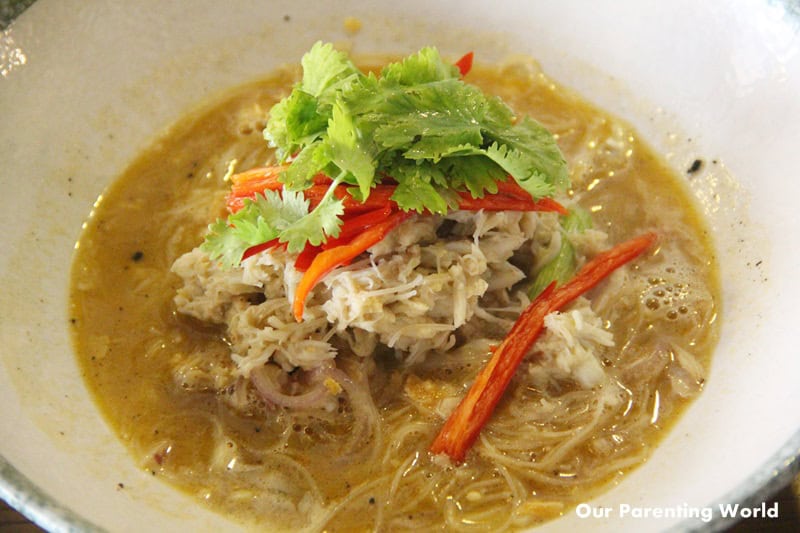 Sinpopo Crab Bee Hoon ($16)
This dish is one of Sinpopo Brand's new favourite, Sinpopo Crab Bee Hoon is a comforting and savoury soup dish consisting of flavourful vermicelli, salted egg yolk and chunks of fresh crab meat.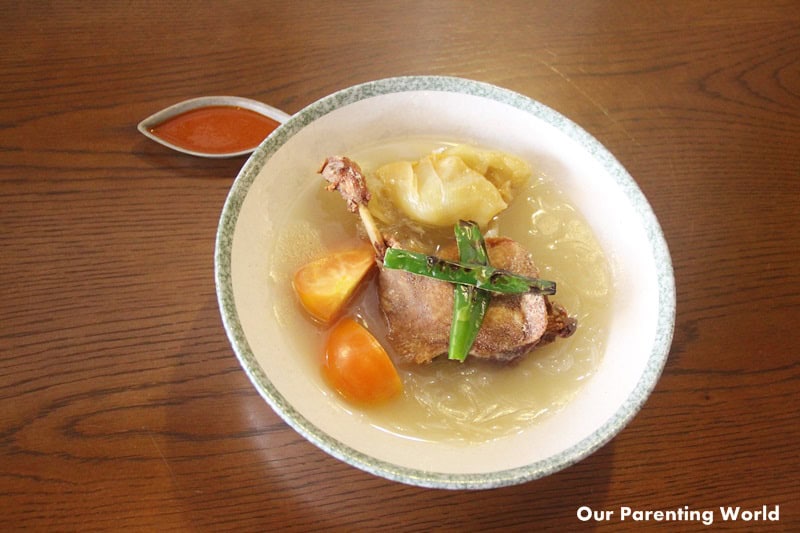 Nonya Kiam Chye Arg! ($16)
Another mouth-watering soup dish from Sinpopo Brand consisting of salted vegetables, crispy duck confit and tang hoon. The duck thigh caught our attention, the meat is so tender on the inside and crispy on the outside. The meat tastes even better with the homemade belachan chilli that is served on the side.
This dish will open up your appetite with a right balance of salty and sourly taste that make the soup very addictive! Our kids love this warm delicious soup.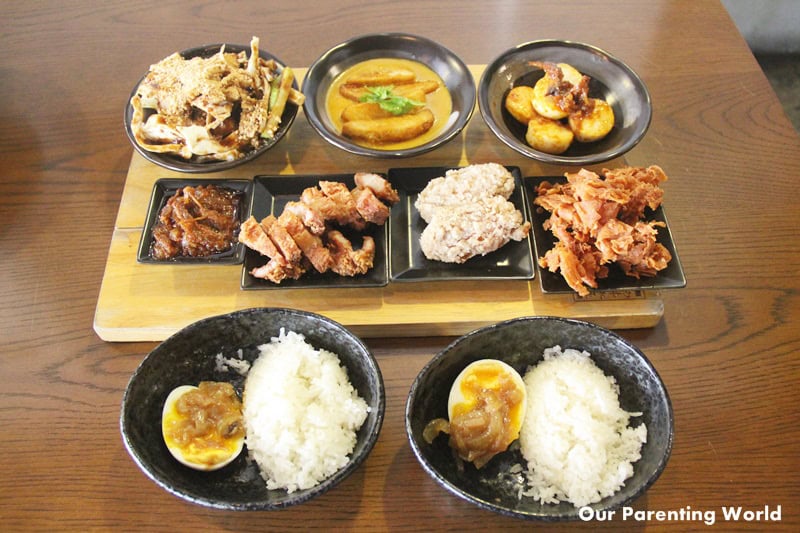 Nasi Lemak for Two ($25)
What a spread! This is a reasonably priced, all-time favourite Nasi Lemak set for Two consisting of Rojak, Ma Ling Luncheon Crisps, Sambal Fish balls, Wedges & Curry, Pork Slices, Har Jeong Kai Wings and Sambal chilli comes with 2 bowls of fragrant coconut rice topped with 1/2 soft boiled egg each.
This set is a good combination where you can try out some of Sinpopo brand's best selling starters. We like the coconut rice so much that we asked for another helping which goes very well with the savoury spread. Some of our favourites are the thinly sliced Ma Ling Luncheon Crisps, which is so crispy that we just can't stop eating it, Sambal Fish Balls that taste really good with the sambal chilli made in-house, Wedges & Curry in savoury curry sauces and Har Jeong Kai Wings, the wings are tastefully deep fried and the meat remains so juicy. 
Sinpopo Brand has earned a reputation and take pride in its dessert creations. It has come up with local desserts that will bring you back to the essence of 1960s Singapore.
Here are some of the creative desserts offered by Sinpopo: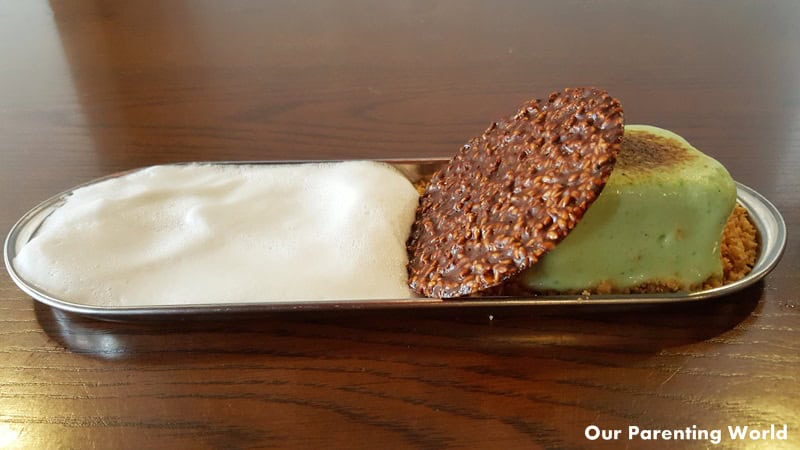 Chilled Pandan Soufflé – $9
This is the first time we have seen a chilled soufflé and we are amazed with Sinpopo's creativity. It comes with crispy sesame dentelle, almond streusel and chilled pandan soufflé that is so soft and creamy almost like ice cream.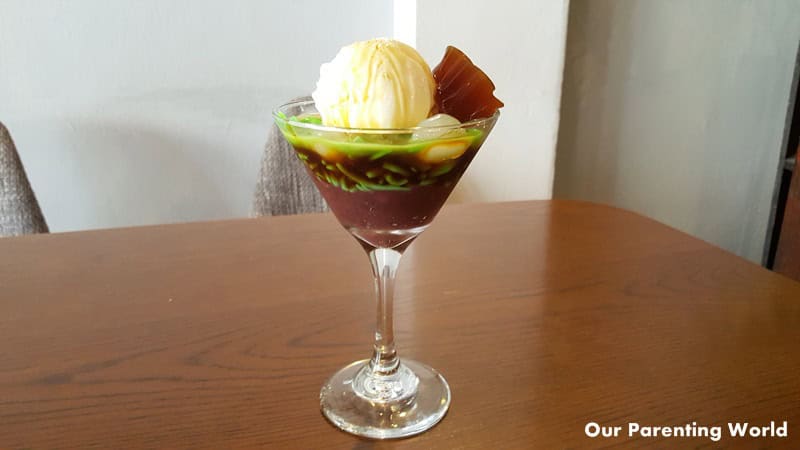 Sinpopo Super Chendol Parfait (S$10) 
This dessert is a recent addition to Sinpopo Brand's dessert menu. Chendol is certainly one of the favourite desserts in Singapore. This latest dessert addition features a twist to this traditional dessert with freshly made coconut ice cream, atap chee, homemade Gula Melaka agar agar drenched with gula melaka sauce. Needlessly to say, this dessert is heavenly and served in a martini glass!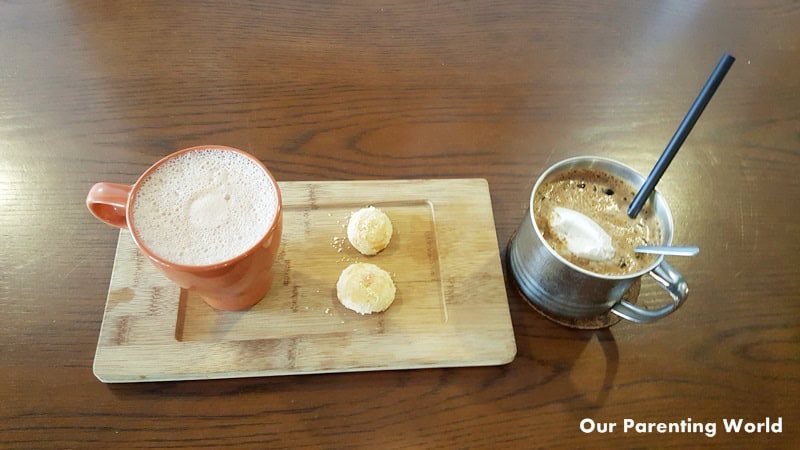 Sinpopo Teh Tarik Special – $5 (L) and Kopi Peng by Sinpopo – $6 (R)
Try out Sinpopo's extensive drinks menu which include old and local favourites like Singapore Teh Tarik Special and Kopi Peng that will go very well with your meals and desserts.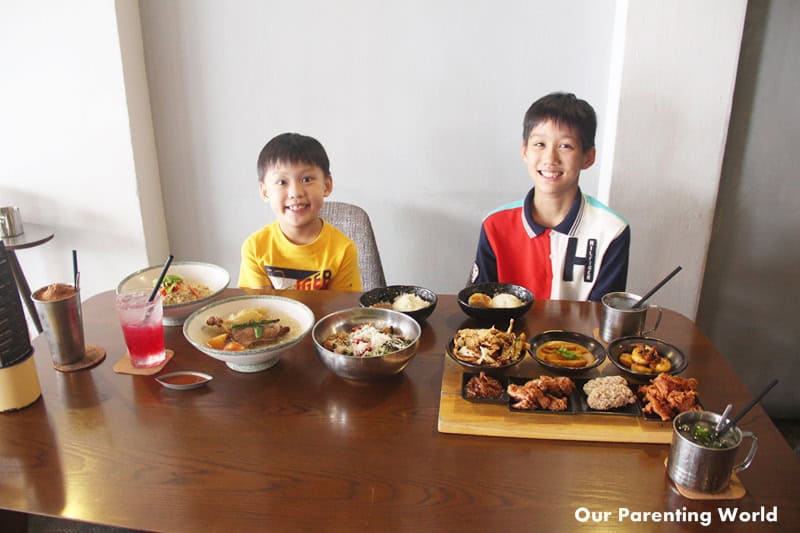 If you like to try out delicious classic Singaporean dishes with a modern twist, visit Sinpopo Brand! It is a nice, cosy and quiet place to enjoy a good meal with family and friends.
We are so glad to discover this fabulous nostalgic restaurant!
Additional Information:
Sinpopo Brand
458 Joo Chiat Rd
Singapore 427671
Tel: +65 6345 5034
Tuesday to Thursday, Sunday: 12pm – 10pm
Friday & Saturday: 12pm – 12am
(Closed on Mondays)
Parking available at along Joo Chiat Road and I12Katong 
For more information, please go to:
Website:  www.sinpopo.com 
Facebook: https://www.facebook.com/sinpoposg/
Instagram:  https://www.instagram.com/sinpopobrand/
Happy Hour is available at Sinpopo Brand from 6pm to closing with a one for one deal on Heineken, Hoegaarden, Corona and Asahi beers daily.