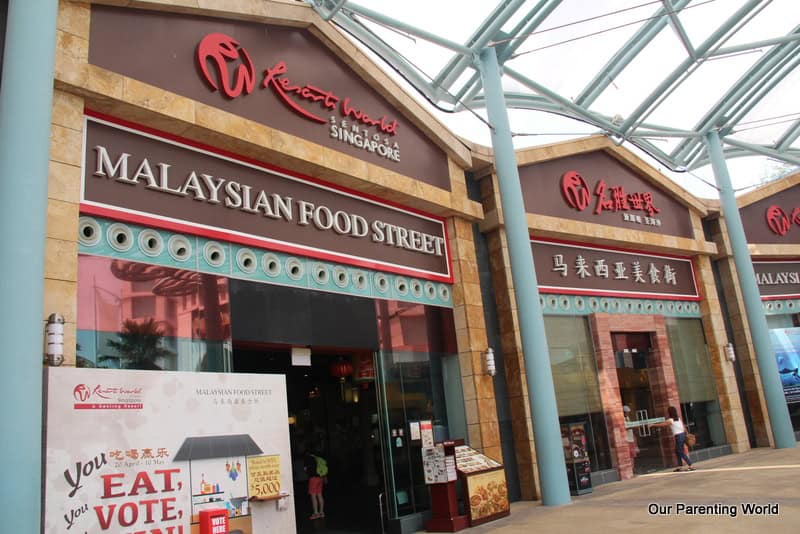 Where do you go when you are craving for delicious Malaysian Food? One of the best places in Singapore to go to satisfy your cravings is definitely Resorts World Sentosa (RWS) Malaysian Food Street.
Goodnews to all food lovers!  Malaysian Food Street is bringing in three guest hawkers directly from Penang, who will be presenting their signature dishes from 20 April to 10 May 2015.
Thanks to Chef Adolf Chen and his team from Resorts World Sentosa (RWS) Malaysian Food Street who gave us a very detailed introduction to the various delicious food. Our Parenting World team is excited to introduce the three guest hawkers as follows: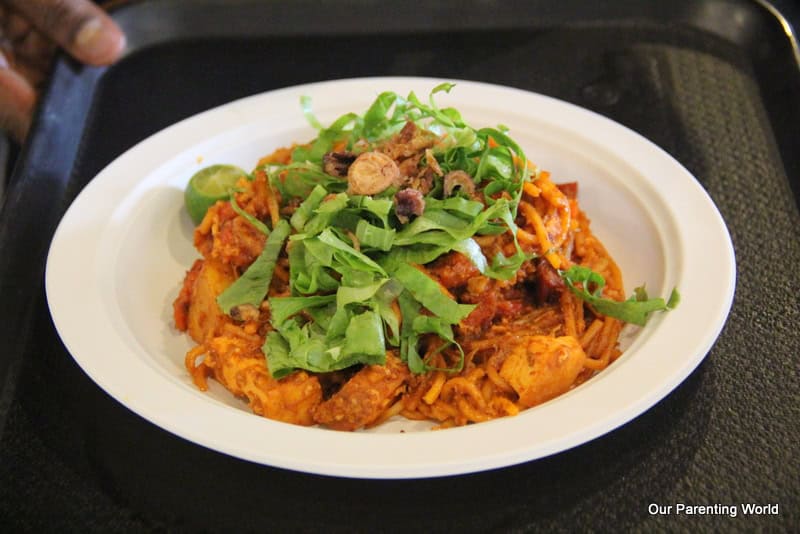 First, we have Hawker Hafaz from Mamak Mee Goreng of Penang Swee Kong Kopitiam. Hafaz is a second generation hawker who took over his father's shop. It is not the same Mee Goreng dish that we have tried before, Hafaz's version is flavourful with spicy fried noodles that is mixed with crunchy bits of Indian fried batter and comes with special cuttlefish chilli sauce. If you love spicy food, this is the one delicious Mee Goreng dish for you! 
Mamak Mee Goreng is priced at $6.50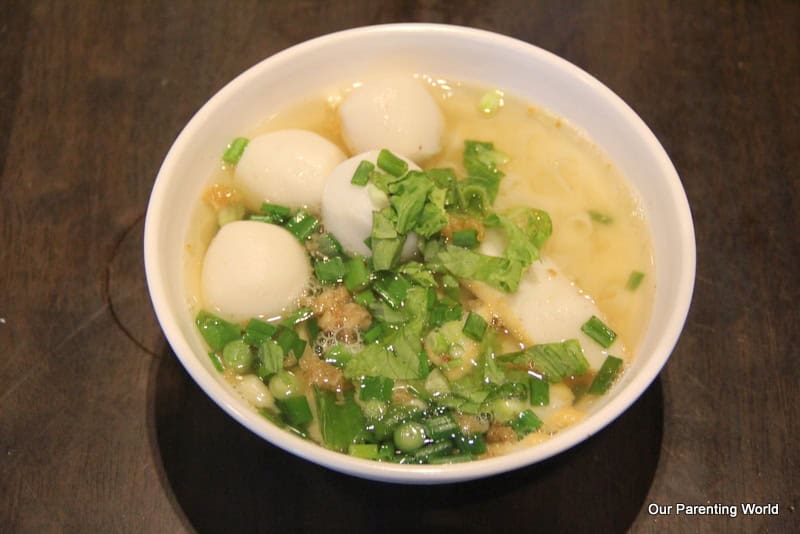 Next, we have Hawker Ah Heng who is serving his signature Ah Heng Kuay Teow Th'ng. The springy noodles is served in a delicious clear soup that comes with Ah Heng's signature bouncy fishballs which he makes them fresh everyday! It is a comforting food that all will enjoy. 
Kuay Teow Th'ng is priced at $6
The third dish is from the Kang family known for their Beef Hor Fun Soup. The dark and tasty broth comes from hours of simmering which is made with beef brisket, shank and tripe and it goes well with the accompanying punchy vinegar chili sauce. The beef tendons are soft and tender to taste, diners will enjoy and slurp up this hot bowl of flavourful beef hor fun in no time!
Beef Hor Fun Soup is priced at $8
Besides the three guest hawkers, we are also introduced to other promotional items made by Malaysian Food Street's regular hawkers, available from 20th April to 10th May 2015. They are as follows: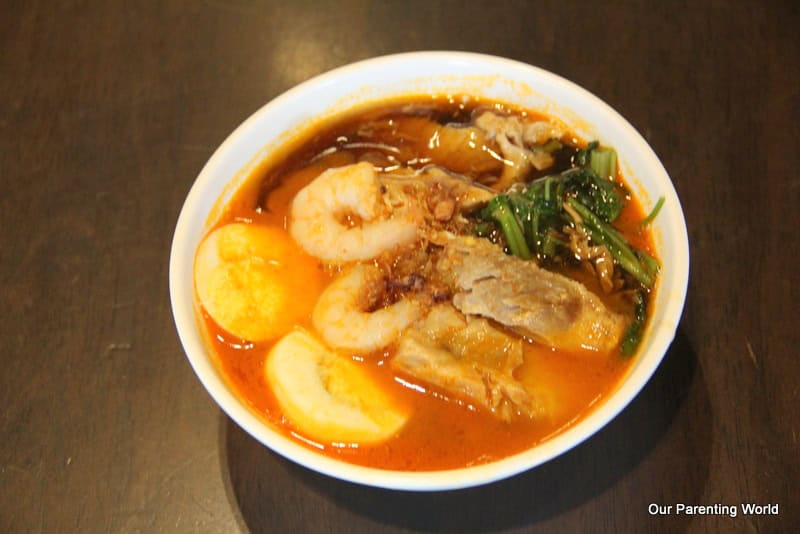 Prawn Mee Mix Broth by Penang Ah Mei Hokkien Prawn Mee stall priced at $6.50. The Prawn Mee is elevated with the addition of Lor sauce. We love the taste of the interesting combination, the broth is absolutely flavoursome!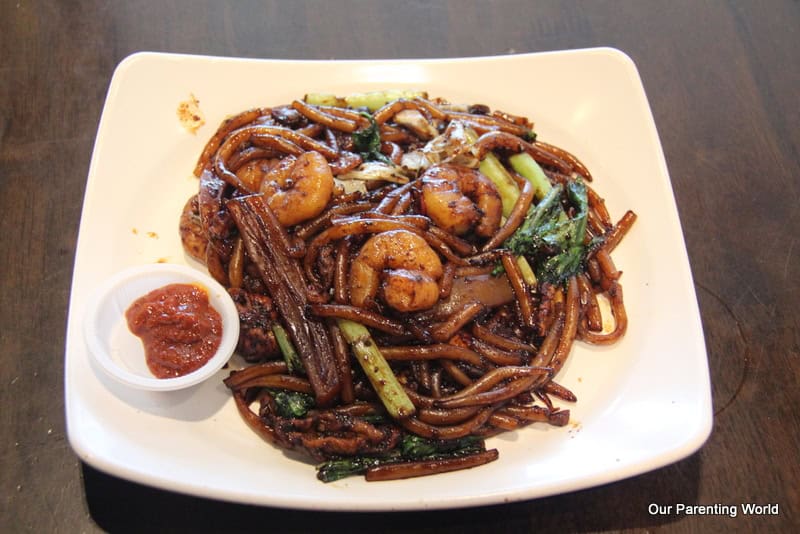 Fried Lou See Fun $6.50 by KL Jalan Alor Hokkien Mee. The Lou See Fun is done in KL Hokkien Mee style with black sauce and chilies. The mouthwatering dish comes from a recipe of more than 30 years.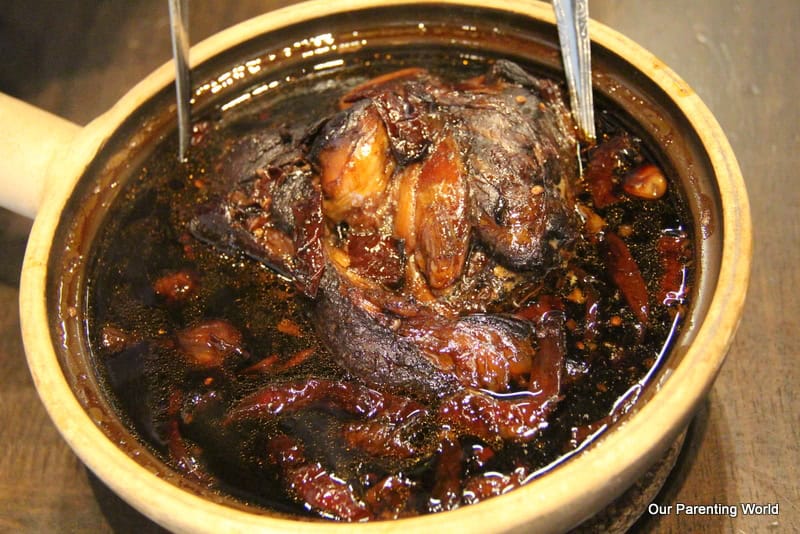 Braised Pork Knuckle with Vinegar priced at $20 comes with a huge pot that is good for sharing. This flavourful dish is actually an old traditional Cantonese recipe to nourish the mothers after they have given birth. It has an enduring vinegar and ginger smell that comes with the main ingredient of one big piece of pig knuckle. The meat is so tender that melts in our mouths, this dish is absolutely good to go with rice. It is so tasty!
We have also tried out popular regular dishes like: 
Curry Mee (Regular Item) priced at $5.50. This is a delightful bowl of hot curry mee which is a much-loved comforting food. The curry is fragrant and generous with plenty of prawns, squids and tau pok. Simply delicious! 
One of the hot favourite regular food items at Malaysian Food Street is Char Kuay Teow (Regular Item) priced at $5.50 without egg and $6 with egg. You can smell the fragrant noodles when it arrived at your table. The Kuay Teow is springy, packed with good 'Wok Hei' flavour with all the flavours well balanced. It is also packed with generous amount of prawns, chinese sausages and juicy bean sprouts.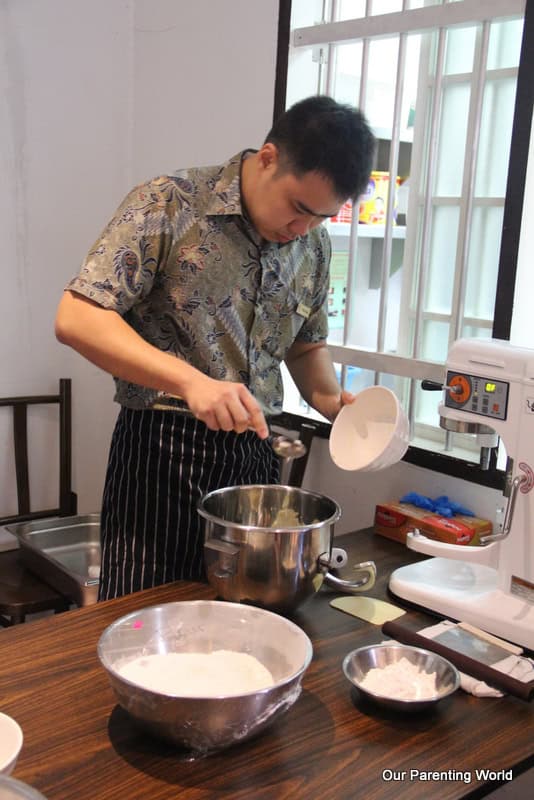 Goodnews for those who love the pastries from the famous Fung Wong Confectionery and those who love durians, from 20 April to 10 May 2015, they are having a Durian Puff promotion at $2.80 per piece, with minimum purchase of 2. About Fung Wong Confectionery, more than 100 years ago, it started as a home-based pastry business and today it is a well-known brand name in Kuala Lumpur with rich tradition and homemade recipes of popular items such as the crispy Char Siew Siew Bao and fragrant egg tarts.
We were given a demonstration to show how these delicious durian puffs are meticulously handmade and bake fresh at the premise. Each puff is generously filled with premium durian paste, it is a must-try especially if you love durian!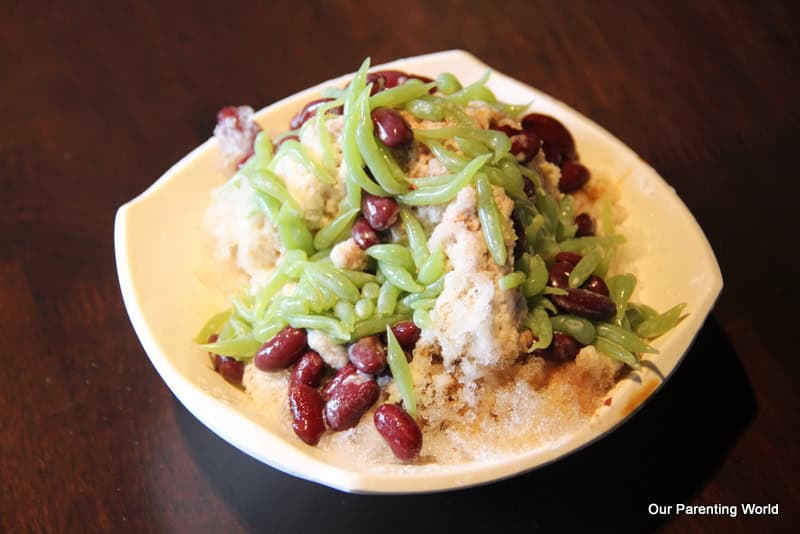 A must-try dessert at Malaysian Food Street is none other than the famous Penang Cendol. Its main ingredients consist of home-made green jelly noodles immersed in shaved ice mixed with thick coconut milk, gula melaka (palm sugar) and soft kidney beans. It is a perfect way to end a delicious meal!
News Alert! 
In addition, guests are invited to a battle of the hawkers at Malaysian Food Street. The 'You Eat, You Vote, You Win!' competition sees the hawkers fight it out for your votes to win the title of 'Favourite Hawker Dish at MFS'.
To cast your vote, just spend $8 in a single receipt to make sure your favourite hawker dish gets the title. By voting you will also stand to win prizes of up to $5,000 including a 2-night stay at one of RWS' hotels. Also, to ensure as many diners can try the dishes and vote, Malaysian Food Street will remain open all week long during the promotion period.
You Eat, You Vote, You Win! Runs from the 20th of April to the 10th of May 2015, the prizes are:
1st Prize
3D2N stay at one of the hotels in RWS $250 Malaysian Food Street vouchers 1 RWS Invites Membership
2nd Prize
2D1N stay at one of the hotels in RWS $200 Malaysian Food Street vouchers 1 RWS Invites Membership
3rd Prize
$200 Malaysian Food Street vouchers 1 RWS Invites Membership
Additional Information:
Malaysian Food Street Operating hours:
Mon, Tue, Thu 11am – 10pm Fri & Sat 9am – 11pm
Sun 9am – 10pm
Closed on Wed (except during You Eat, You Vote, You Win! Promotion)
Please click HERE to find out more.