This year, Holiday Inn Singapore Atrium introduces two new snowskin flavours – Cheesecake and Dirty Matcha Latte – to celebrate Mid-autumn!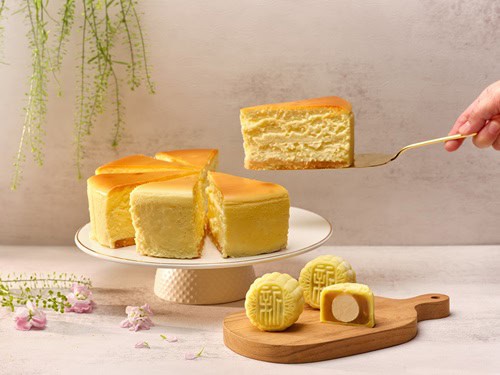 Mini Snowskin Cheesecake Mooncake 
Dirty Matcha Latte Mini Snowskin Mooncake
NEW SNOWSKIN FLAVOURS
Drawing inspiration from the timeless New York Cheesecake, the freshly introduced Mini Snowskin Cheesecake Mooncake features a luscious white lotus paste enveloping a delectable cream cheese praline. This delightful creation offers cheese enthusiasts a modern and festive twist.
For those who adore caffeine, the Dirty Matcha Latte Mini Snowskin Mooncake is an absolute delight. Crafted with velvety matcha lotus seed paste and a cafe latte praline, this unique mooncake combines the essence of tea and coffee in a single, irresistible bite. Caffeine seekers shouldn't miss out on this must-try treat!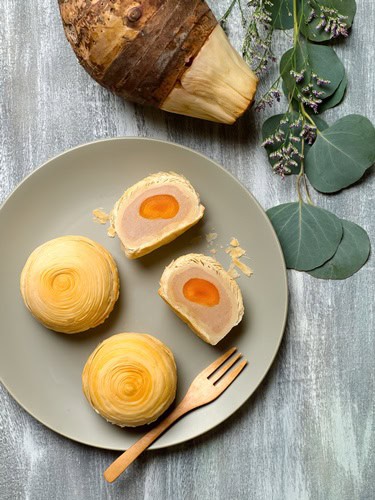 Teochew Yam Paste with Single Yolk
XIN CUISINE SIGNATURES
The much-awaited return of Xin Cuisine's exquisite Teochew Yam Paste with Single Yolk Mooncake and Mini Baked Egg Custard with Yolk has arrived! The former presents a savoury and velvety yam paste embracing a salted egg yolk, all encased in a golden flaky pastry. Meanwhile, the latter boasts a golden-brown exterior, housing a lusciously creamy egg custard and an indulgent salted egg yolk for an extra layer of richness.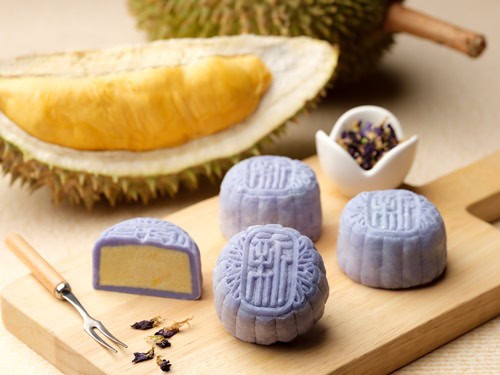 Peranakan Durian Mini Snowskin Mooncake
BESTSELLERS
Returning to delight customers once again, the perennial favourites have made their comeback – the best-selling Low Sugar White Lotus Seed Paste Baked Mooncake with Double Yolk and the beloved Peranakan Durian Mini Snowskin Mooncake, distinguished by its iconic purplish-blue color. These mooncakes make for the perfect gift selection during the Mid-autumn festivities. You can choose either a box of 6 of your preferred kind or opt for an assortment of the mini snowskin mooncakes to savour all the delightful flavours available.
EARLY BIRD OFFER
Enjoy up to 35% off for orders placed before 27 August 2023. For bulk orders, please write in to [email protected].
Mooncakes are available for order from now till 25 September 2023, for collection or delivery from 28 August 2023, through our eShop (singaporeatrium.holidayinn.com/eshop).
For more information, please call Xin Cuisine Chinese Restaurant +65 3138 2531 or email [email protected].