Visit DreamWorks Animation exhibition at ArtScience Museum for a fun-filled September school holidays where you can get to know your favourite characters from Kung Fu Panda, Shrek, How to Train Your Dragon and Madagascar through fun and interactive activities.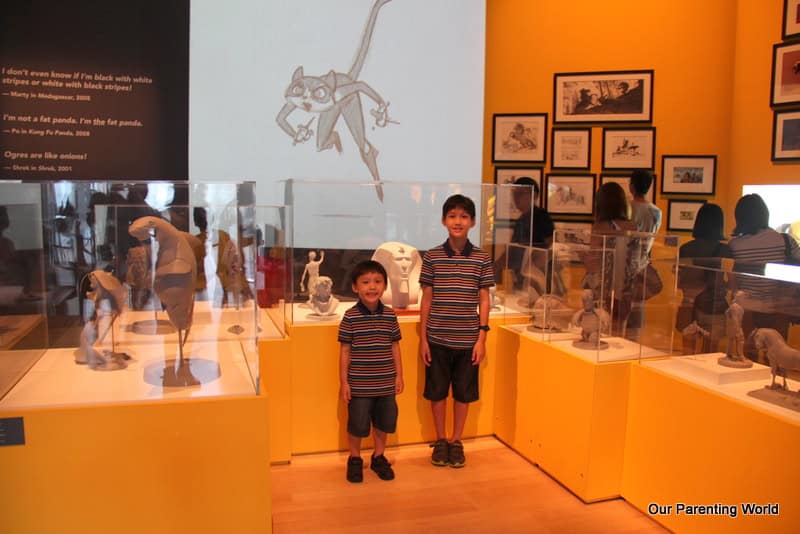 DreamWorks Animation: The Exhibition will showcase 31 films and more than 400 displays over 20 years of DreamWorks Animation works including rare and never-before-seen concepts drawings, models, original artworks, interviews and interactive displays for the first time in Asia.
During this September school holidays, it is a good opportunity to bring your family and children on a discovery journey to find out the magic behind the creation of the many well-loved animation movies of our time.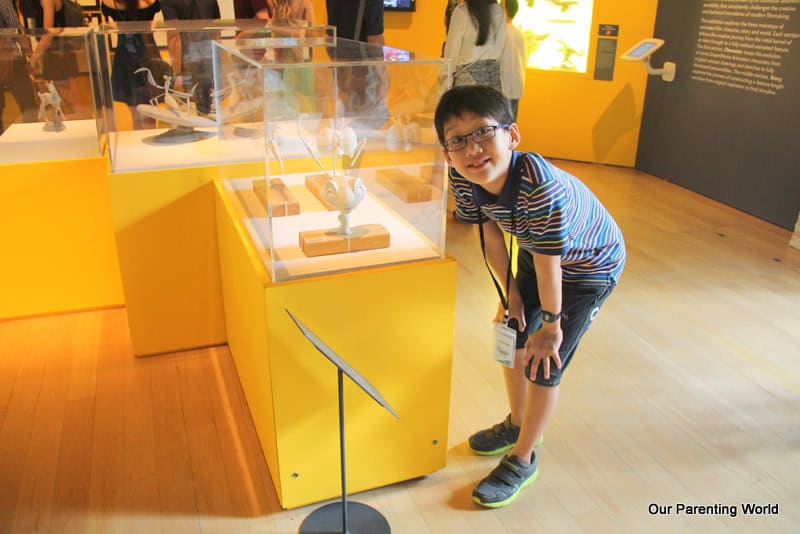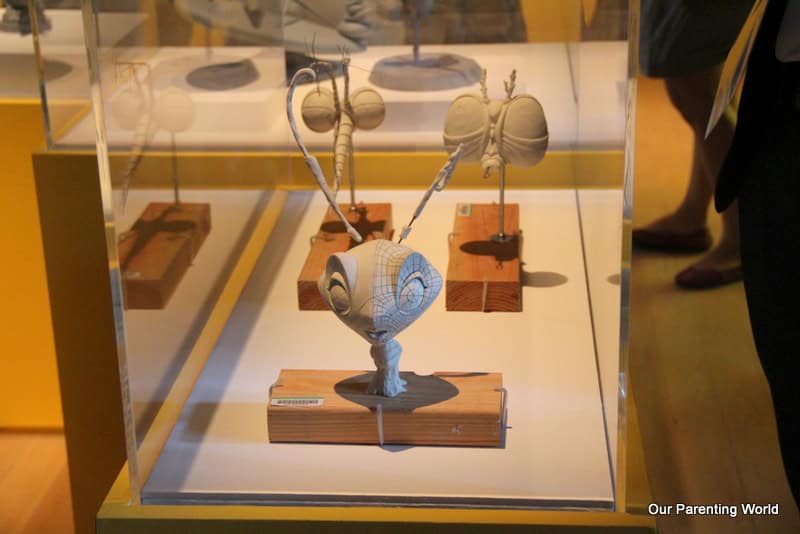 The exhibition enables visitors to have a better understanding of how these animations work from sketches to big-screens in three main galleries which include Character, Story and World. At the 1st gallery – Character, visitors will be able to see the evolution of the characters from sketches coming from an idea to fully animated personalities on-screen. You will be able to understand more about the exact thoughts and details that was put into each character throughout the development process. Visitors can watch the in-depth video interviews with the production teams at the exhibition which will provide an insight on how these characters were developed.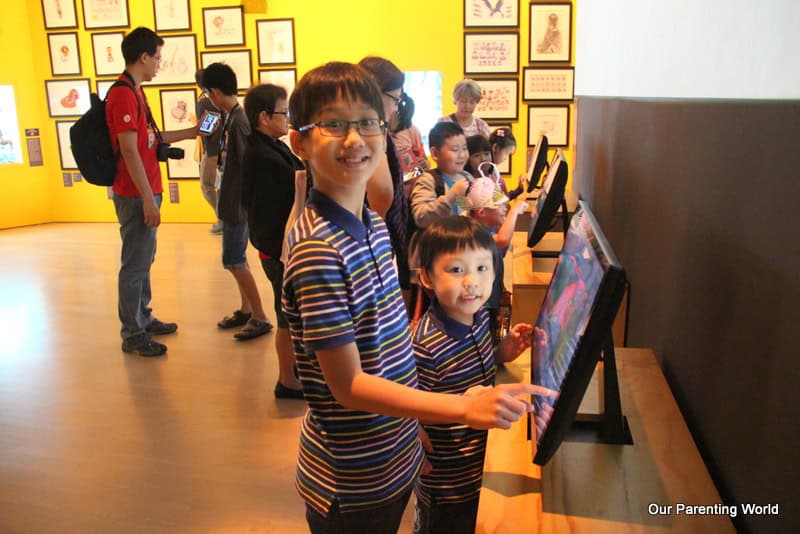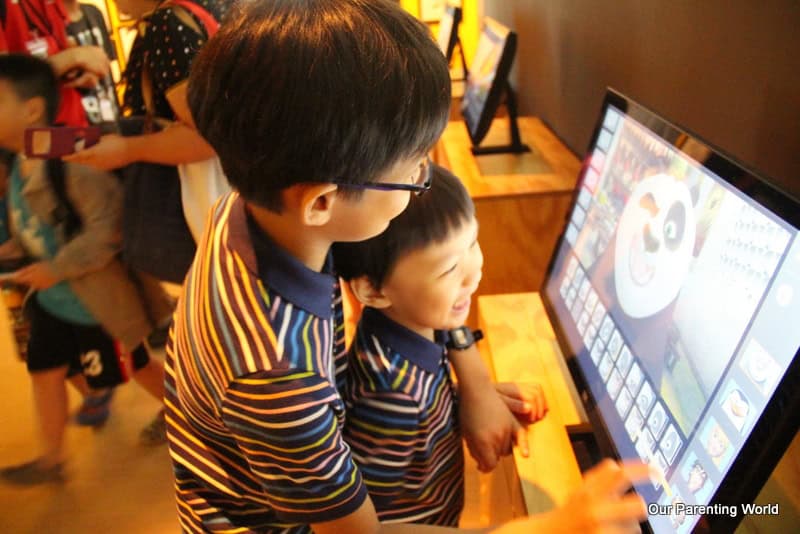 There are many interactive stations at the exhibition where visitors can try their hands on working on the animations. One such popular interactive station is Face Poser where you can experiment working on the character's emotion which will change by manipulating the character's facial expression like raising an eyebrow and or furrowing a brow. The kids have so much fun working on Kung Fu Panda's expression!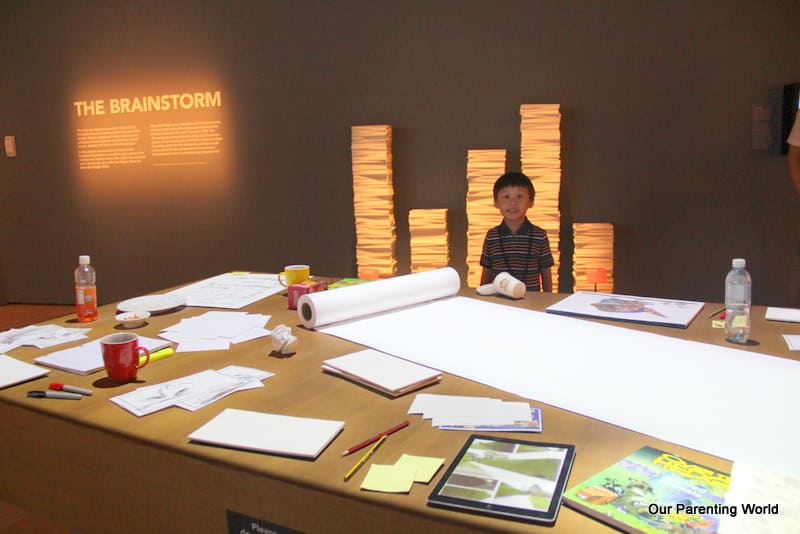 At the 2nd gallery – Story, you can get up close to understand and have a feel of DreamWorks' real-life workspaces. It is interesting to see the place where Storyboard Artists, Directors, Writers and Producers spend many hours pitching ideas and bringing the story to life.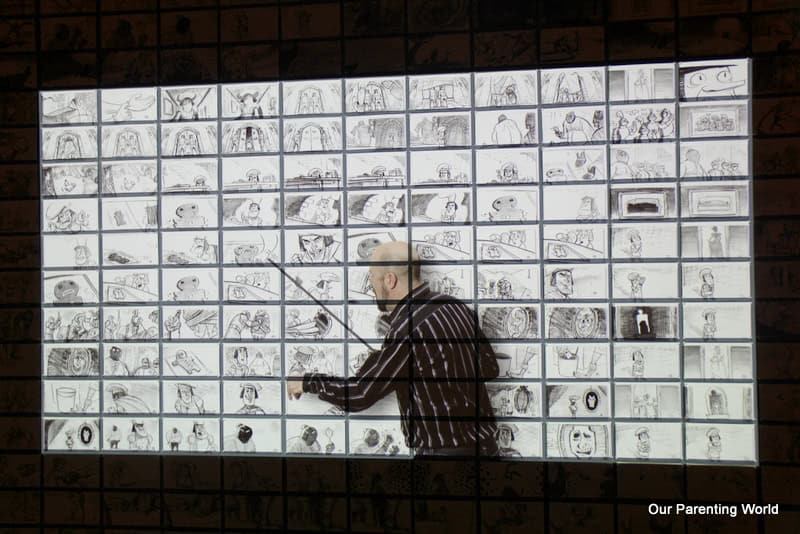 If you enjoy watching animation movies especially Shrek, don't miss catching Conrad Vernon, Storyboard Artist on Shrek and then Director of Shrek 2 on a huge digital storyboard where he performed a step-by-step pitch for the famous "Interrogating Gingy" scene in Shrek.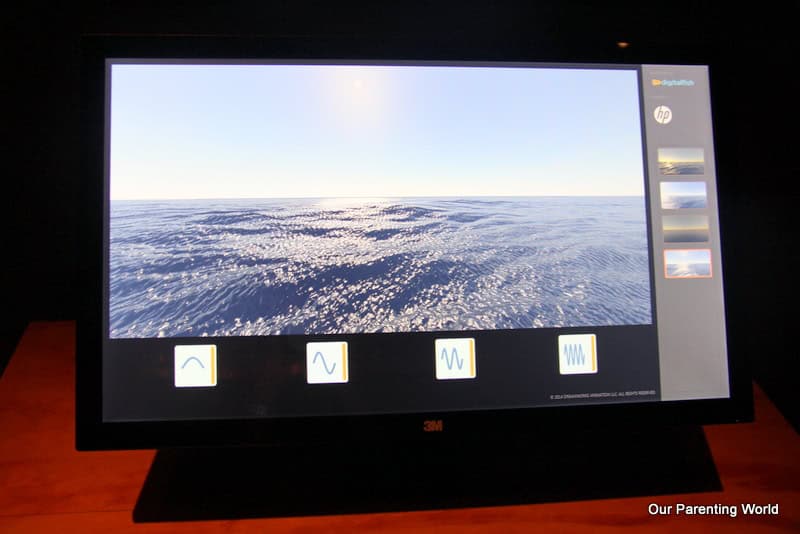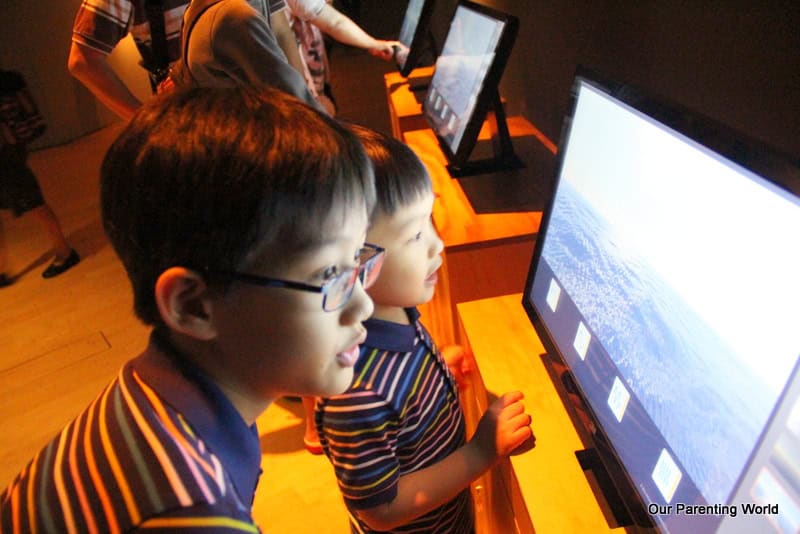 Ever wonder why the waves of the ocean look so realistic in the animation movies? Try creating your own waves at the Ocean Simulator interactive station.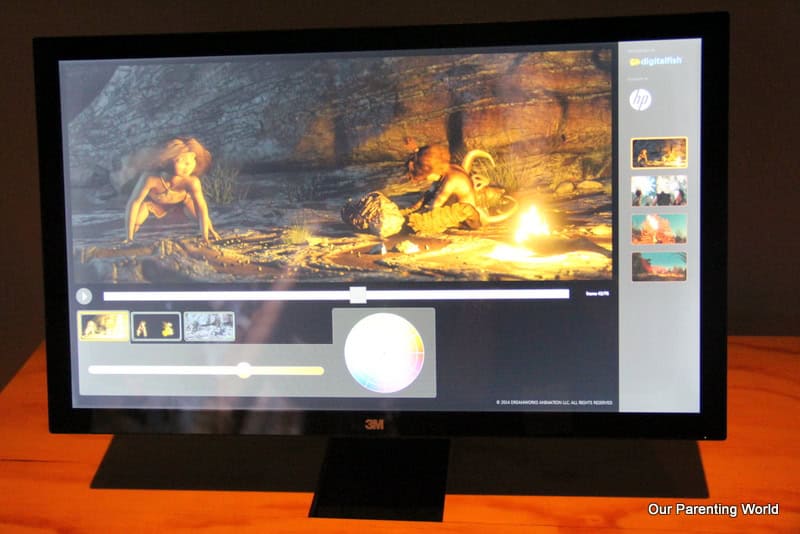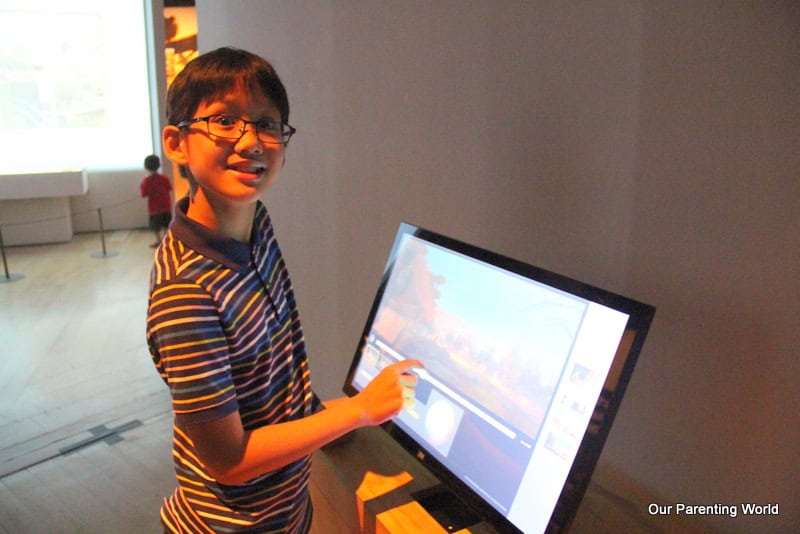 Have fun being a lighting artist at the Lighting Designer interactive stations where you can try changing the lighting and colour components of the screens from The Croods in 2013 to see how your choices will have an effect on the emotional tone of the story.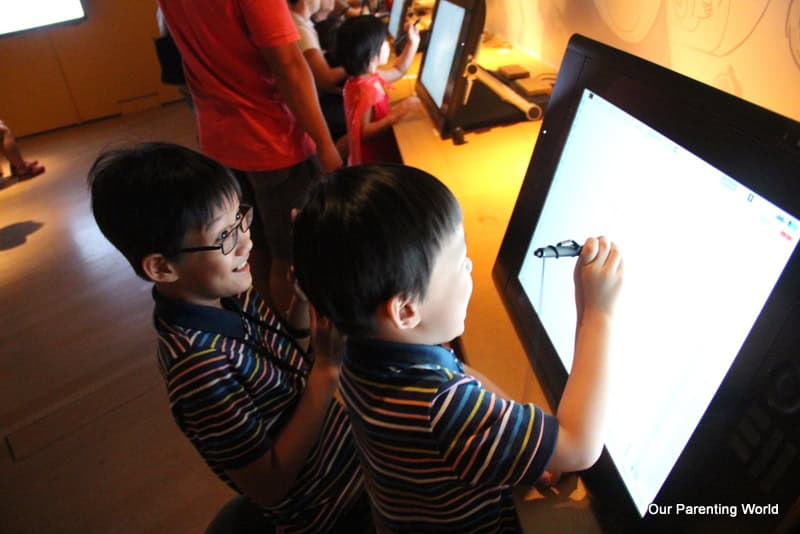 Another popular interactive station is the Drawing Room, where you can do your sketches directly on the computer and create your own animation sequences using the same software that DreamWorks' Animation animators use.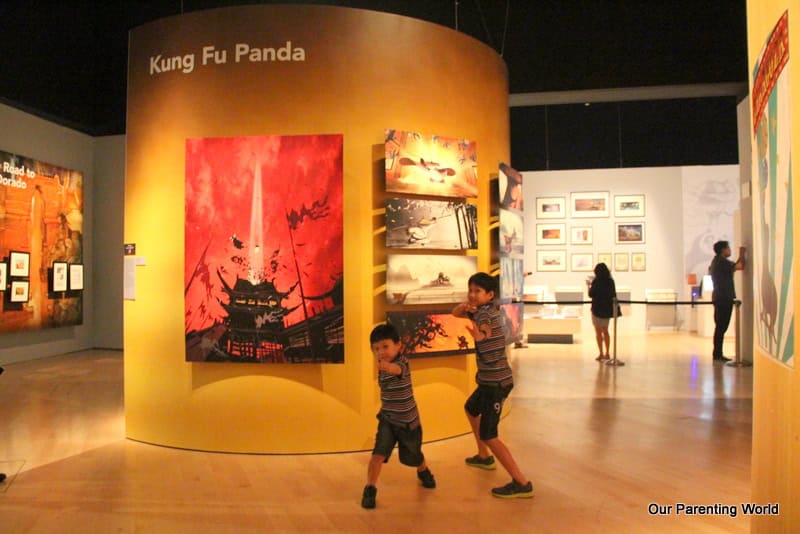 At the 3rd gallery – World, the largest section of the exhibition where you will be able to see the complex and magical environments that are important to DreamWorks Animation films. The boys love Kung Fu Panda and they are familiar with the scenes from the movie. At this part of the gallery, you will be able to find your favourite DreamWorks' Animation movie and admire its beautiful scenes.  
You will also be able to see and admire the models of some of your favourite DreamWorks' Animation films, the above is a beautiful Far Far Away model from the movie, Shrek, in 2001, another of our favourite DreamWorks' Animation film.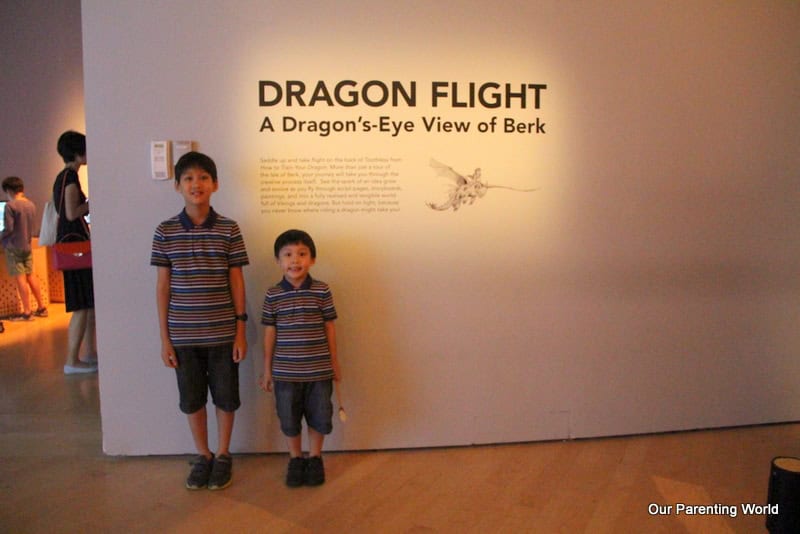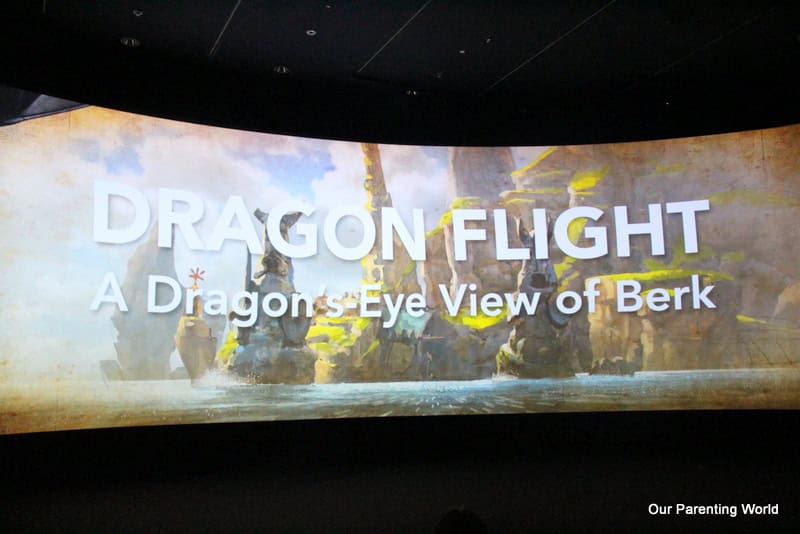 The exhibition's highlight, Dragon Flight: A Dragon's-Eye View of Berk which is not to be missed! Hop onto the back of Toothless from How To Train Your Dragon to enjoy the spectacular 180 degree three-dimensional view on a never-before-seen journey to the Isle of Berk, the Viking township from the movie.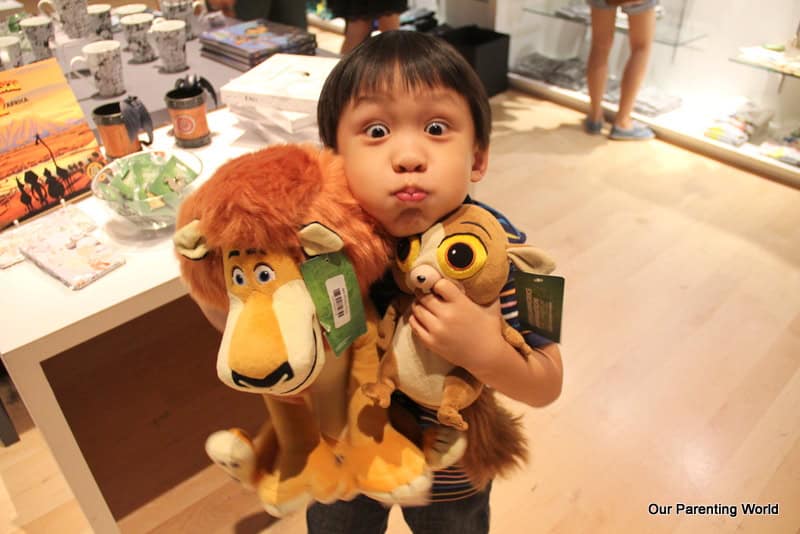 Can't get enough of DreamWorks Animation, there is a wide range of merchandise available at the gift shop just outside the exhibition for you to bring some of your favourite DreamWorks Animation products home.
DreamWorks Animation: The Exhibition
Date: From now till 27 September 2015
Venue: ArtScience Museum, Marina Bay Sands
Operating Hours: 
Daily: 10:00am – 7:00pm
Including public holidays
Last admission at 6:00pm
In addition, this September school holidays and only during this period from 4 to 13 September, besides spending a fun and fulfilling time at the exhibitions at ArtScience Museum, come and celebrate this school holidays with games, movies and more.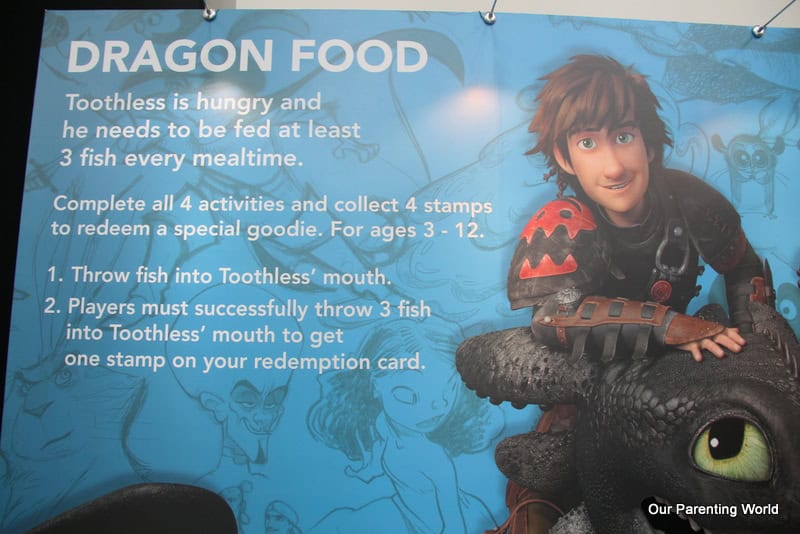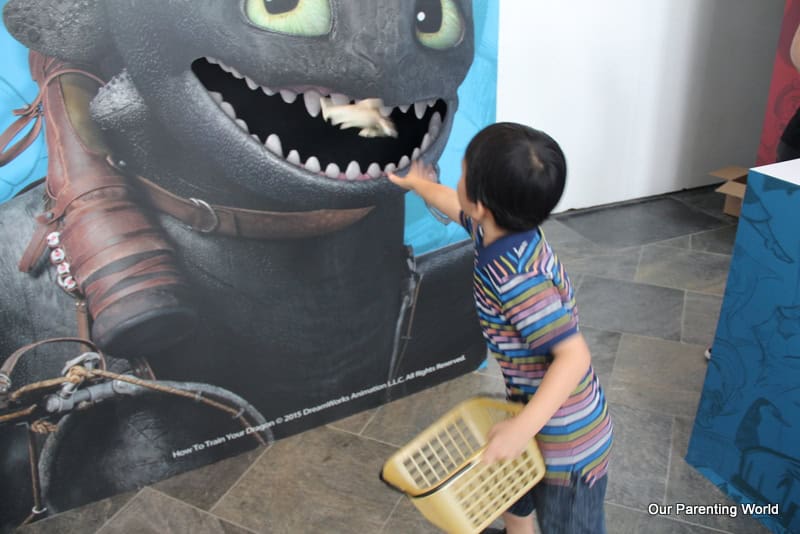 There are four activity stations for children age 3 to 12 years old, complete each station to receive a stamp. Collect four stamps and you will be rewarded with a special goodie to bring home.
First station, Dragon Food. Its Dragon feeding time and Toothless is hungry, feed him by throwing fishes into his mouth. To get a stamp on your redemption card, you must throw three fishes successfully into his mouth.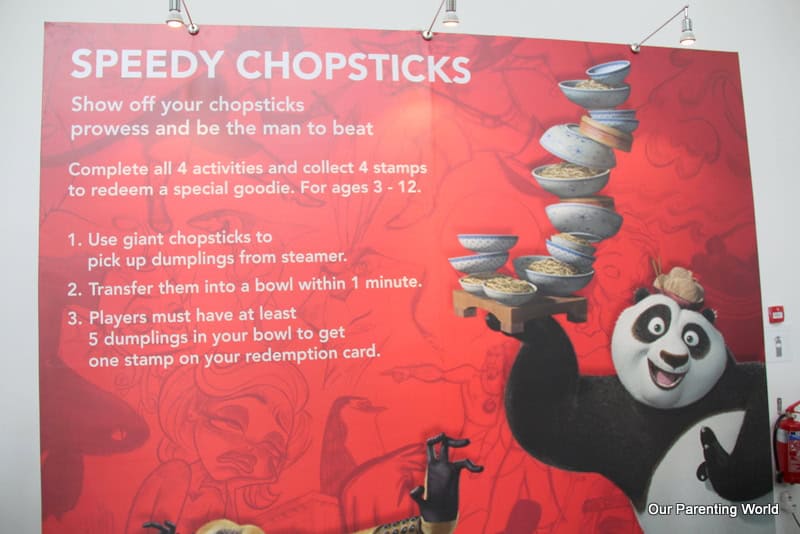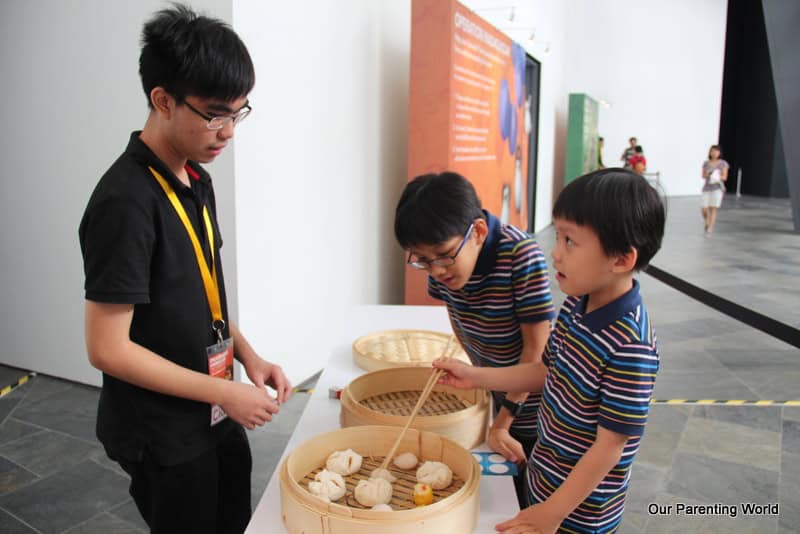 Second station, Kung Fu Panda Speedy Chopsticks. The boys have to use a giant chopsticks to pick up the dumplings from the steamer and quickly transfer them within one minute into a bowl. They must successfully transfer at least five dumplings in order to get a stamp.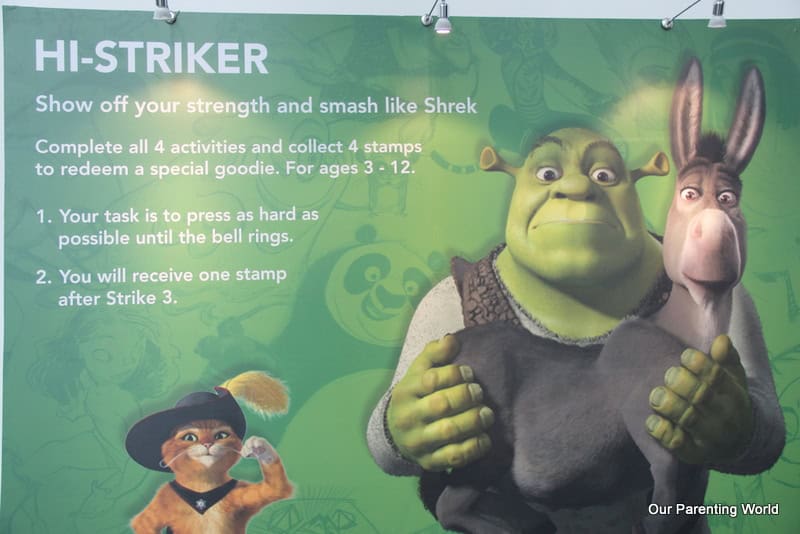 Third station, Shrek Hi-Striker. You have to press as hard as possible for the bell to ring to demonstrate you are strong like Shrek. One stamp will be given if you succeed in making the bell ring.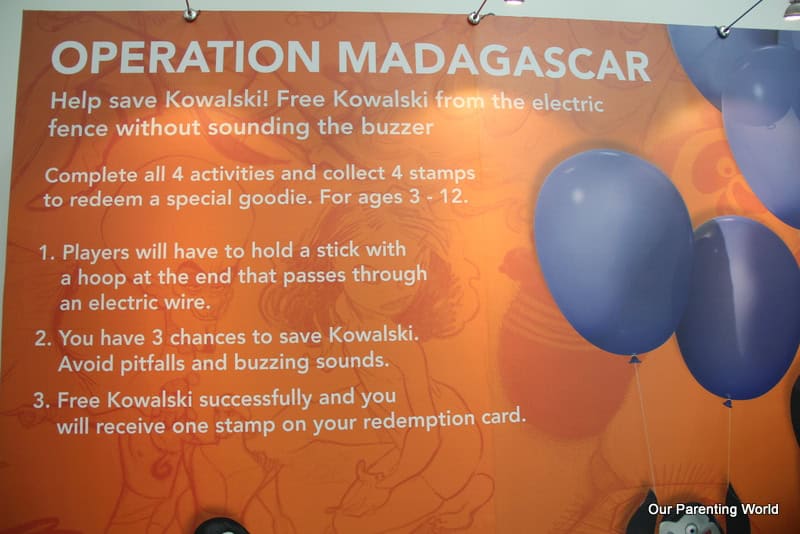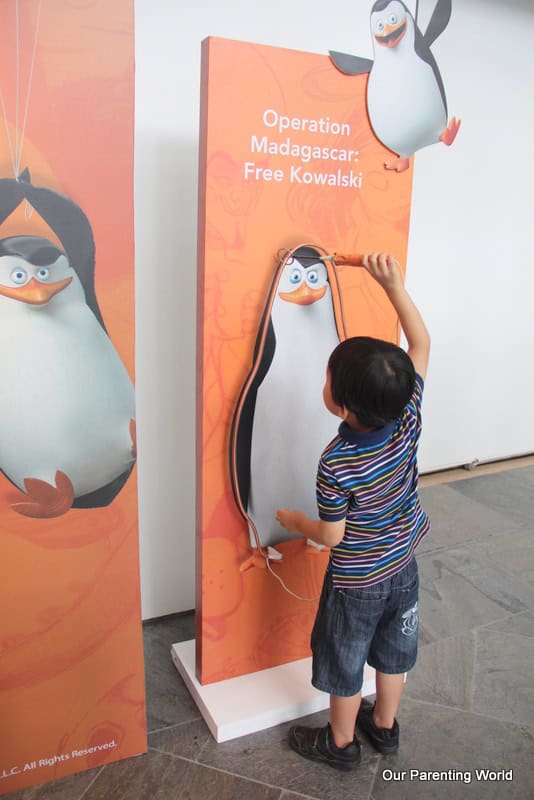 Fourth station, Operation Madagascar. you have to hold a stick with a hoop at the end that passes through an electric wire to save Kowalski without sounding the buzz. You have three chances to save Kowalski to get a stamp.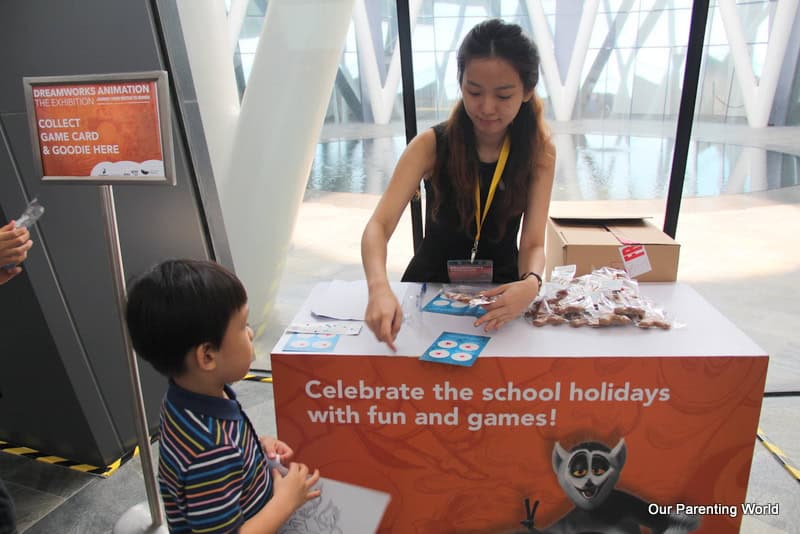 Once you have completed all the four games stations, proceed to redeem your goodie. The boys have fun completing all the games and are excited with the goodies they have collected.
Additional Information:
1) School Holiday Adventures
4 – 13 September 2015
Spend a fun-filled September school holidays at the DreamWorks Animation exhibition at ArtScience Museum, getting to know your favourite characters from Kung Fu Panda, Shrek, How to Train Your Dragon and Madagascar through fun and interactive activities.
2) Celebrate family fun at ArtScience Museum every Friday with your children enter for FREE*! Find out more about Family Fridays. 
3) Face Painting
5, 6, 12 & 13 September at 11am, 2pm, 5pm
Free face painting each weekend! Kids can get their faces painted with their favourite characters from Madagascar. 
4) Movie Screening
Expression Gallery, Level 4
Enjoy complimentary movie screenings of How to Train Your Dragon Parts 1 and 2, and Kung Fu Panda Parts 1 and 2! Visitors are treated to free popcorn on movie screening days. Seats are limited and are on a first-come-first-serve basis.
5 September
2pm on How to Train Your Dragon
3:45pm on How to Train Your Dragon 2
12 September
2pm on Kung Fu Panda
3:45pm on Kung Fu Panda 2
27 September
2pm on Madagascar
3:30pm on Madagascar: Escape 2 Africa
5pm on Madagascar 3: Europe's Most Wanted
Complimentary to ticket holders of DreamWorks Animation: The Exhibition. Entry is on a first-come, first-served basis. 
5) Claymation
8 & 10 September at 4:30pm
Understand first-hand this fascinating form of animation and create a short film by moulding your own clay character.
S$5 per person. Suitable for all ages. Purchase tickets in advance from the B2 retail outlet.
Please click HERE for more information.
While you are at ArtScience Museum, do visit The Deep which is presented for the first time in Southeast Asia that will bring visitors to a stunning display of 40 rarely seen and sometimes strange-looking deep sea creatures. Another exhibition worth visiting is Singapore STories: Then, Now, Tomorrow through the lens of The Straits Times. For more information on the exhibitions, please click HERE.