Congratulations to Singapore for achieving a new record of 84 Gold Medals as of 16 June 2015 since its previous best results of collecting 50 Gold Medals at SEA Games held in Singapore in 1993. Many of these gold medals are from swimming and the mastermind behind Singapore's swimming success is former Olympic medallist and Singapore's new swim coach, Sergio Lopez. The swimming team has won an outstanding record of 23 gold medals and Singapore flag was raised 42 times at OCBC Aquatic Centre.
There are so many events going on at the same time during the SEA Games. It is always a challenge for the media to decide which sports to cover. Even the large publications like the printed newspapers who has a large team of journalists covering various sports sometimes have to decide which event to cover each day.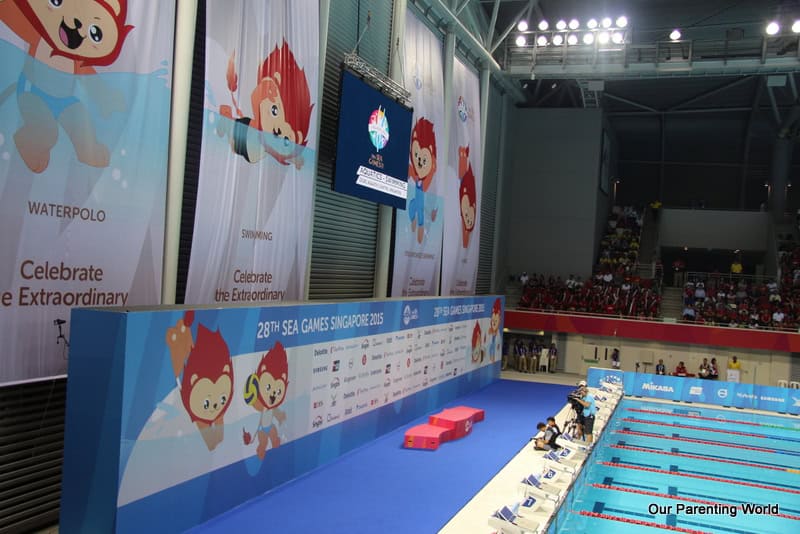 One of Our Parenting World team's guiding principal on what to cover for our publication is based on whether Singapore is a potential gold medallist for the event. Thus, swimming, which Singapore is well-known as the regional powerhouse would be one of our top priorities to see.
The swimming event is one of the most popular events for the spectators. The tickets for swimming competition have always been sold out quickly. We even saw our Emeritus Senior Minister Goh Chok Tong at the event giving his support for the Singapore team. We heard that Mr Goh Chok Tong is a big fan of swimming because he was the Captain of his school swimming team many decades ago.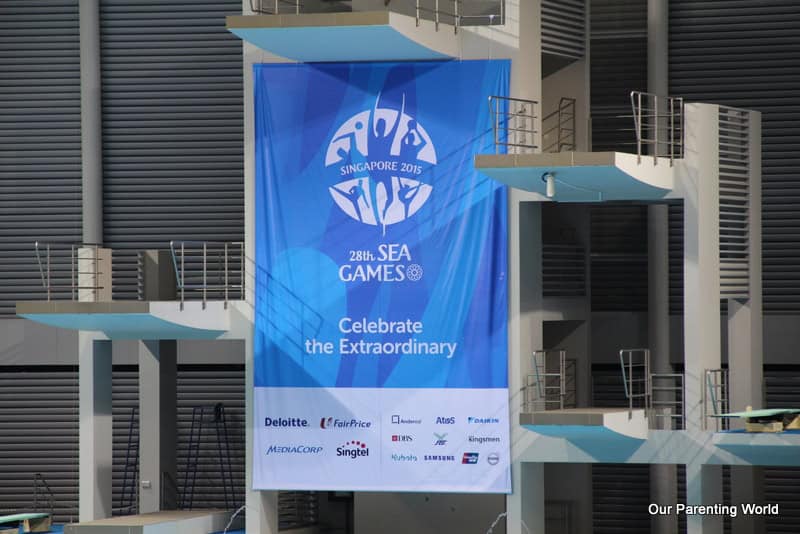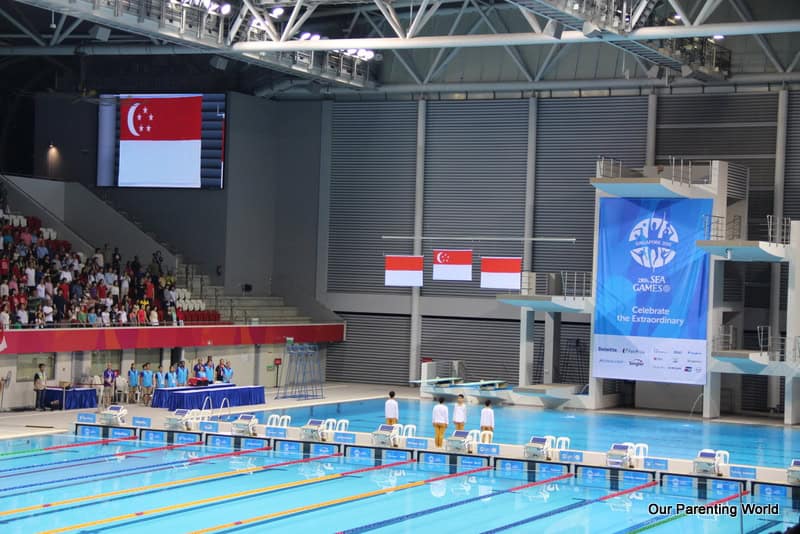 The event was held at the brand new OCBC Aquatic Centre. This 3,000 seats world class facility is certainly an ideal place to hold this swimming competition. The view from the spectators stand is excellent and you can see the event clearly from any seat in the centre.
The Singapore swimming team literally overwhelmed all the other countries with their exceptional performance. Singapore no doubt is the regional powerhouse for swimming in Southeast Asia. With the remarkable results of winning 23 gold medals for swimming, Singapore as a country has won more gold medals in swimming than all the other 10 participating countries in the games combined.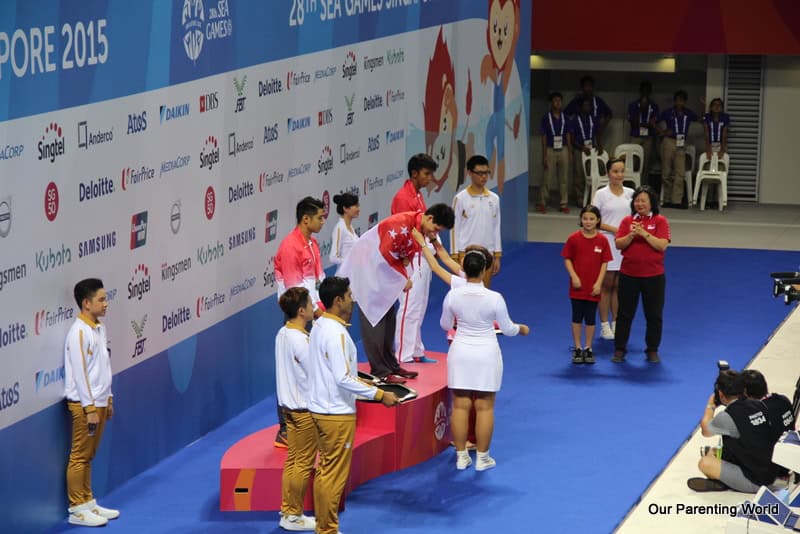 Some of our top swimmers who have won the gold medals is Joseph Schooling, he won nine gold medals from nine of his events. He has also broken the SEA Games records in every single one of them, both in the team relays and individually. 
Quah Zheng Wen has won seven golds, four silvers and one bronze. He has also broken 6 SEA Games records both in 3 relays and 3 individuals.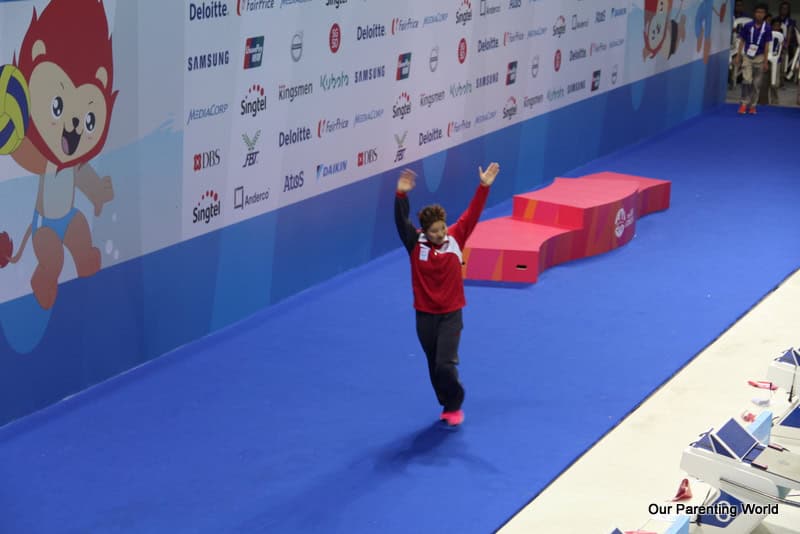 Tao Li won five gold medals, she also broke the SEA Games record with a timing of 29.14 secs for women's 50m backstroke heats. She had already won for five consecutive SEA Games for women's 4×100 medley relay gold medals.
Other outstanding Singapore swimmers who have performed well are Quah Zheng Wen's sister Quah Ting Wen won four medals and so did Amanda Lim. 
Overall, Singapore's swimming team has done Singapore proud by completing the 6 days event as the top Southeast Asian country with a record breaking 23 gold, 12 silver and 7 bronzes. Congratulations! 
Not only our swimmers performed exceptional in the SEA Games, our audience, both at the event and at home were equally supportive of the team. During the medal ceremony when "Majulah Singapura" was sang at those events which our swimmers won the gold medals, you can see the proud and happy faces of the audience when we all sang the National anthem together.
Please click HERE to find out more about SEA Games 2015.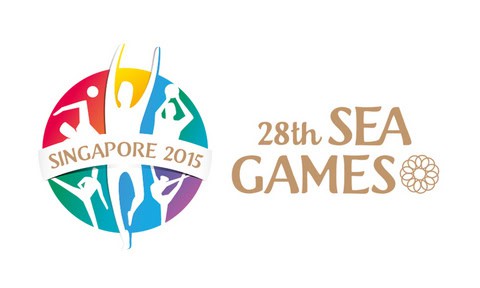 Our Parenting World is an accredited media for 28th SEA Games 2015