Like most Singaporean families, we love to eat local seafood and Seafood Paradise, one of our favourite seafood restaurants has re-located to Marina Bay Sands from 14 September 2016.
The Paradise Group of restaurants first started as a Zi Char stall in Defu Lane, which later expanded to different types of restaurants including Paradise Teochew Restaurant at Scotts Road, please click HERE to see our earlier review.
The new Seafood Paradise restaurant at Marina Bay Sands takes over from their first outlet in Defu area. It is now located at the exclusive area of dining at Level 2 of Marina Bay Sands overseeing the casino. Diners will be pleased to know that Seafood Paradise focus on Singaporean style in its cuisines. At the restaurant, diners will be able to indulge in an extensive variety of quality fresh seafood including live crabs, fish, shellfish and more. You will be able to enjoy its signature dishes with innovative cooking methods where live seafood and local Singaporean cuisine combined to present what diners have loved and enjoyed since the restaurant's early days at Defu Lane. We noticed many of their regular customers there have also come to Marina Bay Sands to continue to patronise them. 
Join us as we tried out some of Seafood Paradise's delightful dishes: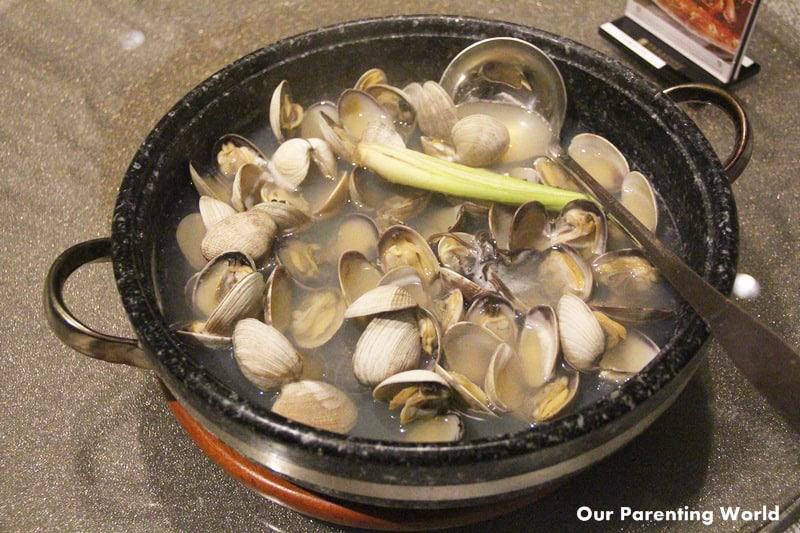 黄酒煲加拿大龙牙蚌
Poached Canadian Live Clam with Chinese Wine in Claypot – $38 (small), $57 (medium), $75 (large)
We love seafood and clams is definitely one of them! The whole claypot is filled with rich aroma and fragrance of the Chinese wine. The clams are so fresh and bursting with natural sweetness further enhanced with the aromatic Chinese wine.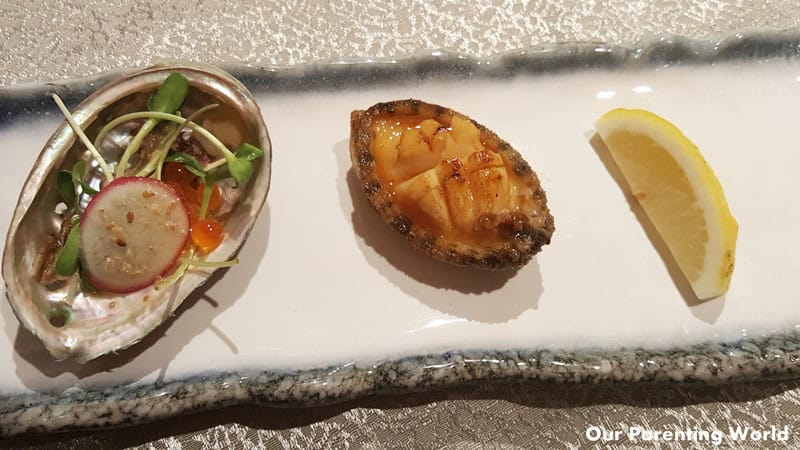 香煎澳洲活鲍鱼
Pan-fried Australian Live Abalone – $28 per pc (approx. 60g), $38 per piece (approx. 120g)
The abalone is fresh, tender that makes it easy to slice, bite and chew. Not to mention, Pan-fried Australian Live Abalone is absolutely delicious!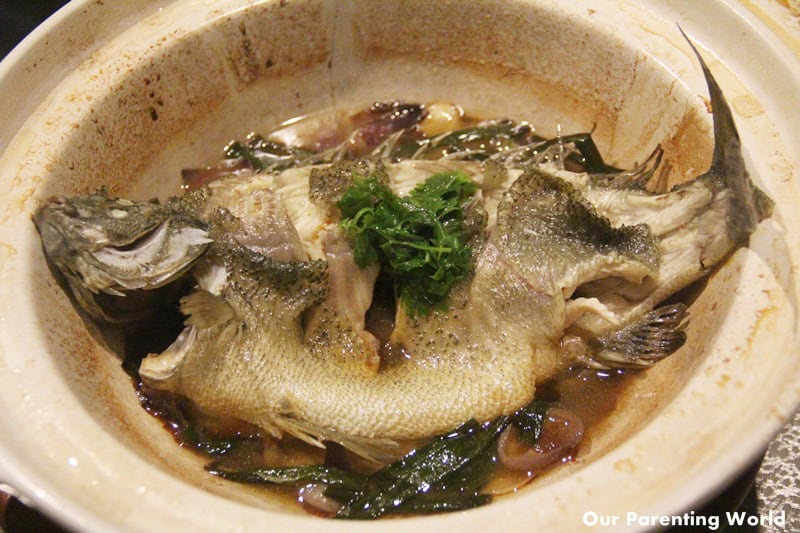 砂锅生焗翡翠鱼
Braised Jade Perch with Supreme Soya Sauce in Claypot – starts from $8 per 100g, depending on type of fish chosen.
We don't often eat Jade Perch, this fish is a native of Australia and we found out that this fish is rich in Omega 3, it has three times more Omega 3 as compared to Salmon. Braised Jade Perch with Supreme Soya Sauce in Claypot is a delightful and healthy dish. The meat is so tasty after being braised with supreme soya sauce and good to go with rice.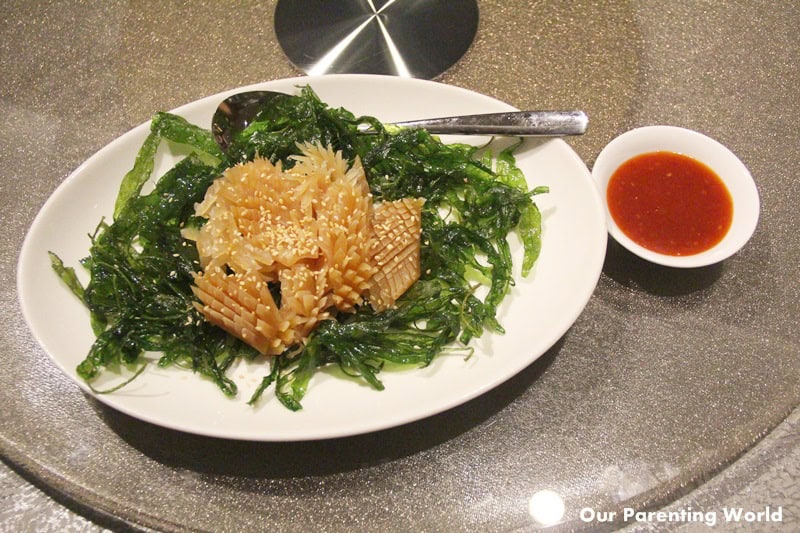 酥炸鲜鱿通心菜
Crispy Kang Kong topped with Cuttlefish in Homemade Seafood Sauce – $14.80 (small), $21.80 (medium), $28.80 (large)
This dish is a piece of art, looking at how cuttlefish slices are shaped and sitting on a bed of crispy Kang Kong. The cuttlefish is chewy and it goes perfectly well with the spicy and sweet homemade seafood sauce. The kids love to eat the crispy Kang Kong.
No seafood restaurants is completed without having crabs in its menu. At Seafood Paradise, you can indulge in the freshest crabs with different cooking techniques.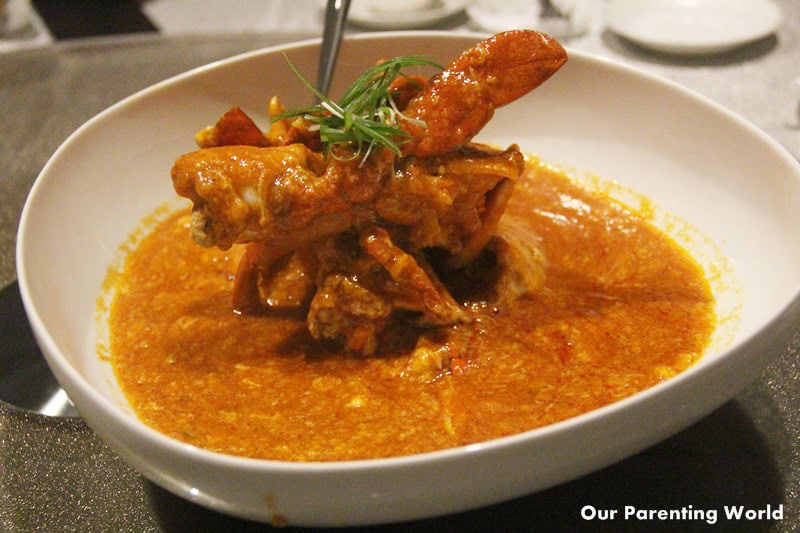 新加坡辣椒焖斯里兰卡肉蟹
Singapore Chilli Style Sri Lankan Crab – seasonal price
Deep-fried Buns – $3 for 4 pcs
金沙奶油加州珍宝蟹
Signature Creamy Butter Dungeness Crab topped with Coconut Crumbs – seasonal price
We tried the crabs dishes with different cooking styles. Most Singaporeans are familiar with iconic Singapore Chilli Style Sri Lankan Crab. Infact Chili Crab is listed as number 35 on the World's 50 most delicious foods by CNN Go in 2011. 
You can't go wrong with this local favourite dish, Seafood Paradise uses fresh Sri Lankan mud crab which is perfectly cooked with mildly sweet, savoury and spicy sauce. It goes very well with the fried man tou. 
Signature Creamy Butter Dungeness Crab topped with Coconut Crumbs, we found out that Dungeness Crab is originated from the west coast of North America. This dish is a long-time favourite at Seafood Paradise, the crabs are cooked in a secret sauce consisting of various herbs and spices like curry leaves, white pepper, lemongrass and chilli padi that is made fresh daily. The crab is well known for its firm, sweet and slightly savoury flesh, the taste is further enhanced by its secret sauce. 
Eating crabs at Seafood Paradise is a breeze, you don't have to worry that it will be a messy affair. The restaurant is very thoughtful, its serving staff will help the customers to put on a bib while you tuck into your crabs. Another thoughtful gesture by the restaurant is that you can also request the staff to help you remove the meat from the crabs without having to do it yourself. However, we suggest that it will be good to eat crabs with your fingers, it is so finger licking good to lick the delicious sauce!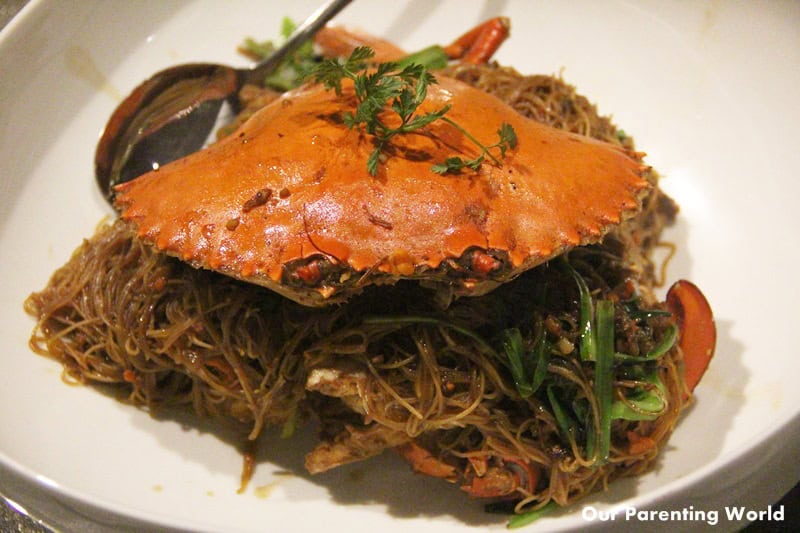 斯里兰卡肉蟹炒米粉
Wok-fried Bee Hoon with Sri Lankan Crab – seasonal price
In Singapore, crab bee hoon is very popular. This version at Seafood Paradise, the flavourful bee hoon is fried with a good smokey aroma of wok hei. It complements well with the sweet and fleshy crab meat.   
话梅香茅果冻
Chilled Lemongrass Jelly in Lemonade and Sour Plum Juice – $6.50
After a hearty meal, it is good to end off a satisfying meal with a dessert. Chilled Lemongrass Jelly in Lemonade and Sour Plum Juice is very refreshing, cooling and not too sweet.
If you love seafood, Seafood Paradise is the place to visit, dine in its delicious food with a Singapore touch and enjoy your meal with warm hospitality by its serving staff in a cosy, spacious and stylish environment conveniently located at Marina Bay Sands. We thoroughly enjoyed our dining experiences at Seafood Paradise and being seafood lovers, we will definitely return to visit the restaurants many times. It is a good place to bring our family and friends too. 
All the above dishes featured, the prices are subject to GST and Service Charge.
Additional Information:
Seafood Paradise introduces new methods of preparation, such as deep-frying fresh flower crabs in a special house blend of spices that includes curry powder, lemongrass and blue ginger, to create an addictively fragrant and crisp dish that is unique to the restaurant.
Other highlights include:
· Singapore Style Chilli Crab (seasonal price) – Seafood Paradise's rendition of the iconic Singapore Chilli Crab boasts a well-balanced sauce that is mildly sweet, spicy and tangy, without overwhelming the natural taste of the succulent and fleshy crab meat.
· Steamed Seabass with Assam Spicy Sauce (from $20.90 to $60.90) – Large, generous chunks of tender seabass filleted in-house in a tangy and appetising gravy, made from a special house blend that includes assam, lemongrass and red chilli.
· Japanese Pen Shell with Egg White ($8 per 100g) – Light and fluffy egg whites scrambled in a wok that has been pre-heated with oil, served with slices of sublimely tender pen shell and elevated with a touch of ebiko and dried scallop. 
With eight private dining rooms that can accommodate groups of up to 15, the 177-seat restaurant is an unassuming and elegant dining space. Warmly lit, with floor-to-ceiling carved wooden panels, the restaurant's interior balances a modest modernity with  strong traditional undertones. Seafood Paradise is a welcoming and familiar establishment in the luxurious international destination of Marina Bay Sands, promising an authentic Singaporean meal with uncompromised quality.
Seafood Paradise
Address: 10, Bayfront Avenue, #02-03, Level 2 Dining
The Shoppes at Marina Bay Sands
Singapore 018956
Contact / +65 6688 7051
Reservations:
Opening Hours: Daily
11.30am to 3.30pm (last order 3.00pm);
5.30pm to 11.00pm (last order 10.30pm)
Capacity: Main dining room: 96 seats
One 15-seat private dining room
Four 12-seat private dining rooms
Three 6-seat private dining rooms
Total Capacity: 177 seats
Payment Methods: Cash and all major credit cards (Visa, Mastercard, American Express, JCB
and UnionPay)
Parking: Available onsite
Website: www.paradisegp.com
Social Media: https://www.facebook.com/ParadiseGrp
https://instagram.com/paradisegrpsg
Official Hashtags: #paradisegrpsg #foodinparadise #paradisegrp