Photo Credit: Building and Construction Authority (Dr John Keung delivered a welcome address at "See the World Differently" fund-raising dinner)
Singapore Universal Design Week (SUDW) 2015 is a week long event from 27 July to 2 August 2015 organised by Building and Construction Authority (BCA) with the theme on "Shaping an Age-friendly Built Environment". Its Universal Design aims to design for all people of diverse needs and abilities, including families and the elderly. The event aims to raise awareness on the importance of a user-friendly built environment. This includes the promotion of building features such as clear signages, family car park lot, automatic doors, ramp, and handicapped toilets. These features tend to go unnoticed by the general public. 
BCA held a charity event called "See the World Differently" Fund-raising Dinner held at Hotel [email protected]'s Hill on 30 July 2015, it hopes to educate and engage the public to understand and appreciate the value of these Universal Designs features. This is the first fund-raising dinner organised by BCA. The event, which is held in conjunction with the SUDW 2015, is organised in partnership with Dialogue in the Dark, a social enterprise. 
At the dinner, Dr John Keung (Chief Executive Officer of The Building and Construction Authority) welcome the guests which comprised of industry stakeholders such as developers, architects and builders. Dr Keung stressed the need to improve our buildings and public spaces to be user-friendly to people of different ages and abilities. As our population is ageing rapidly, it is crucial to have an inclusive society to enable everyone to live, work and play with ease and dignity.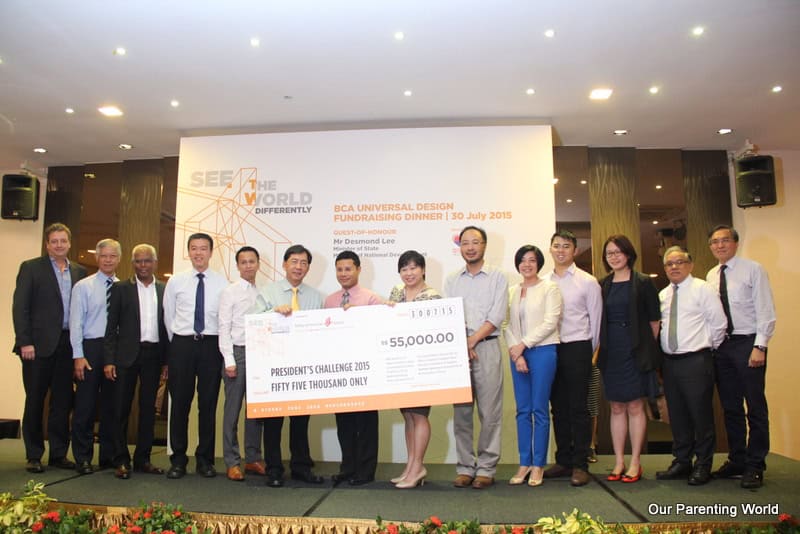 Mr Desmond Lee, Minister of State for National Development was the Guest-of-Honour at the "See the World Differently" Fund-raising Dinner. A total of $55,000 has been raised for President's Challenge 2015 from industry stakeholders such as developers, architects, builders. 
All the guests at the dinner had the opportunity to experience a full course dinner in complete darkness. Through this experience, it gives us a deeper understanding of what it means to live without sight. 
Soon the lights were switched off, it was pitch dark and everyone had to dine in complete darkness. Even though we came prepared and knew that we will be dining in the dark but nothing will prepare us for this experience until darkness came upon us and we can't use our sight. We realised that we have been taking our ability to see for granted. 
We have to rely heavily on our other senses like touch, hearing, smell and taste when we start to dine. It is challenging for us and it does take time to get used to it. During the dinner, individual dishes was served by a visually impaired guide who is very helpful and assuring to help us complete our dinner.
When each dish was served, we had to use our sense of touch to find the correct cutlery before using it with our food. Without sight, we had to smell and taste to find out what is the food that we are eating.
After experiencing eating in the dark, we realised how fortunate we are that we are able to see. It helps us to understand and empathize with the visually impaired and others with disabilities of the challenges they have to cope with their daily activities and to help them lead a normal life.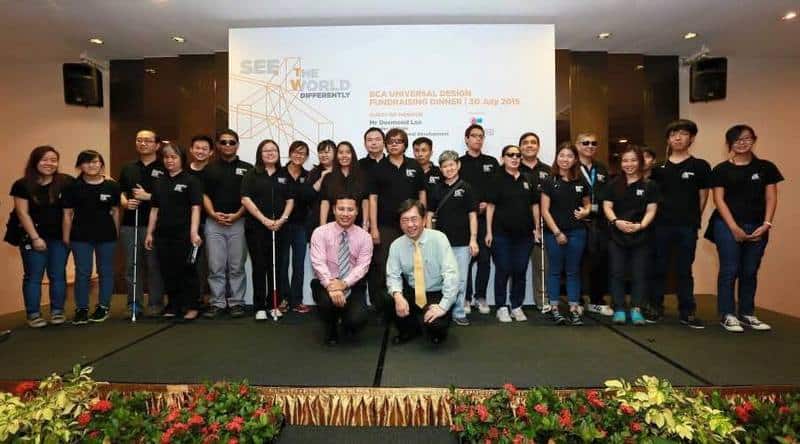 Photo Credit: Building and Construction Authority (Guest-of-Honour Mr Desmond Lee (in pink) and Dr John Keung (in green), CEO of BCA, with helpers from Dialogue in the Dark, a social enterprise.) 
Through the Dinner in the Dark experience, Building and Construction Authority (BCA) hopes that guests will better appreciate how important it is to have friendly features in our built environment and to incorporate more Universal Designs features in their projects and developments to make live easier for everyone especially for those in need like for the elderly, the visually handicapped and mothers with young children.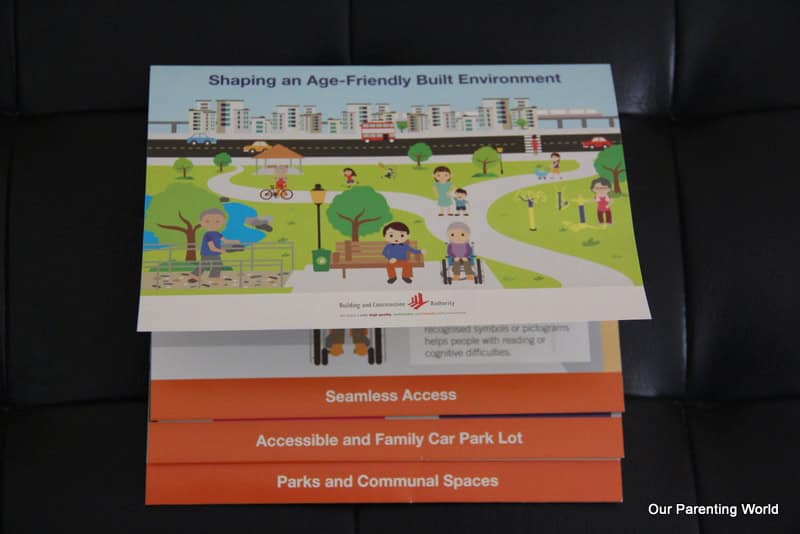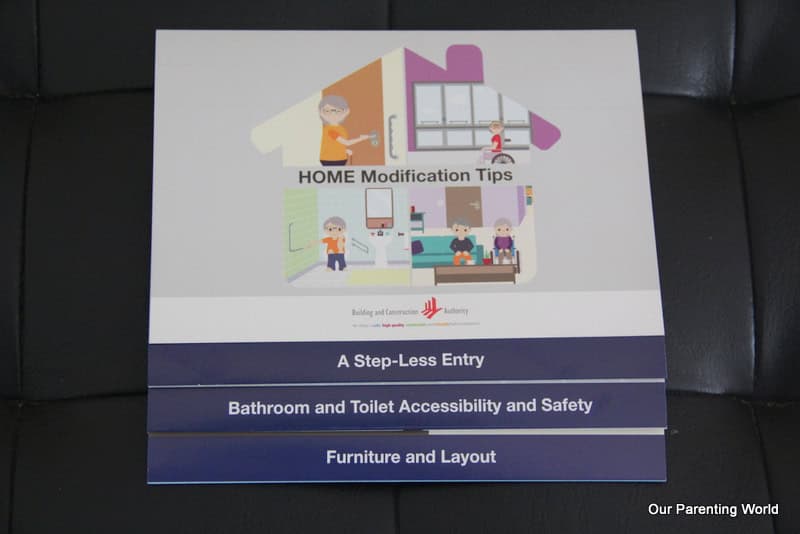 Front and back of "Shaping an Age-friendly Built Environment" leaflet
In order to engage the public in understanding how an Age-Friendly Built Environment would enhance the quality of life for our seniors, BCA had produced a public education leaflet titled "Shaping an Age-friendly Built Environment". The leaflet is designed with simple-to-understand illustrations and explains concepts on age-friendly design to cater to the elderly's needs as well as the importance of social graciousness in sharing public facilities. It also highlights specific elder-friendly features such as seats with armrests and gentle staircases with well-designed handrails. The leaflet will be distributed at various community outreach events. Its other outreach efforts include industry conferences and user consultations, as well as public roving exhibitions, to promote greater understanding towards users of diverse abilities and needs, and the adoption of user-friendly design approaches in buildings.
To find out more information about BCA, please click HERE
To find out more information about Dialogue in the Dark, please click HERE