This September school holidays, come down to Sentosa and you will be treated to a stunning display of sand sculptures at Sentosa Sandsation 2017! This is Southeast Asia's Biggest Sand Festival featuring 3 zones of sand sculptures.
Zone 1 : Our Sandsational Singapore (Singapore, Ho Say!)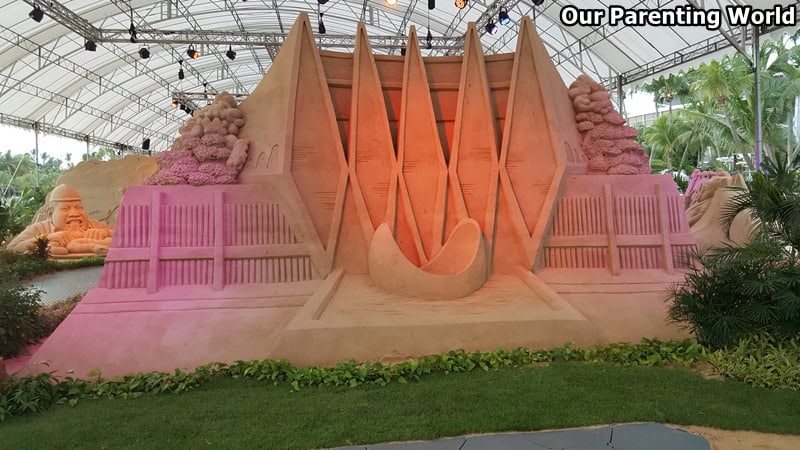 Former Singapore National Theatre which was opened in 8 August 1963.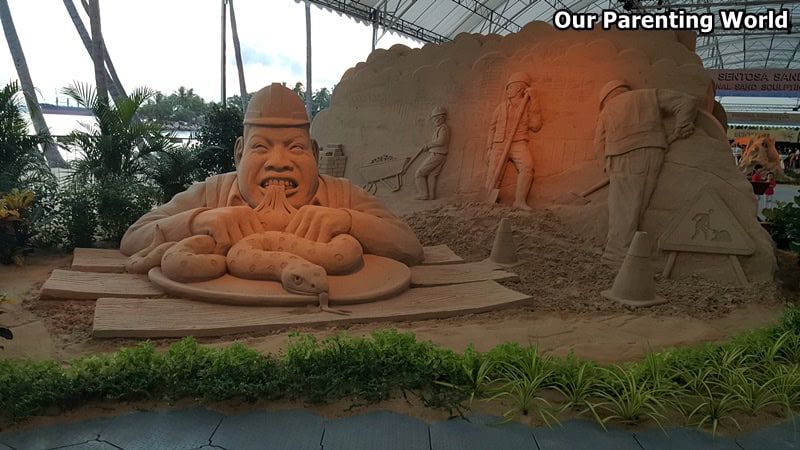 Jiak Zua
Visitors will be able to see sand sculptures that are related to our local culture like "Jiak Zua". It literally means to eat snake which is to slack off. 
So Jialat
At night, the sand sculptures will be even more spectacular with colourful lights! Zone 1, visitors will see 15 3-D sand sculptures that were inspired and created based on local culture, quirks and colloquial slangs like Jiak Zua (slack off), So Jialat (sapping energy or tiring), Lia'h Boh Kiew (I don't get you), So Kiasu (Fear of losing out) and more!
There will be explanation displayed besides the sculptures, you can read about what it means to have better understanding of the sculptures and audio elements is included too. 
Zone 2 : Sentosa International Sand Sculpting Championship 2017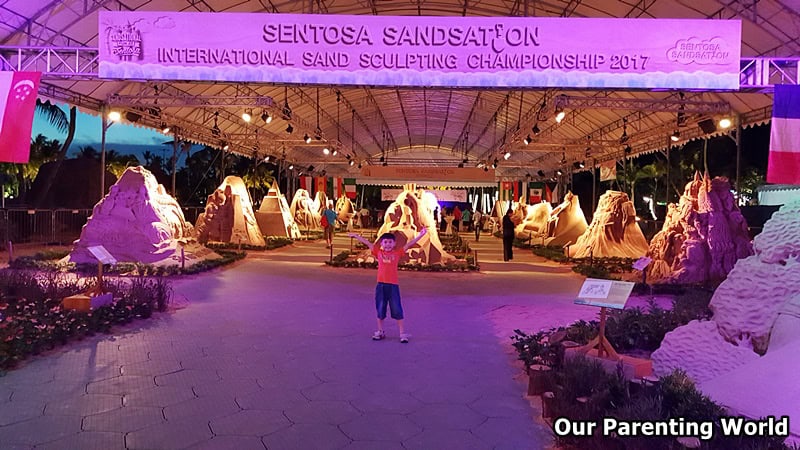 At this zone, visitors will be able to view sand sculptures for Sentosa International Sand Sculpting Championship, created by 14 sand masters from all over the world!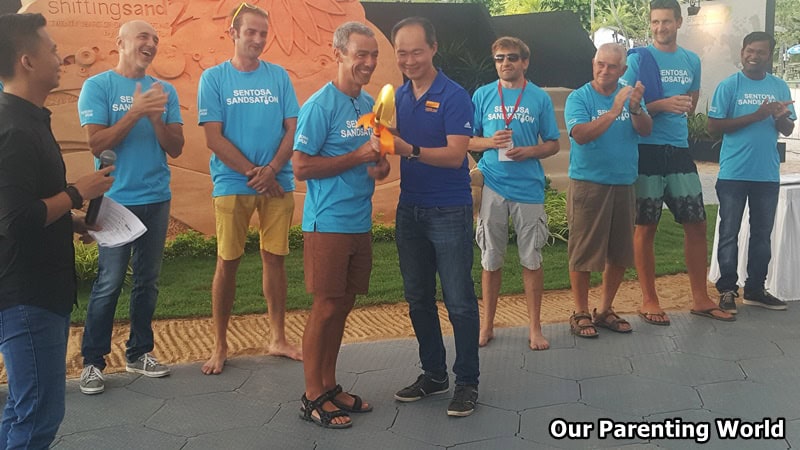 World renowned sand sculptor Pedro Mira from Portugal won the first Sentosa International Sand Sculpting Championship. Congratulations to Pedro Mira! He has won the Golden Shovel Award and cash prize of USD$5,000. Togo's Bob Atisso and Poland's Wiaczeslaw Borecki were presented with the Silver Shovel Award (and USD 2,500) and the Bronze Shovel Award (and USD 1,500) respectively.
Well done to all the 14 sand masters for your awesome sculptures! The sculptors had spend a total of 28 hours over three and a half days to create these amazing works of art.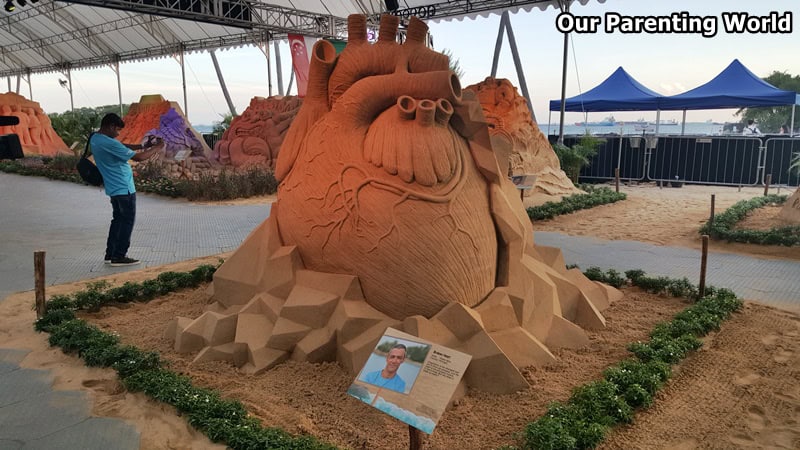 "Broken Heart" by the winner, Pedro Mira showcases an intricately-carved organ that represents the strongest muscle in one's body, synonymous with how imagination is the strongest tool one's mind can possess. It was chosen by a panel of four judges comprising globally-renowned Singapore sand artist JOOheng Tan; Mr Tan Hee Teck, Chief Executive Officer, Resorts World Sentosa; Mr Ignatius Low, Head of Media Solutions, Integrated Marketing, Singapore Press Holdings; and Mr Quek Swee Kuan, Chief Executive Officer, Sentosa Development Corporation (SDC).
Zone 3 : Shifting Sand 2 featuring interactive sand art pieces by JOOheng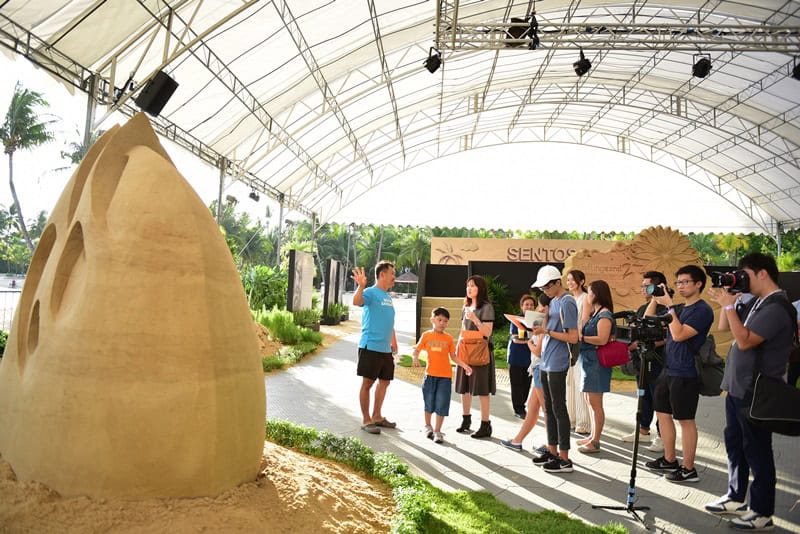 Image credited to Sentosa
JOOheng Tan giving a tour of Shifting Sand 2 during the media preview.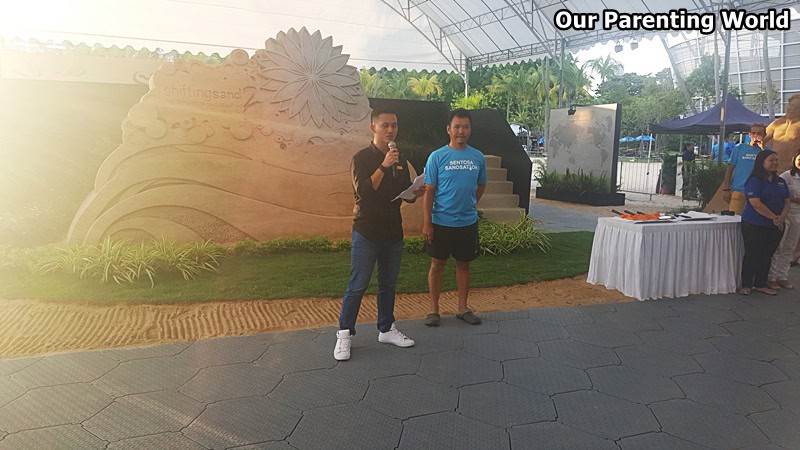 JOOheng Tan is an internationally-acclaimed Singapore sand artist. His first solo exhibition was held at Sentosa's Palawan Beach back in 2010. We are very impressed with his work and are very proud that Singapore has such a talented and creative sand artist like JOOheng Tan. He has the ability to transform ordinary sand to remarkable work of art! Do come down to Sentosa to view his impressive work!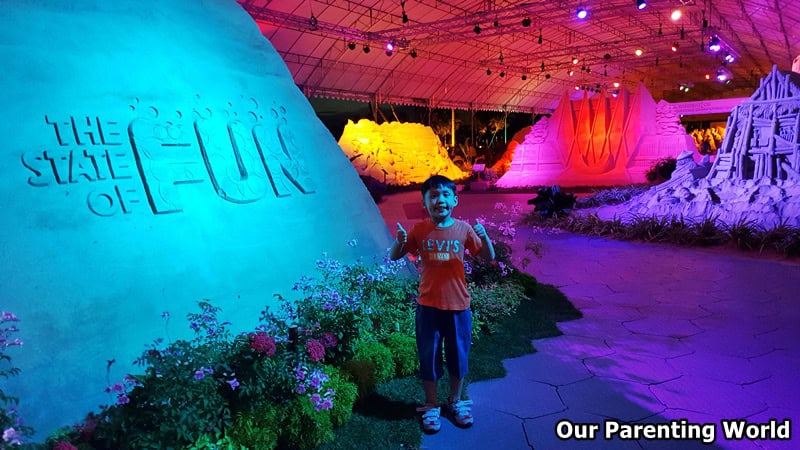 Sentosa Sandsation 2017, is a 3 weeks sand sculpture festival taking place at The State of Fun from 1-17 September 2017. Operating hours from 10am – 9pm daily and admission to the event is free.
This school holidays, come down to Sentosa, bring your family and friends to Sentosa and look at these large-than-life international creation by 14 sand masters and local sand sculptures which showcase Singapore's unique blend of culture, humour, quirks and colloquialism, as well as one-of-a-kind art pieces by JOOheng Tan.
In addition, Singapore residents will also enjoy free entry to Sentosa with a waiver of charges for the Sentosa Express monorail and gantry fees for cars, as well as free rides on Sentosa's on-island cable car line which brings guests directly to the Siloso Point Station where the event is. The free cable car ride starts from the Merlion Station at Imbiah (opposite the Sentosa Express Imbiah Station).
For more information, please visit www.sentosa.com.sg/sandsation.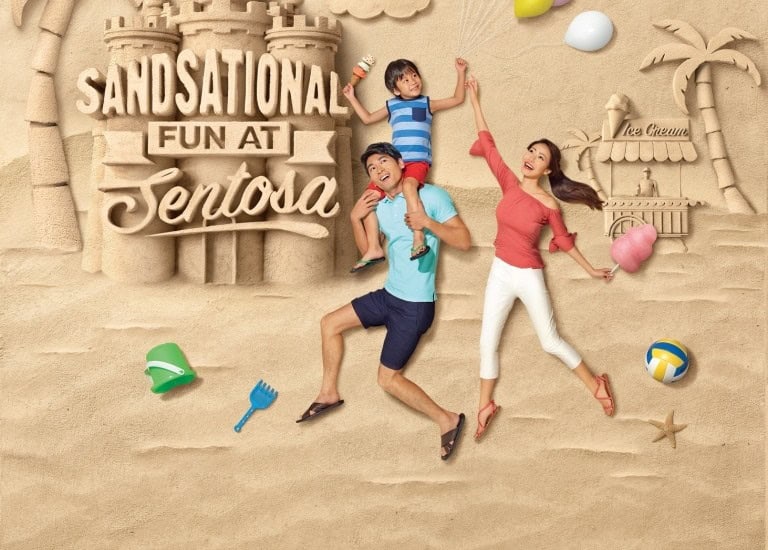 Event Listing: Sentosa Celebrates Sandsational Fun this September with S.E. Asia's Biggest Sand Festival! – First published on 21 August 2017
This September, get ready to visit Sentosa for Sandsational Fun, S.E. Asia's Biggest Sand Festival!
Anchoring the three-week festival will be Sentosa Sandsation 2017, featuring more than 30 intricately-carved and larger-than-life sand sculptures of some five metres in height. Spread over 2,400 square metres of exhibition space on Siloso Beach, guests can journey through three zones showcasing different experiences, from 10am – 9pm daily. 
From 1-17 September, Sentosa's Siloso Beach will be home to Southeast Asia's biggest sand festival, featuring a plethora of exciting activities set to delight guests from all over.
Also, between 4-10 September 2017, Singapore residents will enjoy free entry into Sentosa via the Sentosa Express and Sentosa Gateway!
Mark down the dates in your calendar and head down to Sentosa with your family and friends for Sentosa Sandsation 2017! 
SANDSATIONAL FUN AT SENTOSA 2017
Date : Friday, September 1 – Sunday, September 17
Time : 10am – 9pm
Venue : Siloso Beach
To find out more, please go to http://www.sentosa.com.sg/sandsation