A village of murder.
The pool smells of revenge.
A state of psychedelia,
The path never ends.
Are you truly alone?
When we saw the descriptions of Sentosa Spooktacular 2014, it send chills down to our spines!
This is not for kids and Our Parenting World decided to send our bravest team members to go for the media preview of Sentosa Spooktacular. Thank God, they survived to tell us what happened at Laddaland!
This year, Sentosa Spooktacular in continuation of its successful partnerships with GTH, one of Thailand's leading horror movie makers will transform the entire 40,000 square metres of Fort Siloso into a haunted village, called Laddaland which is based on GTH's 2011 award-winning horror hit movie, Laddaland.

With 2014's new theme, thrill seekers can experience and explore the spine-chilling grounds and spooky features of Laddaland with scary, iconic scenes adapted from;
(1) Laddaland (2011)
(2) Alone (2007)
(3) Countdown (2012)
(4) The Swimmers (2014) *New Movie*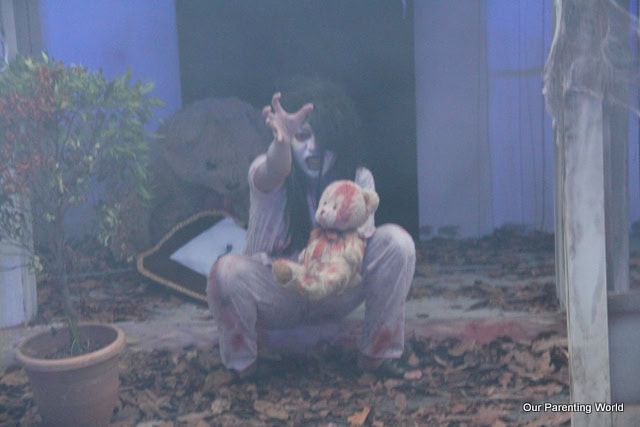 Once we entered into Laddaland, we were immediately transported into a terrifying experiences of seeing various ghosts, lots and lots of them constantly appeared and even followed us!!!
When we paused to take photos, some of the ghosts would glare fiercely at us and screamed… 
Many of the visitors just wanted to walk quickly and avoided coming into contact with the ghosts however it is very hard, they are everywhere!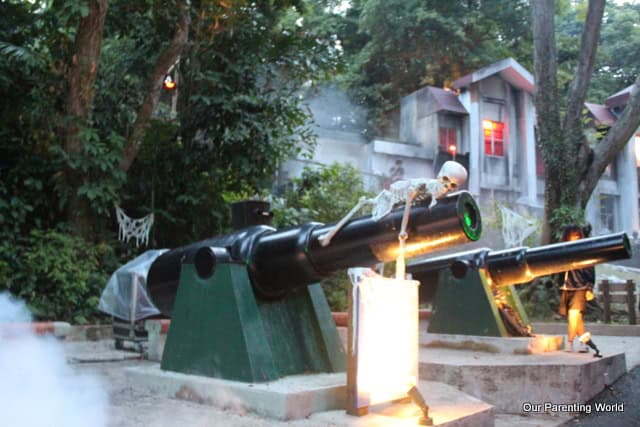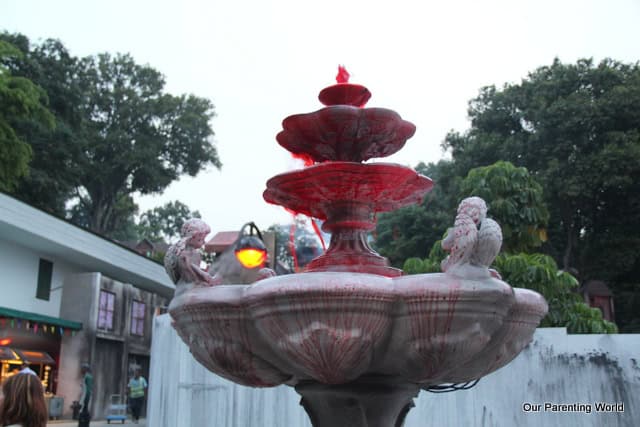 Even the surroundings are filled with eerie pops and blood flowing fountains that filled up the already tense atmosphere …
Once night fall comes, the whole place will be dark, making the place even more spooky!!! More screams were heard as we ventured through the horror trails.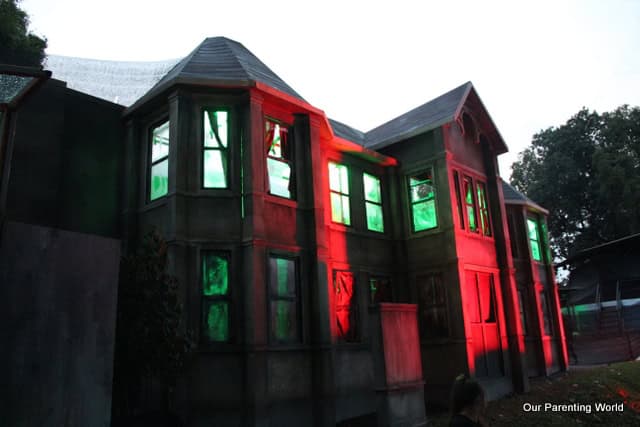 There are three haunted houses, Alone, Countdown and The Swimmers that visitors can walk through the horror trails. 
All 40,000 square metres of Fort Siloso will be transformed into a haunted residential zone, and visitors to Sentosa Spooktacular's Laddaland will venture through basements and houses just as how they would explore a new neighbourhood they just moved into. Visitors will experience an extended walkthrough each lasting about 20 to 30 minutes, and make a prolonged heart-pounding journey as they brace themselves for anticipated twists and turns, as well as sudden shocking moments. Fort Siloso's combined natural settings, existing artilleries and tunnels present excellent assets to transform into the interior of houses and facility buildings, tracing the journey of spirits and souls who once lived in those houses, and may still lurk in the dark.
Our team together with friends of other media decided to form a group and ventured the haunted houses together. We are actually not the sort who get frightened easily but upon entering the haunted houses, the spooky and eerie surroundings really scared us. We can't see other visitors except our own group. Visitors are being spaced out and that really builds up the suspense. 
Most of the rooms are dark, we can hardly see and that magnify the scary atmosphere as we don't know what to expect. We even need to pass through lots of obstacles like pipes and narrow tunnels. Look out, the ghosts will appear when you least expected it.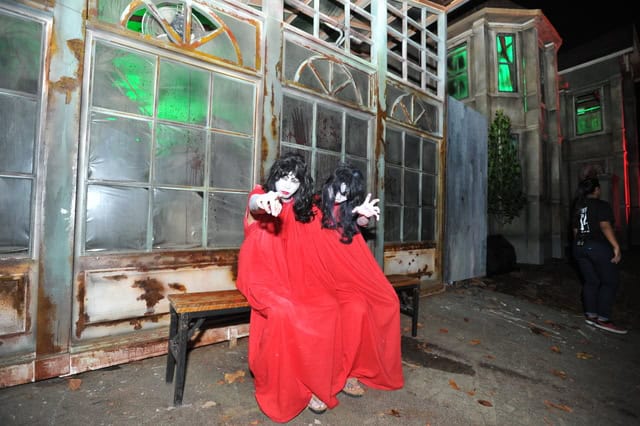 Photo Credit: Sentosa Spooktacular
Ghosts are everywhere, there is no place to hide. Beware, they enjoy coming out to scare you!!! Many visitors were seen covering their ears, running and screaming as they tried to escape from the ghosts.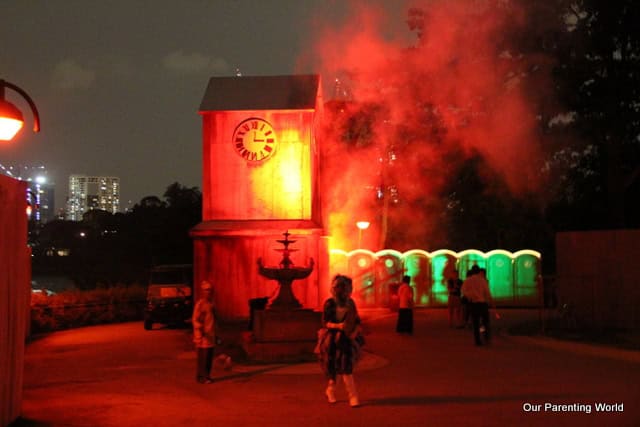 It takes a lot of courage for visitors to venture the streets and especially when you need to go to the toilets, you would need to pass through a lot of ghosts … one holding a cane, one carrying a chopper, some sitting on the road and on the swings staring at you. These ghosts would not rest until they scared the hell out of you …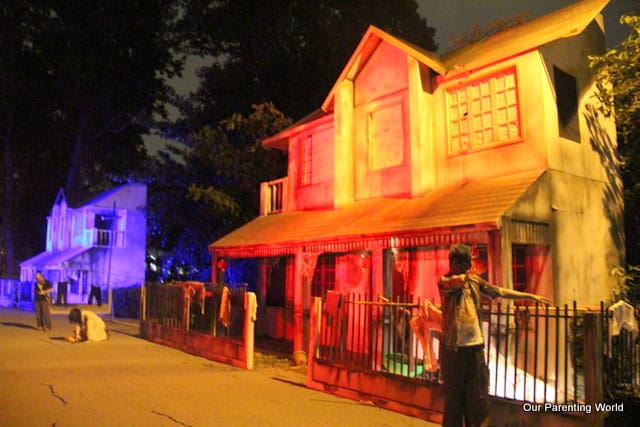 This ghost pointing and staring angrily at us !!!
Overall, Sentosa Spooktacular is frightening good! Even though we were frightened by the ghosts and especially the horror trails to the haunted houses which seems forever long and never ending. It was very exciting, trying to escape from the ghosts who persistently wanted to scare us. It took us a lot of courage to venture into Laddaland and felt good after we managed to conquer our fears and survive our adventure.
Come and visit Sentosa Spooktacular 2014 – Laddaland if you dare! It is definitely worth your visit and have a frightening good Halloween.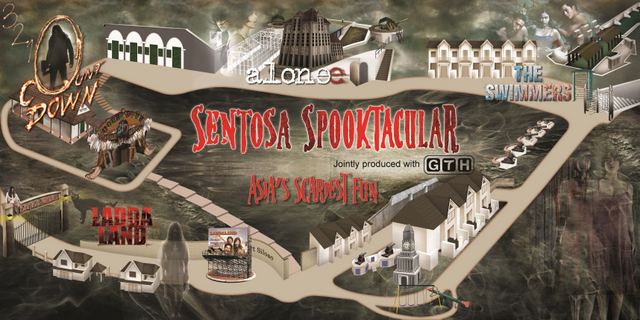 TICKETS ON SALE NOW
For more information, check out the Sentosa Spooktacular website (www.spooktacular.com.sg) and Facebook page (www.facebook.com/sentosa.spooktacular), where fear-enthusiasts can join in the journey of what lurks in Laddaland. Tickets can be purchased from the Spooktacular website (www.spooktacular.com.sg), or from Sentosa ticketing counters.