Introducing Sigi Skin's all new night serum, Youth Beam that helps to repair skin efficiently while you sleep. Now you can wake up to glowing and happy skin in the morning!
The Youth Beam anti-ageing night serum is an absolute skin booster that provides instant hydration and skin relief, as well as nourishing skin and repairing cellular damage. This groundbreaking, highly efficacious, vegan night serum helps to ensure your skin microbiome is self-resilient and in optimum condition over time with its unique blend of all three biotics – prebiotics, probiotics and postbiotics.

Clinical studies using in-vitro cell culture techniques show that after 24 hours of application, the skin's good bacteria (S.epidermidis) increased by 156%, creating ideal conditions for healthy microbiomes to thrive in.
Youth Beam is also packed with a load of antioxidant blends that help to further hydrate and prevent premature ageing of skin. Skin is always kept plumped and hydrated with ingredients like the superstar anti-ageing ingredient reishi mushroom.
In addition, ginger root extracts, which have high antioxidant and plenty of anti-ageing properties help to diminish the appearance of scars, lighten pigmentation, and slow collagen breakdown. Pine bark extracts, another anti-ageing superhero, help to reduce the effects of ageing on skin, whilst reducing fine lines, preventing inflammation, and reducing redness. This serum is also suitable for all skin types. Jam-packed with clinically proven actives and supercharged superfood extracts, Youth Beam is a game-changing serum that is a definite must-have in your beauty routine.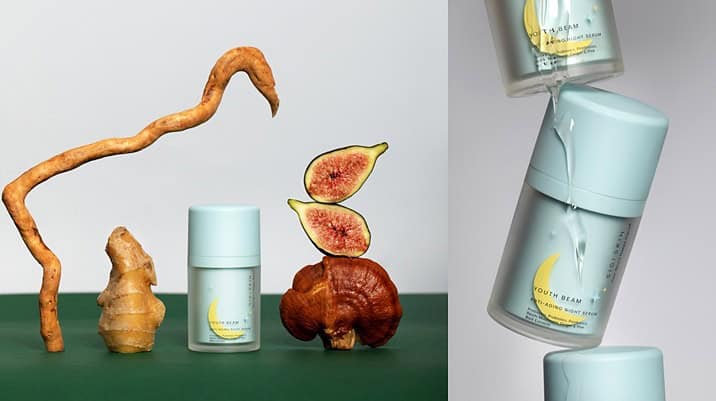 The Sigi Skin Youth Beam Night Serum reduces signs of ageing, repairs skin barriers, whilst hydrating and brightening complexion.
This potent yet gentle night serum offers multiple benefits:
Super lush texture that is fast absorbing

Instantly hydrates and softens your skin overnight.

Anti-ageing, strengthens and repair skin barrier and improves skin texture concerns.

Formulated for best use during the night to help repair your skin and wake up to softer and smoother skin in the morning.

Pregnancy friendly, suitable for all skin types including those who have fungal acne or super sensitive skin.
Directions for use:
Massage onto cleansed skin in an upwards motion. Use nightly before applying Dream Capsule. Use 2-3 pumps for the whole face and pat gently for product to be fully absorbed.
The Sigi Skin Youth Beam retails at SGD99 and available exclusively at www.sigiskin.com. Get yours today!