The Maritime Experiential Museum is an innovative, interactive, multi-sensorial and educational museum that invites visitors to experience Asia's rich maritime history and discover Singapore's past as a trading port. It begins along the ancient Maritime Silk Route and is interactive, you can explore and see a fascinating trove of precious artefacts from the Bakau shipwreck and Temasek archaeological site that can be found at the Maritime Archaeology Gallery.
Our journey begins …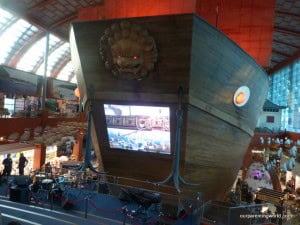 Bao Chuan Viewing Deck.
This is a full-sized replica of the bow of Admiral Zheng He's treasure ship (Bao Chuan) Marvel which is situated at the centre of the museum and it greets the guests as they enter. It gives an introduction of  Admiral Zheng He's voyages from China to the 'Western Ocean' during the 15th century.
Some highlights, Gor Gor and Di Di have been to this museum before and they have taken some interesting photos at their previous trip, enjoy!
Gor Gor trying to imitate the lion on vessel as it is sleeping now.
Di Di also follow suit …
Di Di trying to interact with the figurines.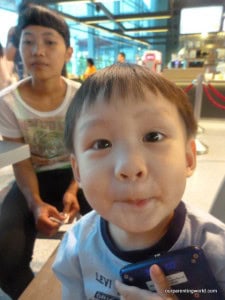 Di Di feeling cheeky while waiting for the food at Fish & Crab Shack at the museum.
Let's go back to our current trip to museum, our journey begins …
We move from the entrance and travel to various countries from Guangzhuo onwards.
We traveled through many countries like Vietnam, India, Malaysia and so on …
Gor Gor and Di Di having fun playing with the interactive games.
We are now at the Typhoon Theatre, this is one of the highlights of the museum as stated in its website, it is where you will get to experience a realistic storm and shipwreck simulation that is enhanced with thrilling special effects in this 360° multi-sensory theatre. Board a 9th century vessel that departs in relative calm but soon runs into a terrifying storm. Before long, visitors will find themselves sinking to the bottom of the sea!
While waiting to go into the Typhoon Theatre, we have a better view of the full-sized replica of the ship, this is how the inside looks like. This ship is so huge!
The boys are so happy when they came out of the Typhoon Theatre to see the aquarium. They love sharks and is thrilled to see hammerhead sharks and other species of sharks. They spend quite some time looking and spotting the various sharks.
Gor Gor is busy having a meeting with the famous officials from various countries. 
We would like to thank the lovely and kind people of SIM for inviting us to this fun, interesting and educating event.