Our Parenting World team attended an exclusive children's tour of the Singapore Biennale 2016 during the school holidays period in December. This is a four months international contemporary art exhibition organised by Singapore Art Museum (SAM) and commissioned by National Arts Council of Singapore (NAC) from 27 October 2016 to 26 February 2017.
This exhibition is suitable for everyone from adults to children. It is a must-visit exhibition titled "An Atlas of Mirrors" which features a wide range of impressive works by 63 artists and art collectives from 19 countries and territories across Southeast Asia, East and South Asia.
Summing up by Dr Susie Lingham, Creative Director, Singapore Biennale 2016, "An Atlas of Mirrors references the atlases and mirrors that have been instrumental in humankind's exploration of the world as we navigate and map our journeys into the unknown. It is hoped that the evocative title, which guided its curatorial direction, would intrigue and inspire audiences to explore and experience the many ways of seeing our world and ourselves. Each mindfully presented artwork offers a unique encounter: we are invited to share the imaginative and critical perspectives of artists from Southeast, South and East Asia, who are grappling with everyday contemporary realities, double-edged legacies, as well as the recurrent 'big ideas' and poetic metaphors that reflect the human condition". 
At the tour, our friendly and knowledgeable guides Mr John Tung and Ms Andrea Fam introduced to us the various exhibits at Singapore Biennale 2016. Mr John Tung, he oversees the Thai contemporary art portfolio in Singapore Art Museum and Ms Andrea Fam is an Assistant Curator with the Singapore Art Museum where she oversees the Vietnam, Cambodia and Laos collections and assists in the Acquisitions portfolio.
Here are some of the highlights of the exhibits that are on display: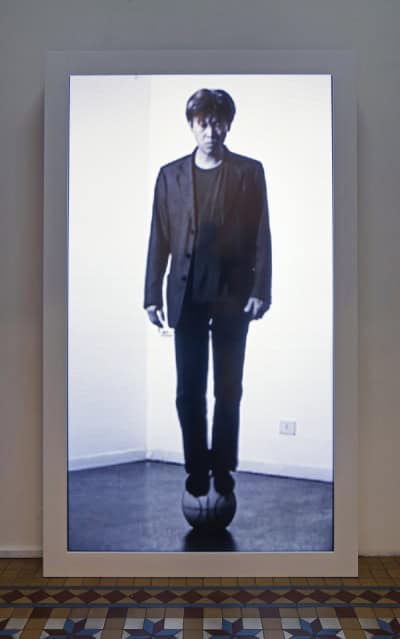 H.H. Lim, Enter the Parallel World (Image Credit: Singapore Art Museum)
This is an interesting installation featuring 2 videos, one of which shows Lim balancing on a basketball for almost 30 minutes and the other one showing Lim's fall from the basketball. Through this installation, he wants to recall a favourite saying from his mother that wisdom is nothing more than the ability to keep a balanced state.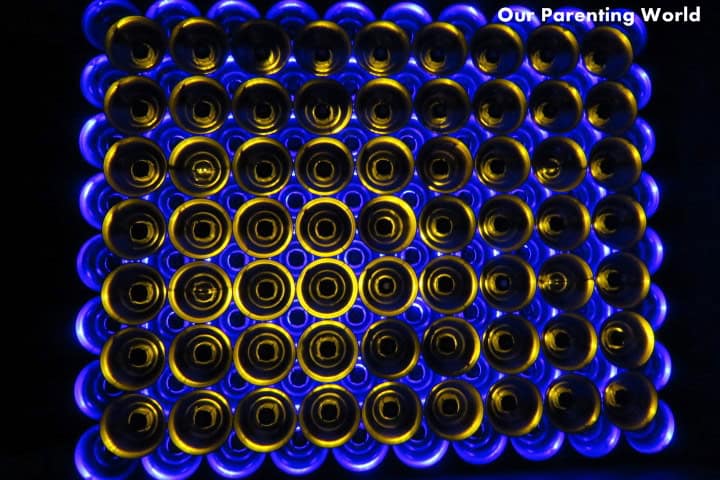 Zulkiflie Madmod, SONICreflection
This stunning sound sculpture is a collection of recordings from a number of various Southeast Asian communities that have taken root in recent years in Singapore. You can take a seat and listen to the sounds of these sonic territories that are transmitted from multiple tweeters mounted on a wall lined with wok lids.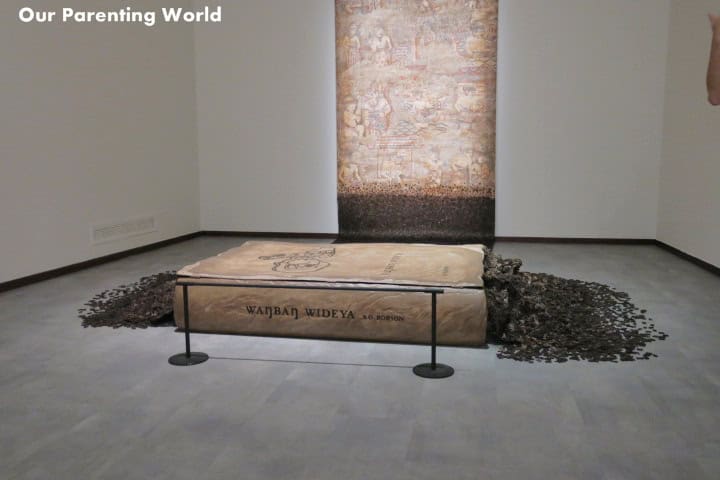 Eddy Susanto, The Journey of Panji
This art exhibition, is a collection of stories that revolves around the legendary Prince Panji, which originated in Java around the fourteenth century and spread to what is now modern-day Malaysia, Cambodia, Myanmar, the Philippines and Thailand.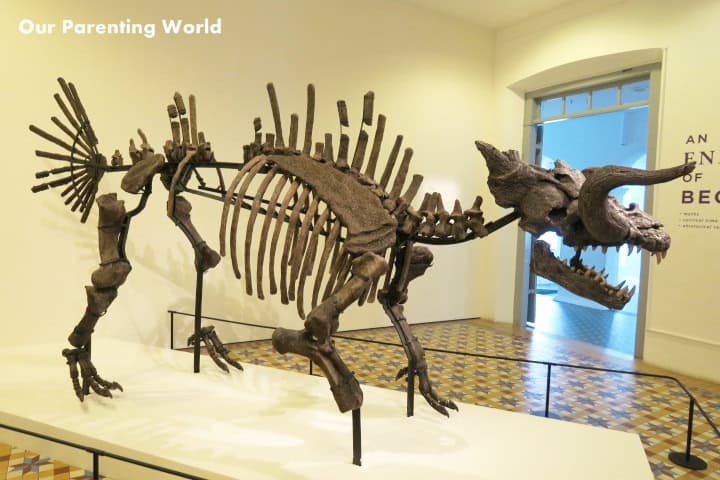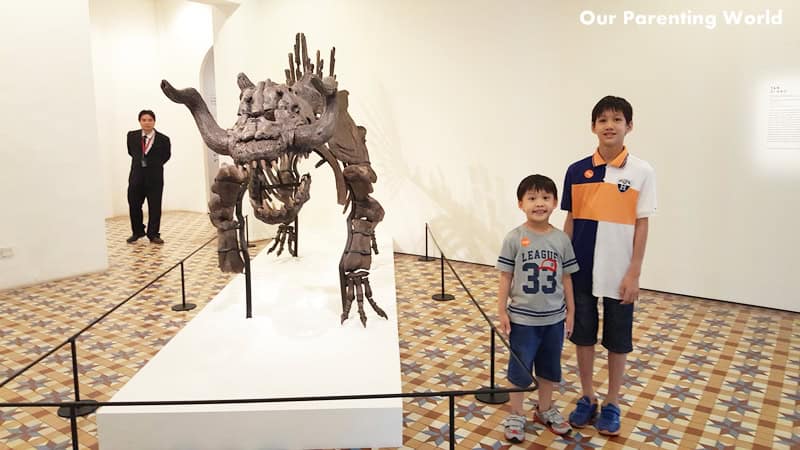 Tan Zi Hao, The Skeleton of Makara (The Myth of a Myth)  
This impressive artwork made of fibreglass and metal is Makara, one of the most prevalent mythological icons in Southeast Asia from Hinduism.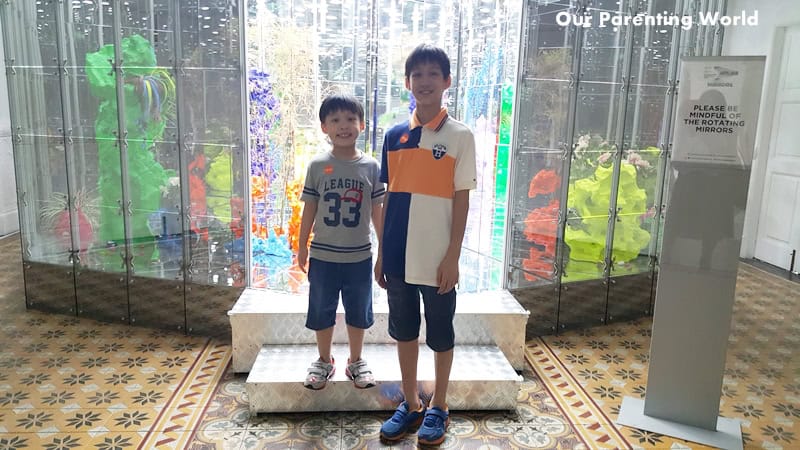 Deng Guoyuan, Noah's Garden II
This is a fascinating and visually stunning exhibit consisting of aluminium alloy steel frame, mirror glass, LED lighting, real and artificial plants and rocks. Visitors can enter the installation where they will find themselves inside a kaleidoscope surrounded with infinite mirror images in a garden of artificial flora.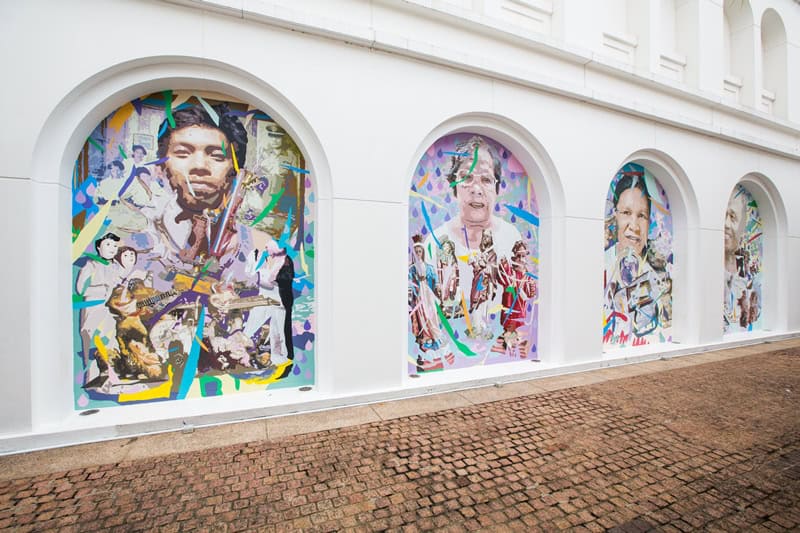 Dex Fernandez, I Wander, I Wonder (Image Credit: Singapore Art Museum)
This beautiful series of murals located at the outdoor of the museum explores the decorative mementos and souvenirs commonly found in Philippine homes that are often being cherished for its sentimental value.
Visit Singapore Biennale 2016 where you can come up close and personal with a wide variety of art exhibitions from artists of 19 countries, find out more about the story behind each art installation and discover each artist's inner world and thoughts in creating the art installation. 
Singapore Biennale 2016
Singapore Art Museum
71 Bras Basah Road, Singapore 189555
SAM at 8Q
8 Queen Street, Singapore 188535 
Exhibition Dates: 27 October 2016 – 26 February 2017
Opening hours:
Saturdays to Thursdays
10am – 7pm
Fridays
10am – 9pm
Adult: $20/$15 (Singaporeans/ PR) 
Concessions for Senior Citizens, Students at $10 or $7.50
To find out more about Singapore Biennale 2016, please click HERE.