To usher in the Singapore Cable Car's 50th anniversary with a festive spirit, Mount Faber Leisure Group is launching the holiday season by introducing a spectacular collection of Pokémon-themed cabins. Building on the success of their previous Pokémon campaign in May, all 67 cabins along the Mount Faber Line will now showcase Pokémon characters adorned in cheerful festive outfits, complete with wreaths and mistletoe to share the joy of the season.
Beyond the iconic red and white Poké Ball cabins, guests can now indulge in the allure of four other Poké Ball designs straight from the Pokémon world. These include the striking blue and red Great Ball, the eye-catching black and yellow Ultra Ball, the rare purple and pink Master Ball, and the delightful pink Love Ball.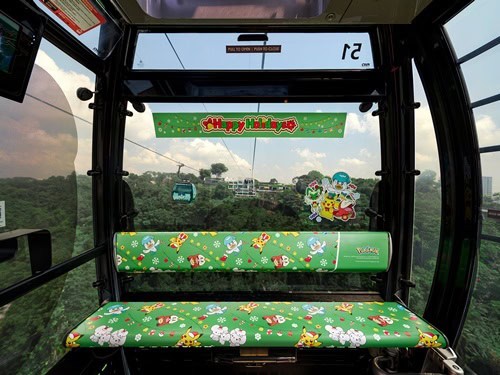 Mr Buhdy Bok, Managing Director, MFLG shared that "As the year draws to a close and we eagerly anticipate the dawn of our 50th Anniversary, Mount Faber Leisure Group is excited to reintroduce the Pokémon cable car cabins decked in jolly festive outfits. Through this campaign, we hope to provide our guests with a unique and memorable cable car experience that combines the joy of the festivities with the wonders of the Pokémon world."
Capture the Pokémon holiday spirit at Mount Faber and Sentosa Station
Visitors to Mount Faber Peak are in for a delightful surprise. They have the opportunity to capture fun and memorable photos with vintage cabins showcasing beloved Pokémon characters such as Jigglypuff, Psyduck, and Snorlax.
The celebrations continue with the addition of an expansive holiday-themed photo wall featuring Pokémon from the Kanto Region, like Charmander and Bulbasaur, as well as Pokémon from Galar and Paldea, such as Yamper and Pawmi. This festive backdrop beautifully captures the spirit of the season, providing visitors with the perfect setting to capture unforgettable moments together.
Tickets to the Singapore Cable Car are  available at ticketing counters and through the MFLG website. Starting from November 1st, guests can enjoy a 20% discount when booking the Cable Car Sky Pass (Round Trip) online. This pass covers a round trip adventure on both the Mount Faber and Sentosa Lines and includes complimentary chips and a beverage.
For those who prefer over-the-counter purchases, the Cable Car Sky Pass is regularly priced at $35 and offers an exclusive option to add $10 at the counter for unlimited one-day cable car rides.
Guests are entitled to a complimentary Pokémon sun visor by purchasing tickets to the Singapore Cable Car from any over-the-counter and online purchases, while stocks last.
Savour the season with delightful festive offerings at Arbora Hilltop Garden & Bistro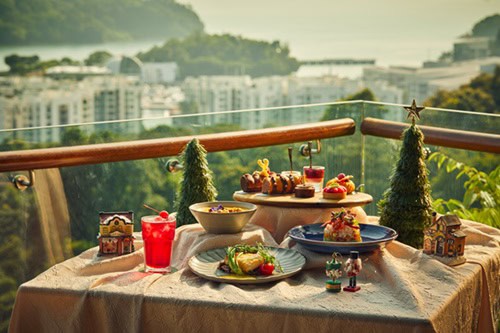 In addition to the festive cable car rides, visitors can enjoy a jolly holiday gathering atop Mount Faber Peak, where Arbora Hilltop Garden & Bistro presents an exquisite array of culinary delights from its festive menu. Embark on a delightful culinary journey, savouring delectable treats such as Turkey Cordon Bleu, complemented by an indulgent Christmas Dessert Buffet brimming with a wide variety of sweet sensations, including Eggnog Mousse Cakes and Chocolate Profiteroles. The season of indulgence is here! The exclusive Christmas set menu with an unlimited dessert buffet will be available from December 22nd to 25th, 2023.
22nd & 23rd December 2023
Lunch: $58++ per adult | $28++ per child
Dinner: $68++ per adult | $38++ per child
24th & 25th December 2023
Lunch: $68++ per adult | $28++ per child
Dinner: $78++ per adult | $38++ per child
Starting in December, families can immerse themselves in the excitement of free kid-friendly activitiesat Arbora Hilltop Garden & Bistro. These activities include a bouncy balloon dome and the opportunity for youngsters to explore an interactive activity sheet. The sheet offers engaging activities like colouring, word searches, and connect-the-dots, all specially designed to enhance and ignite the creativity and cognitive abilities of the little ones.
Icy treats to cool off the heat
There's no better way to beat the heat on a hot summer day than with a refreshing ice cream, and guests have the chance to win a free one by participating in a social media giveaway. To qualify, all they have to do is post a photo of themselves inside the Pokémon cable car cabins on their personal Instagram or Facebook accounts, using the hashtag #SGCableCar50 and tag @MountFaberLeisure. Their complimentary ice cream can be redeemed at the Singapore Cable Car Gift Shop @ Mount Faber Peak or the Singapore Cable Car Gift Shop @ Imbiah Lookout, with a limit of one redemption per visitor and while stocks last.
Celebrate with the iconic Singapore Cable Car
Established in 1974, the Singapore Cable Car has firmly established itself as an iconic symbol of the nation's most recognisable attractions, having served over 60 million visitors throughout the decades as the most scenic mode of transportation between Mount Faber Peak and Sentosa. As it approaches its Golden Jubilee in February 2024, MFLG is commencing a year-long celebration to honor 50 years of delightful experiences on the Singapore Cable Car's Mount Faber Line, while offering visitors the opportunity to create numerous more unforgettable memories.
For more information on the Singapore Cable Car's 50th anniversary celebrations, please visit the following:
Website: www.mountfaberleisure.com/attraction/singapore-cable-car
MFLG on Facebook, Instagram, TikTok and YouTube.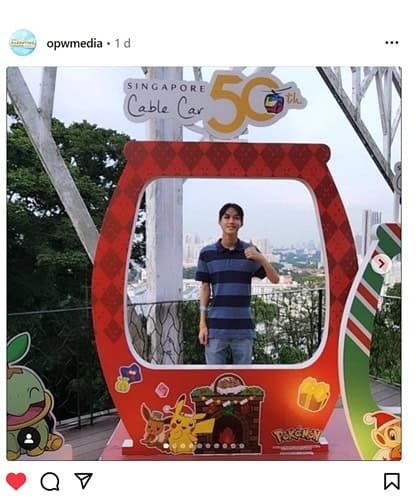 To see more images, video and details, please visit our Instagram at this LINK