This year, Singapore Comic Con 2019 returns from 7 – 8 December with an amalgamation of fandom like never before at Marina Bay Sands Expo Halls A, B and C. 
With a stellar line-up including DC Comics illustrators and toy designers, the December convention will not disappoint! Meet & greet with three-time New York Times best-selling artist Jock, famed for his artwork in graphic novel titles such as 2000 AD, Wolverine and award-winning Batman: The Black Mirror series. Alongside Jock will be fellow Batman comic artist and penciller, Greg Capullo, a legend in the world for comics who is also known for his works Spawn and X-Force. The two-day extravaganza will also see pop surrealist Tara McPherson who has been known for creating art pieces that explore the realms of otherworldly characters which are born from complexities of the human psyche.
Gaming geeks are in for a treat with this year's GGXP. Celebrate all things esports at PVP @ Singapore Comic Con by Singtel! The stage will be set for gaming fans to rub shoulders with professional gaming influencers and celebrities, experience exclusive industry showcases such as AR and VR in gaming, witness the finals of the PVP Community Leagues featuring Mobile Legends: Bang Bang and DOTA 2, and much more. 
SGCC's Tabletop experience with Gamersaurus Rex will explore miniature tablescapes and battlefields laden with a myriad of terrain features where players can enact battles between opposing forces using beautiful hand painted miniature models. Some games featured will be Warhammer 40,000 and A Song of Ice and Fire. Role-Playing Adventure Game freshies will even have a chance to learn the art of tabletop warfare during Dungeons & Dragons role playing sessions!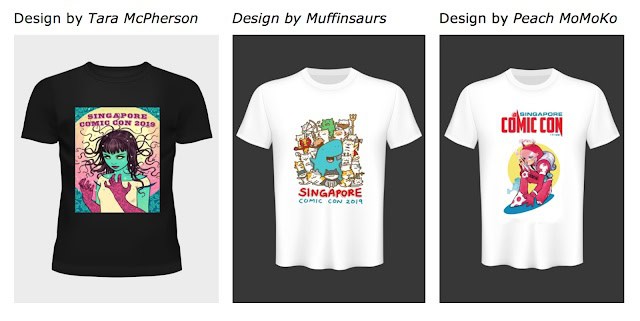 Fans will also have a chance to take home limited edition fan art T-Shirts by artists hailing from all over the world – Tara McPherson, Peach MoMoKo and Muffinsaurs. Each T-shirt will be SGD 29 available online and at the Merchandise store on-site.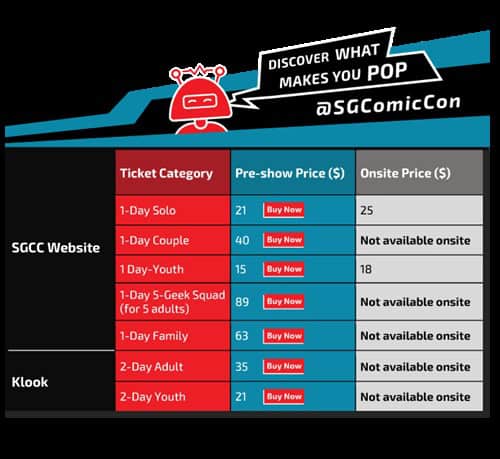 This year, SGCC 2019 returns with attractive ticketing packages and new ticket categories via the website keeping families and youth in mind. To enjoy greater savings, fans are encouraged to purchase their individual or grouped tickets online.  
Tickets are available for purchase now, to find out more and to purchase the tickets, please visit https://www.singaporecomiccon.com/
Goodnews! Giveaway Alert!
Thanks to Singapore Comic Con, we have two family packs worth $63/per family pack to give away to Two Lucky Readers. Each winner will receive a family pack worth $63 consists of 4 tickets and each ticket admits 2 adults and 2 youths (aged 13-18) on either Saturday OR Sunday (7 or 8 December) to SGCC 2019. You can bring your family/friends to Singapore Comic Con!
Here's how to win the giveaway:
1) LIKE and FOLLOW Our Parenting World Facebook Page and Singapore Comic Con – SGCC Facebook Page
2) LIKE, SHARE and TAG 5 friends or more to share this Facebook Giveaway Post to spread the word!
3) FOLLOW our Instagram at @opwmedia and @sgcomiccon
*Please set your profile to PUBLIC so that we are able to verify your entry.
*Please indicate your Instagram handle at the Facebook Comment Post and check that all the steps are entered correctly to be eligible for the giveaway.
Hurry, giveaway will close on 1 November at 23:59Hr.
Thank you and Good Luck!
Giveaway is closed, winners have been announced and notified, for winners' announcement, please visit this LINK.