Families for Life (FFL) organised a 2 day event at Suntec Singapore Convention and Exhibition Centre over the last weekend on 18 and 19 July 2015. It was very well-received with more than 3,000 parents attending the various workshops conducted in different languages for parents and children of different age groups. 
Singapore Parenting Congress 2015 is organised by MediaCorp and Families for Life Council.
Ms Low Yen Ling (Parliamentary Secretary, Ministry of Social and Family Development & Ministry of Culture, Community and Youth and Mayor, South West District) was the guest of honour for the closing keynote session. She shared with us on the importance of having family time together. She suggested that parents can start by doing at least one thing that is important to the whole family together every week. Parents must make an effort to spend time with your children. By making a conscious effort to spend time with your family, you are telling your loved ones that they are important to you.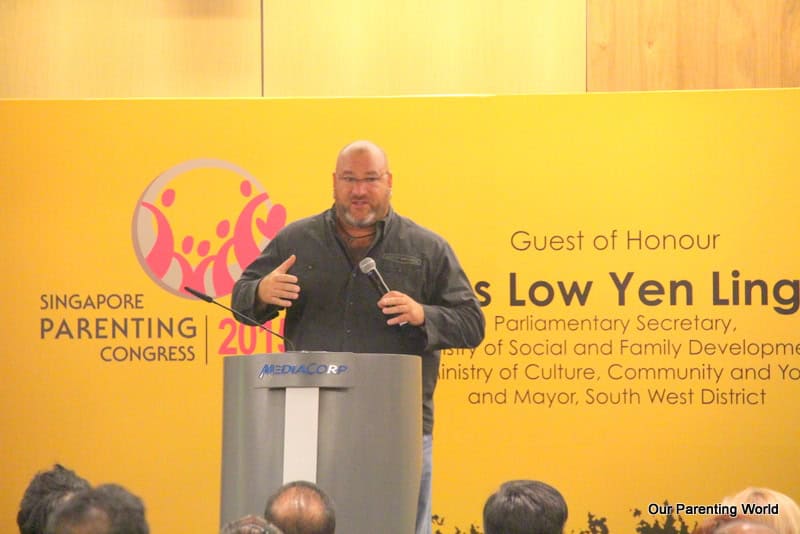 Jeff Yalden was the guest speaker for the closing keynote session where he shared with parents on the topic on "Always On, Never Connected: Parenting the Impact of Technology & Respect on Today's Youth". Jeff is a life coach from MTV's "MADE" North America's No.1 Youth Motivational Speaking Inspiring Students to Overcome Any obstacles. He is also the author of "Your Life Matters" and a radio show host. This talk is specially addressed to parents with children aged 13 to 19 years to understand their teenagers better.
In today's world, teenagers live in a technology world with most of them on social media and cell phones, how is it going to affect them? As parents, we need to understand their behaviour, to break down the barriers and spend more time with them to understand their needs, the struggles they face and communicate with them. It is important to teach our children the importance of choices. He stressed the 4 "T"s which is "T"ake "T"ime "T"o "T"hink. Parents should learn to manage expectations and be more focused on objectives. Make your expectations more attainable and learn to celebrate on achieving the objectives for your children.
After attending the events at Singapore Parenting Congress 2015 conducted by various parenting experts both locals and international on how to be a nurturing parent and inspire your children. Parents will bring back a wealth of knowledge, tips, advices to learn to understand their children's behaviour better and be better equipped to teach and establish a stronger bonding with their children. 
Families for Life
About Families for life (FFL) aims to promote strong and resilient families in a genuine and positive way. Through engaging Singaporeans about families and providing platforms for family bonding, FFL aims to inspire Singaporeans to renew their commitment to their families.
The Families for Life Council is headed by Mr. Ching Wei Hong, Chief Operating Officer, OCBC Bank.
Please visit www.familiesforlife.sg and www.facebook.com/familiesforlife.sg for more information.